The past two months have been ones of reflection for me because it turns out that this is the 10th anniversary of two big events in my life.  First, my wife and I moved to Canmore from Banff in August of 2001 and we bought our first home.  And second, on September 20, 2001, The Rocky Mountain Outlook newspaper was born.  Were it not for that publication and Carol Picard, the editor and part owner, I wonder what I'd be doing today.
In 1997, I answered an ad in the Banff Crag and Canyon for an editorial cartoonist.  Figured it would be a fun weekly diversion, and for a few years, it was.  In 2001, I found out that a new upstart paper called The Rocky Mountain Outlook was in the works.  Cathy Ellis, a Crag and Canyon reporter told me quietly that she had been asked to join them and suggested they'd probably need a cartoonist.  Turns out that at that exact moment, I was having a heated disagreement with the publisher of 'The Crag,' so I was eager to jump ship.  After getting the gig at the Outlook, Carol asked me why I wasn't syndicated.  Thinking I knew more than she did (which I did NOT), I said that it was pretty difficult to get signed on with a syndicate.  She waved that off and told me to do it myself, and then told me how.  The following month, I was a self-syndicated editorial cartoonist, even though I didn't have any other newspapers yet.
Carol's gotten a little tired of how often I've said 'Thank You' to her over the past decade.
The Outlook has been very good to me, and I'm proud to say that one of my cartoons has been in every issue since September 20, 2001.    The Outlook was started by Carol Picard, Bob Schott, and Larry Marshall and their blood, sweat and tears permeate the foundations.  Sadly, Bob and Larry passed away within months of each other in 2008, a devastating blow to everyone at the Outlook, and especially to Carol as they were all very close.  She retired from the Outlook in 2008.  Despite their absence, it is still very much the same paper, with the same staff, largely because Carol insisted upon it as a condition of the initial sale to Black Press.  It is now owned by Great West Publishing but still feels very much like the independent it once was.
The Outlook's 10th Anniversary issue was published yesterday, along with a full colour magazine insert that reflected on the early life of this 'little paper that could.'   The Outlook has eclipsed her competitors, who said it would fail in the first six months, and it is now the newspaper of record in the Bow Valley, while The Banff Crag and Canyon and The Canmore Leader struggle for relevance.  For you locals, read Carol's article, "From Humble Beginnings…" in the magazine insert and you'll realize just how much they went through to create the paper the entire valley reads every Thursday.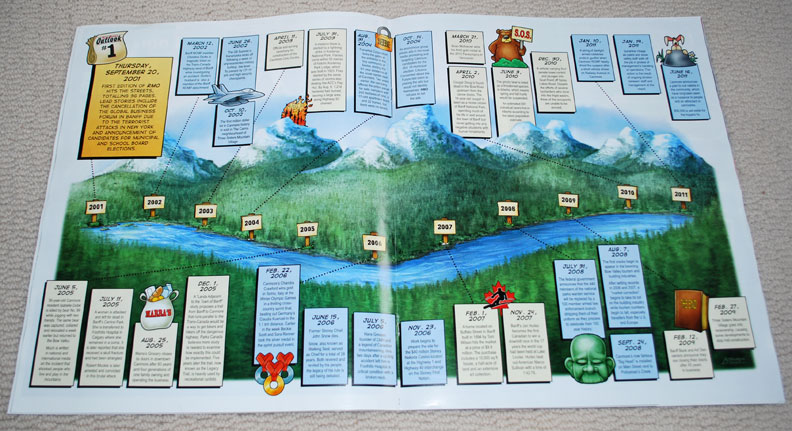 The magazine turned out really well.  When they were planning it, I was asked to do a large cartoon two page spread for the centerpiece, a timeline of major events over the last year.  While it looks like the whole thing is my creation, it was very much a collaborative effort.  From a number of people choosing which events to chronicle to the Outlook design team who put it all together, and most importantly to Natalie Talbot who took my cartoon scenery painting and collection of little cartoons I drew for the events, and turned it into the finished work you see here.  She did a fantastic job and in my opinion, her signature should be on it as well.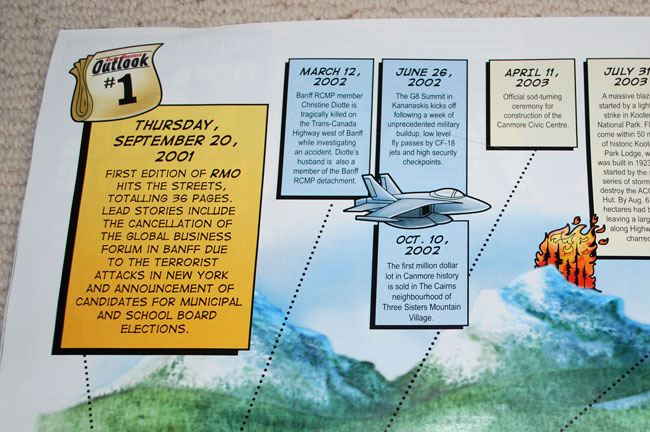 A few of the staff bugged me last night because I didn't want to have a chronicling of my cartoons from the early days included in the magazine.  I can admit that my reasoning was purely motivated by ego.  I don't like looking at my earlier work because I didn't draw very well.  In retrospect, I probably should have allowed it, because showing the work I did then beside the work I do now only proves what I always say to students and fledgling artists.  If you practice and put the time in, you can't help but get better.  Talent will only take you so far.  You only improve through hard work.
So here is the first cartoon I ever did for the Rocky Mountain Outlook on September 20, 2001, beside the one I did for the 10th anniversary issue this week, September 22, 2011.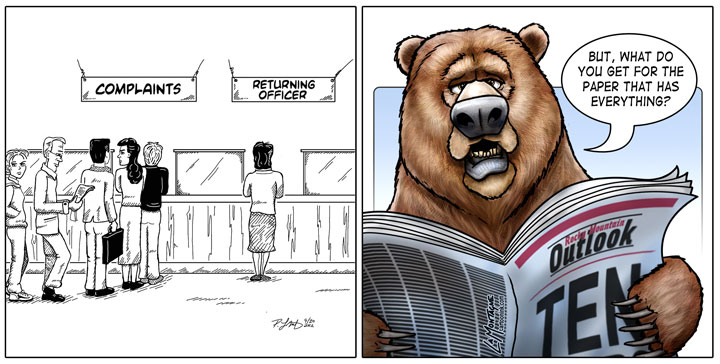 There was a great party last night at The Cellar Door in Canmore, which then spilled over to the Iron Goat, attended by supporters, advertisers, as well as current and former staff.  A lot of laughs as we talked our way through the years.
The last ten years have been some of the best of my life, and I'm grateful for all of the opportunities that have been presented to me.  The person I was then would be pleased with where I am today, and through all of it, there was a weekly cartoon for the Outlook.
So Happy 10th Anniversary to the Rocky Mountain Outlook and I'm proud to have been a small part of her beginnings.  And because it can't be said enough…Thanks, Carol.