With my focus on painting animals the past couple of years, my thoughts are often on trying to figure out the best way to sell the prints and the images themselves.  While I'm pleased with where the paintings are sold here in Canmore at Two Wolves Trading Co. and at About Canada in Banff, I'm now looking for venues in Calgary and for licensing opportunities.
With that in mind, I sent off an inquiry email to the Calgary Zoo.  I figured if there was one place in the city that people were looking for animals, that would be it.  While it took me a few tries to get to the right person, I eventually did get a meeting yesterday morning with the Retail Manager who liked my work,  and I learned a few things.  First, they don't currently license images in the manner in which I was hoping, so for the time being, that one is out.  Second, they're just beginning to sell art prints like mine in one of their venues.  I had brought in a 12″X16″ canvas print of the Wolf Totem, a small wolf matted print and a large moose matted print as samples.  To my surprise, I was asked to leave them there on consignment, which is a pretty standard arrangement for art for many venues.  I honestly didn't expect that right away, or I might have brought more.
So, my foot is in the door and a small sample of my work is now for sale at the Calgary Zoo.  I mentioned that I was going to be painting a penguin or two as part of the series, and chances are that when it's done, they'll be hanging one or two of those as well.  Penguins are very hot (cool?) right now at the Calgary Zoo as they just opened their 'Penguin Plunge' habitat, right next to the store where my art is hanging.  For purely commercial and obvious reasons, my next Totem painting is going to be a penguin.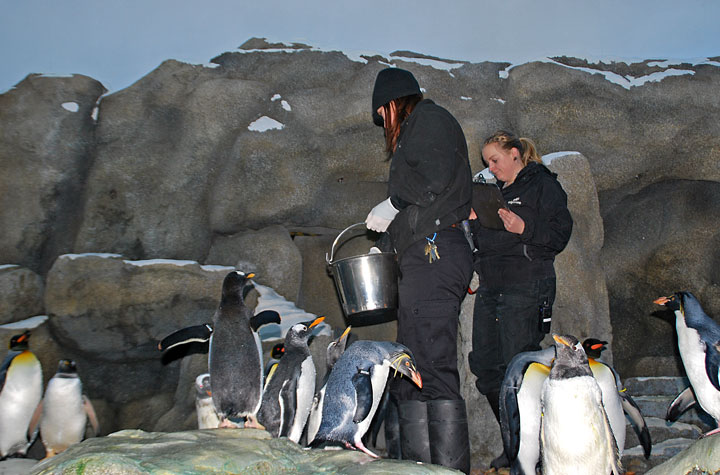 Throughout my career, I've often had things turn out better than I'd hoped by not getting exactly what I wanted.  I have a good feeling about this first step, and I think it's going to lead to something very positive, even though I have no idea what that will be.  I'm certainly pleased that I took the shot, which leads me to the other shots I took at the zoo.
It's no secret that I find photography frustrating.  Aside from enjoying capturing moments and memories with point-and-shoot snapshots, how I feel about the technical aspects of photography is close to how I feel about doing my taxes.   It's very clear to me that I already know how best to express myself with images and it's not with a camera.
I know a little about what it takes to be a photographer, mostly because I hang out with a lot of them.  I see what they have to learn, how much dedication is required, and how very much more it is than just pointing a 'good camera' and pressing a button.  Still, I naively headed for the zoo thinking I'd get some really great reference photos, because I just needed decent light and  sharp detail, not great composition.  My buddy, Joe, gave me an old zoom lens of his recently, because it has sand in it, so a few grains end up in shots.  Bad for him, fine for me.  Attaching it to my very basic Nikon D60, I figured the lens would make all the difference.  The actual difference was that my shots were worse than they normally are.   I couldn't use auto-focus, I had it fully extended with no tripod, was using a flash, and there was one other thing…oh yeah, I have no skills with a camera, whatsoever.  A common joke among photographers is people who shoot with the automatic setting.  That would be me.
A little sidebar here.  I spent a beautiful morning watching animals.  The new penguin habitat is a wonderful addition to the zoo, and I got there early, so no lines to contend with.  Had a great conversation with one of the staff about the care and feeding of the penguins, and wandered around in the sunshine for a couple of hours.  Despite what follows here,  I really did enjoy myself.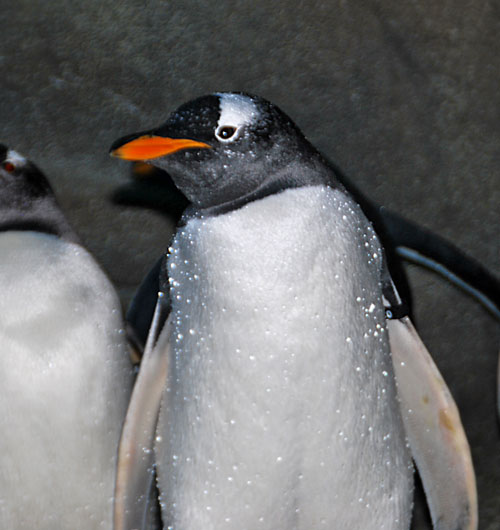 I shot over 250 shots of the penguins, a giraffe, a meerkat, and red pandas, all with the intent of getting GREAT reference to paint from.  After pressing the delete button far too many times in Adobe Bridge, I ended up with about 5 good shots of the penguins and one of the meerkat.  Not great shots, not even very good shots, but good shots.  That means, good enough for reference, not good enough to publish anywhere except here.  It was a very humbling experience.
Like I said, I already knew that photography was difficult.  This being my first time using any lens but the one that came with the camera, however, I learned the hard lessons you only learn through experience.
When mentioning my tale of woe on Facebook yesterday, a number of my supportive photographer friends chimed in with advice and observations.  Here were two of my favorites.
My talented photographer friend, Christine, said, " Practice, practice, practice. I remember a post you put out the other day about the same concept with your paintings, and the work involved."
My friend Lu Douce, whose husband Craig is another talented photographer, right here in Canmore said, "250 photos? There's your problem right there! Craig would have taken at least a thousand!"
Both of them are absolutely right.  A real photographer will often take many more shots than I did just to get ONE good one they can use.  My 250 was nothing.  And when I read the comment about practice, I thought, 'touché.'  Why I expected to get great (not good, but GREAT) reference photos first time out, just because I could zoom in closer with the lens,  is beyond me.  Chalk it up to enthusiastic shortsightedness.
A few others on Facebook graciously offered advice on shutter speeds, lighting, stabilizing the camera and other helpful tips that made me realize that even though I have no interest in photography, I should still  learn a lot more of the basics if I want to take my own reference shots.
I'm a good painter.  I'm confident that I can say that without it sounding arrogant.  The reason is that I love doing it.  It's fun, it's a challenge, I feel at home while painting.  I'm very passionate about my work, and that's why I've gotten skilled at it, because I don't know how NOT to put the time into it.  This is also the reason I am unlikely to ever be a good photographer.  Passion is a key ingredient to becoming good at any creative pursuit, and I just don't have it for photography.  The spark is absent.
Up until now, I've relied on buying or trading for reference photos from photographers who really know what they're doing, with great appreciation.  That's unlikely to change.  But I anticipate many more trips to the zoo in the coming year, trying to learn more of the basics and about my camera.  While I have no ambition to be a photographer, I am willing to put in some book learnin' and practice time to become at least good enough to take some photos that will help me with my paintings.
To my photographer friends out there who do enjoy their work, and have that passion, you already had my respect.  Now you've just got a little more.