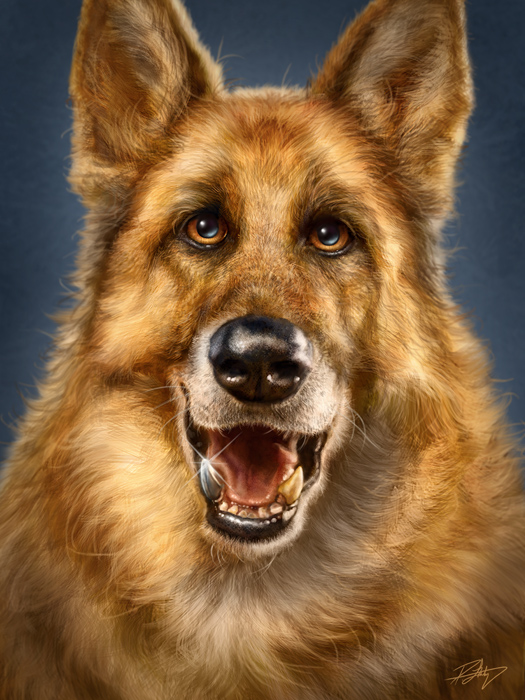 Meet Chase, a German Shepherd who was an absolute joy to paint.  Chase spent his youth in Schutzhund Training.  I had to look it up, but according to one site, "Schutzhund is a German word meaning "protection dog." It refers to a sport that focuses on developing and evaluating those traits in dogs that make them more useful as breeding dogs and happier companions to their owners. "
Chase has a stainless steel hip and two titanium teeth, apparently due to the competitions and excesses of his youth.  He is now happily retired, but according to his owner, 'studly-looking nonetheless."  It is obvious this dog is well loved and all of the reference photos showed a happy looking 10 year old dog, who is quite big when shown beside other dogs.  The client wanted one of those titanium teeth to be visible in the painting, and rather than a portrait style, he wanted my signature Totem style that I use for my wildlife paintings.  I was more than happy to oblige.  In the end, the client was very pleased with the final painting, as was I.

I hear from a lot of people asking about how I paint fur, and which brushes I'm using.  The brushes themselves aren't complicated.  I go through the process in detail on my painting DVD from PhotoshopCAFE and recently wrote an article explaining their construction for Photoshop User magazine.  As much as I would like to say that the secret to these paintings is in the fur, I honestly don't find that part of it difficult, anymore.  Having done many animal paintings, I'm very comfortable with using the fur brushes.  While it still takes many long hours to get it right, painting the fur is the easy part.  Getting the likeness is tough.
Sure, it's a dog, but anybody who has shared their life with a pet, will know that each one's face is as distinctive as any other family member. The owner will know if it's wrong.  Dark and light areas of fur, lines in the right places, shape of the head (even in caricature), and a number of other little nuances contribute to whether or not the painting is going to be accurate.
It is likeness that causes me the most stress when working on a portrait or caricature of an animal.   Throughout the painting process, I alternate between feeling like I've got it right, and knowing that I've got it completely wrong.  When it's wrong, it's incredibly frustrating because I'll often have difficulty seeing where the problem lies.  That's often a cue to walk away from my desk, even if just for an hour, in order to let my mind reset.  When I come back, I'll often instantly see what the issue is, and then I can get to work fixing it.
I worked on this painting off and on for the last month, in and around my other daily deadlines.  After a nine hour session on Saturday, I got through the best of it.  When I decided to call it a day,  I couldn't save copies of it to my external drives fast enough, just in case the unthinkable happened.  A couple more hours very early Sunday morning, and it was signed, saved and delivered.
For the technical folks, this was painted in Photoshop CS5 using a medium size Wacom Intuos4 tablet, and photos were used only for reference.  The final image dimensions were 18″X24″ at 300 ppi, and at one point the working file size was just shy of 500MB.   As for how long this took to paint, I honestly have no idea.  But I do know that most of it was a lot of fun.