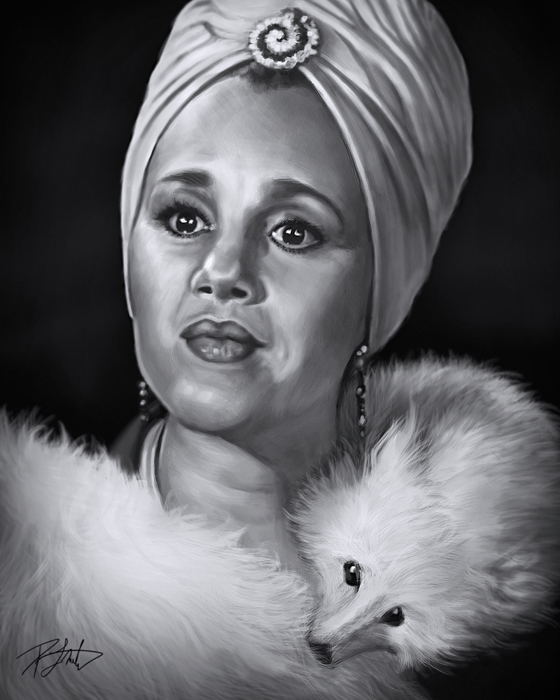 This is a painting of the late, great Madeline Kahn in her role as Elizabeth from the movie 'Young Frankenstein.'  One of the great comedic actresses of our time, who died too soon in 1999 at the age of 57.
While she had many movie, theatre and television roles to her credit, she was perhaps most famous for her roles in Mel Brooks classics,  'History of the World: Part I,', 'Blazing Saddles,' and of course, 'Young Frankenstein,' all of which are favorite films of mine.  To this day, any of her comedic performances can still make me laugh out loud and I wonder what valuable information have I failed to retain in favour of storing an endless amount of lines from these movies in my mind.
The technical part of this painting was that it was not only black and white (Mel Brooks insisted on it for this film), but also that it was intentionally grainier than the HD films we see today.  He wanted to recapture the look of those old horror classics for this spoof.  As such, gathering detailed reference was tough as I could find no high resolution reference, even from the DVD itself.  With that in mind, I decided to go with a softer painted look rather than sharp detail.  This was tough for me to do, especially given the fur on that fox around her neck.  I had to refrain from the detail I normally paint into animal fur.  This outfit, by the way, is what she was wearing during one of the funniest scenes in the film.
I painted this portrait for no other reason than the challenge of working with less than ideal reference and to practice my portrait work.