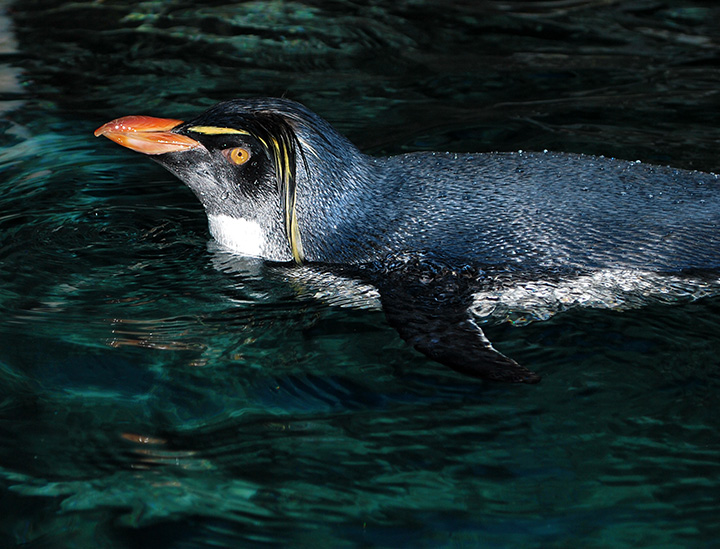 This past Thursday found me in Calgary, running a few errands that had been piling up.  Had to exchange a faulty hard drive, buy some office supplies, and meet with the Retail Manager at the Calgary Zoo.  I've had Totem prints in their store for a little while now, and we're still learning what works and finding new ways to promote the work.  I also wanted to show her the shirt samples I received recently, as the zoo sells The Mountain tees already.  So while I did get a cartoon out that morning before I left, it was largely an out-of-office day.  I had been trying to get into the city for about a week, but the roads and weather kept putting the kibosh on that.  Calgary is only about an hour drive from Canmore, but Hwy 1 can get slick and the main city routes are even more treacherous in bad weather, especially considering that many Alberta drivers are notoriously aggressive.  My rule of thumb has always been, if the weather is bad and I don't have to be on the road, don't bother.   It only takes one wing-nut in a hurry to ruin your whole week.
Turns out that the repeated delays benefited me a great deal.  When I finally did get into the city, the weather was downright warm for winter, thanks to Chinook winds, and a day running errands turned into a great outing.  Considering I was at the zoo already and have an annual membership, I brought my camera to see if I could get some reference photos.  I've said many times that I'm not a good photographer, largely because I have no interest in putting in the work required to become one.  I take snapshots.  On recent trips to the zoo, I had a borrowed zoom lens and tripod for our camera, an older Nikon D-60, which is basically just a higher end point-and-shoot, or at least it is the way I use it.  With the zoom lens, I just couldn't take a decent shot to save my life, so this time I left it at home.  Setting the camera on automatic, I figured I'd wing it and take what I could get.
The strategy worked well.  The Calgary Zoo is very popular and is often quite busy.  Their newest exhibit, the Penguin Plunge that opened last year, can often have very long lineups in the summer months.  When you do get in, you only have a limited time to spend, as others are waiting.  It's a great enclosure, designed so that you're so close it would be simple to reach out and touch a penguin as it swims by, the water's surface at chest level.  Of course, there are attendants on hand to ensure people don't touch them, but it's great to have that proximity.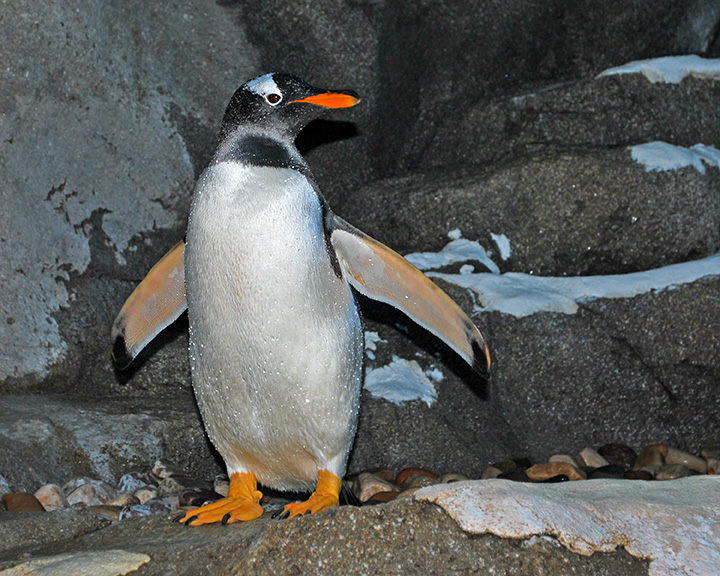 On Thursday, the zoo was so quiet, that after my meeting, I just walked into the Penguin Plunge, and spent almost a half hour in there just snapping photos.  The penguins were active, talkative and a lot of fun to watch.  At any one time, there were only about 10 people in the enclosure.  Must have taken a hundred or more photos, and about 10 of those ended up being great for painting reference.  While I've already painted a Rockhopper Totem, I'll be painting a Gentoo at some point as well.  That's the species in the above image.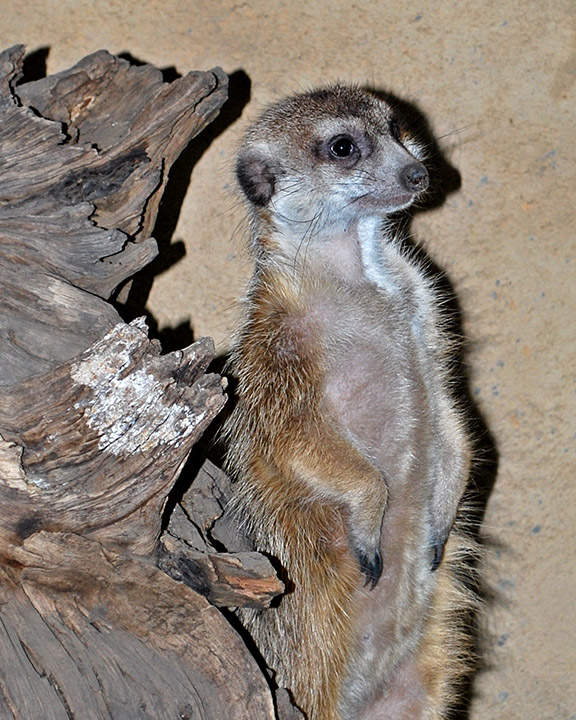 Once I got to this little meerkat, she seemed to have no issues with me taking photos of her.  Turning her head this way and that, only about three or four feet away, she stood tall, crouched down, gave me almost every angle I could want.  A gentleman standing near me actually said, "She's posing for you!"  It certainly seemed that way.
And finally, while I was hoping for some photos of the red pandas, just before I reached their enclosure, a woman deliberately changed her direction, walked over to me and said, "They just fed the tigers.  They're all right there if you want to get some pictures."
I thanked her (it really was a nice gesture on her part) and walked over to their nearby enclosure.  Sure enough, the mother and her three cubs, who aren't small anymore, were lying down together eating whole raw chickens.  A real treat to see as one cub snarled at another for getting too close to his meal, the mother grooming one of the other cubs, just getting to see them so close and active on a such a nice day, with very few people around.  Even through glass, the shots turned out quite well.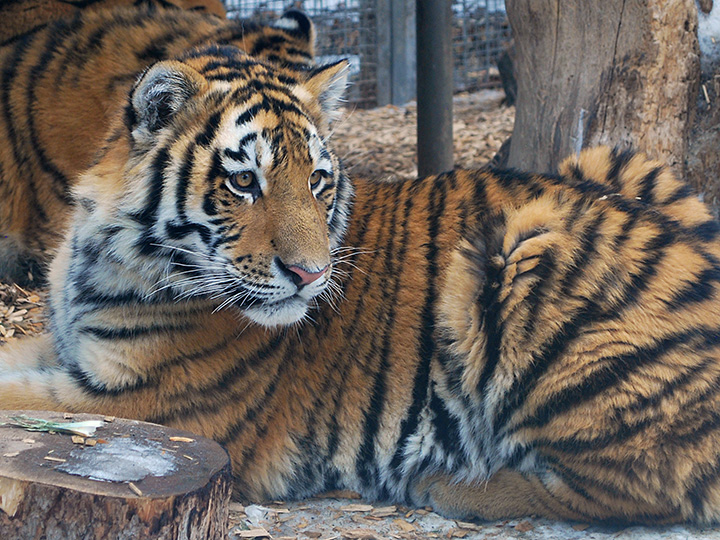 While I`d thought I'd taken 500 photos,  turns out it was around 400 as there were already a bunch on the card.  The wonders of digital cameras, taking as many shots as you like without incurring any expense.  Once I got home, I just opened up the card in Adobe Bridge and started deleting everything with bad focus, light, composition and within 10 minutes, I had about 20 photos that will serve me well for future painting reference.  I had a very enjoyable day, one of the best I've had at the zoo.  Not bad for an errand day in the city.