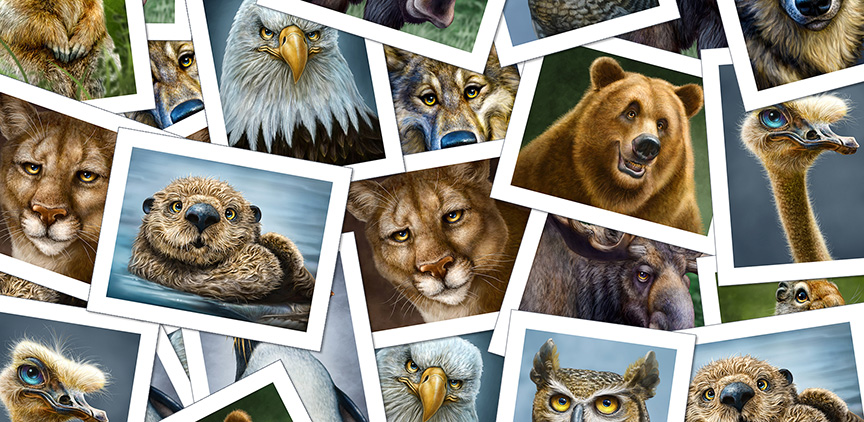 When it comes to this business of art, there is no manual.  Most of us are just winging it, making corrections each time a mistake or miscalculation knocks us off course.  Most of the time, it's not some big disaster, it's just evaluating the results from throwing stuff at a wall to see what would stick.
Last year, the Calgary Zoo started selling my matted Totem prints, the same ones that were sold at Two Wolves in Canmore and are currently in About Canada in Banff.  The prints did well at the other two venues and also sell well in my own online store.  The zoo, however, is a little different because their retail store is not a gallery, but a gift shop that complements the destination, so to sell matted prints at $44 in this venue was an experiment.  While they did sell, they weren't exactly flying off the shelves.
Regular readers will know that I recently had a booth at The Calgary Comic and Entertainment Expo.  In addition to the matted prints I normally stock, I also introduced a poster print.  Not a gallery quality giclée, but still an excellent quality print with a white border.  Hand signed, with backer board, in a plastic sleeve just like the matted prints, the price point is lower which allows for people who want to buy a print but aren't looking to have the full matted and professionally framed look and expense.  They sold well at the Expo and also in an online sale I had recently on this site.  But since I ordered far too many for the Expo, I thought I might see if the Calgary Zoo was interested in giving them a shot, so I requested a meeting, which I drove in for this morning.
I'm happy to say that they were very well received and now all ten Totems that were printed for the Expo are now available as poster prints at the Calgary Zoo.   With fingers crossed for this eventuality, I had brought full inventory of each print with me today instead of just one sample, so these should be available right away.  The poster prints will retail for $25.00 each, so if you were one of the lucky ones who took advantage of the recent sale or bought at the Expo, you got a great deal on them.  Here's hoping they do well at the Zoo and they ask me to restock their supply soon.
The matted prints will still be available online and at About Canada on Banff Avenue.