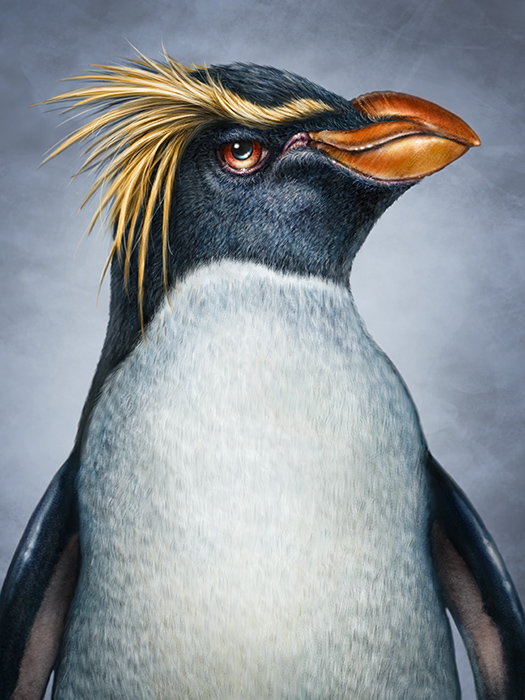 The flooding in June of this year was the worst disaster in Alberta's recorded history. One of the casualties of that flooding was The Calgary Zoo. The closure of the zoo has resulted in layoffs of the majority of the staff, a significant loss of revenue, relocation of some animals to other cities and a massive cleanup and fundraising effort.
Some of my Totem prints have been sold in their main retail outlet over the last year, something I was quite proud of, considering how much I enjoy going to the zoo.  To be able to take reference photos for paintings, sit and sketch, and just enjoy some time with the animals is a great pleasure and I hope to go again soon.  The main reason I painted my Rockhopper Penguin Totem in the series was because of this wonderful facility and their Penguin Plunge habitat.
With that in mind, I've decided to sell all of my inventory of that print at a discounted rate, with all proceeds PLUS a portion of my own costs going to the Calgary Zoo. Open to residents of Canada and the continental U.S., it's a first come, first served offer, until the inventory runs out.  All prints are hand-signed.  I've also discounted shipping to a flat rate, as specified in the image.  For Banff & Canmore residents, I'm happy to deliver at no charge.
To order, send an email to lamontagne@nullcartoonink.com, indicate which print you want with mailing address and I will send you a PayPal invoice.
This offer is not officially affiliated with the Calgary Zoo, but it will certainly benefit from it.  If you have any questions, I'm happy to answer them, please send me an email to the previous address listed or via my Contact Page.  Thank you for supporting the Calgary Zoo rebuilding efforts.