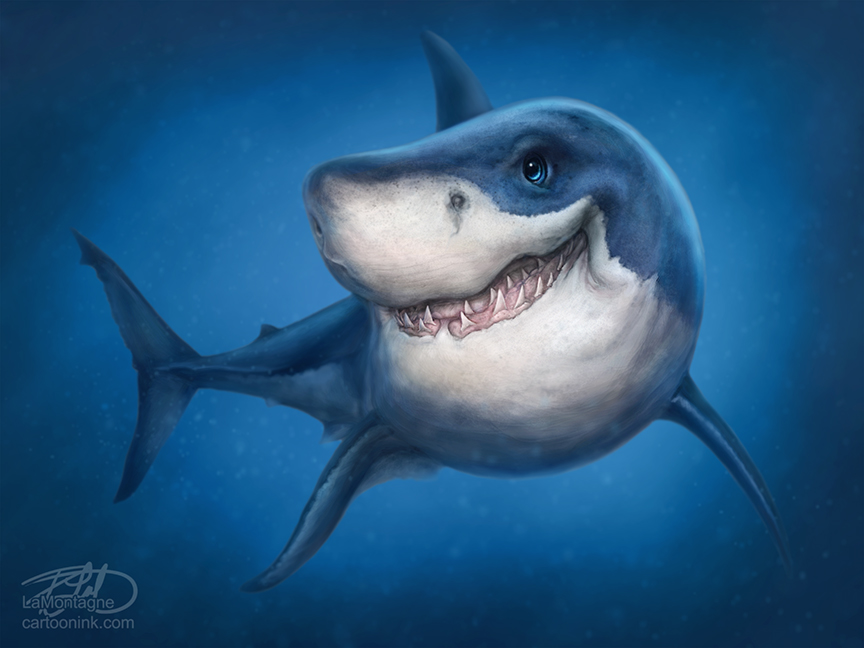 While I've wanted to paint a Great White Shark for quite some time, I honestly didn't think I'd be doing it right now.  It was suggested to me recently and after thinking about it, I thought I could indeed do it justice.   I'm pretty pleased with the result.  This was painted in Adobe Photoshop CC on a Wacom Cintiq 13HD display and a Wacom Cintiq 24HD display.  Photos were only used for reference, and all of this was done with brush work.
I'd love to say that this was a lot of fun the whole time, but editorial cartoons, year end bookkeeping, and a sudden short deadline video project popped up, so my painting time kept getting put aside.  It got to the point where I just wanted to get this done as it seemed it was never going to happen.  Thankfully, as is the case with finishing many of my Totems, I had a Saturday morning free of obligations which allowed me the time needed to finish it, which did end up being very enjoyable.  If you're familiar with these posts and my work in general, you'll be aware that Saturday mornings are my favorite time of the week.  I still get up at 5AM, but with no editorial cartoons sent out on weekends, I have four or five hours of music in my headphones, a few cups of coffee and nothing but painting.
The big challenge with this painting was the detail.  I thoroughly enjoy painting hair, fur, and feathers, but with none of those anywhere on a great white shark, it was  challenge to paint that leathery looking skin with enough detail to achieve the realism I wanted, but not so much that it looked completely out of place in water.  I also was afraid of overdoing it.  The environment is what made this one difficult.  I didn't want to blur out the tail and fins too much, even though in darker water, they might just be shadows.  Then again, they couldn't be too sharply defined, textured or brightly lit.  It was all a compromise and while another artist might have made different choices, I'm content with mine.  I've painted a Humpback Whale Totem before, but having painted this shark, I now think I could do a better job of the whale, if given another shot at it.  I think every artist can say that about past work, though, so I'll just let it be, take the lessons learned and move forward.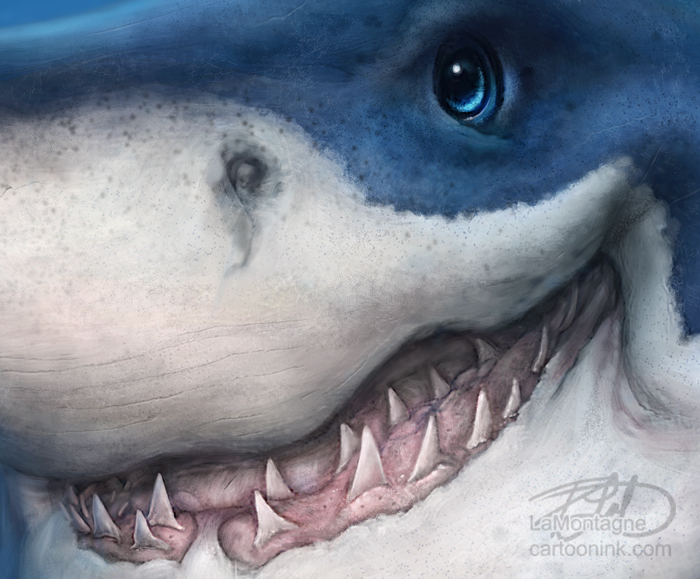 I take a lot of liberties in the anatomy of my work, which should be rather obvious.  While I do need to know what the real anatomy looks like, my animals are caricatures of the real thing.  For example, in real life, a great white shark has rather black looking eyes, not a lot of life in them. My Totems, however, are all about personality, with my distinctive style of eyes a defining feature of the look, so I completely disregarded realism in that regard.  That little white catch-light in the eye would not be visible underwater, it's physically impossible.  But remove it, and a lot of the life goes with it.  Again, these are the choices I make.
After I painted my Fox Totem, somebody said on my Facebook page, that, "Foxes have cat-like eyes."   Clearly he doesn't get my work, so I tolerated what was essentially a drive-by comment and moved on.
My wife has a thing for sharks, she has for as long as I've known her.  She'll watch any documentary or read any article about them and has become quite knowledgeable as a result.  Her life long dream is to go cage-diving with great white sharks and I've resigned myself to go with her.  I plan to drag her along when I go swimming with humpback whales in Fiji someday, but you're less likely to meet sharp pointy teeth with a humpback.  Of course, no matter how gentle an animal, if a bus rolls over on you by mistake, it's the same result.  Neither of these dreams will go unfulfilled, I assure you.
Great white sharks are largely misunderstood animals.  I have a love/hate relationship with the 1975 movie, 'Jaws.'  I do love the movie as it stands alone, for the actors, the script, the storyline.  I'll still watch it again when it comes on TV and I can be counted on to let loose with a quote once in awhile.  But in the real world, Jaws has single-handedly caused the deaths of countless shark species, especially great whites, by justifying killing these monsters, as the general public thinks of them.
Shark hunting tournaments and the slaughter of these erroneously labelled 'man-killers' irreparably harmed the reputation and populations of great whites and every other shark species by association.  The author of Jaws, Peter Benchley said twenty years later, "I couldn't write Jaws today. The extensive new knowledge of sharks would make it impossible for me to create, in good conscience, a villain of the magnitude and malignity of the original…. If I have one hope, it is that we will come to appreciate and protect these wonderful animals before we manage — through ignorance, stupidity and greed — to wipe them out altogether."
There is a barbaric practice known as long-lining, which is often used only to take the fins from the animals, leaving them to die a slow death as they are thrown back still alive after the fins are removed.  Long-lining also harms countless other species of marine life in the process.  More and more conservation groups are shining a light on this and as a result, it is becoming poor fashion to serve shark fin soup in many places in the western world today, although it still happens in the Chinese community.  It is also still popular in China as a delicacy.
I realize it's not my usual practice to use a blog about my latest painting to climb up on a soapbox and talk about animal conservation, but I've learned a lot about sharks over the years, largely because of my wife's interest, and I'd like to see more awareness of the beauty of these animals and their valuable place in the ecosystem of Earth's oceans.  We have done infinitely more to harm sharks than they could ever do to us and even though Jaws scared a lot of us senseless as children, it's about time we grew up.
Thanks for reading.
Cheers,
Patrick
If you'd like to receive my newsletter which features blog posts, new paintings and editorial cartoons, follow this link to the sign up form.  Thanks!