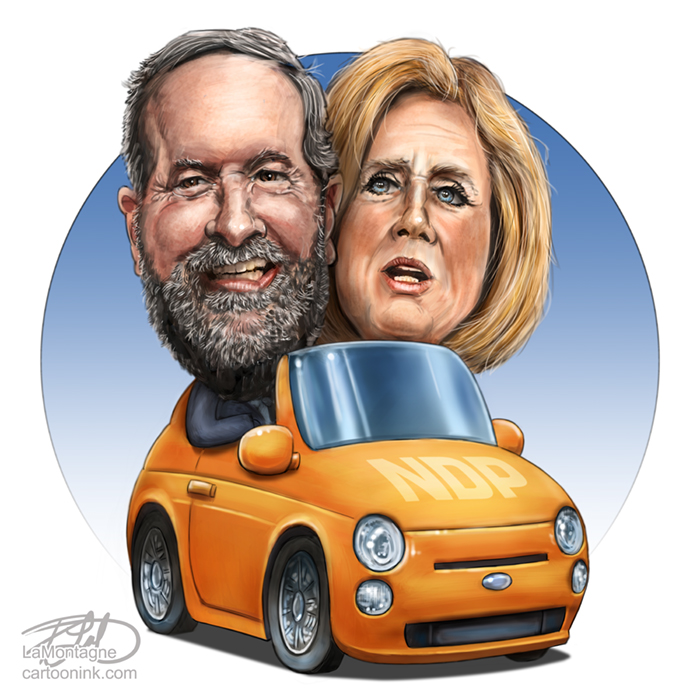 When I first started out as an editorial cartoonist, I was horrible at caricature. It took forever for me just to get a passable likeness and sometimes, I even had to put the name of the person on a briefcase or name tag just to be sure that people would know who they were looking at.
As time went on, I spent a lot of energy trying to become better at that, because this artistic shortcoming drove me nuts. I tried to do the extreme exaggeration caricature, with the huge features, but never really took to it. I tried to do faces that were far too realistic so that they weren't caricatured at all. Eventually, I discovered my own style which is a mix of the two, leaning more toward a realistic than extreme distortion. But still with big noggins.
It has been my experience that caricature is often seen as something easy to do by people who don't draw or paint. I'm not sure why that is, perhaps it's because many people have seen or had their caricature painted by one of those artists at county fairs or carnivals in ten minutes or less. What most people don't realize is that the people who can do that are incredibly talented. That kind of speed and accuracy takes years to acquire and I have a lot of respect for the artists I know who can do it. It is a skill I do not possess.
I took an online caricature course years ago from Jason Seiler through Schoolism.com. Jason is an incredibly talented portrait and caricature artist, his work has appeared in many magazines and publications. He has even painted Pope Francis for Time's Man of The Year cover last year. You probably saw it, even if you didn't know who did it.
I learned a lot from Jason's course, it was well worth my time and money. I probably found my own personal value more in the painting techniques I learned from that course, rather than the caricature. That's not a failing on his part, far from it. It's just where my interest was. A lot of the painting techniques I still use today have core elements of the skills I learned from Jason.
When it comes to caricature, I've done commissions for individuals, illustrations for magazines and newspapers, business graphics, and celebrity portfolio pieces. After I discovered my animal work, however, I realized that's where my niche was and have since devoted most of my painting time to that. My caricature skills, such as they are, are clearly a part of that work. While I will still get requests from time to time for caricature commissions of people, I most often turn them down unless there are very special circumstances.
These days, the majority of my caricatures are for editorial cartoons. As deadlines are constantly on my mind, I can't always put long hours into them, but every once in a while, I'll make the time.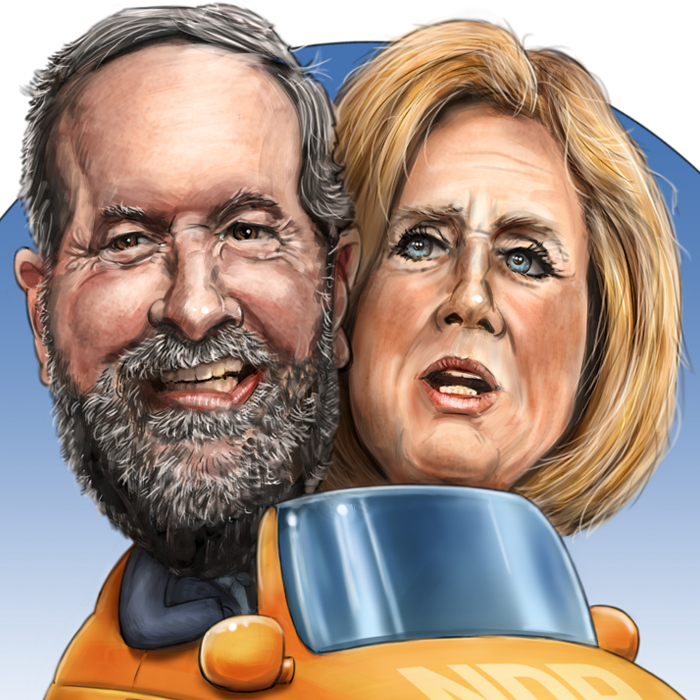 As I'd had the idea for this cartoon on Friday, in anticipation of the upcoming NDP convention in Edmonton, I decided to devote Sunday to working on it. I started with the sketches very early in the morning and finished painting it sometime around 3 pm, I think. Allowing for time to eat, chitchat with my wife throughout the day, I would guess this one took me somewhere around 6 or 7 hours to complete.
Editorial cartoon caricatures are tough because newsprint is a muddy and unpredictable medium. Subtle brushstrokes often get blurred out so they're not even seen. For that reason, I have to paint with more contrast, harder lines, and include black lines where I might normally leave them out in another painting. It's about finding the right balance between how I'd really like to paint the face and what I need to do to make it stand out on newsprint and hopefully look relatively the same in all of the publications that print it. You'd be surprised how one press can make a cartoon look great, while another can make it look completely washed out, all from the same file.
For those who follow my artwork, but not my editorial cartoons or Canadian politics, the guy is Thomas Mulcair, leader of the New Democrat Party of Canada. The woman is Rachel Notley, Premier of Alberta, also with the NDP but at the provincial level. Neither is very popular right now and they're both struggling for relevance.
I thoroughly enjoyed this, not only the faces, but also painting the car, just spending time on the whole image overall. Without worrying about whether it gets widely published or if my editors like it, I had fun painting it, nitpicking over the details, trying a few experiments, improving on my skills. It was time well spent.
While there will always be room for improvement, likenesses are a lot easier for me now than they used to be. And best of all, I'm confident that I don't have to write their names in there anymore.