One of the unexpected, but welcome consequences of painting my whimsical wildlife images is my growing interest in learning more about the animals I paint.
Initially, my first concern was finding enough reference. For that I relied on generous photographer friends and stock photos. As time has worn on, I've found that I quite enjoy taking my own photos as it makes me feel more connected to the painting from start to finish.
In keeping with that theme, I've been spending more time on wildlife excursions, at the Calgary Zoo and at Discovery Wildlife Park in Innisfail.
Last year, I went on two behind-the-scenes…well, I'm just going to call them adventures…with their lion cubs Griffen and Zendaya. I've painted Zendaya, but have yet to paint Griffen and might wait until his full mane comes in. Right now, he looks a little like a teenager with awkward hair issues.
This year, the focus of my park visits has been on black bears and I've had two memorable behind-the-scenes visits. I'm saving that part of this story for another post.
I've been getting to know the keepers pretty well and I am obviously not making too much of a nuisance of myself or doing the wrong things, because after my time with the bears, I've twice been invited behind the scenes with their jaguars. It was great to get closer than usual to take pictures and to learn more about their care. Who's going to say No to an offer like that?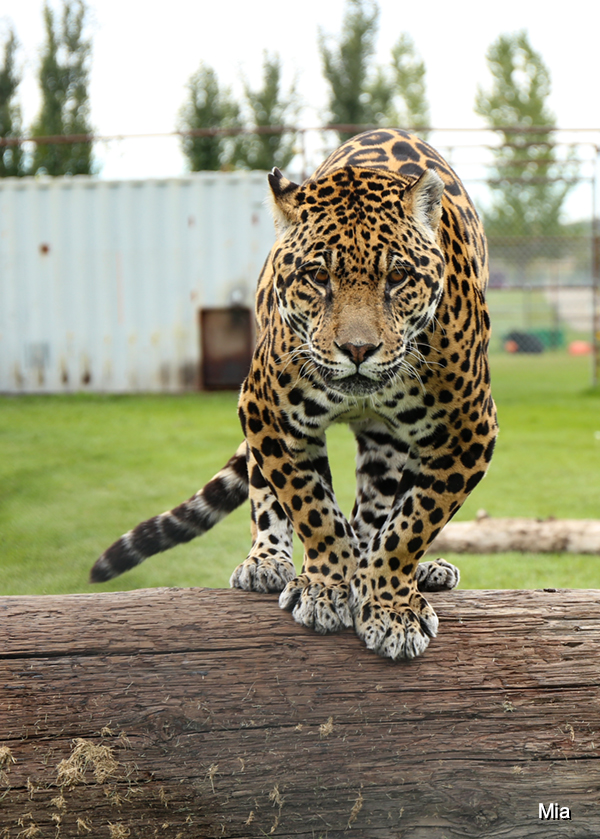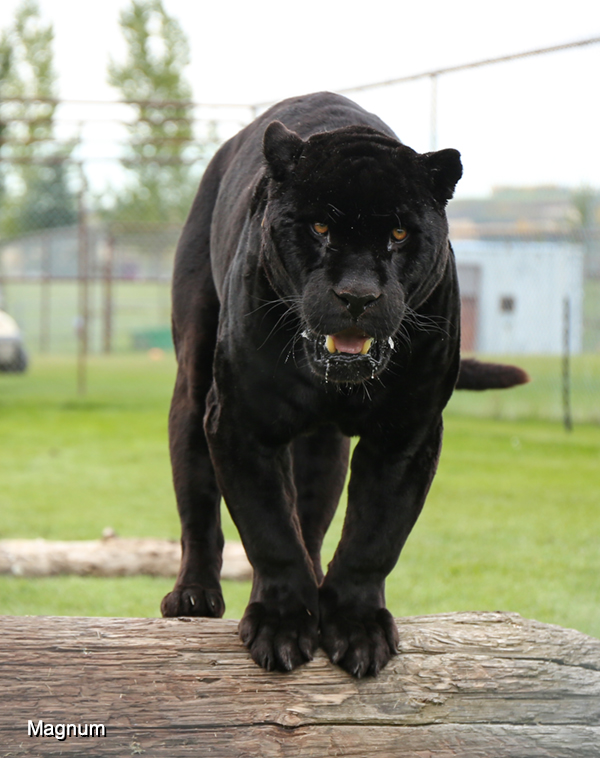 Discovery Wildlife Park is home to two jaguars, Mia and Magnum, brothers born and raised at the Park. Magnum is black, Mia has the stereotypical spotted pattern, and both are beautiful animals.
In July, I got to see how the jags are trained and witnessed their claws being trimmed. Training any animal with positive reinforcement requires plenty of patience and skill. With auditory signals and clickers, verbal commands, repetition and reward, I watched as each jaguar ran over to a specific spot by the fence, and put his paw through a small opening for inspection. When the behaviour was performed correctly, he'd be given a reward of a piece of meat on the end of a stick.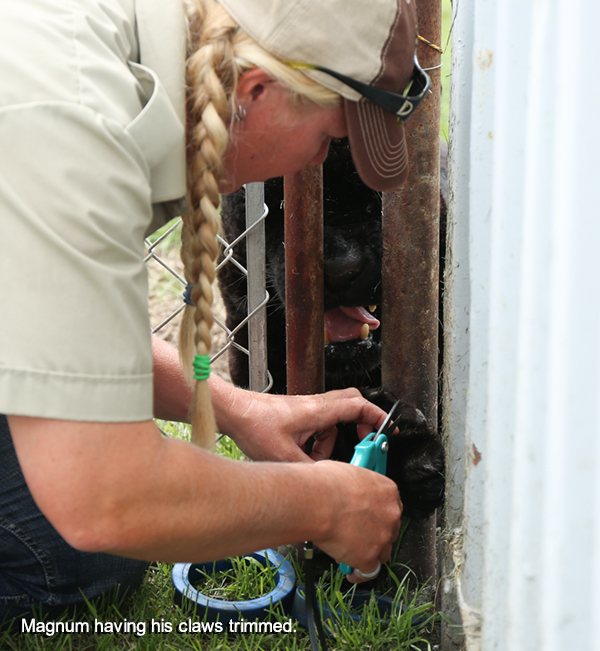 The keepers can go into the enclosures with many of the animals, including the lions and bears, but nobody goes in with the jaguars. All of the training is done through a chain link fence, which I find even more impressive.
While you might think the purpose of learning tricks is to entertain people, the real benefit of training is best seen when it comes to the health and well-being of the animals. Teaching them new tricks, hiding things for them to find, and changing up their environment is all part of their enrichment. This kind of stimulation keeps them mentally fit.
But it also makes caring for their physical well-being much more efficient. Rather than tranquilizing an animal on a regular basis for a health checkup, they've made showing up for inspection another learned behaviour, a routine they get used to. This leads to a long and healthy life because any problems can be caught early and remedied.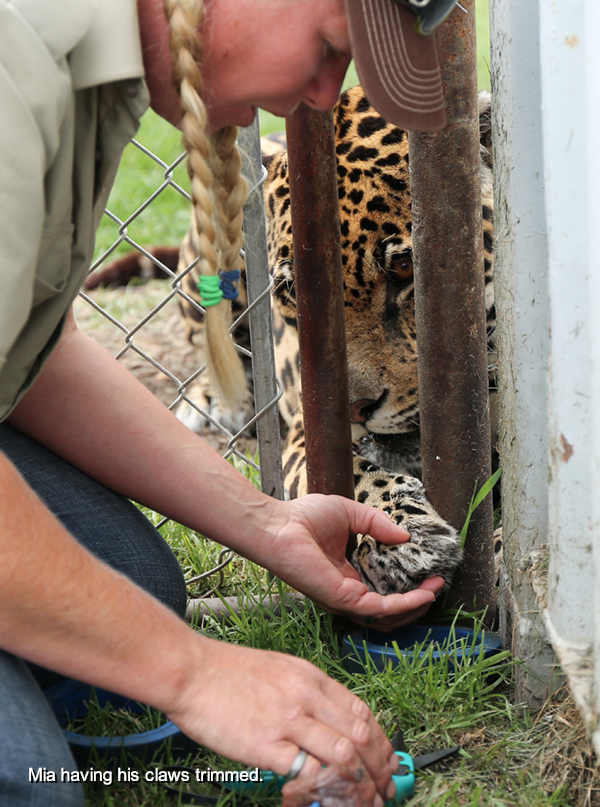 While his claws were being trimmed on my first visit with them, I noticed that Mia had a broken tooth. The head zookeeper, Serena, has explained to me that the jaguars have to open their mouths for inspection twice a day just to make sure everything is OK. In early April, it was not. There were no indications that he was in any pain, but Mia was scheduled for a root canal in July.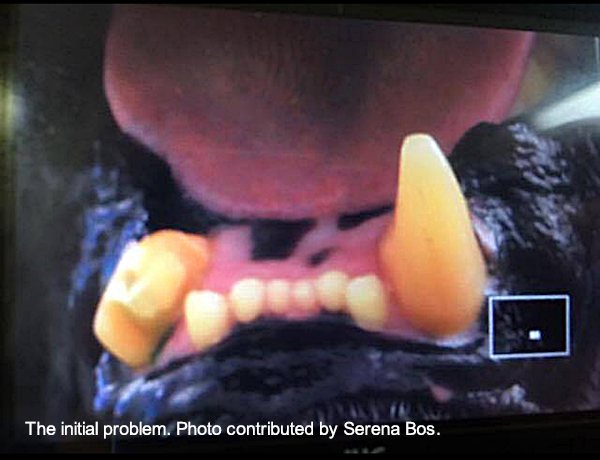 I had planned to write this post after that first experience, but got sidetracked and never got around to it. In hindsight, I'm glad I waited, because I get to share how it all turned out.
Last week, I had an exciting time taking more pictures for my upcoming Black Bear Totem but also got to go behind the scenes with the jaguars again!
I had forgotten about the broken tooth until Serena produced a toothbrush on the end of a stick while training Mia. He had been taken to The Calgary Zoo during the summer and that's where the root canal had been performed. Everything went well, but now Mia must have the area around that tooth brushed three times each week in order to keep food, hair and other debris from causing any problems.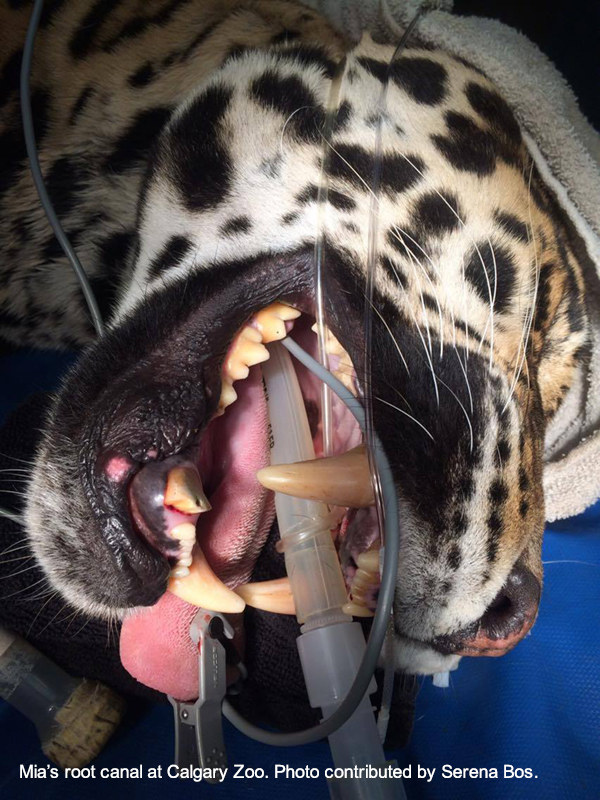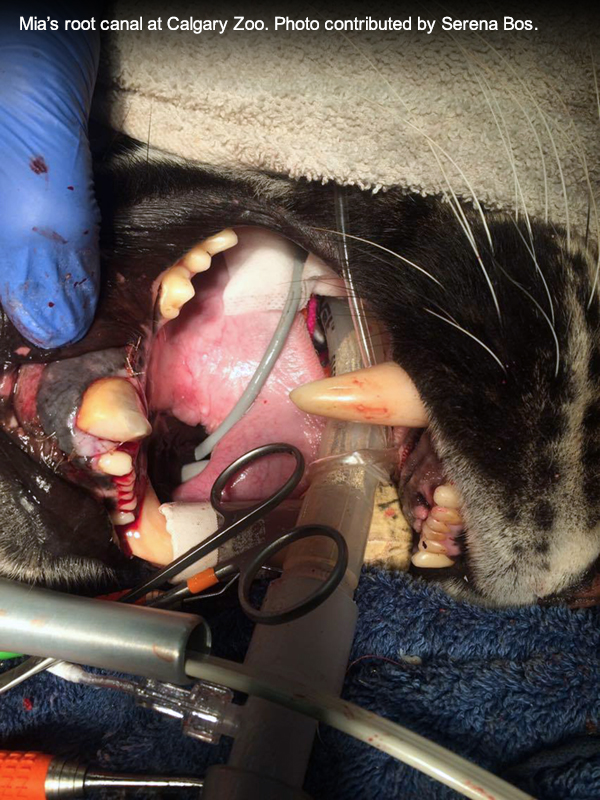 The benefit of training is clearly evident in that Mia will open his mouth for Serena to get in there with the toothbrush and then another keeper will reward the behaviour with a piece of meat. From Mia's perspective, he's just learned another trick. As they had allowed me to get right up next to the fence, I was able to watch this procedure closer to a jaguar's mouth than will ever be comfortable, but it was thrilling.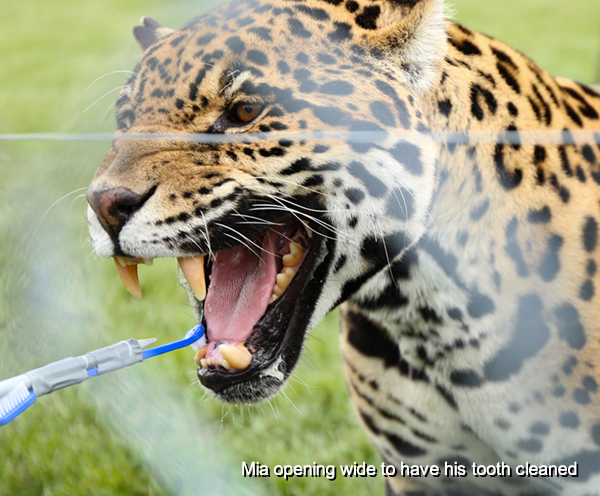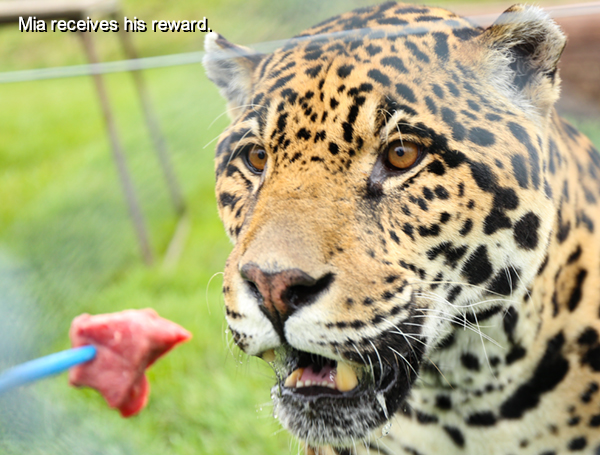 No word on whether or not Mia will learn to floss anytime soon. I'll keep you posted.
As anybody who has ever had a sick pet knows, you usually see a positive change in their demeanor once they've been treated. I asked Serena about this, and she said the vet had forecast that as well, but Mia hadn't shown any initial behaviour changes, so they appear to have caught it before it had given him any real pain in the first place. All thanks to the training.
It's true that my relationship with Discovery Wildlife Park over the past year and a half has been out of the ordinary and you might think the best result of that would be all of the up close and personal reference photos I've been able to get for my paintings. Yes, that has been great.
But what I've enjoyed most about visiting the Park is all that I've learned. The keepers have been generous with their time and while I've been respectful, I've asked plenty of direct questions about animals in captivity, why the need for training, the meaning of different behaviours and their overall care. With every question I've asked, I've been given straightforward answers, ones that satisfy not only my curiosity, but also give me the confidence that I'm supporting a facility that has the best welfare in mind for the animals in their care.
If you haven't been, I would recommend a visit. I plan to return often.
I would be remiss if I didn't acknowledge the individual zookeepers for generously sharing their time and knowledge with me. Serena, Mari, Denise, you're aces. Thanks so much.

If you'd like to receive my newsletter which features blog posts, new paintings and editorial cartoons, follow this link to the sign up form.  Thanks!