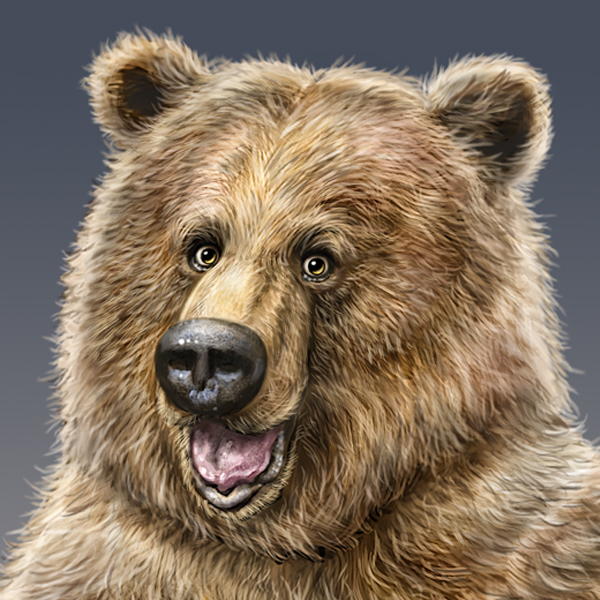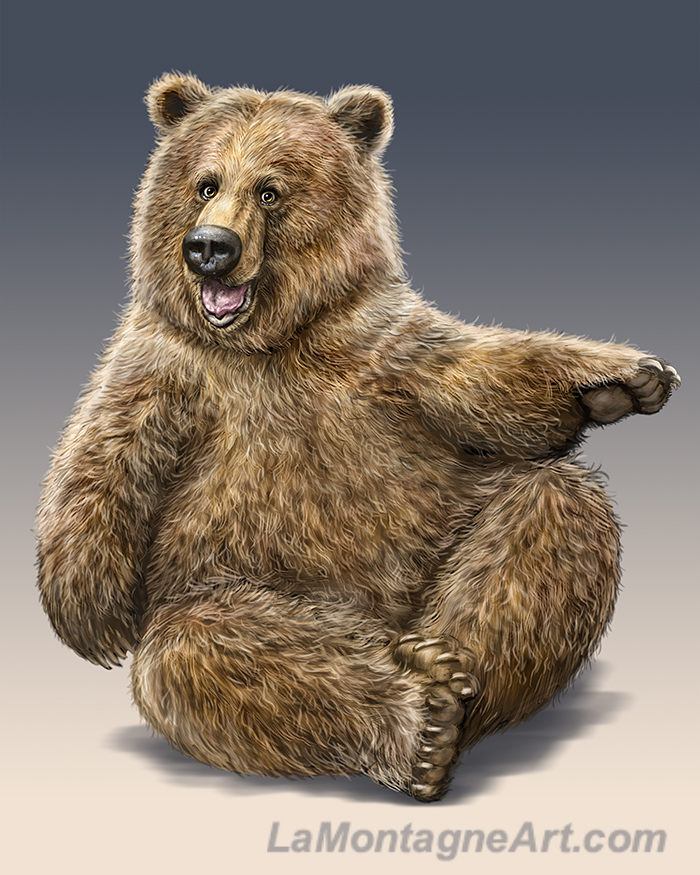 Here's a painting of one of the younger bears at Discovery Wildlife Park. I took the reference in September of last year, but because there were two bears the same age, and I don't know them as well as I do Berkley, I didn't know which one I was painting.
I sent the finished piece to my friend Serena, the head keeper at the park, and she immediately said it was Bos (rather than Piper), which I took as a compliment that she could identify the bear from my painting. Another keeper also knew which as well, so it felt pretty good that even with my whimsical style, I got the personality and likeness right.
Serena reluctantly mentioned an anatomy issue with one of the paws/claws and said the claws looked more like a black bear than a brown bear. I asked for more clarification and spent some time repainting the problem area.
When it comes to unsolicited criticism, the kind most people offer is a glib comment that costs them nothing, so they speak before thinking. Unfortunately, it can often be unkind, malicious, or personal, which usually says more about the critic than that being criticized.
One of the pillars supporting social media is that we're all so sure of our clear view from the cheap seats. It has always been easier to tear somebody down than build them up.
Constructive criticism, however, is a valuable resource, and artists need to cultivate relationships with people who genuinely want to see them create better work. For example, my buddy Derek and I have often sent each other paintings in progress, asking for critique.
Another tattoo artist friend sent me a beautiful sea turtle painting he'd completed the other day and asked my opinion. I loved the piece and enjoyed seeing it but had no suggestion for improving it, which isn't unusual.
Most of the time, we've each scrutinized our work to death already before we request a second look.
But staring at a painting too long, sometimes you miss what's right in front of you until a trusted friend and colleague points it out. Then you wonder how you ever could have missed it. Or you make the suggested change to see the results and agree it was a better choice.
When you do get an honest critique from someone whose intentions are genuine, be grateful. That person took the time to help you improve your work.
Serena's not a painter, but when it comes to animal anatomy, I trust her eye, and I'm glad she saw what I missed. Better still, I'm happy she said so, rather than worry that I would take it personally.
From time to time, however, the creator of a piece might consider a critique and still disagree. That's fine, too. Every artist sees things differently, and ultimately it comes down to making your own choices. I've had plenty of well-intentioned suggestions over the years, both on specific pieces and my business in general, that I decided weren't right for me.
You never know, however, when somebody might offer a solution to a problem you didn't know you had. For example, my buddy, Darrel, casually suggested vinyl stickers a while back because he saw a few on vehicles and thought my work would lend itself to those. I'm glad he did because my stickers are now doing well in a few retail stores, and I'm actively seeking more resellers.
But then, I also get a lot of people suggesting I create children's books, and it's just not something that interests me.
This painting was supposed to be a practice sketch. But my obsessive nature and perfectionist tendencies don't seem to allow me to stop if I can just paint in a little… more… detail. So, this became a finished piece. I think it will make a nice sticker, too, and possibly a print later.
Regardless of where it ends up, I consider any time painting bears to be time well spent.