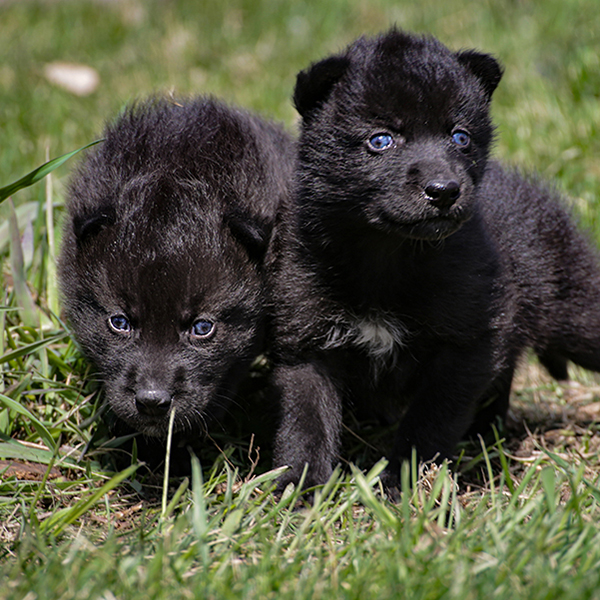 Art for a living is a lot more than the general assumption that I'm just drawing and colouring all day. Like any business, there is a balance between creating or producing something and selling or marketing that something.
After Expo cleaned me out of stock, an excellent problem to have, I had to re-order prints and the packaging that goes with it. In addition, I needed to fill orders for my retail clients and have stock to sell at an upcoming market and on my online store.
Even though I work with excellent vendors who deliver outstanding service, we're all familiar with the supply chain challenges that still create delays. But over the past couple of weeks, all orders have finally arrived. I've spent many hours signing and packaging each print and the past week delivering them. Now I'm preparing for this Saturday's Mountain Made Market at the Canmore Civic Centre.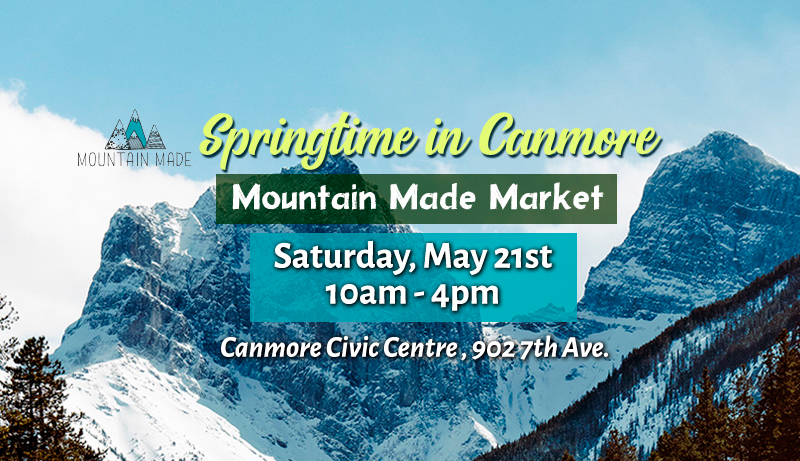 Last week, I drove to Innisfail to Discovery Wildlife Park for the first time this year to deliver the largest print order they've ever placed and their first order of my high-quality vinyl stickers.
I had recently updated their park map and flyer for them, and It's already printed and available for guests. In addition to financial contributions, there are always other ways to help your favourite causes and organizations, especially if you have the marketable skills they need.
Of course, there's no point driving those couple of hours without taking reference photos and spending time with the staff and animals. Timing and luck delivered a beautiful warm day.
At Expo this year, my friend Kayla, a zookeeper at the Calgary Zoo, said that she wanted to come up and see Discovery Wildlife Park and meet their head keeper, Serena. So I told her I'd be going up soon, and we timed it for her days off. I arranged it with Serena to make sure it was convenient, gave Kayla directions, and met there on Thursday morning.
Here's Serena on Thursday, feeding last year's fast growing rescue cubs, Bos and Piper.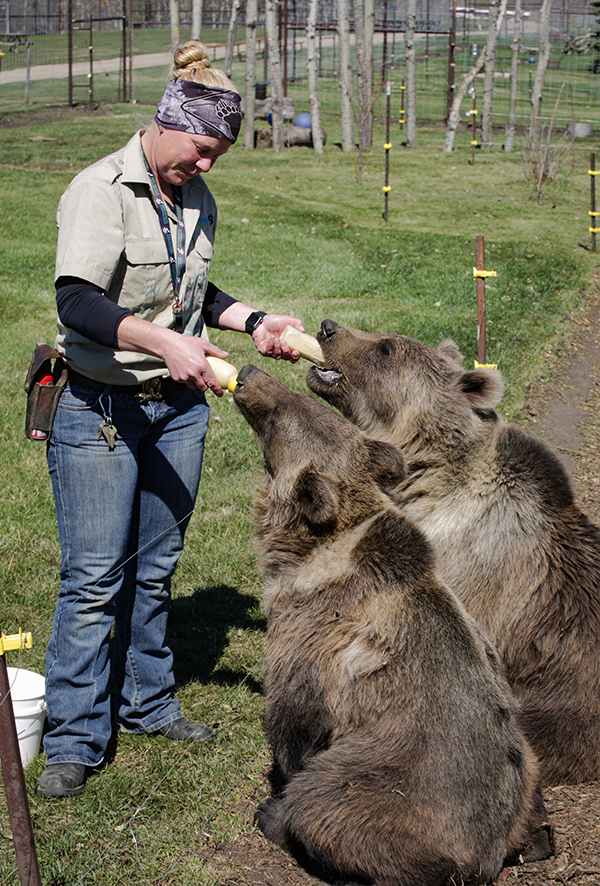 The Calgary Zoo and Discovery Wildlife Park have a great relationship. Staff from one will often visit the other, participate in educational and training days, and learn from each other's procedures and policies.
So, I was happy to introduce Serena and Kayla and connect them for what ended up being a partial professional development day. Of course, I was delighted to tag along and eavesdrop while snapping photos.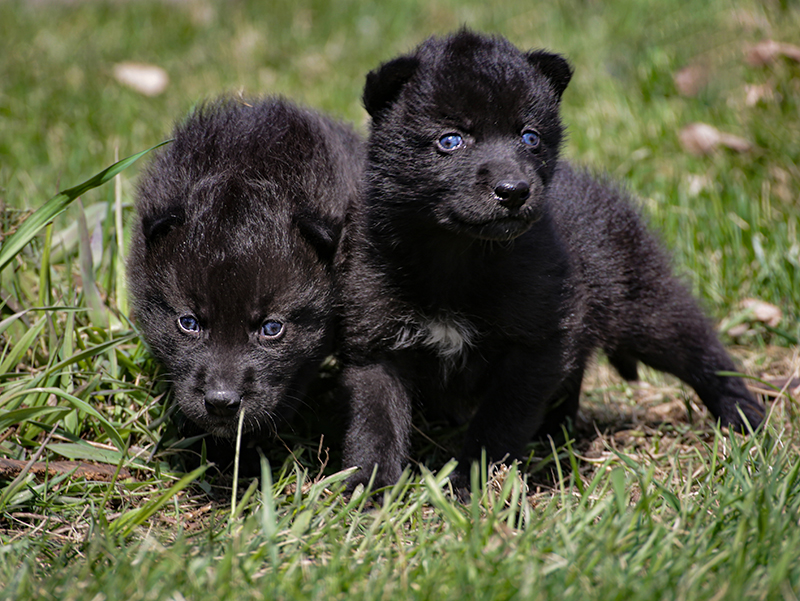 We got to meet their new wolf pups, though only the keepers who feed them are allowed to touch them. The vet has prohibited any other contact until the pups have their vaccinations next month. But I got plenty of photos, and there will most definitely be a painting coming this year.
On Monday, I was again on the road to deliver another print order to the Calgary Zoo. In the almost ten years they've been selling my prints, this was their largest order, a good sign for what we're all hoping is an economic recovery year.
I had a good visit catching up with their retail manager, Kathryn, and spent some time meeting the new staff, talking about my work, and answering their questions. Since they're the ones presenting my art to the public and I frequently talk to people who have seen and bought my work there, I'm happy to give the staff any help they need.
Of course, no trip to the zoo would be complete without wandering and taking photos and I was granted yet another beautiful day for it.
No matter how well I plan, some animals prove to be elusive when it comes to reference photos. From poor lighting, posing, vantage point, or timing, it can be frustrating when I can't get the photos I want. I keep trying, however, as eventually fortune does smile, and it's always unexpected.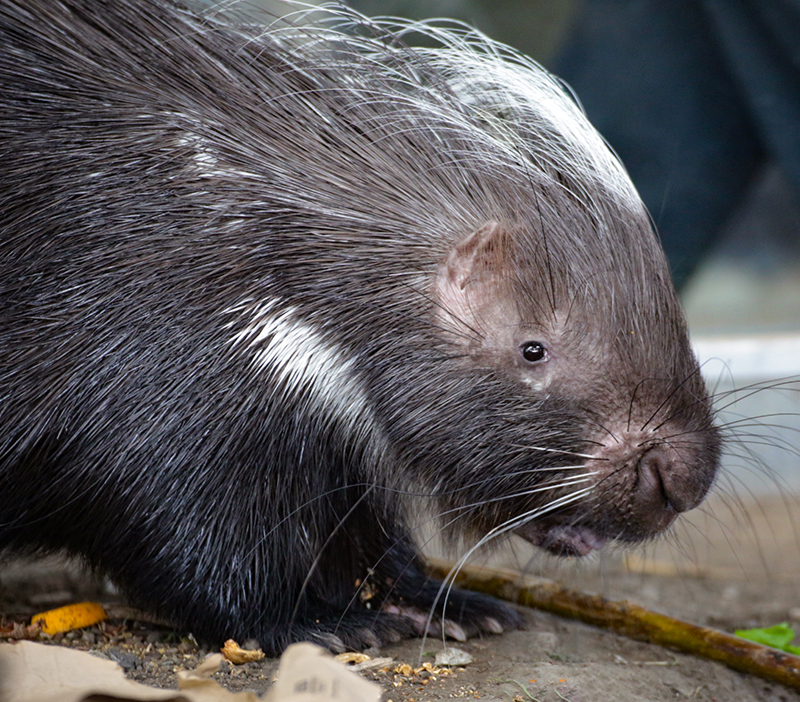 After years of failure, I might have finally got the reference I needed to paint an African porcupine. They had just been given food for which they had to work a little, which is a form of enrichment. The lighting was good, I could get down to eye level, and the little critter kept looking right at me. I was shooting through glass, but if there isn't much glare and I can cup my hand around the lens hood, that often works just fine. I must have taken 300 shots. I discarded most of them on the first pass, but there are painting reference potentials in those I kept.
From the two visits, I got good reference for wolf pups, a lion, a grizzly, and that African porcupine.
Once this Saturday's market is behind me, I'll have a lot more time to devote to painting, and I expect to share a new one with you, already half done, by the end of next week. I have plenty of recent reference stored up and am anxious to work from them.
Just in time for this Saturday's market, my order from Pacific Music & Art arrived on my doorstep on Monday. I'm grateful to Mike for such a quick turnaround to restock me with magnets, coasters and aluminum art for this weekend's market. But the best surprise in the box was my first order of the 2023 "Wild Animals" calendar! That's one of my favourite paintings on the cover, Grizzly on Grass.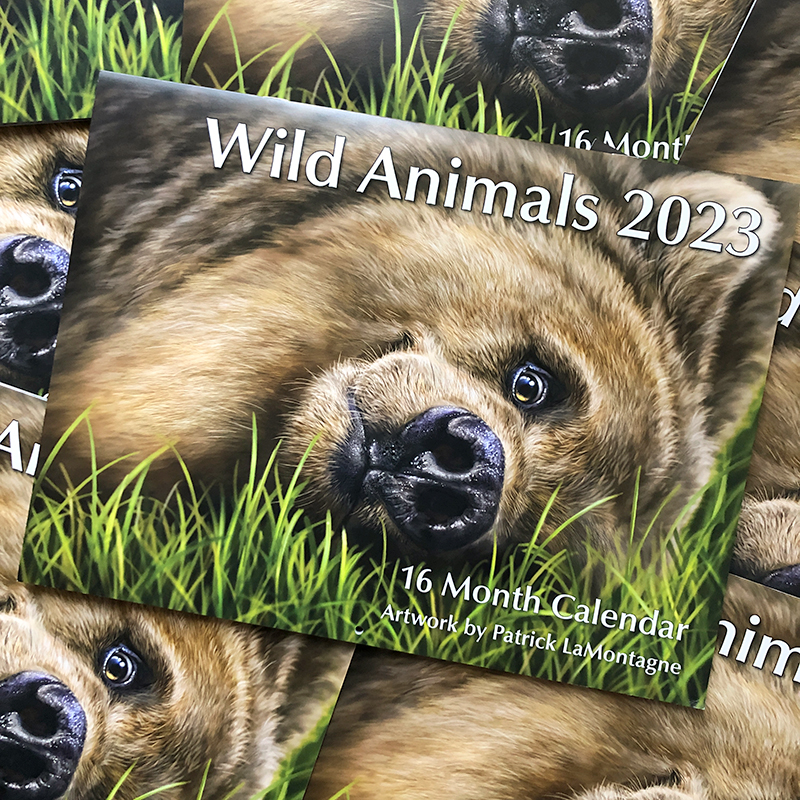 The shipment arrived while I was at the zoo, so I sent a text to our next-door neighbours asking them to grab it for me off the step for the third time in recent weeks. For a guy who is home most of the time, all my recent orders have arrived while I've been away. My neighbours got the first calendar as a Thank-You, but you can get yours at The Mountain Made Market this weekend at the Canmore Civic Centre.
Next week, I will have the calendars available in the online store; I need to work on the calculations to keep the shipping costs as low as possible. I will let you know when you can order them.