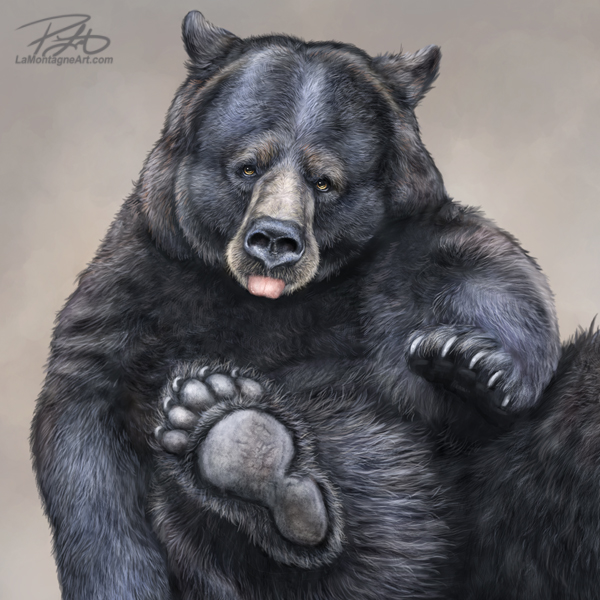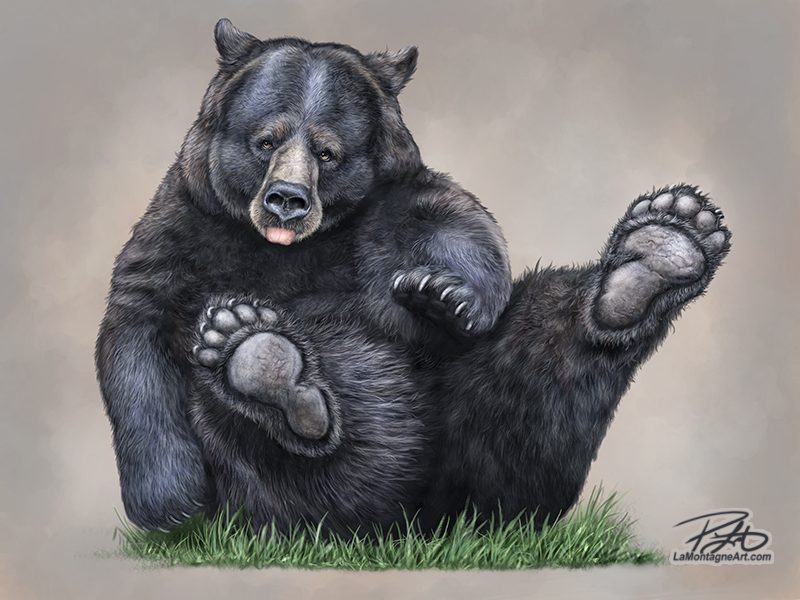 One of the reasons I enjoy taking my own reference photos for paintings is that the animals often surprise me.
When I began painting these critters, before I took my own photos, I'd often have a pose in mind, and I'd go looking for it on the internet. I'd eventually find something I liked, but it would often look similar to the pose I used for a previous painting of a different animal.
If it were a stock photo, I'd pay the licensing fee for reference. Failing that, I'd contact the photographer, arrange for a high-res image and pay or barter for the use.
Australian photographer Scott Portelli allowed me to use his underwater photo for my Humpback Whale painting in exchange for a rolled canvas of the finished piece. Moose Peterson allowed the use of several of his animal images in exchange for my drawing a caricature of him and a business partner for a course they taught. We already had a connection through Photoshop World, so he was familiar with my work.
I paid a U.S. park warden $100 for his photo I found online for my first Wolf painting. He confessed surprise at my offering to pay since that image had been stolen and published illegally more times than he could count.
The problem with online reference photos is that I know that no matter what I find, there's a good chance another artist has used the same image. Certainly, I'll paint it with my spin and style, and it won't look the same as another artist's work, but it will undoubtedly share similarities.
By taking my own photos, it stands a better chance of being unique.
On a recent visit to Discovery Wildlife Park in Innisfail, I had another opportunity to take photos of their black bears during their presentation to the public. As I've known the keepers and staff for several years, they allow me into the large enclosures with them, though I'm behind a hot-wire. It's an electric fence about a foot off the ground that the animals avoid, for obvious reasons. The keepers, however, interact up close and personal with the bears.
These animals are all orphans and rescues who came to the facility under conditions prohibiting their release into the wild. Many of them have been raised here since they were very young. They receive exemplary care and clearly have an affectionate relationship with their caregivers.
The keepers use the bear presentations each day to educate the public about wildlife. They teach how to be bear-aware while hiking, what to do if you encounter a black bear or grizzly in the wild, how to use bear spray, and keep a clean campsite so that the local fauna doesn't learn to associate people with food.
The hope is that by educating the public, fewer orphans will end up in captivity, remaining in the wild where they belong.
One of those rescues is a big black bear named Gruff. With a genial and gentle personality, he has been hand-raised at the park since he was a cub.
Sadly, Gruff had a rough start in life. A hunter poached his mother in the Grande Prairie area, and people passed the frightened little cub from home to home.
Fish and Wildlife eventually confiscated the sick and frightened cub, and my friend Serena, the head keeper at Discovery Wildlife Park, was asked if she could take him.
He was malnourished, in shock from his ordeal, and sick from untreated pneumonia that has since resulted in permanent left lung damage. Because he was in such bad shape, Serena didn't know if she could save him. But with proper food, medication, round-the-clock care and a lot of patience, Gruff has grown into one of the most beautiful black bears you could ever see.
He is currently eight years old and 709 pounds at his last weigh-in.
I've painted Gruff several times, and I expect I'll paint him again as I enjoy his expressions and antics. The bond between him and the keepers is evident, and he never fails to put a smile on my face.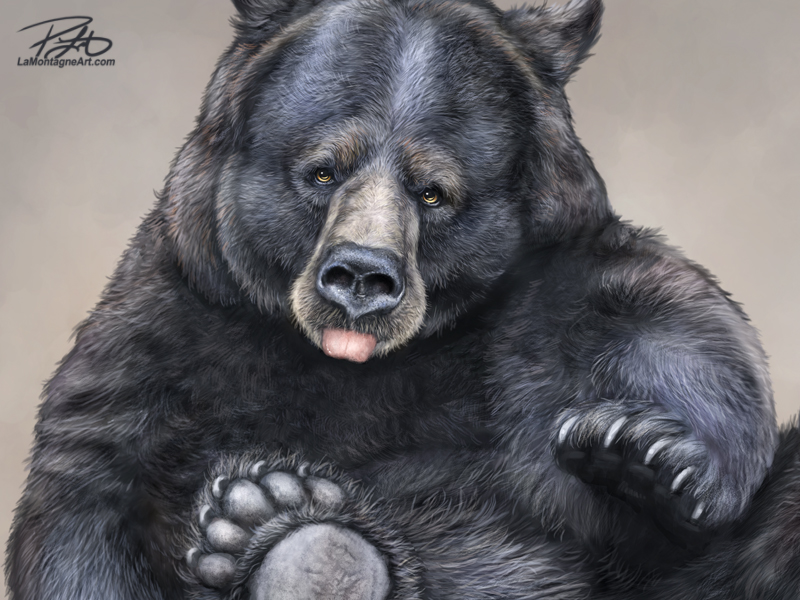 While visiting in June, I was happily snapping pics of Gruff when he made a clumsy attempt to sit up from lying on his back. He looked right at me, with his tongue out, and immediately reminded me of a large guy trying to do a sit-up. With the camera on rapid-fire, I got quite a few shots of this funny situation and was delighted at the photos when I got home.
As none of them were quite right on their own, I used three different reference pics for this piece. One had the best head position, another one revealed a better overall pose and the third, while a bit out of focus, had some lighting I liked.
Could I have found these shots online, taken by another photographer? Unlikely. Would I have even thought to have looked for images like this? Not a chance.
I could list dozens of paintings I've created that have been inspired by situations and experiences I couldn't have anticipated. It's why taking the photos is as much a part of the finished pieces as the paintings themselves. Each of them has a story and conjures up fun memories.
Whether it's a pose, lighting, or simply a look, I can't tell you how many times I've discovered future paintings while sorting through photos.
When I came across the photos of Gruff, looking like he was trying to get in shape, there was no doubt of a painting. But, before I put the first brush stroke on the digital canvas, I already knew that I would call it 'One More.'
I imagine it 10 feet high on the wall of a gym somewhere.
Here's a high speed video of 'One More', from start to finish. Prints of this piece are available NOW in the store.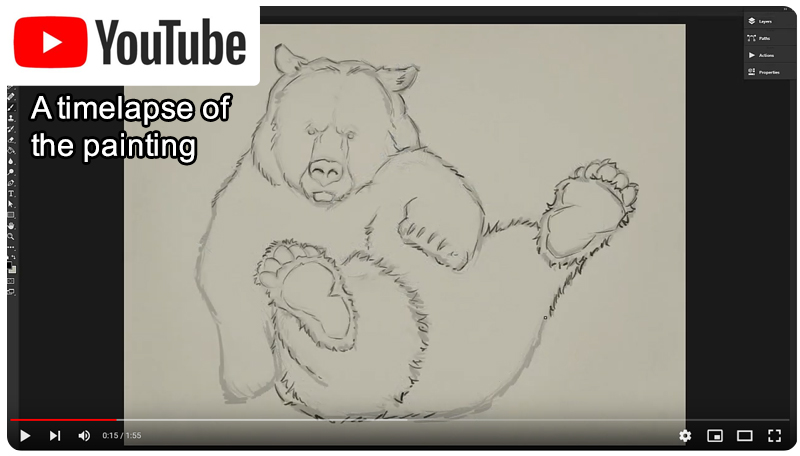 __
© Patrick LaMontagne