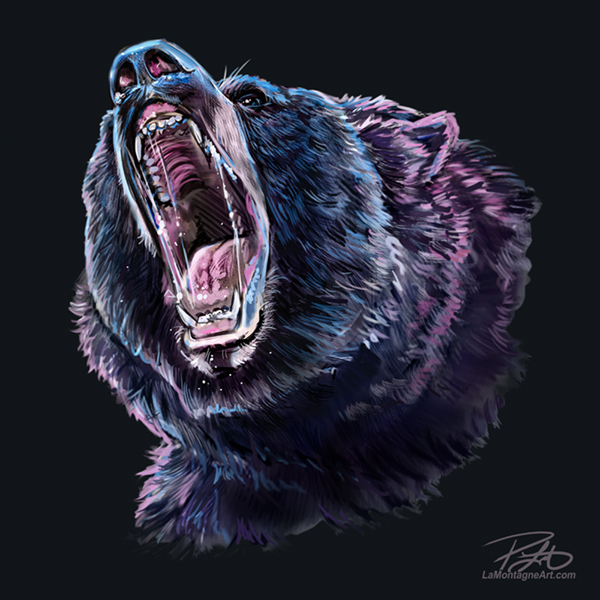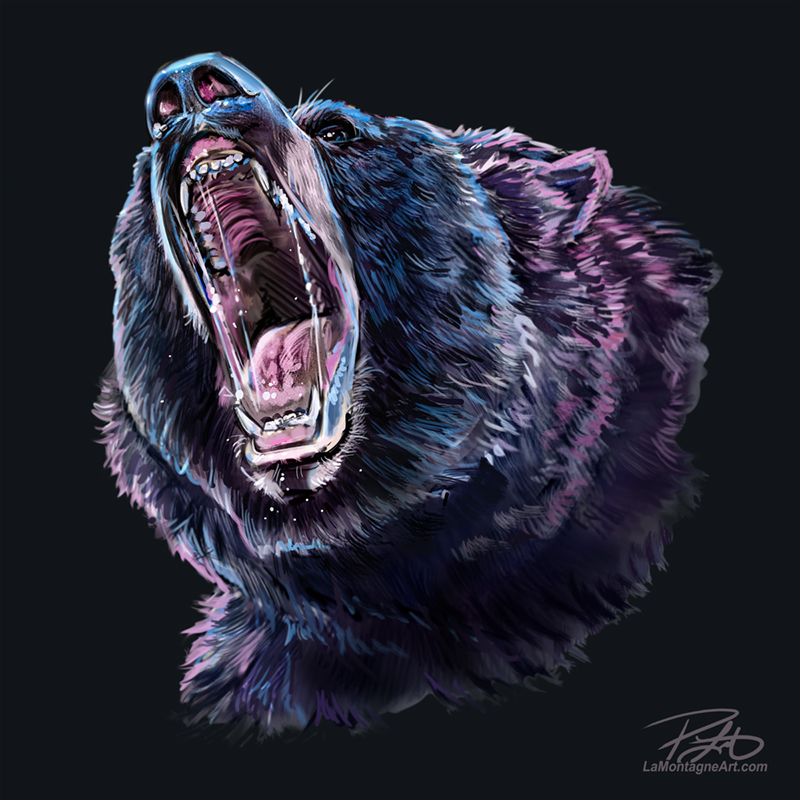 This painting began on the iPad in procreate as a sketch exercise. Playtime, if you will. I liked where it was heading, however, so I brought it into Photoshop and continued painting at a larger size. A departure from my style, but it was a fun experiment.
I called it 'Roar' but bears don't really roar. They might make loud noises from time to time, but not the kind you hear in movies. That's all Hollywood magic, the roaring sound added in editing.
Whenever I go to Discovery Wildlife Park, I usually watch the bear show, even though I've seen it quite a few times.
The bear show is kind of a misnomer and a big head fake. While people think they're coming to see the bears just do a few tricks, they're actually there for an education. The keepers use the opportunity to talk to people about bears in the wild.
Involving everything from how to tell a black bear from a grizzly, what to do when you happen upon either animal and how best to avoid any negative encounters, especially when camping or hiking. They also explain that the reason bears become orphaned in the first place (like all of the bears they care for) is most often a consequence of their encounters with people. By getting too close, directly feeding them, or leaving food out for them to find, we teach them bad behaviours that are difficult to break.
If you're unfamiliar with the Park, you might think that having the bears do tricks is kind of cruel, like they're in a circus or something. The reality is the opposite. It would be cruel NOT to teach them, as this keeps them active. It's called enrichment.
In the wild, animals have three big priorities…finding food, procreating and avoiding predators, each requiring large expenditures of energy and attention.
The animals at Discovery Wildlife Park aren't driven by the same priorities. They receive a well balanced diet of healthy food, have no concerns with predators, and they're not being actively bred.
So the tricks, for lack of a better word, are designed to keep their minds working. It gives them problems to solve, tasks to complete, and they actively participate, all with positive reinforcement. There is no punishment for failing to do a trick. They can just walk away if they don't feel like it.
One of the challenges for the keepers is coming up with new and interesting things to teach the animals. They're so smart (the animals, not the keepers…wait, that didn't come out right) that they learn things very fast and it becomes too easy for them. Some of the tricks serve double purpose, too.
By learning to present their paws, blood can be drawn without having to sedate them. They can also check their claws to see if there is any damage in need of intervention. They will urinate on command for samples, step up onto scales for weighing and a number of other behaviours designed to ensure they stay healthy.
One of the tricks the bears are taught at Discovery Wildlife Park is to "Be scary!"
Not only is it a standard trick of actor bears, it gives the keepers an opportunity for a dental inspection. A number of their animals have needed dental intervention, just like your own pet.
I find the "Be Scary" trick especially amusing, because I was there a couple of years ago when Berkley was just learning it and her scary bear was pathetic. If you'd like to see it, the video is available here, about the 1:15 and 3:25 marks. She now does a very impressive scary bear impression, gets her treat and then instantly reverts back to her regular adorable self.
This painting, however, is Gruff. He was raised at the park and his scary bear is top notch. Gruff is one of my favorite bears. As you can see below, I've painted him as a cub and as an adult, and have painted a number of roughs of him as well.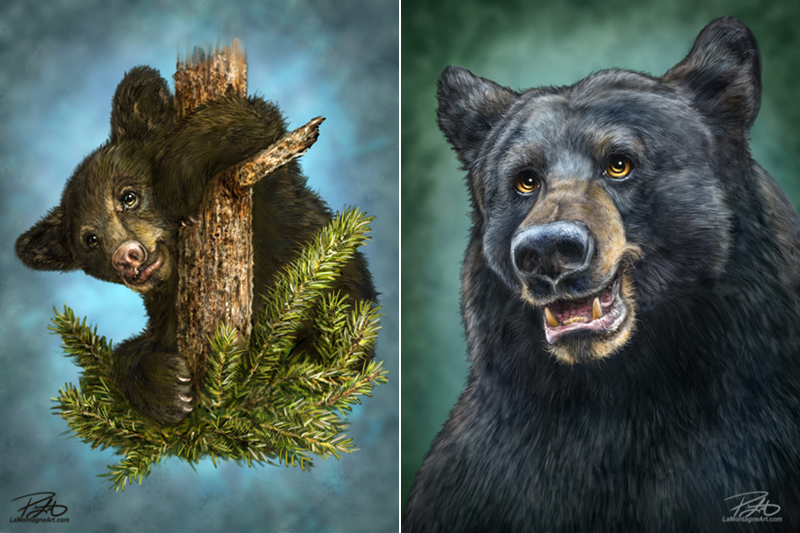 When he was first surrendered to the park, Serena wasn't sure she could save him. He was pretty far gone, having been mistreated by a number of people who had initially found him as a cub, then traded him around. But thanks to Discovery Wildlife Park's excellent care, he has become a wonderful gentle six-year old bear with a great personality.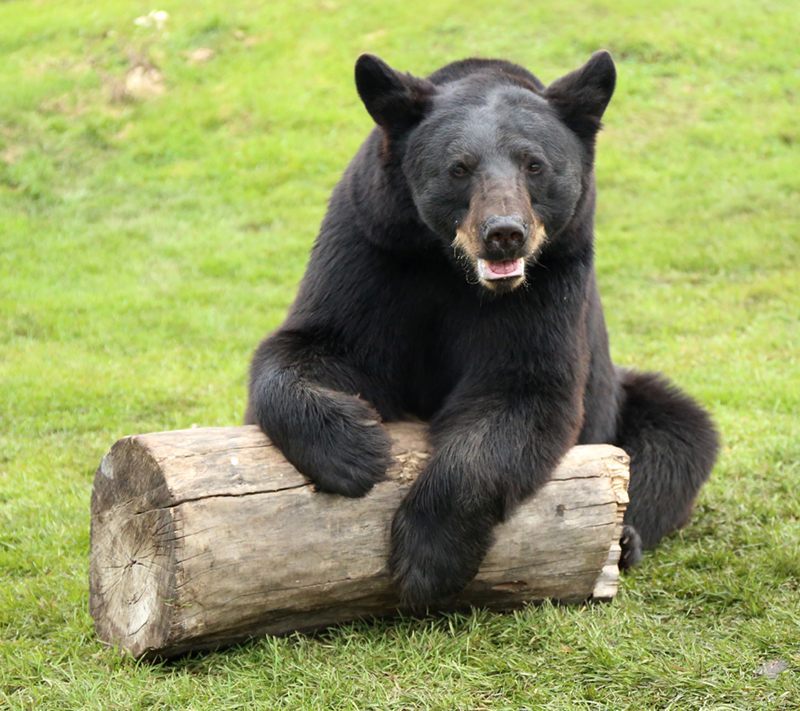 On a recent visit to the park, I was invited to step inside the outer enclosure fence while the keepers and bears did the show. Sitting on a log beside one of the other keepers, I managed to get some very nice photos of the black bears, including the reference for this one.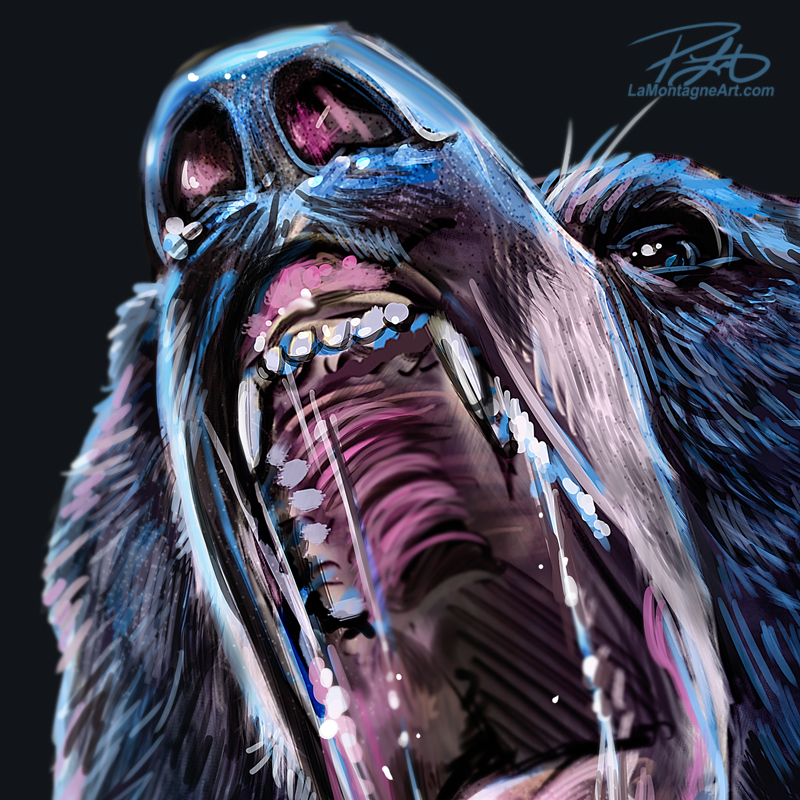 As you can see, the painting is intentionally rough. A loose, large stroke style, with plenty of artifacts, errant brush strokes and I got creative with an analogous colour scheme. Each time I found myself starting to focus on painting finer detail, I forced myself to stop, erring instead on the side of discovery.
Cheers,
Patrick
If you'd like to receive my newsletter which features blog posts, new paintings and editorial cartoons, follow this link to the sign up form.