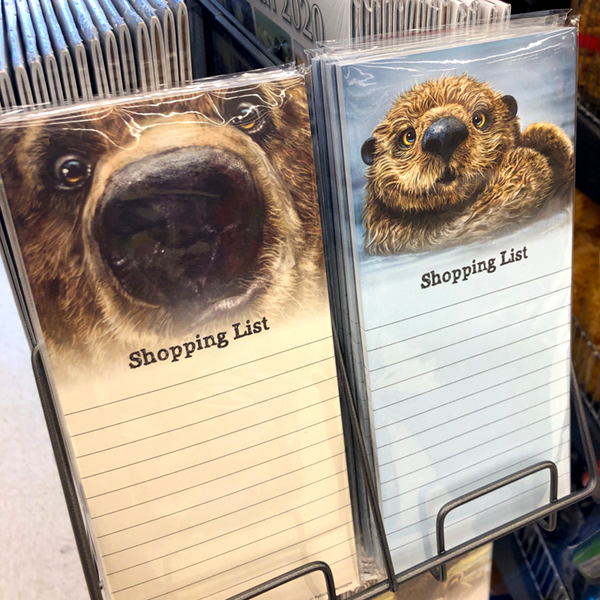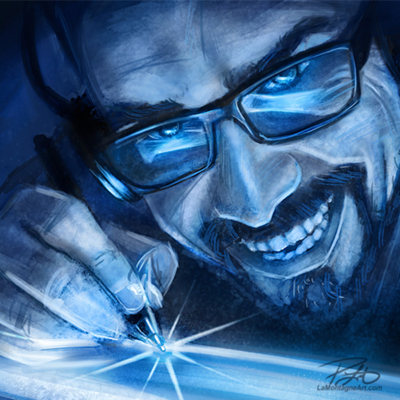 From time to time, I'll receive emails from art students or aspiring artists who have questions about my process or my road from there to here. I remember doing the same thing when I was first starting out. You never know when a kind word or tidbit of information might make a big difference, as it often did for me when more experienced artists took the time to respond to my own inquiries.
Hi Patrick!
My name is **** and I am a senior at UC Berkeley studying Biology and Art Practice – I stumbled upon your website while learning how to draw on my own Wacom tablet using photoshop!
I love drawing animals and the detail in all your work is truly stunning – I especially love the shine and depth of the eyes.
I was just wondering – what size canvas do you usually work with in Photoshop to have such high quality? Is all of your work on display digitally or have you ever printed them out for a physical show, etc.?
Thank you so much for taking the time to answer my questions! I'd love to cite your work as some of my inspiration for my senior thesis.
Hi ****:
Thanks for the compliments about my artwork. I do enjoy creating my funny looking animal paintings. People often mention the eyes as being the part they like most about my work and I would agree. If I don't get the eyes right, there's just no life in them.
My digital process hasn't really changed much over the years, even though it sprang from technology shortcomings. I begin a painting at 9″X12″ at 300ppi, or sometimes at 12″X16″. The reason is that I want to get the 'bones' of the work done before I work on the detail. A mistake amateurs often make is focusing on detail too soon. It's a lesson I had to learn myself after much frustration. If the likeness or character isn't right, painting in a ton of detail won't fix it.
Once I have the general look right, painting the broad strokes, playing with different colour choices, experimenting with expressions, then I'll bump up the size. Early on, I used to start with a smaller canvas because my computer and Photoshop would start to lag if I was trying make broad brush strokes on a big canvas. But these days, my hardware/software is plenty fast enough that I could start on a large canvas without any issues, but I still start small for the reasons mentioned above.
As I create more and more detail, I'll bump up the size of the image. 12″X16″ becomes 15″X20″, 18″X24″, 21″X28″…until eventually I've been topping out lately at 30″X40″, so my Master files are very versatile for sizing, whatever the need. With each bump up in size, the detail ends up blurring a little, so I'll sharpen sections as I go, by painting in more detail at that size. It adds to a layered look, especially on fur, which is how it looks in real life. That was initially just a happy accident, but it's now a critical part of my process.
Most importantly, I save multiple versions of a painting as I go. While it's rare that I experience a crash these days while painting, it was common enough in the early days that I risked losing whole paintings or files if I wasn't expecting it. Again, it was because the technology couldn't keep up with the demand I was placing on it. Photoshop would freeze and I'd have to do a reboot, sometimes losing the file in the process. I've also got into the habit of saving often, even have an Express Key on my Wacom tablet set so I can one-click it at any time. By the time a painting is done, I'll have seven or eight working files in different stages of progress. That way, if the most recent file ever gets corrupted, I'll have only lost two or three hours of work instead of ten or twelve. It still hurts, but not as much.
When a painting is done, the first thing I do is upload a Master file to Dropbox. I've also got multiple backups on external hard drives. Failing all off that, my licensees and printers have full-res files, so I'm confident my bases are covered. I've heard far too many stories from artists who have lost everything because of a failed hard drive at just the wrong time, sometimes years of work because they weren't diligent in their backups.
As for the second question…
Because my work is licensed and I sell prints, I usually keep most of it to the same size and ratio. I personally hate buying a print for $25 and then having to spend $100 or more to frame it. So I keep my prints at a uniform size where frames can be easily bought off the shelf. The majority of my
consumer prints
are 11″X14″, an easy size to find. That helps with sales, too, because people are more likely to buy if they know it won't cost them a fortune to frame it.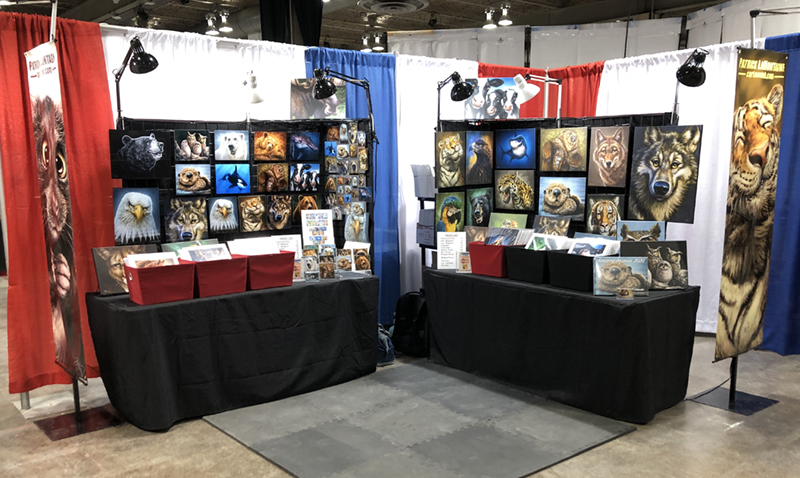 While my work looks best on canvas, I don't print a lot of those these days, because they're more of an investment both for me and my customers. They don't move as fast as the paper prints so I end up hanging on to a lot of inventory. When I do print canvas, it's usually 12″X16″, the sides are printed black and include hanging hardware on the back. This creates a free hanging look so people don't have to frame it at all. Looks pretty sharp as is. Any canvas sales are usually done in person at a trade show I do each year, The
Calgary Comic and Entertainment Expo
, or by special order. From time to time, people will
commission
me to paint their pets and a canvas print is included. I don't print large canvas very often because my type of art doesn't usually define a big room, like a landscape or modern art piece does.
I once had a customer at a trade show tell me that they had two of my pieces in their bathroom. His wife gave him a light punch and said, "Don't tell him they're in the bathroom!"
To which I replied, "Hey, you had to buy them to hang them there."
I'm under no delusion that my art will someday be in a book of great masters. The paintings make people happy, provide me with a good income, and that's enough.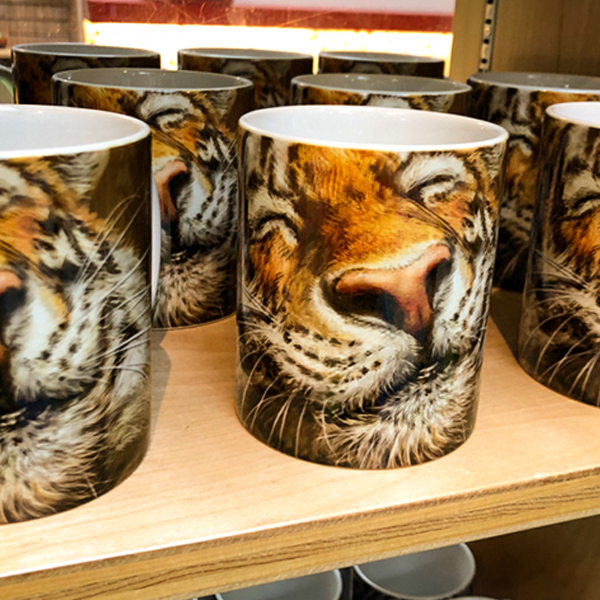 I consider myself a commercial artist. I make my living at it so I've got no dreams of having my work hang in a prestigious art gallery somewhere. I sell prints at zoos, online and at the occasional trade show. But the largest market for my animal art is through licensing. I've got over sixty paintings licensed globally through
Art Licensing International
. They act as my agent for a number of licenses, mostly for print on demand websites. I've also got my work licensed on T-shirts through
Harlequin Nature Graphics
and on a number of different retail products (magnets, coasters, trivets, art cards…) through
Pacific Music and Art
, both based on Vancouver Island. Those two licenses wholesale my work to retailers across Western Canada and in a number of States. It's strange and gratifying to visit somewhere I've never been, walk into a gift store, and see my own work staring back at me from a rack or shelf.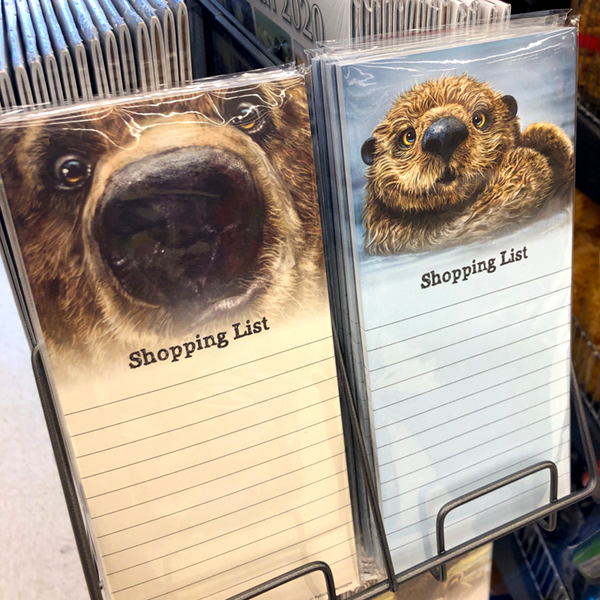 The other half of my business is editorial cartooning. I'm nationally syndicated across Canada, providing daily editorial cartoons to many weekly and daily newspapers. I create a minimum of seven cartoons each week, often more, especially during elections. We're in a federal election campaign right now in Canada.
It's a tough balance sometimes. While both sides of my business involve artwork, they're very different in theme and audience. There are plenty of people who know me as either an editorial cartoonist or a painter of whimsical wildlife, often unaware of the other work.
As is the case for most self-employed folks, it's an ongoing challenge to adapt to the ever increasing pace of a changing market, but for the most part, it's work I enjoy.
Good luck with your thesis and feel free to quote any parts of this email. Now that I've written this much, it occurs to me that this would make a good blog post, for anyone else who might have similar questions. Your name and details will be kept confidential, of course.
Cheers,
Patrick