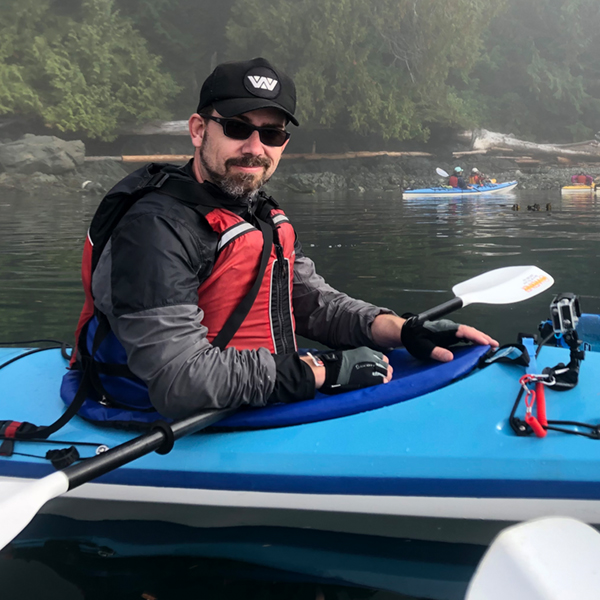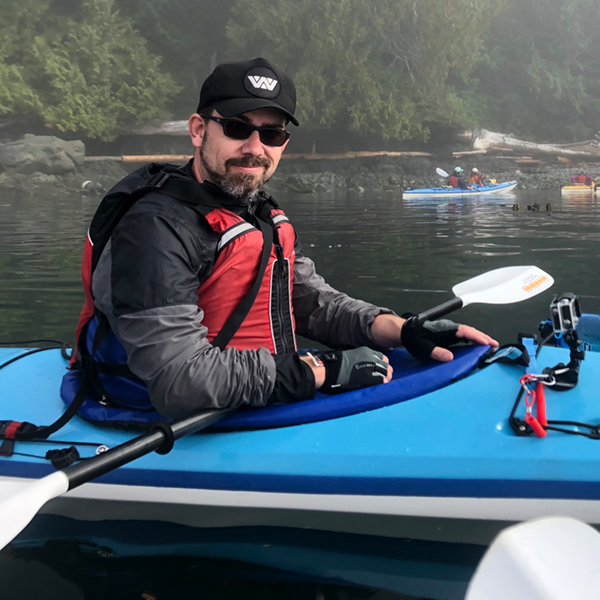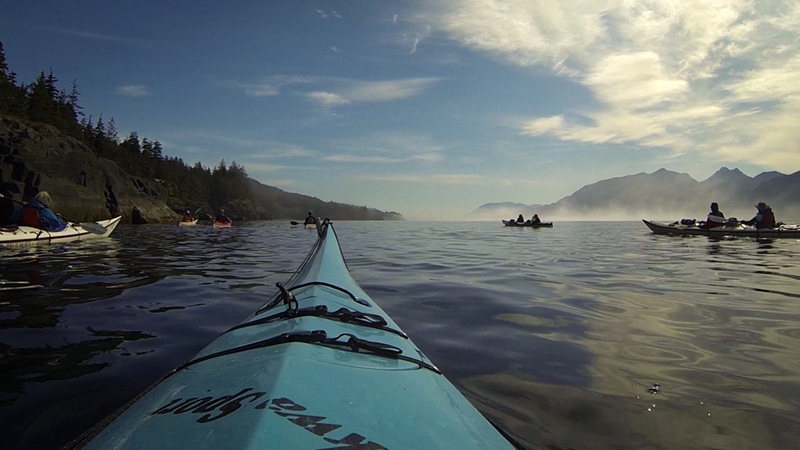 After a trying year of challenges, both business and personal, Shonna and I had been eagerly anticipating our vacation this past week. Booked in early May, it was the light at the end of the tunnel of our still as yet uncompleted kitchen renovations which occupied our entire summer.
That light didn't turn out to be as bright as it first appeared.
We wanted to see orcas and other wildlife from a kayak and we did a fair bit of research to not only choose the best time of year to go, but the ideal place to see them. We researched different companies and were confident that we had put our best foot forward in advance.
We had only kayaked once before a few years ago in Tofino and liked it enough that we wanted to try a longer trip.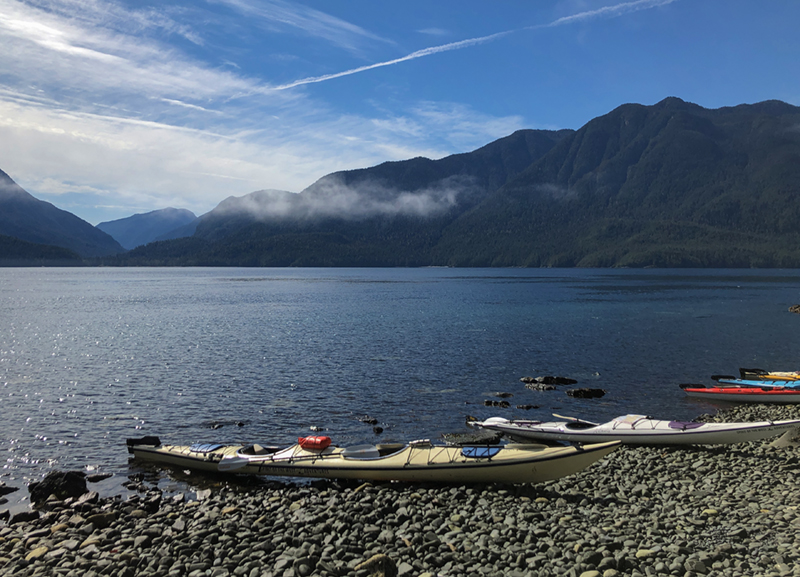 Because of my workload and commitments to my newspaper clients, I can only take a week off at a time, rarely more than once a year. Whenever possible, I try to have it be a working vacation and since Shonna loves wildlife like I do, it's usually easy to do on Vancouver Island.
To drive to Vancouver Island would be a total of four extra days on the road, hotel stays, ferry crossings and delays, so we always choose to fly from Calgary to Comox and rent a car. We've taken our Island trips like this for years.
On Tuesday of last week, we drove up to Campbell River from the Comox airport, took the ferry over to Quadra Island, and checked into a wonderful little B&B called Chipperfield Hollow, where we stayed on our first and last night on Quadra. We'd highly recommend it.
That evening, we had a pre-trip meeting at a local inn, just a short walk down the road, where we met with our guides from Spirit of the West Adventures. They operate a number of different tour options, but the one we selected was the Johnstone Strait Ultimate. Four days, three nights with a base camp. This company was suggested by a neighbour who used to guide in that area and our research supported that recommendation.
The next morning, we boarded a water taxi for the 2.5 hour trip up to the camp in Johnstone Strait.
Rather than give you an itemized itinerary, let's just jump to the pros and cons.
First, the good…
The company was top notch. From our initial booking and advance emails we got all summer, our experience with their service couldn't have been better. While on the trip, the three guides were professional, friendly, safe…I could just go on with positive adjectives.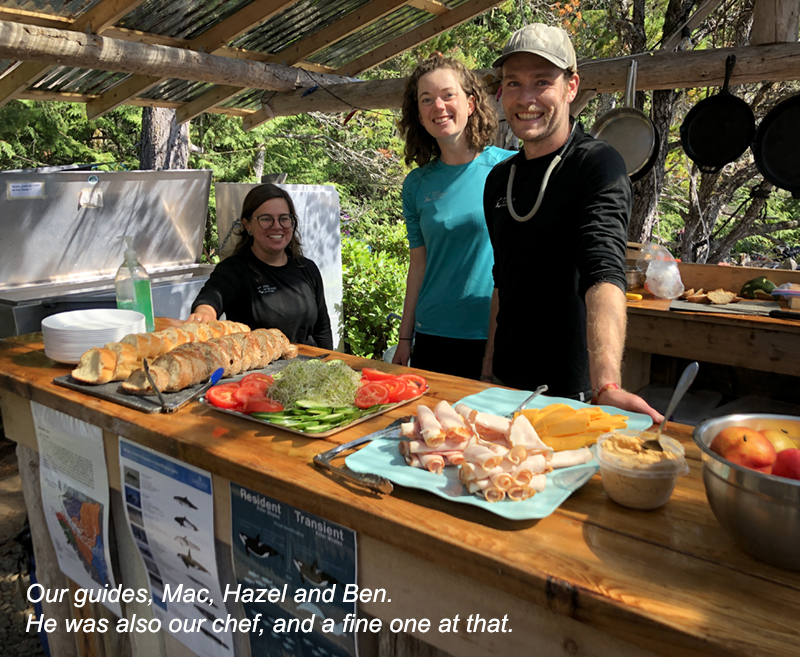 Shonna and I rented rain gear and sleeping bags from them which were better than expected. The tent we slept in on a solid wood platform was equipped with comfortable Thermarest mattresses, and had an incredible view. The camp in the Johnstone Strait was in a perfect spot, the tents and platforms well laid out, a covered dining and kitchen area, camp toilets, even a propane heated shower in the trees and a wood-fired hot tub.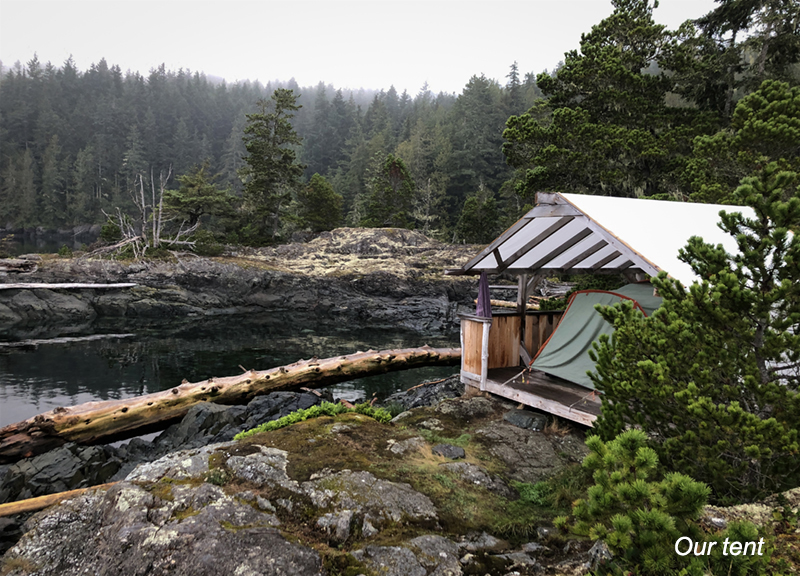 The food they provided exceeded expectations. From the appetizers and meals at the camp to the lunches and snacks they brought with us while kayaking, we certainly didn't go hungry. They accommodated all dietary restrictions, confirmed well in advance. I can't eat salmon or shellfish; so on the first night when they BBQ'd salmon for everyone, I got ling cod fillets that were delicious. Gluten free options, dairy free options, all were available for those who needed them.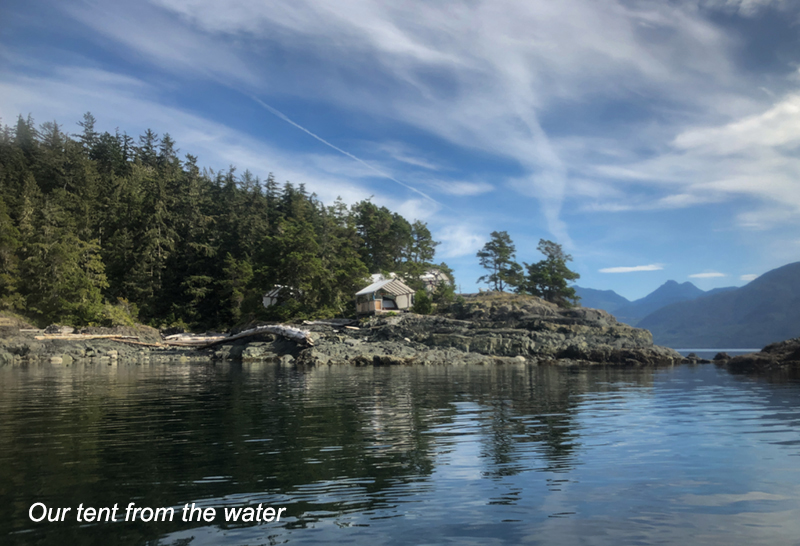 The kayaks were in great condition, as was all of the other equipment. Safety was their top priority, not only while on the water, but in camp as well. This included briefings about possible bear encounters, keeping food out of the tents, etc.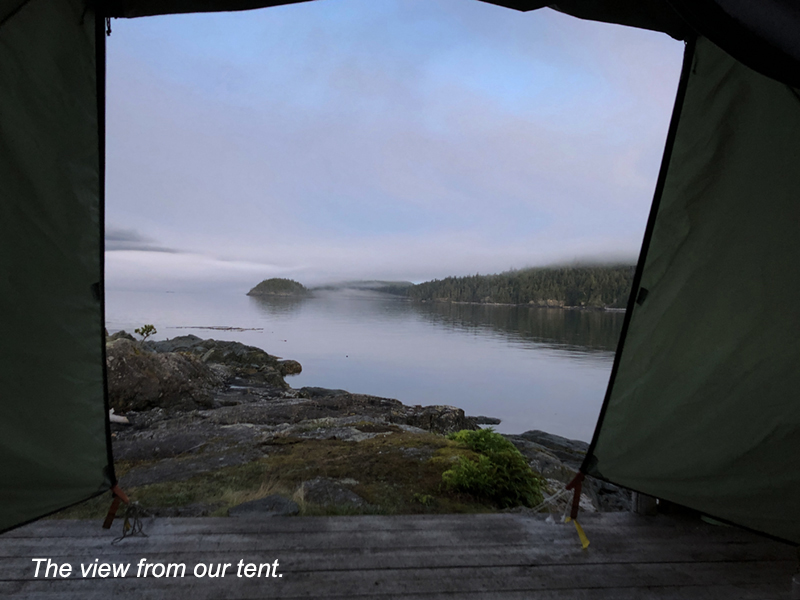 Our kayaking trips were enjoyable. Shonna and I shared a tandem kayak the first couple of days, and then we each had a single kayak on the last full day. We kind of had to put our foot down with the other guests the evening before, explaining that we had done our time in the double, and just because we were a couple, didn't mean we didn't want to use the single kayaks.
For the first time ever, I checked two bags on the flight. The weather on Vancouver Island can turn on a dime and if it starts raining, it can go on for some time. Even when it stops, good luck in getting anything to dry because of the high humidity out there. So we brought plenty of clothing for that eventuality. We left our extra bags at the B&B on Quadra, but took plenty of clothing with us.
With perfect weather the whole time, we didn't need most of it. It wasn't even that cold at night. It didn't start to rain until we were on the beach on our last day loading our gear to go home. We felt bad for the incoming group arriving in the rain because the forecast wasn't good.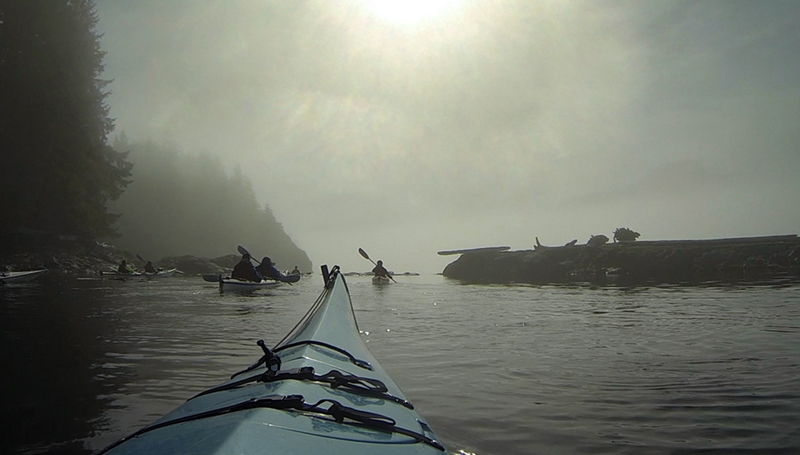 Each morning, we were socked in with fog, which made for an ethereal dreamy kayaking experience that I consider the best part of the trip. Eventually it lifted and we'd have beautiful sunshine and blue sky for the rest of the day. Better still; the water was a flat calm most of the time, unusual for that area.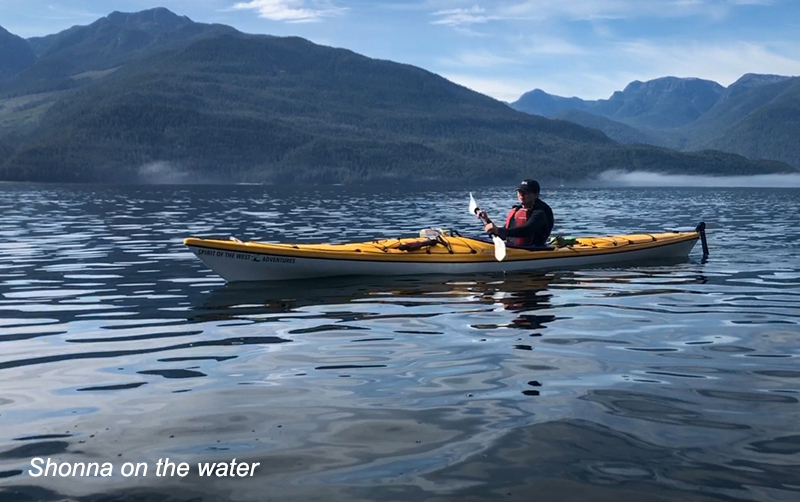 When it came to the parts of the trip we were promised by Spirit of the West Adventures, we had no complaints.
The key word, however, is promised, because there are certain things they can't control, and that's what took the shine off of the rest.
Here's what was lacking…
Including Shonna and I, there were 13 people on our trip. I was the only guy. Most of these women were older than we were and it created a strange dynamic. Even Shonna said that a balance of men and women would have been much more preferable. While it's always nice to hear other people's perspectives on things and everyone was friendly and nice, it often felt like we were on vacation with our mothers' friends. It would have been just as weird had it been all guys and Shonna the only woman.
True, our lead guide was male, but he was there to work and run the tour, so that doesn't really count.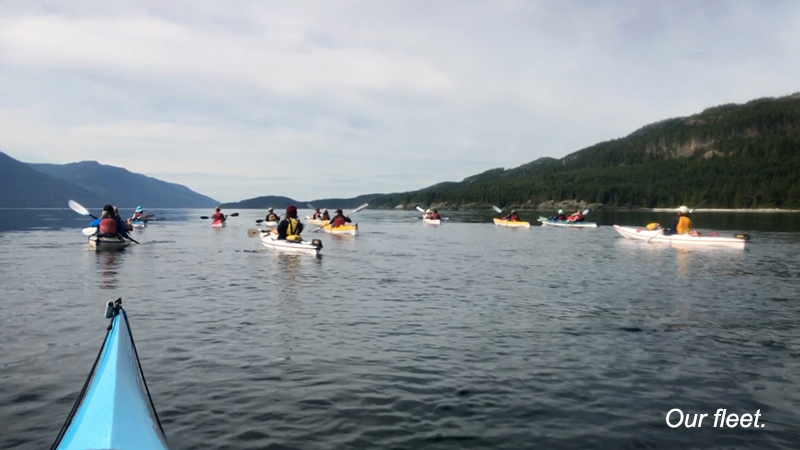 It's not like it was planned that way, and only a few of the women knew each other before the trip. There was a balance of genders on the trip before and a balance on the trip after, just not on ours. It should be noted, however, that all of these women were fit and up to the trip. When it came time to haul kayaks and gear, everybody pulled their weight. I even learned a few useful tips from some of the more experienced paddlers.
On one day, with the currents looking like the afternoon might not be ideal for kayaking, we were told to bring some WALKING shoes as we would be going on an easy hike instead. Since we were told to make sure we always had dry shoes in camp, we had our water socks for kayaking, and I had a pair of Keen sandals for this walk.
Turned out that the hike was downright vertical in places, up a winding roller coaster of rainforest trail with criss-crossing roots to navigate. What made it more difficult was that I was carrying my expensive camera in one hand the whole time. The pace was brisk and at one point some of the other guests began asking how much further. The guide told a white lie and said we were at the halfway point when we were actually about a third or less. Four women decided to turn back to the beach and a guide went with them. Had Shonna and I known how much further to the top and how anti-climactic it would be when we got there, we would have done the same.
We had no time to stop and look at the forest around us and it felt a little like a forced march when she and I were in the Army Reserves years ago. Shonna does Cross-Fit every morning and I regularly hike here at home, but the pace and terrain kicked our asses. I don't know how the guide did it in Crocs.
For our efforts on the return, we were drenched in sweat, I had two very large blisters on one foot from wearing shoes in which I would never do a hike like that, and felt we'd been a little ripped off. We didn't pay for a kayaking trip to waste an afternoon hiking, something we can do at home.
Needless to say, we both arrived back at the beach pissed off and fuming, biting our tongues. We would have much rather paddled around the sheltered bay or relaxed at the beautiful location of our camp if we couldn't kayak, perhaps wandering the shore, looking for wildlife.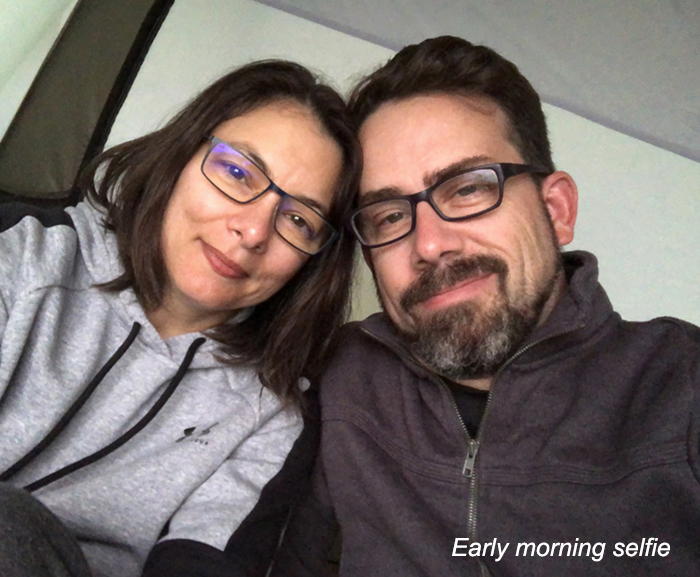 Shonna and I have lived in the Canadian Rockies for more than 25 years and the main business here is tourism, just as it is for many parts of Vancouver Island. When it comes to seeing animals, there's a saying in both locales… "Wildlife doesn't punch a clock."
That means you can try your best to find the animals you came to see, but sometimes they just don't show up. We were in the right place, at the right time, and pretty much got skunked.
Technically, we saw two or three orcas. On the trip up in the water taxi, way off in the distance, there were some blows and dorsal fins. Then while at camp, we saw some blows even further away one day, but couldn't tell if they were humpbacks or orcas. One night, Shonna and I thought we heard blows in the water outside of our tent and figured it must be orcas, but it was so dark we couldn't see anything.
We think it's fair that we don't count these.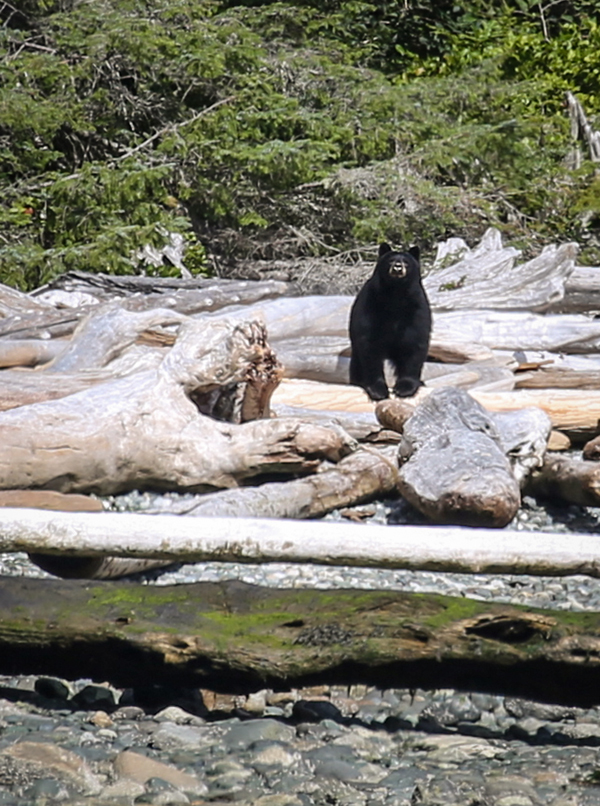 We did see a black bear on our beach a couple of times, then later while kayaking in the fog another morning and on another beach nearby. We're pretty sure it was the same bear and surprisingly, I was just fine with him being that close, despite my earlier bearanoia tale while camping this past May.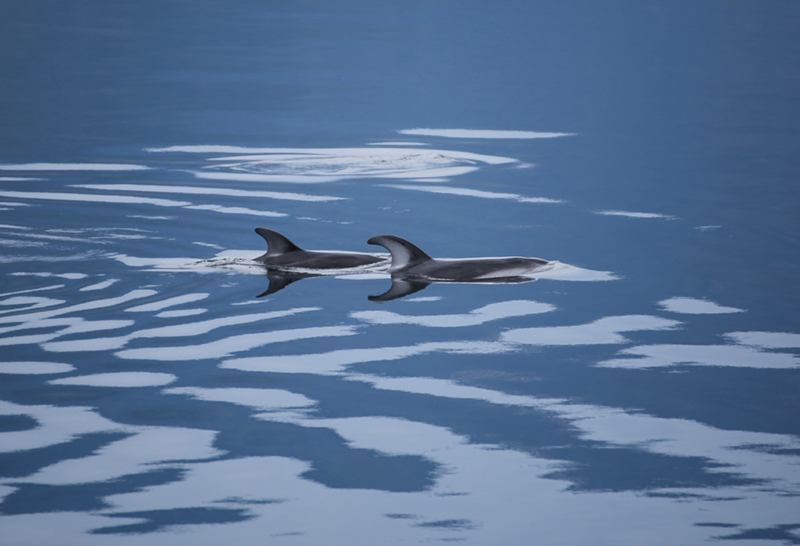 Other than that, we saw some white-sided dolphins go by from our camp a couple of times, a seal and sea lion, a blue heron, and countless ravens and seagulls. The only reference pic I got that I can paint from, however, is the blue heron, and the photos I took at Point Holmes in Comox a couple of days ago might be a better choice.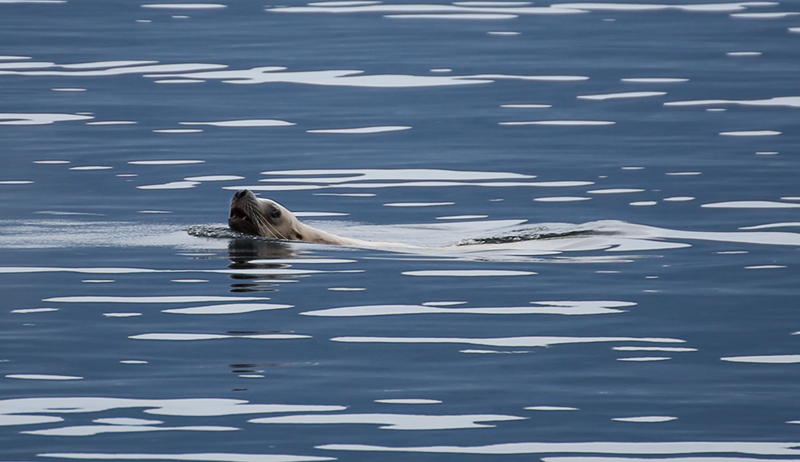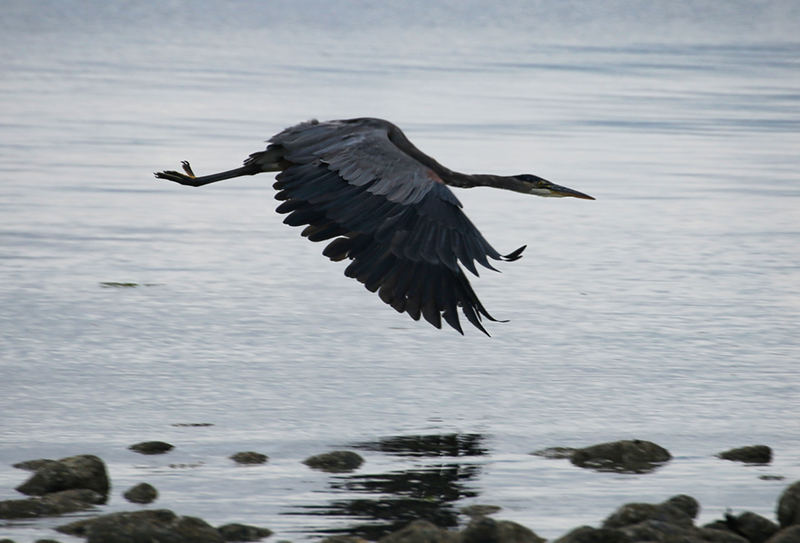 No orcas, no humpbacks, no otters, no eagles. On all of our visits to the Island, this was the trip where we saw the least wildlife of any kind.
At the end of our trip, we spent a couple of extra days in Courtenay, Comox and Cumberland visiting with a few friends we don't get to see often enough. We kept trying to put our finger on exactly why this trip was a disappointment, and it pretty much came down to the reasons above. We still got to spend some time off together away from work, which is always a plus.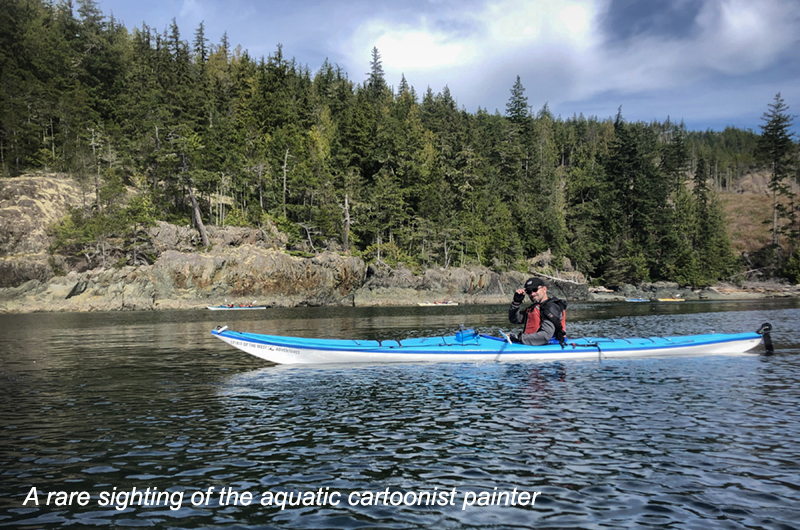 Just as somebody can end up spending days in their hotel room in Mexico from drinking the water, or luggage can get lost, or a hotel reservation can be screwed up, it was simply bad luck. That doesn't really take the edge off of the disappointment, however, or that our hard-earned money is gone, or the fact that we really needed a good vacation and it didn't measure up, or that I didn't come away with any reference photos or inspiration for paintings.
As in all things, shit happens.
Cheers,
Patrick
Some of these pics were taken by iPhone in a waterproof plastic case or are stills from GoPro video, so not as sharp as I'd like. But I wasn't about to take my good camera out of the dry bag on open water if I didn't have to. An orca or humpback would have been worth the risk.
If you'd like to receive my newsletter which features blog posts, new paintings and editorial cartoons, follow this link to the sign up form.