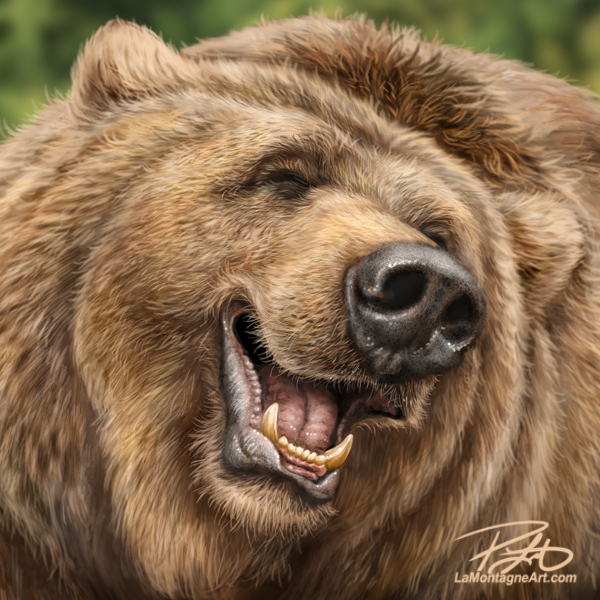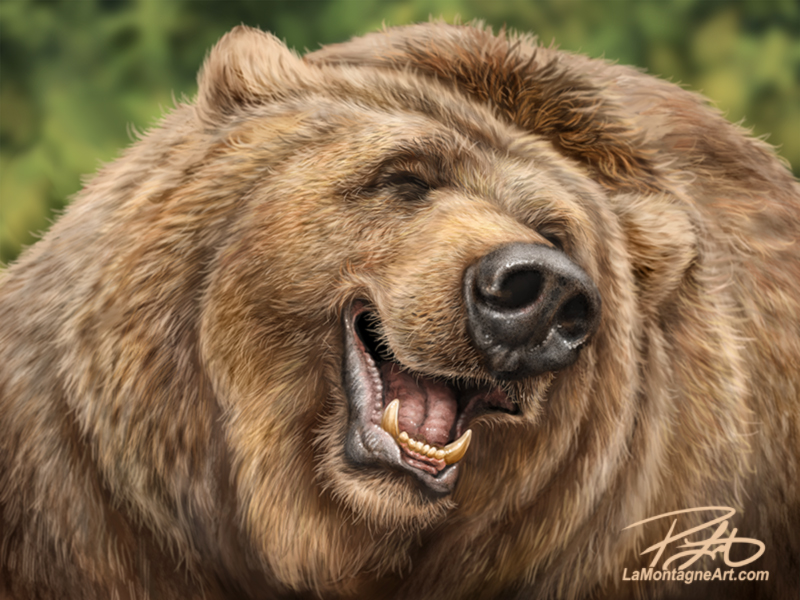 I've lost track of how many animals I've painted since that first grizzly bear in 2009, but I know it's more than a hundred.
Each animal I paint comes with its challenges and rewards because I always learn something new. That's a big part of why I enjoy the work so much. I'll never know enough, and there will always be room for improvement.
Though there are many species in my portfolio, I've painted more than 30 bears.
And then there's Berkley. This new piece is the eleventh time I've painted her, plus all the sketches and unfinished renderings.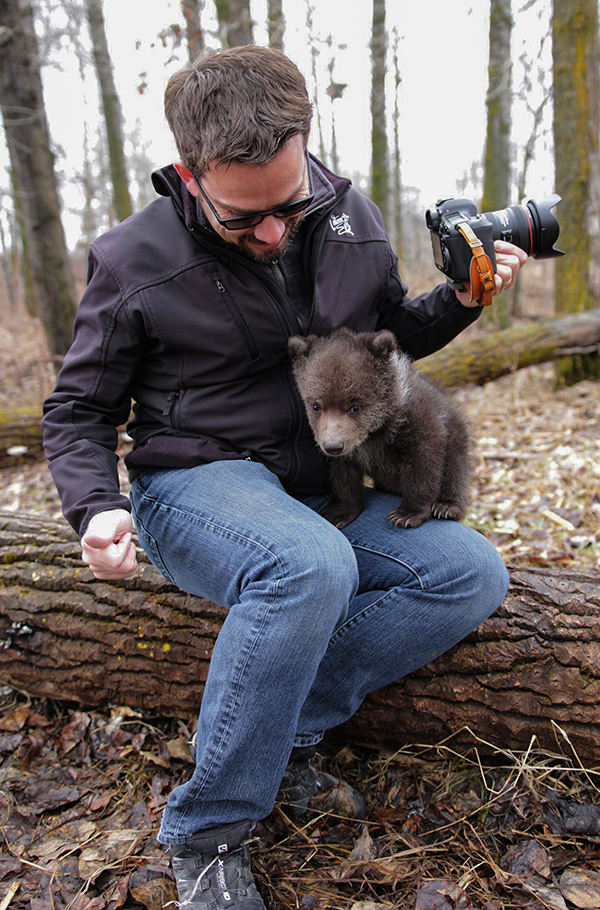 If you've followed my work for longer than five minutes, you'll know all about her. An orphan rescued from the US in 2017 by my friend Serena at Discovery Wildlife Park in Innisfail, I've known Berkley since she was a few months old and have been painting her ever since. Here's the first one.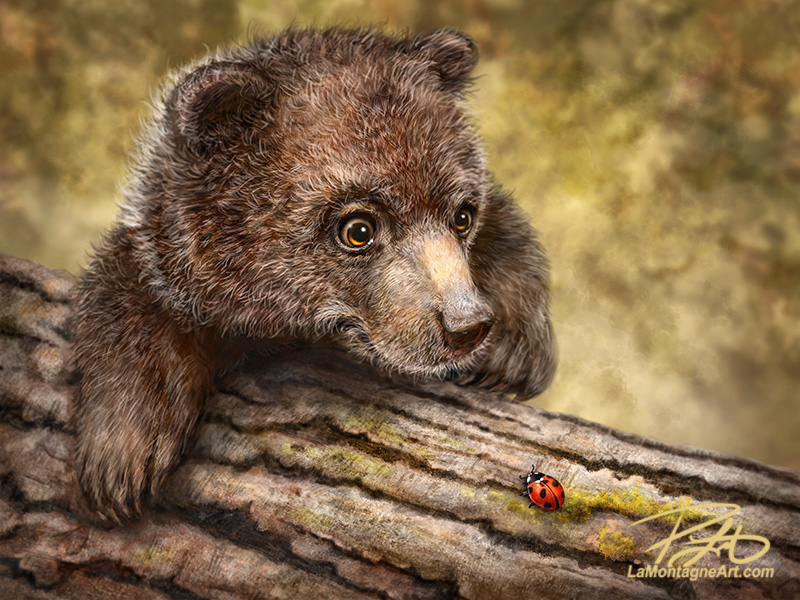 I sometimes get flack for supporting places like Discovery Wildlife Park, the Calgary Zoo and the Birds of Prey Sanctuary because they house captive animals.
Ideally, no animal would live in captivity, but we're not the intelligent species we pretend to be. There are few places left in the world where animals can truly be wild. Even then, they're likely national and provincial parks, sanctuaries, and conservancies. And of those places, the ones that admit tourists wage a constant battle against our bad behaviour.
Unless those places are fenced, animals don't know about park boundaries. Their migration routes and natural habitats may take them in and out of protected areas. Once they leave those places, they easily fall victim to hunters and trappers. Sometimes, it's reluctant ranchers protecting their herds from predation; other times, the animals have been lured out of parks by bait.
So while it's easy to sermonize on social media that all animals should live in the wild, we're not willing to sacrifice what it would take for that to happen. We're the biggest threat to pretty much everything on the planet.
Even without people in the equation, we like to imagine that life in the wild is a happy ending Disney matinee. But nature is often violent, brutal and cruel, and survival is anything but a passive exercise for most species.
Animals are often orphaned and need rescuing. While some facilities exist that minimize human contact and release them back into the wild, truly noble work by dedicated individuals, many animals are rescued too late.
Once an animal has been fed by people or has found too many opportunities to get into unsecured garbage at homes or campsites, they can't unlearn that lesson. So relocating animals rarely works as they will almost always find their way back to reliable food and familiar territory. Or animals that have already claimed the region will kill this new intruder.
So the choices left to deal with a spoiled bear are a home in a wildlife park or zoo, or they're destroyed.
I know; I started this post with a happy-looking brown bear, then things got dark. Not my intent to bring you down, simply an explanation of why I support reputable zoos and parks that take care of animals.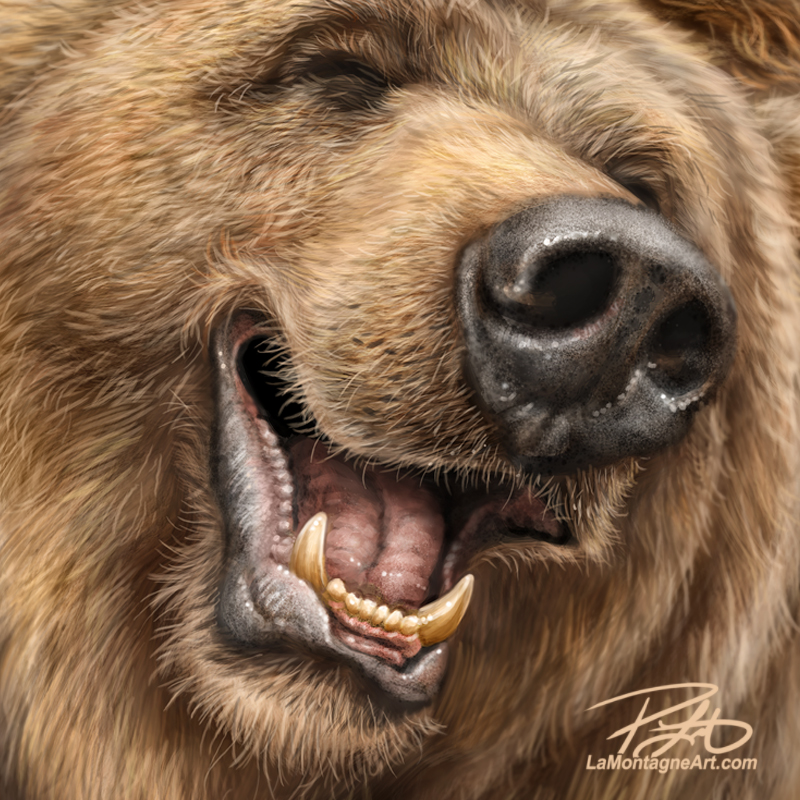 Serena regularly sends Shonna and I texts and photos of the animals, and we visit Discovery Wildlife Park as often as possible. Not so much the past few years, for obvious reasons, but I intend to change that once the warmer weather arrives.
I've painted several animals Serena has raised, often those who had a rough start in life. Some haven't made it past infancy, others have had challenging health issues, and many have died after living much longer than they would have in the wild. Serena and her staff have often raised these animals from cubs, pups, and kittens. Saying goodbye to them is always painful, often after expensive preventative or emergency veterinary care. Some of the stories have been heartbreaking, and I don't know how they do it.
Supported by dedicated staff, Serena works seven days a week, often spending late hours at the park when an animal needs extra care. It's rare when she gets a day off to spend with her husband and family, let alone take a real vacation. A T-shirt and sticker I've seen in a few places reads, "I do this for the money, said no zookeeper ever."
Getting to know Berkley and spending close contact time with her the first couple of years, she always seems happy, though she did go through an amusing terrible-twos phase. I've watched her race up trees in a natural area on the grounds, splash through the creek and puddles, and gorge herself on berries in the fall. A favourite memory is Berkley helping herself to Shonna's water.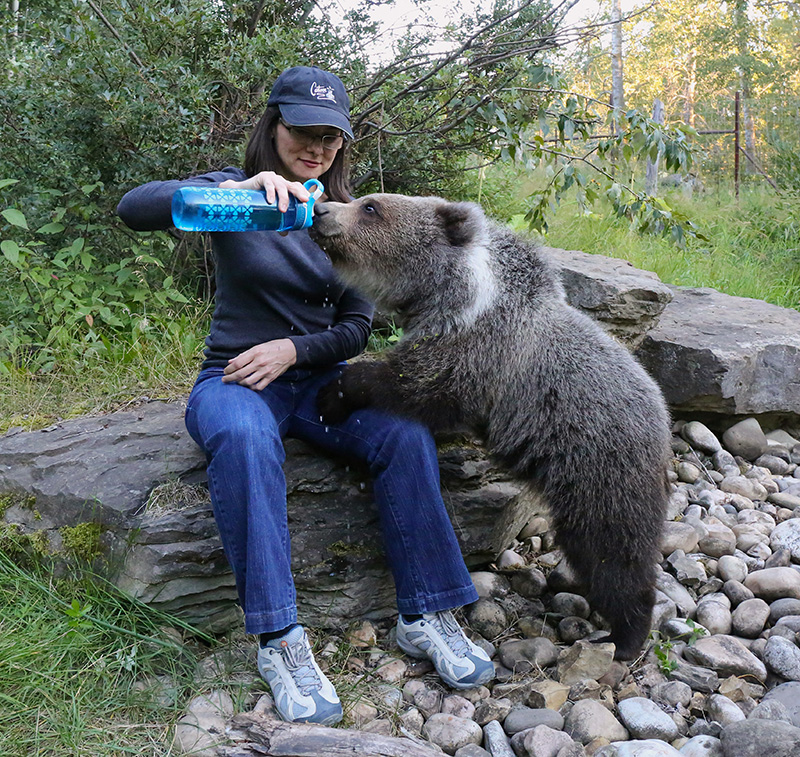 It's a wonderful feeling that Berkley still knows me each visit and comes to say hello, no matter where she is in her large enclosure.
Whenever I paint one of the animals Serena has raised, I send her the first look. When I sent her this finished Laughing Bear painting, this was part of our text exchange. Even in my whimsical style, she knows her own bears.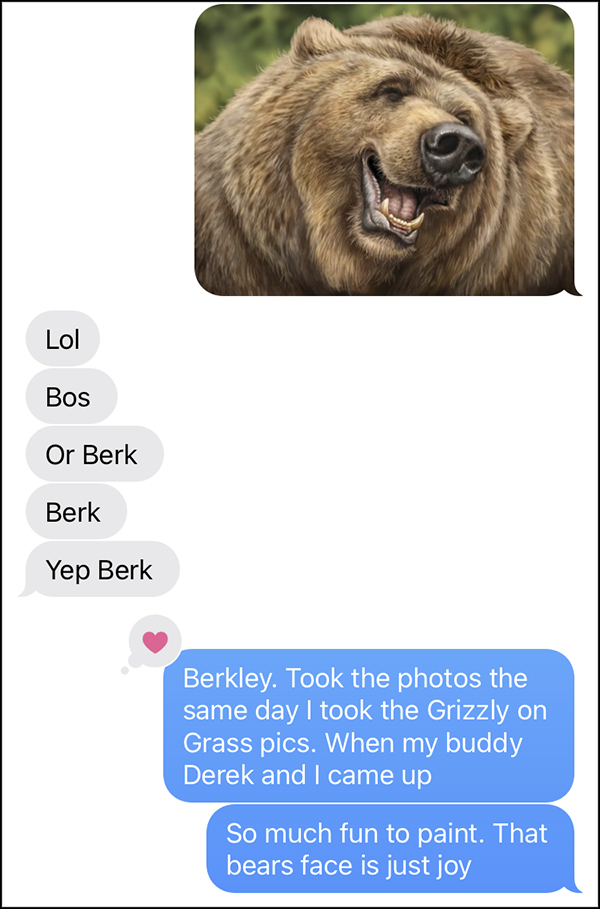 Bos and Piper are two other brown bear cubs the park rescued in 2021, and I've taken plenty of photos of them, too. I've painted Bos once already, but more will be forthcoming, as they both have big personalities and are natural hams.
But it's obvious I have a favourite.
I've joked with Serena that she rescued her, raised her, nursed her through illness, fed her, trained her, played with her, and sacrificed all her free time for her.
But Berkley is my girl.
She allows me that delusion.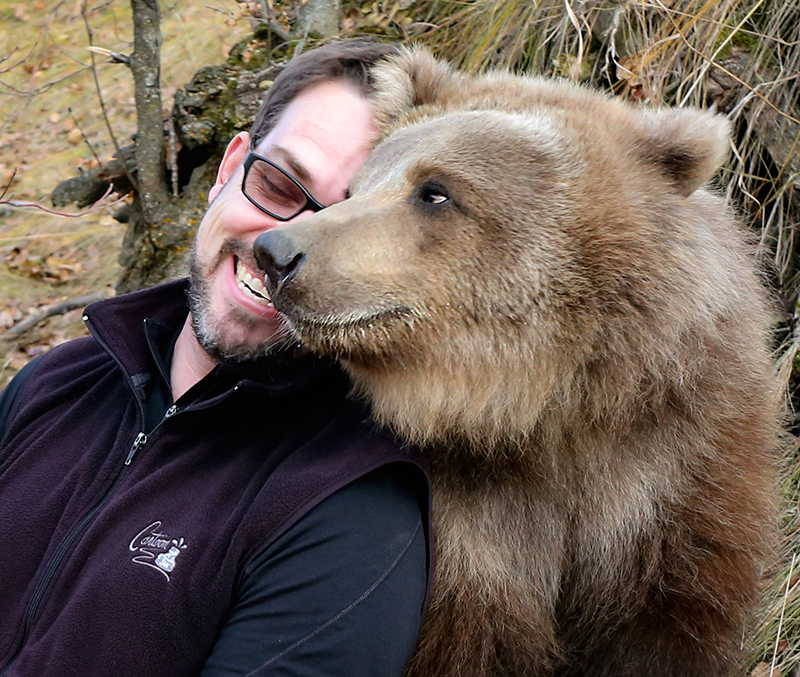 ________