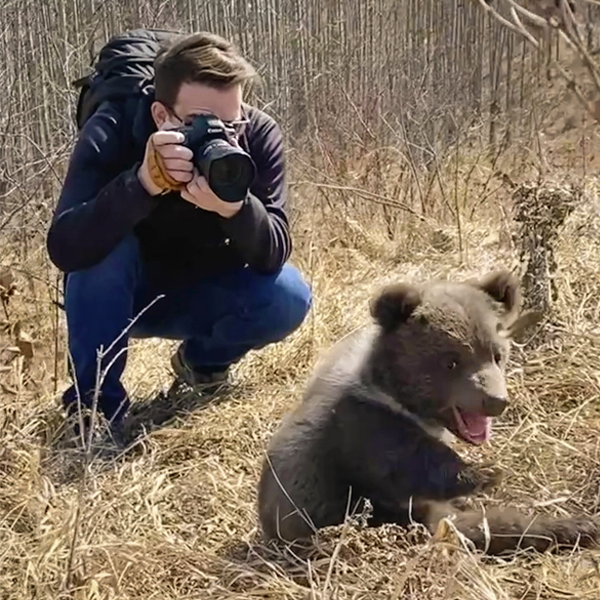 DISCLAIMER: Don't EVER approach bears, bear cubs or animals in the wild.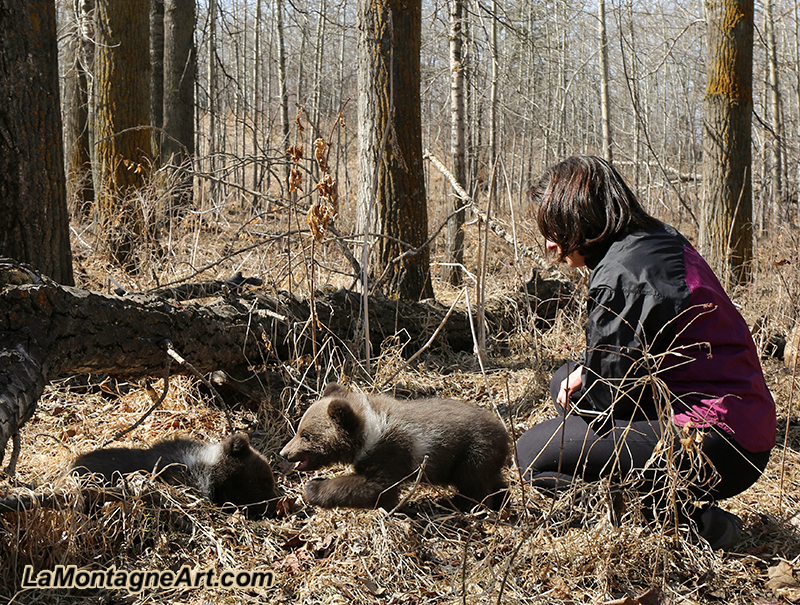 Earlier this week, Shonna and I were thrilled to be invited to Discovery Wildlife Park to meet their latest adoptees.
Bos and Piper are two Kodiak cubs from the US who needed a new home. While they're not siblings, they are the same age, three months old today. The amount of paperwork and regulatory hurdles required to rescue these cubs from an unsustainable situation, especially during this unprecedented time of COVID, was monumental.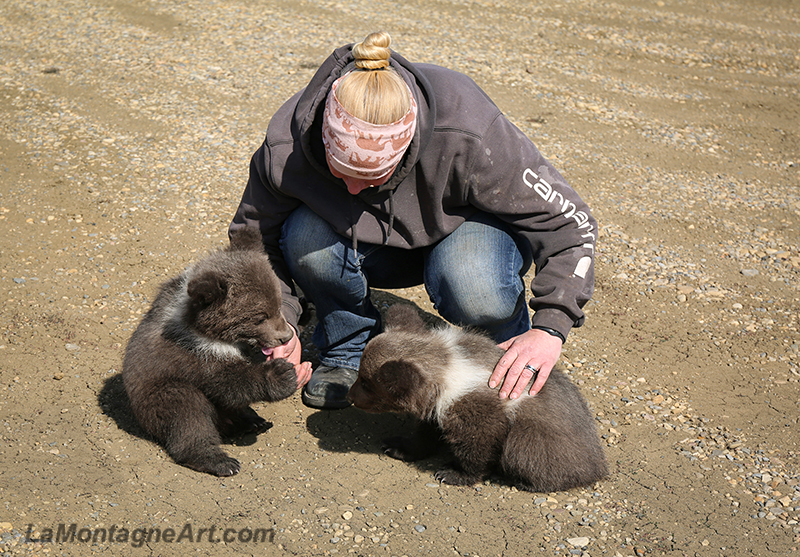 Our friend, Serena, the head keeper at DWP, has been around animals her whole life. With her staff's help, she has raised quite a few bears, wolves, and other animals in need of rescue, ones that couldn't be rehabilitated and returned to the wild.
Discovery Wildlife Park, the Alberta Birds of Prey Centre and the Calgary Zoo, are places I support and the Alberta Institute of Wildlife Conservation, which rescues, rehabs, and releases animals back into the wild. I have no real interaction with the last one, aside from a monthly donation. To be released back into the wild, the animals need as little human contact as possible.
We would like to believe that this could be a world where no animal would ever need to live in captivity, but that would require sacrifices most of us aren't willing to make. Our addiction to excess is one of the main reasons for disappearing wildlife habitats around the world.
With almost 8 billion people on the planet, each with our own opinions, vices, and levels of acceptable compromise, nothing is ever as black and white as we would like to believe.
Co-existing with wildlife is a never-ending discussion. There are strong opinions on both sides of the argument, from the average person on the street to nature and conservation experts, each speaking from their own experience and perspective. And those experts rarely agree. Unfortunately, there's often more talking than listening, and the middle ground is mainly unpopulated and devoid of footprints.
I've personally wrestled with the issue for many years and will continue to do so. I've asked the hard questions from the dedicated people who work in these places. While the answers aren't always the ones I'd like to hear, I believe they're doing the best for these animals in their care and that their intentions and motivations are honourable.
I've seen how the animals interact with the park staff for years now, their evident trust and affection. I wouldn't support any facility that didn't treat its animals with respect and kindness or contradicted my wildlife protection values.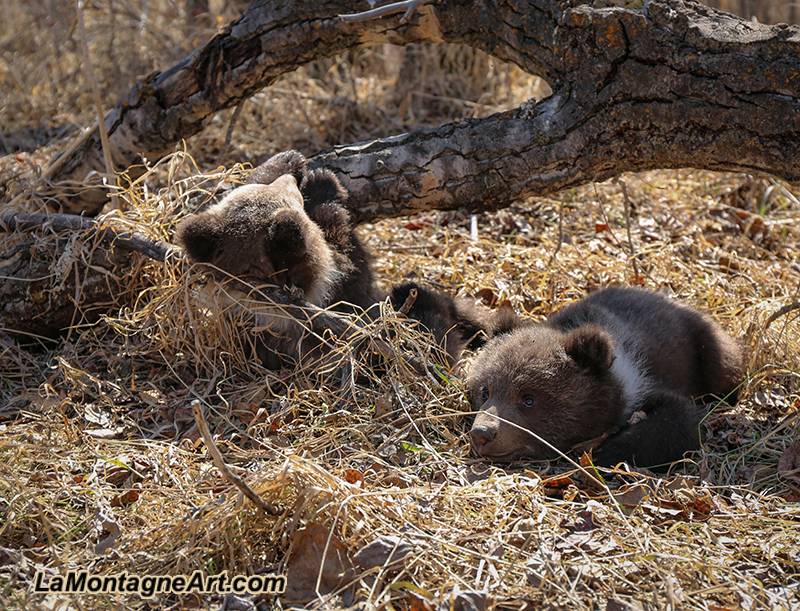 It's with no small amount of gratitude that I enjoy such a close relationship with Discovery Wildlife Park. Their allowing me close contact with the animals over the past several years is a profound trust I don't take lightly.
I've taken thousands of reference photos at the park, which has allowed me to create some of my best work. But I've also learned an incredible amount about wildlife, their behaviour, medical and dietary challenges and their profound intelligence.
Discovery Wildlife Park sits on 91 acres, fenced and double-fenced in places. There is a forested shallow ravine on the western edge of the property, complete with a flowing creek. As this area is inappropriate for any structures, it's largely untouched and remains natural. This is one of my favourite photos of Berkley from one of our excursions in this little forest a few years ago.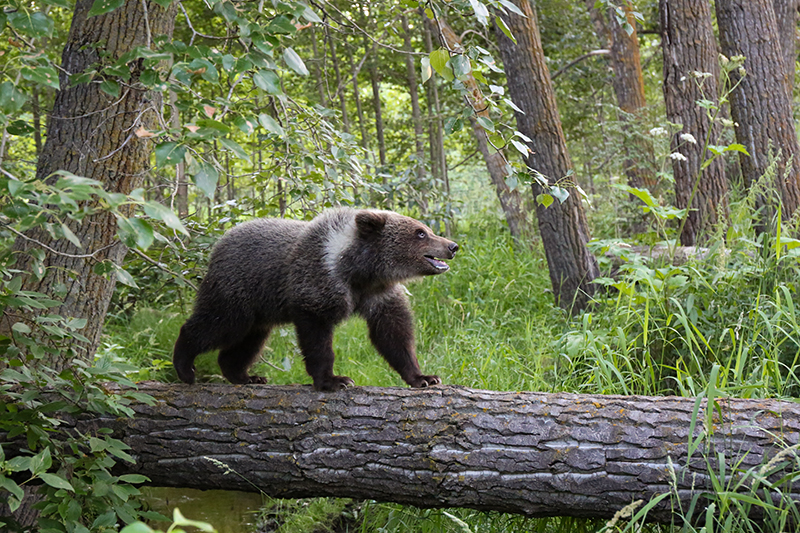 When they're small, many of the animals spend plenty of time in these woods, where they can run, explore, climb trees, eat berries, and play.
On the day that Shonna and I visited, the cubs were teething, as traumatic for animals as humans. Along with the physiological problems that accompany teething, there's not much that can be done for the pain and discomfort.
We watched Piper have a full-on meltdown for about a half-hour, bellowing and bawling her way through the woods. She was cranky and having a bad day, reminding me of a child throwing a temper tantrum in a supermarket. It was just as uncomfortable to watch, but Serena wasn't concerned, as it's all part of being a baby. Piper eventually exhausted herself and went about exploring, playing and climbing trees.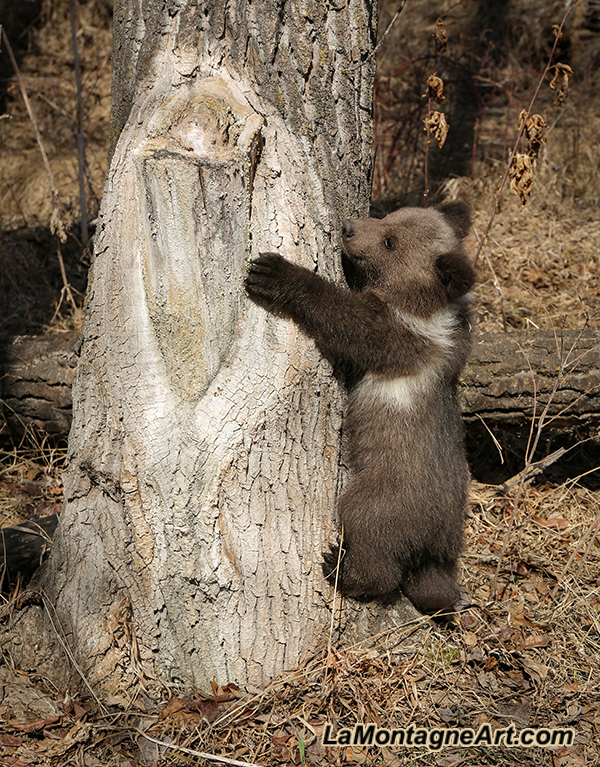 The following morning, I sent Serena a text asking how Piper was doing.
"She is a happy girl today."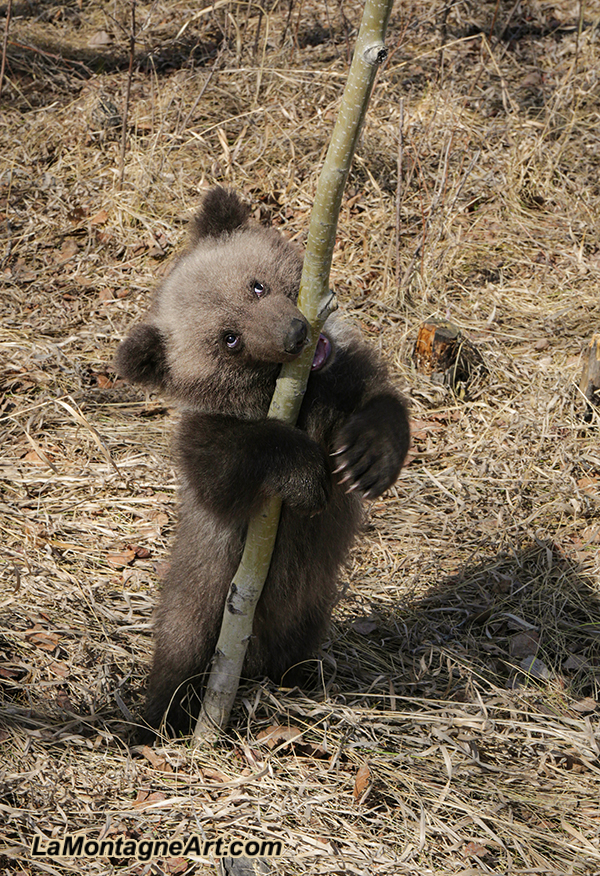 Bos was much more subdued, a little lazier, but curious and seemed to be enjoying himself as he chewed on trees, dug in the dirt, and wrestled with his adopted sibling.
Just like people, they have their own unique personalities. As my only other experience with a brown bear cub is Berkley, the differences are remarkable. Berkley rarely vocalized, whereas these two are talking all the time. Piper was so named because she's got a real set of pipes on her.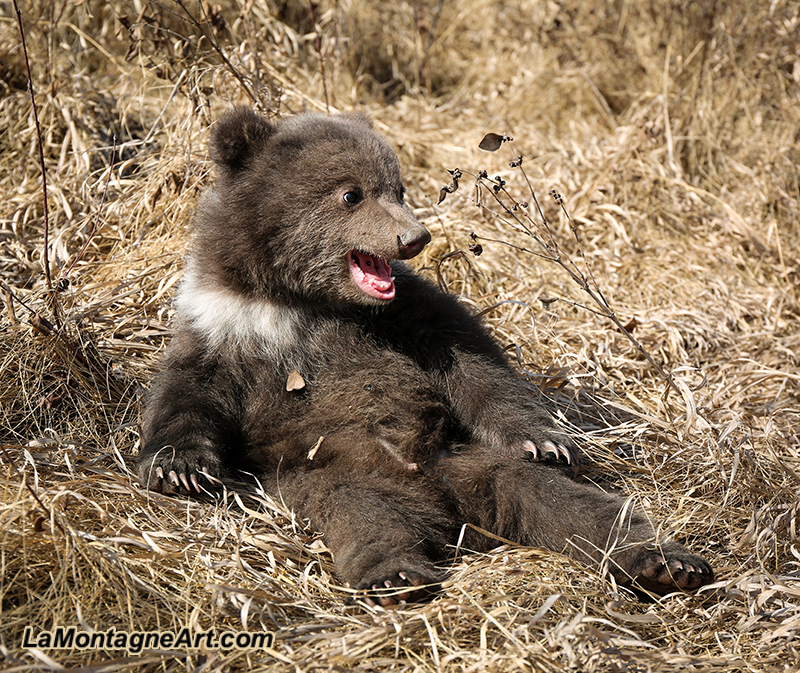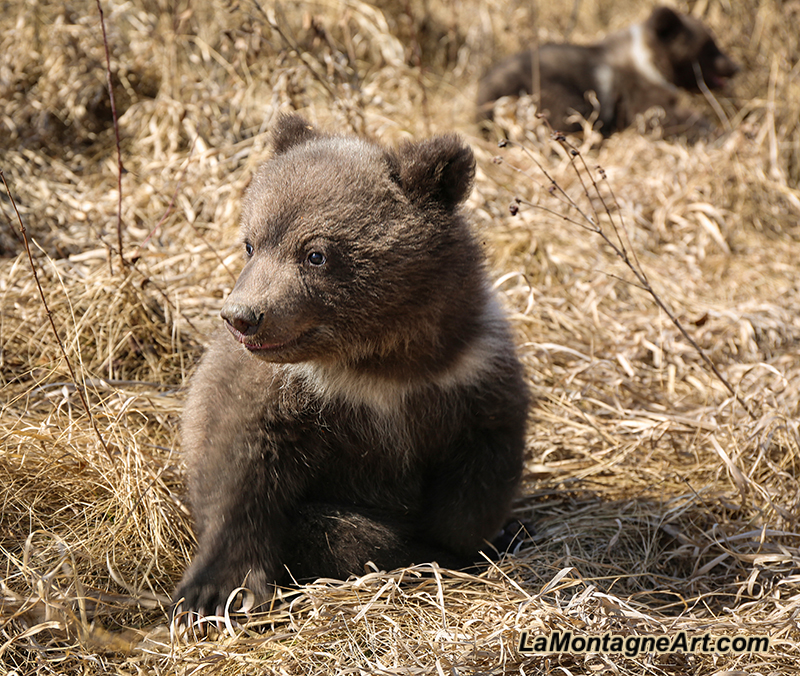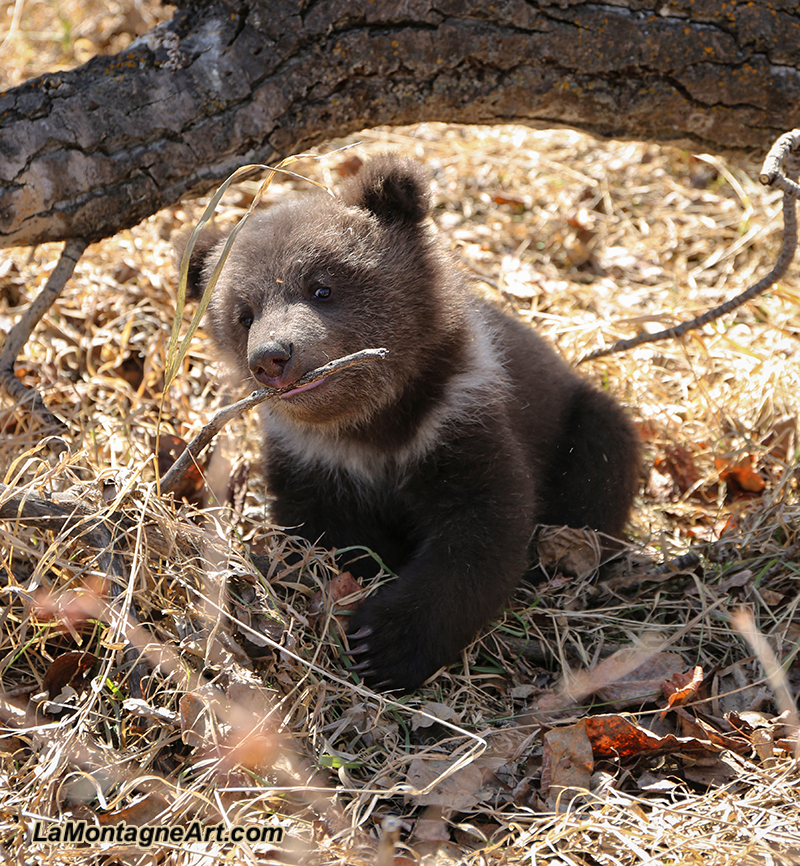 Though she's always had an overall genial way about her, Berkley went through a bit of a rebellious teenage phase where she would push Serena's buttons to test her boundaries. It'll be interesting to see how these cubs grow into their personalities.
Presently, they require constant care, familiar territory for Serena and the staff. It will be some months before the cubs can spend any significant time alone. There's little time off for those who care for animals, but I've never heard them complain. It's a demanding but rewarding lifestyle.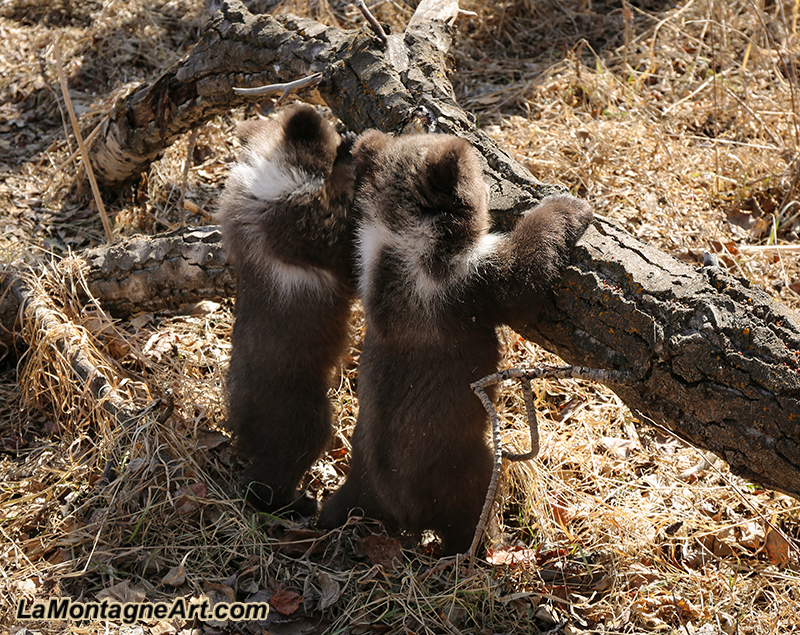 In the hour and a half we were out in the woods with the cubs, I took just under 1500 photos. With bright sunshine and dark shadows, the lighting wasn't ideal. The bears were often between me and the sun, so I didn't get as much light on their faces as I would generally like. Hard to complain, though, since I was watching bear cubs play in the woods. I wanted to take some video, but it was too much to handle and would have ruined the experience.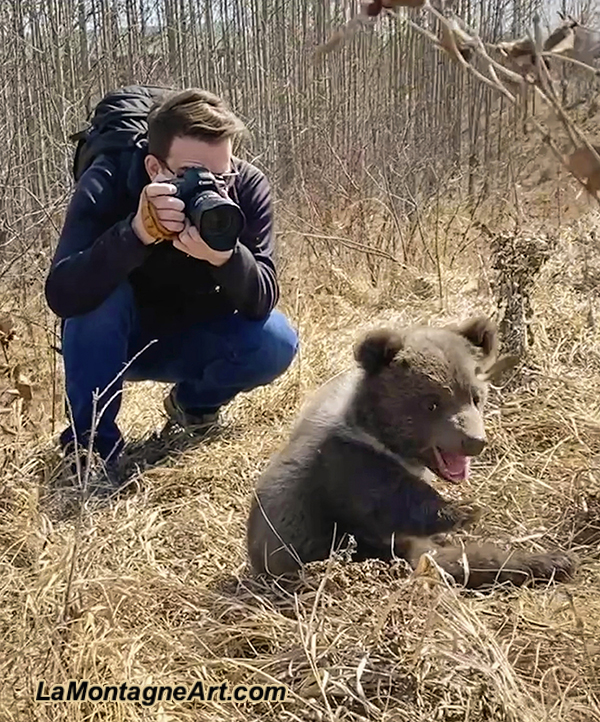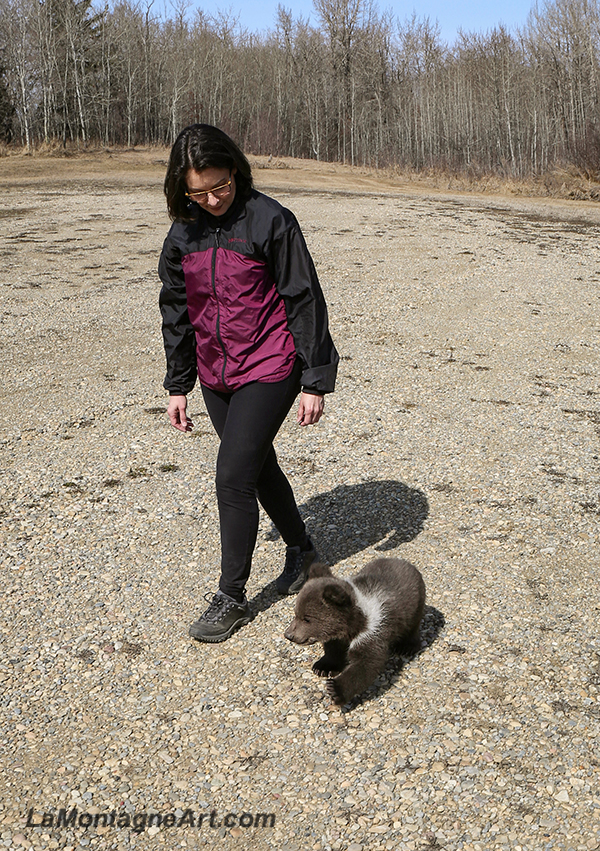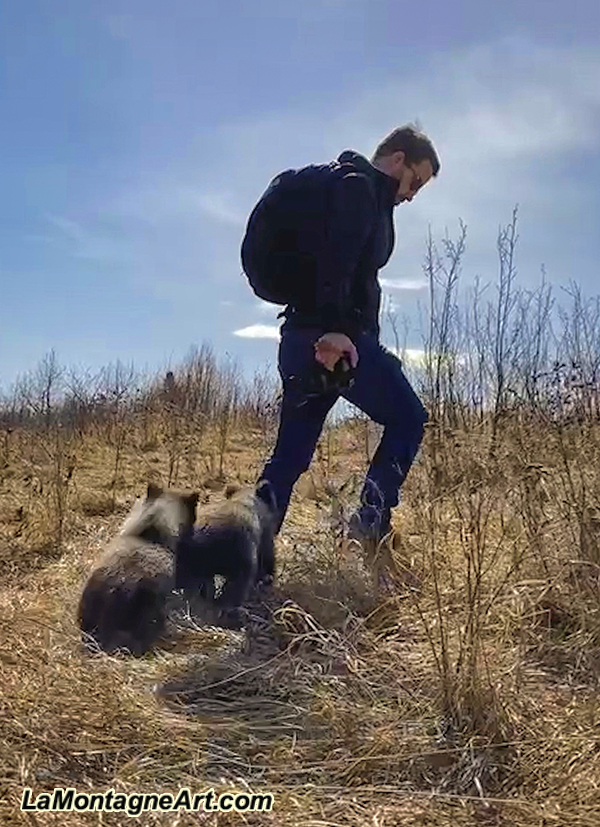 As I don't like hoarding photos, I've already gone through them all and kept just over 100. Most are shots I simply liked, the ones you see here. But I did get about a dozen that I think will be the seeds for future work; there are two paintings in there for sure.
We didn't get to visit Berkley this time around for a couple of reasons. Her large enclosure is on the far side of the park, and they're doing a lot of work right now getting ready for their season-opening. Most importantly, the animals thrive on routine, and right now, visitors aren't part of that, so there's no need to confuse her.
I'll have to return often this spring and summer to spend some time with her.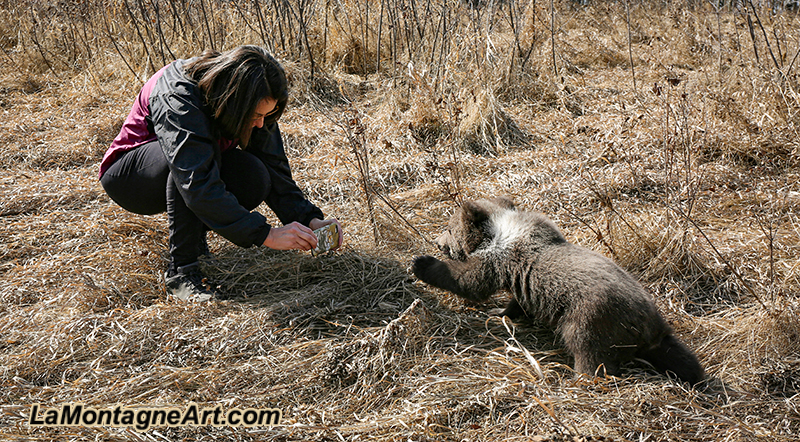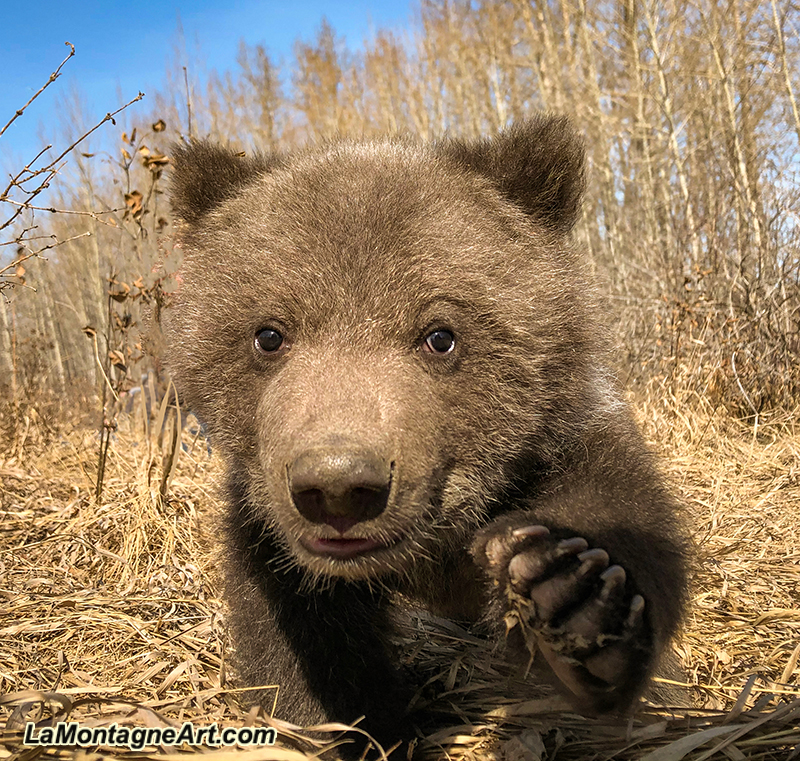 If you'd like to watch the cubs grow up, you can follow Discovery Wildlife Park on Facebook and Instagram, where they regularly post photos and videos. They can only care for these critters thanks to the generosity of donors and visitors during the summer season, so if you're in the Innisfail area, consider stopping in to check it out. It's easy to keep your distance from others with plenty of outdoor space while still enjoying all that the park has to offer. They open May 1st, and annual memberships are available.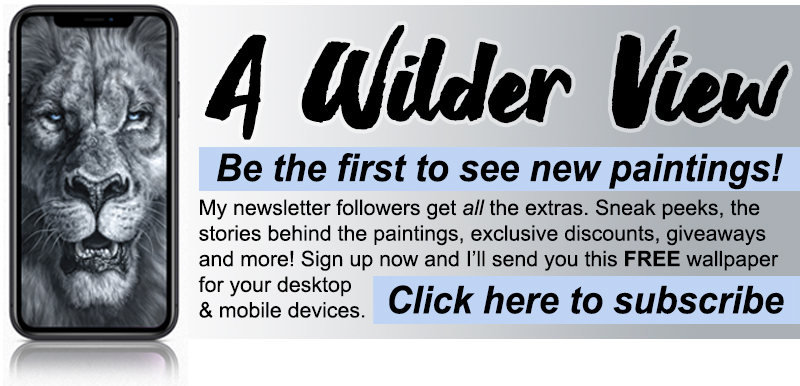 © Patrick LaMontagne
Follow me on Instagram @LaMontagneArt