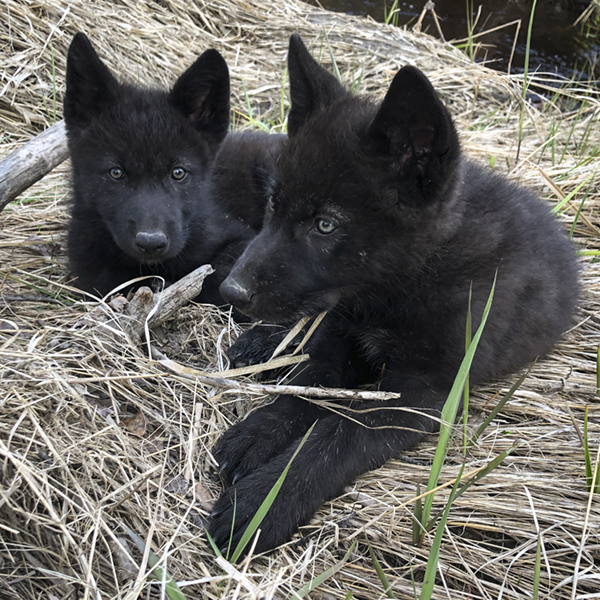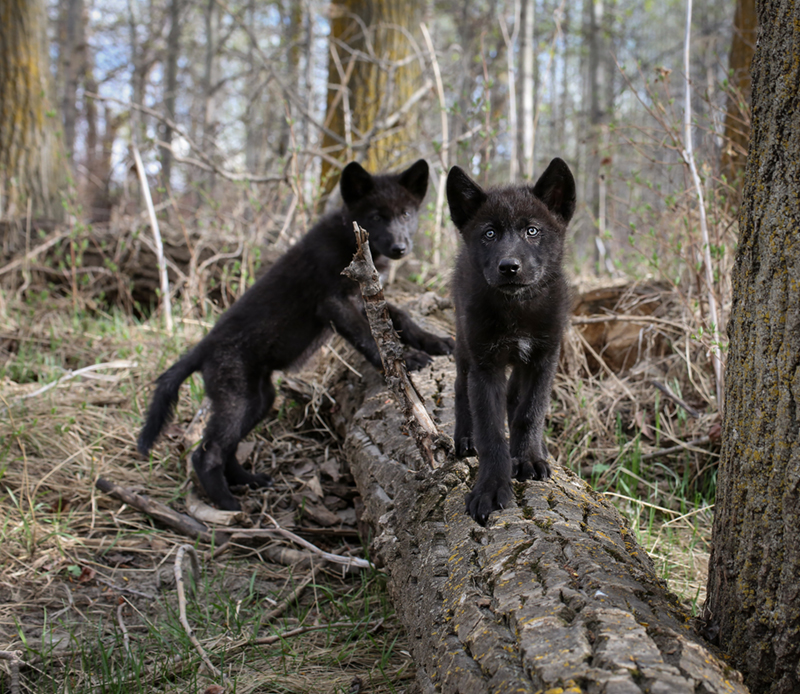 If you'd asked me how I was doing during the past couple of months, I might have answered that I've had OK days and not-so-OK days, for reasons I need not explain.
This past Sunday, however, was the first good day in a long while. And it was a really good day.
Discovery Wildlife Park is open as a drive-thru right now, an Alberta Health Services approved method for people to still come and see the animals, but they must stay in their vehicles. It's proving very popular and they've been busy, with a steady stream of cars winding through the park on their well-manicured gravel pathways. The staff helps the animals be seen, they answer questions and do their best to make it an enjoyable experience for their guests, despite the distancing measures.
While I think it's great they have this option, it's not one I'd planned on experiencing. I'll admit to being spoiled by my connection to the park, and the access they've given me. I just don't want to see Berkley from my car, especially given the drive time to get there.
Shonna and I have been very good at following the isolation rules in all of this. She still goes to work at the law office each day, but it's closed to the public and they have the appropriate safety measures in place. I've stayed home, only going out once a week for groceries, completing all of my errands in as few days a week as possible.
Alberta relaxed a number of restrictions on Friday, allowing people to get together in small groups. Some more businesses have been allowed to open and people are venturing out of their homes, though still being advised to wash their hands, keep their distance, and exercise caution.
Serena and I were texting Saturday night as we sometimes do, as I'm always curious to see how the animals are doing. She often sends behind-the-scenes pictures and videos for us. I made the off comment that it's too bad I wouldn't be able to see the wolves while they were pups, to which Serena replied, "Why not?"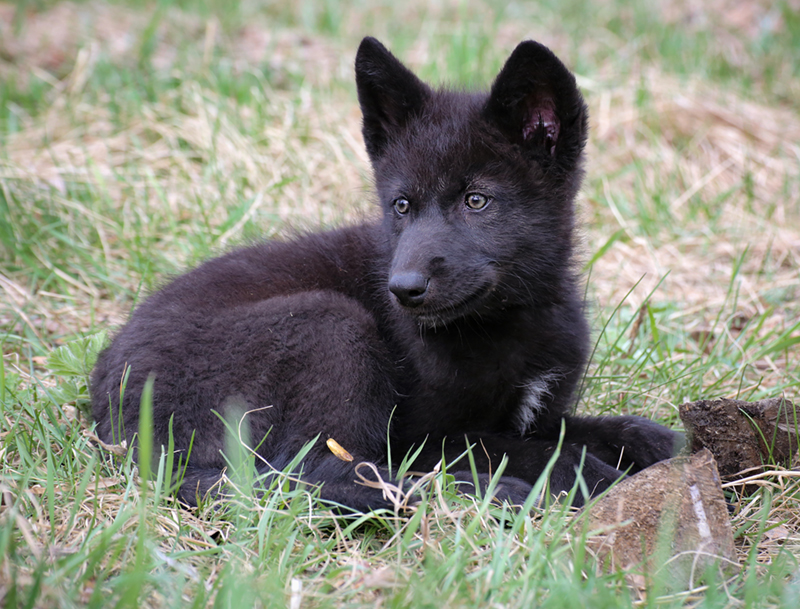 As she did with their Brown bear Berkley when she was a cub, Serena takes 8-week-old Sassenach and Highlander for a walk each evening in the large fenced wooded area at the park. She lets them explore, play, and get into trouble, without having to worry that they'll go anywhere.
We've had the privilege of many walks in the woods with Berkley. So it was exciting when Serena invited us to come up Sunday evening and meet the wolf pups in the same way.
Shonna later said she was impressed at how I jumped at the chance without overthinking it. Spontaneous is not my default setting.
We couldn't have asked for a better day. With warm temperatures, sunny and cloudy skies, very little traffic on the highways, we headed up that afternoon, a little over two hours' drive one way.
I talk with my parents often enough on the phone and via FaceTime, but we hadn't had an in-person visit since they left for Arizona in the fall. As they live ten minutes from the park, we made time for a short visit on their deck beforehand, keeping our distance, of course.
We met Serena at the park at 6, drove over to the wooded area and before long; the wolves were doing their thing while we took pictures.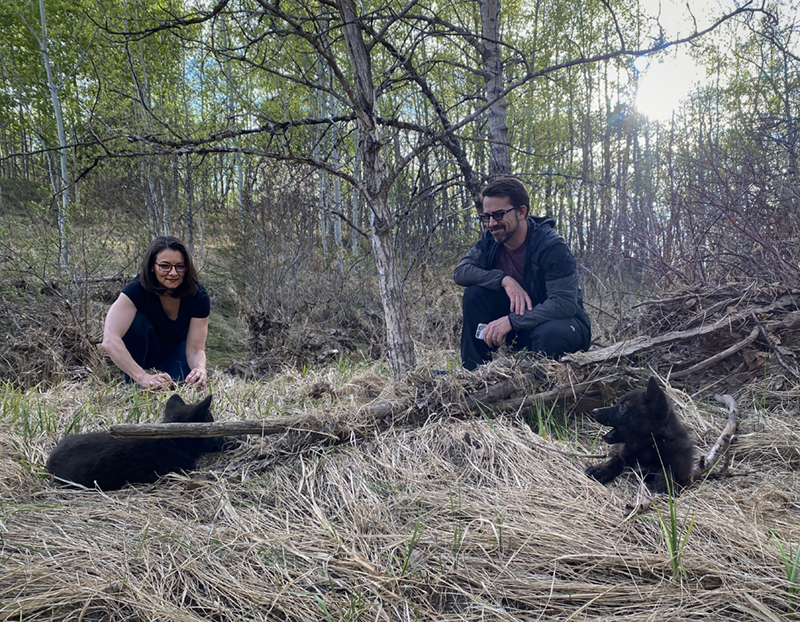 Part of the reason we have such a good relationship with the park is that we've always given the animals their space. There's no chasing, lunging, grabbing, yelling, basically any behaviour that's going to freak them out. We were content to watch, let them get comfortable with our presence and it was up to them to come to us.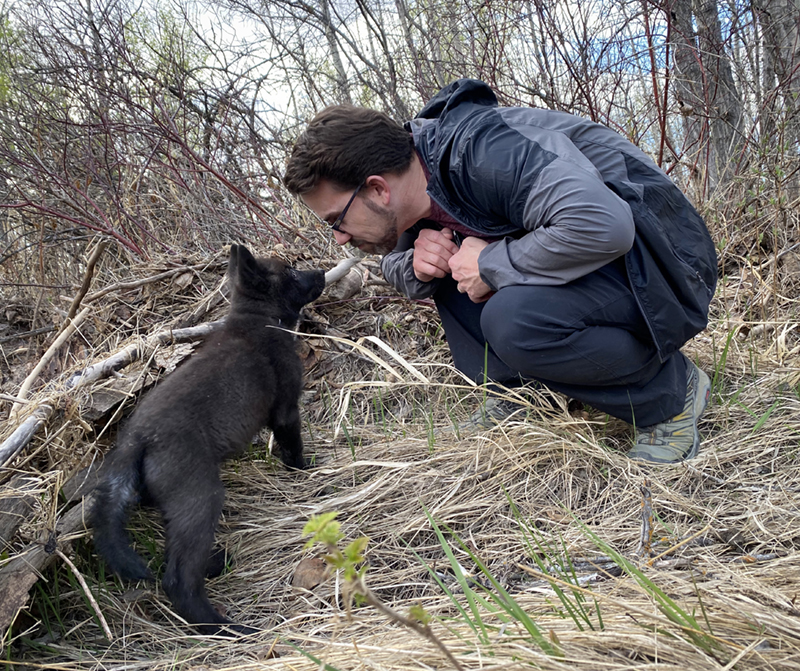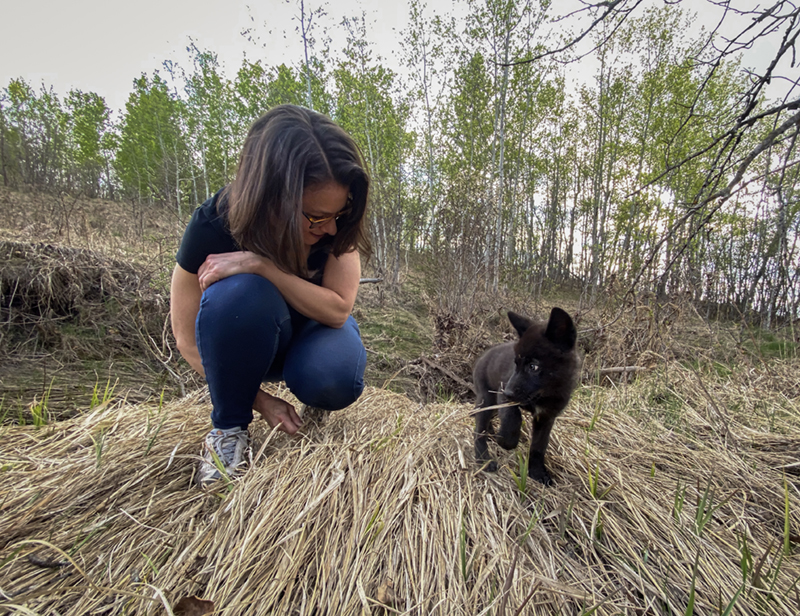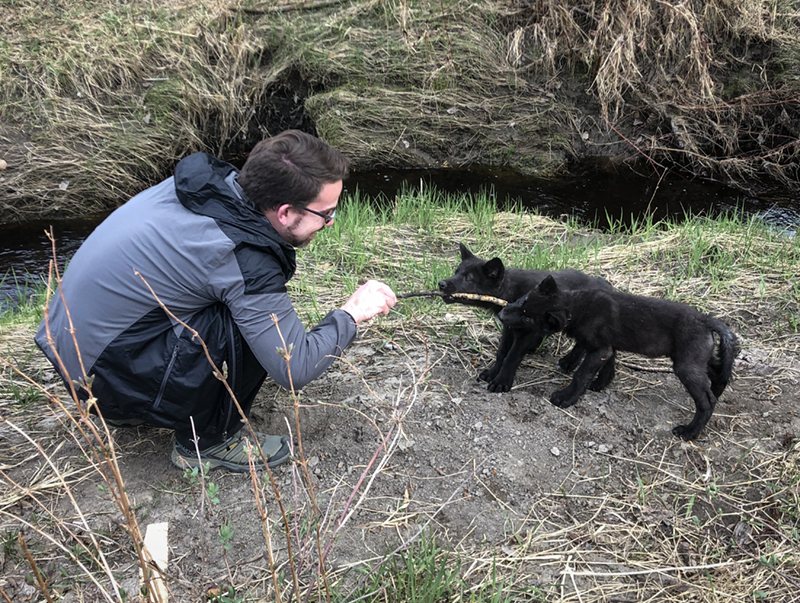 Thankfully, once they did, both pups did check us out, but their primary focus was on each other, exploring, playing and attacking.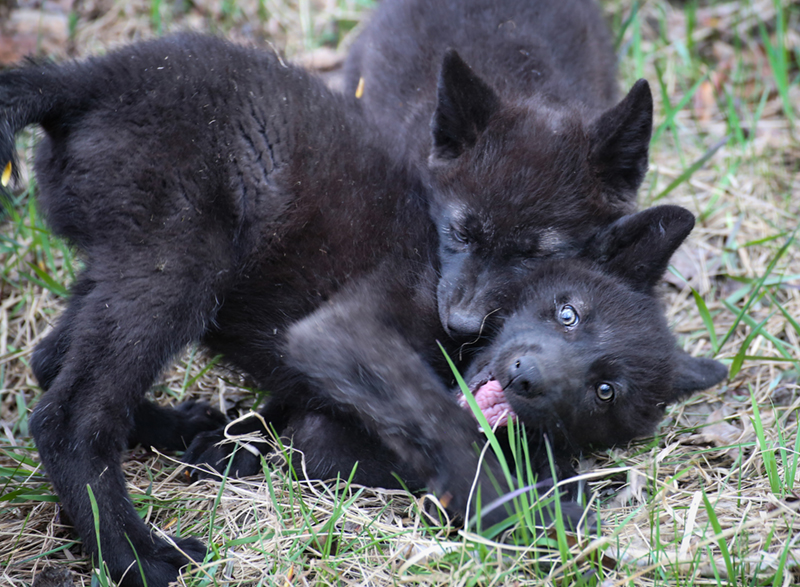 As Serena said, "It's Fight Club, every night."
We spent about two hours with them, visiting and catching up with Serena and taking a lot of pictures. I had my camera, but also my phone. Shonna and Serena took pictures with their phones and I got copies of all of them. So most of these pictures are mine, but some are theirs, too. And we don't really know which are which.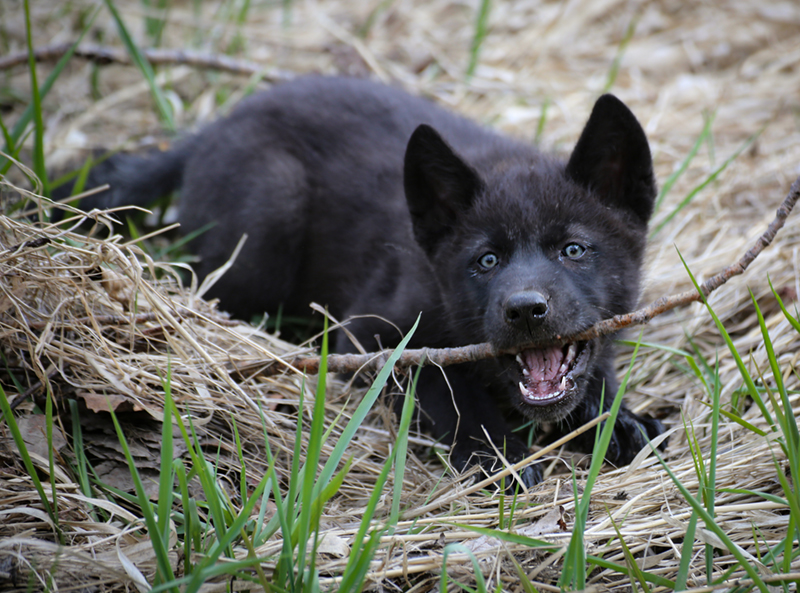 The funny thing is that like most young animals, they were just bundles of energy, until they weren't. Once they crashed, they crashed hard. Serena then told us we could pick them up, because at that point, they didn't care. Holding a snoozing wolf pup is a real treat.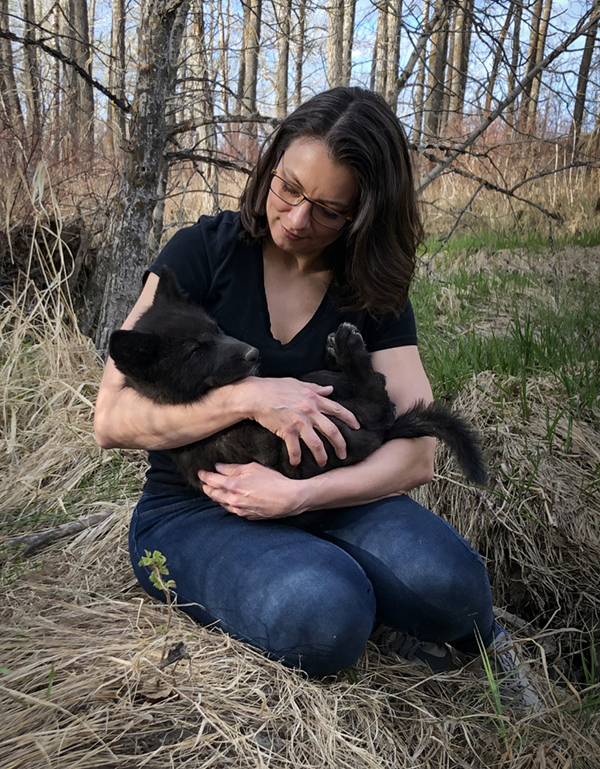 As always, we are forever grateful for our connection with Discovery Wildlife Park. Their orphaned and rescued wildlife critters receive the best care, and you need only look to how the keepers and animals behave around each other to realize how much love there is between them.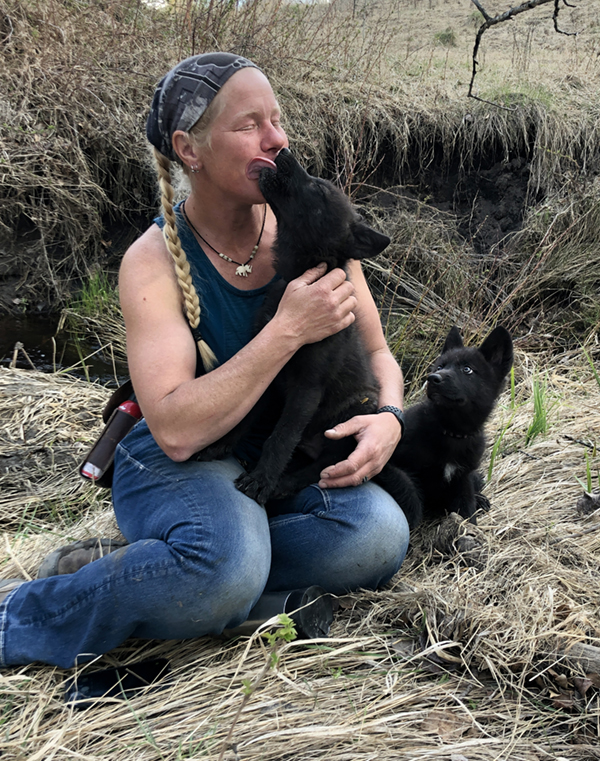 We were happy to make another donation to the park while we were there, as they really need it right now. In a regular year, they're only open from May to October, but they still need to feed and care for the animals the other six months of the year. Maintenance of the facilities, upkeep of the grounds and enclosures, veterinary bills and a long list of accessory expenses, not to mention the salaries of the dedicated staff, makes for an expensive undertaking.
I came home with about two thousand photos. After hours of weeding out the ones I can't use, I still ended up with dozens of reference shots. I'm so glad to have taken photos while they were little, because they certainly won't remain that way for long. Their eyes are already changing from blue to yellow. There's no doubt I'll eventually create paintings of both of them.
After more than two months of being locked down, that was the perfect break from isolation. And to top it all off, Shonna and I drove back into the mountains that night under a brilliant red sky, one of the prettiest sunsets we've seen this year.
© Patrick LaMontagne
Follow me on Instagram @LaMontagneArt
Sign up for my newsletter which features blog posts, new paintings and editorial cartoons, follow this link to the sign up form.