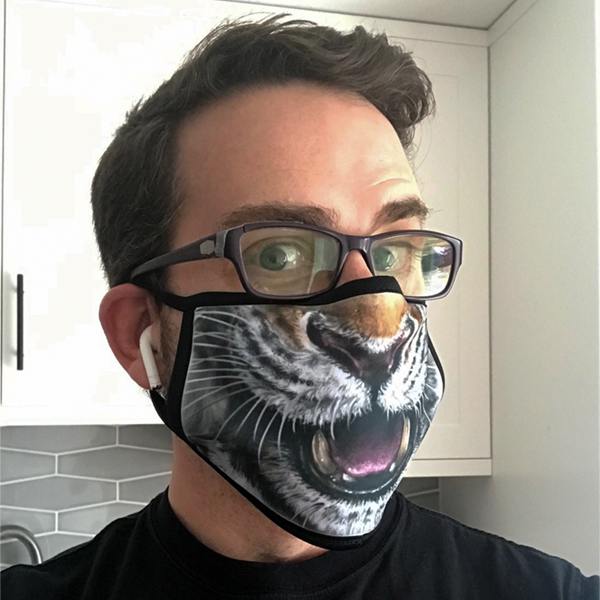 In addition to the usual daily editorial cartoons, this business of face masks has occupied the majority of my last few weeks. The response from my newsletter subscribers was overwhelming and far exceeded my expectations. While there were delays for various reasons, and I sent regular updates to those who ordered, it all came together this past week.
With two shipments from Pacific Music and Art, three evening visits to Shonna's work to use the postage meter, four visits to the post office, and one trip to Bow Valley Basics when I ran out of large bubble mailers, not to mention the hours of sorting, checking and double-checking the list, it's been a challenge.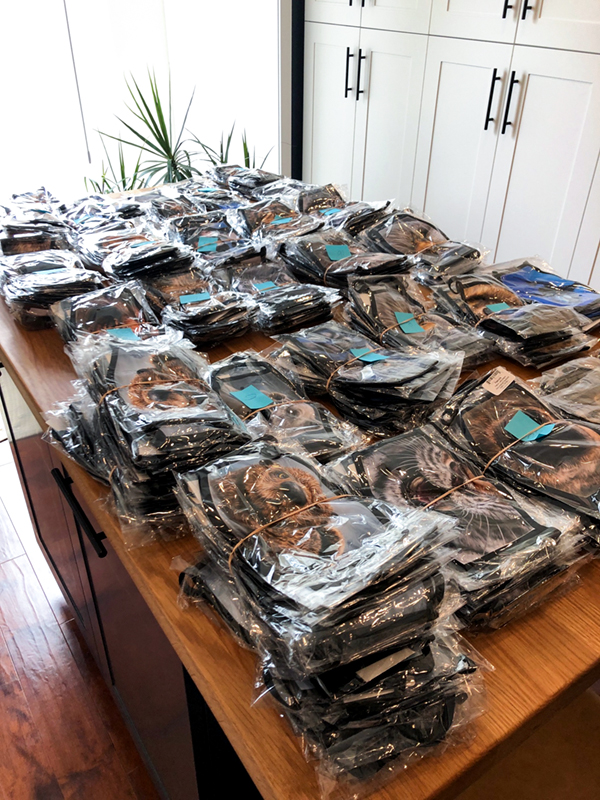 I made two trips around Canmore delivering masks, one trip to Banff yesterday morning, and by the end of day yesterday, the bulk of this adventure has been completed.
(I did come home from Banff with home-baked cookies. Thanks, Helen!)
As of yesterday, all of the Canadian orders have been delivered or shipped. There are a couple more minor deliveries I need to make, and the U.S. orders will go out Tuesday morning. Monday is a holiday here in Canada so the post office will be closed. The US orders are a little more work with Customs forms and the fact that they have to go as small parcels, rather than regular large letter mail like the Canadian shipments.
The masks just didn't arrive in time for me to get all of that done by the cut-off yesterday.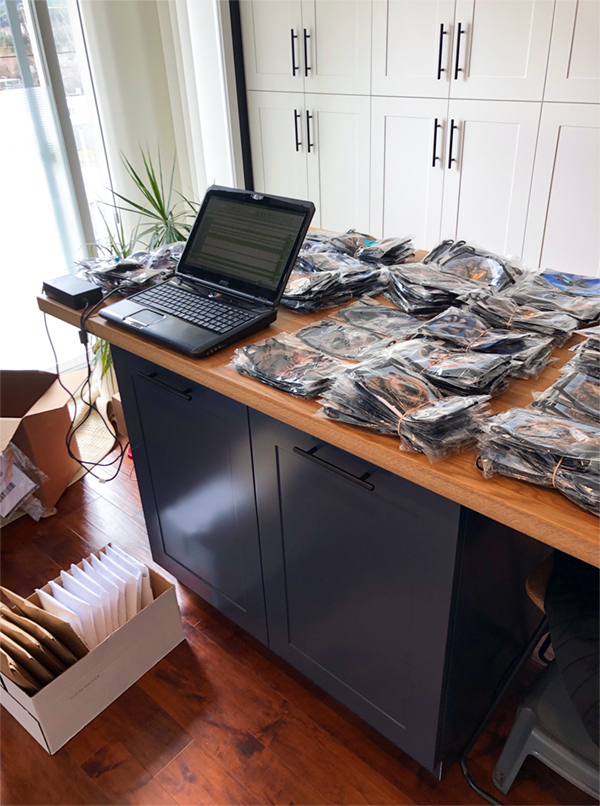 I sent a bunch of masks to Discovery Wildlife Park and The Alberta Birds of Prey Foundation yesterday, both places I'm anxious to visit as soon as I'm allowed. My friend Serena said they can't wear masks around the animals as it freaks them out, but I donated them for the keepers to use in their regular day to day lives wherever it might be required.
The first orders were sent Wednesday morning and some in Calgary already got them. People have been kind enough to send me photos, which was fun to see. I'm sharing them here with permission.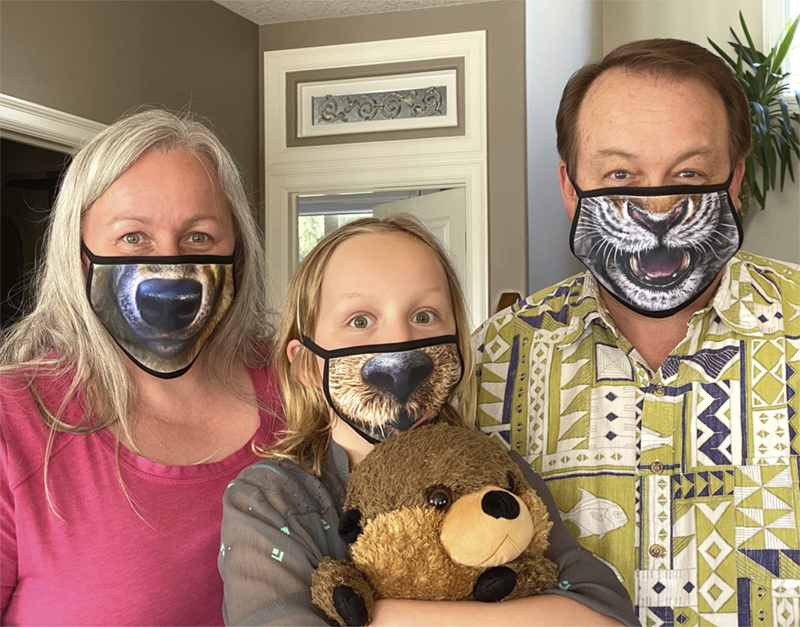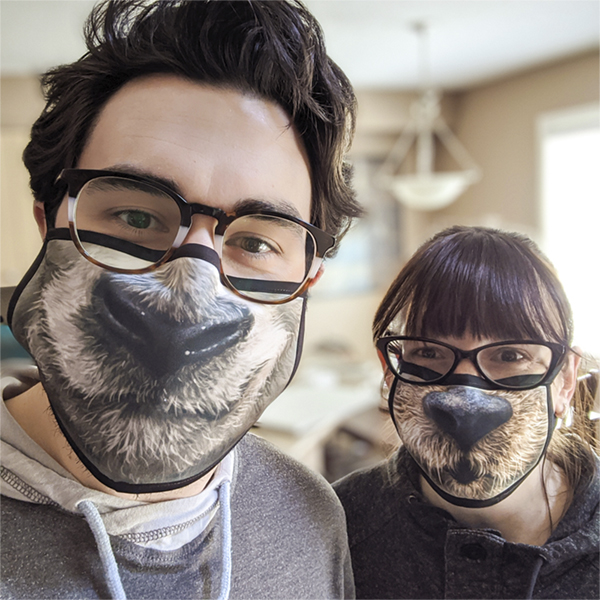 I've been getting many requests for a second order, but making no promises, as this situation seems to change every five minutes. Right now, the demand is incredibly high but I don't know if that will continue. It seems some are switching gears from extremely diligent to, "screw it, who cares?"
For example, Alberta was still advising caution on Thursday, and then yesterday announced, "Hey, it's the long weekend, have at 'er!"
I'm not sure how a large group of people having a backyard BBQ are expected to keep a 6 ft. distance outside, but then all go into the house to use the same bathroom and hand towels. Not to mention that it's well established that alcohol and impaired judgment go hand in hand. Hopefully, in hindsight, this won't be referred to as the Victoria Day Petri Dish Debacle.
Guess we'll see what happens.
All of the masks contained an additional method of ensuring a good fit.
Some received a little packet inside containing a couple of rubber grommets. Since the actual grommets are still on back-order, the owner of Pacific Music and Art tried a number of different solutions and came up with surgical tubing. He then cut it into little pieces, and included instructions on how to attach them. Because I wanted to make sure I had all of the masks for the orders, I only took one mask out for myself this week; to wear into the post office and other confined spaces. The grommet solution worked very well. They stayed in place and allowed me to put the mask on and take it off without touching the front of it, which is what 'they' advise.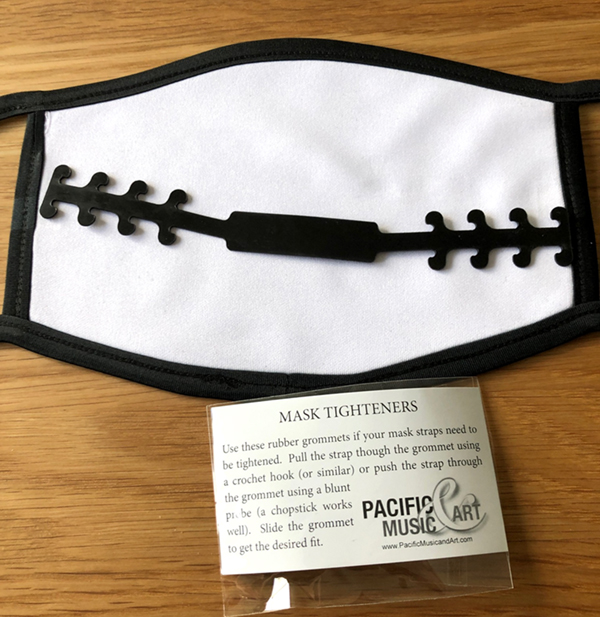 While that first shipment arrived with the grommets, the second shipment included plastic pieces that go behind your head. The ear loops attach to different prongs and make it adjustable. Some have been calling these ear savers, as thin elastic ear loops are irritating the wearer. In the limited time I wore my mask, I found the grommets worked well and didn't find the loops to be a problem.
Some orders will receive a mix of grommets and those plastic fasteners.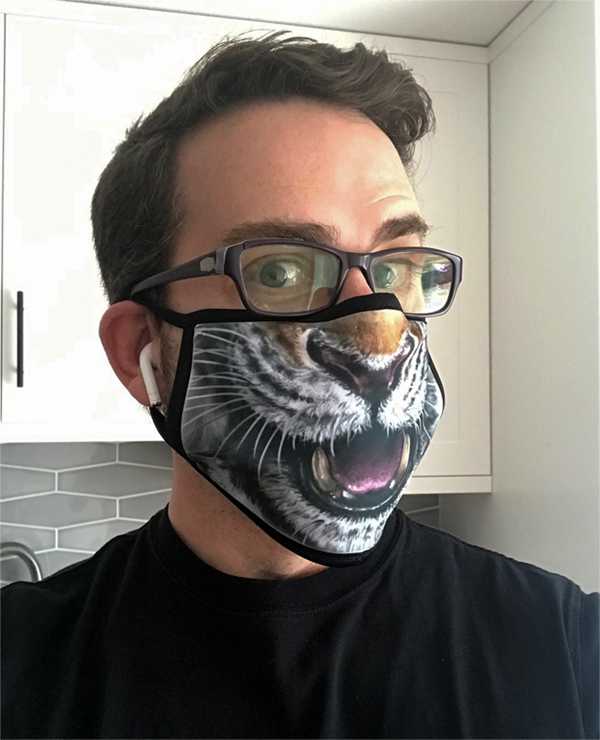 Production costs were higher than expected and prices have been adjusted accordingly. If you did get the plastic piece, count yourself fortunate. On future mask orders, those will be an add-on with additional cost of $3.00. The masks themselves have gone up in price. $15.99 for the large, $14.99 for the small.
So while my newsletter customers had to be patient through delays on the first order, they got the masks at a much better price, with additional fasteners at no extra cost.
I've had three people this week tell me to send them a text when the next order is available. That's not realistic. For any future offers, sign up for my newsletter, as that's where I'll announce it.
Since I haven't had any time to do so lately, I wanted to get up and start a new painting this morning, but that didn't happen. I still have plenty of work to do today, but I'm not in the right frame of mind for the creative stuff. I've been hearing a lot about idle time and boredom during this isolation and how people are trying to occupy themselves. I haven't experienced any of that. I'm worn out.
Thanks to all who ordered the masks and were so patient throughout the process.
© Patrick LaMontagne
Follow me on Instagram @LaMontagneArt
Sign up for my newsletter which features blog posts, new paintings and editorial cartoons, follow this link to the sign up form.