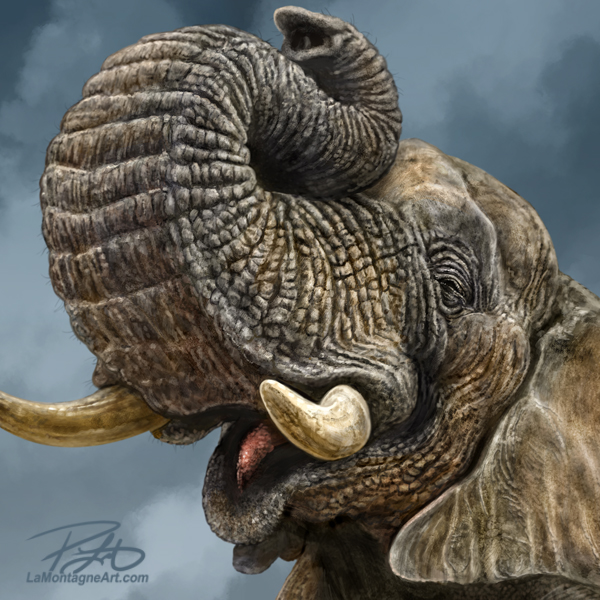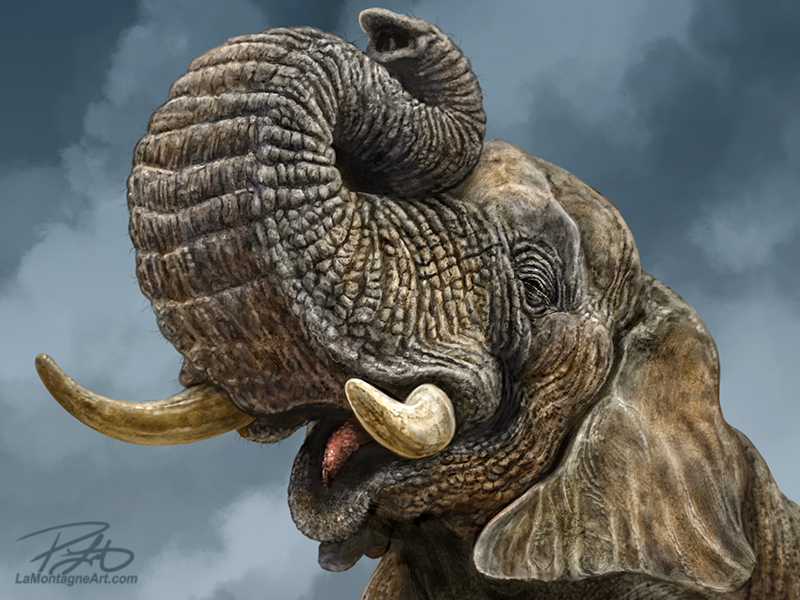 After more than two years of procrastinating, I finally finished this painting of an African elephant.
At the beginning of 2020, our friend Serena, her husband, and their son went on a long-awaited safari to Africa. Little did they know that it would be only a couple of months later that recreational travel would be all but cancelled for more than a year.
Serena takes almost no time off. As the head zookeeper at Discovery Wildlife Park, often raising and caring for orphaned baby bears, cougars, lions, and other rescues, her work requires many long days, seven days each week. So, this safari trip was many years in the planning for her family.
Before she left, she asked me if I wanted any reference pictures. Even though Serena is an excellent photographer, I said there was no way I would impose on her family trip with a laundry list of animal photos.
There are very few elephants in captivity anymore in the western world. Because of their intelligence, family dynamic, social structure, and other requirements zoos can't meet, elephants don't do well in isolation, so most reputable zoos don't keep them anymore, a policy I fully support. Instead, many former zoo elephants have been surrendered to sanctuaries to live out their lives in a herd and in peace.
As it's unlikely I'll be going on safari anytime soon, there's very little chance I'll be able to take my own elephant reference photos soon.
Since Serena pressed me on it, I confessed that I really needed that specific reference. I told her I'd take whatever she gave me, but she asked for my ideal photo, just in case she had the opportunity.
In a perfect world, I wanted a ¾ view; trunk held up to reveal an open mouth, all so that I had the best chance of painting a happy smiling face.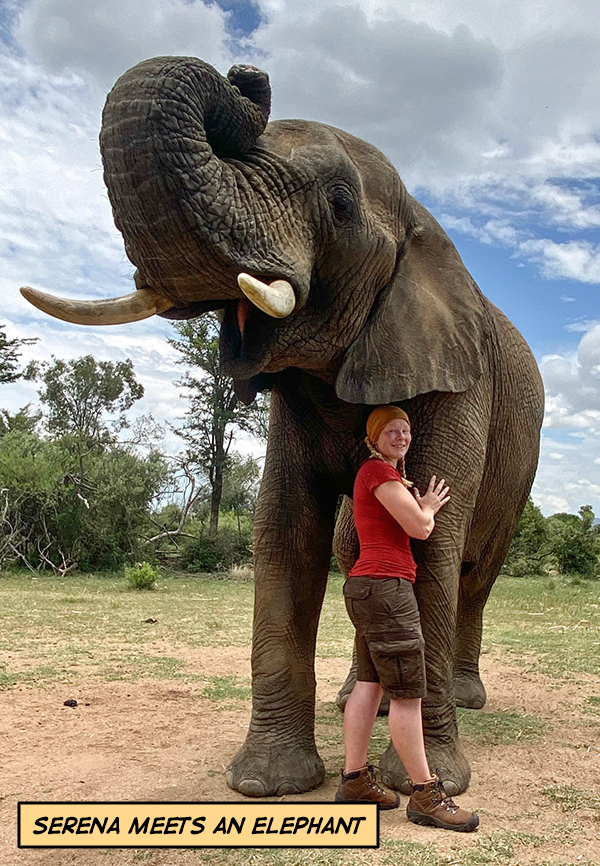 Serena sent me dozens of photos when she returned, including exactly what I asked for. I was grateful, filed the photos, backed them up online and on portable hard drives, and spent two years painting other animals.
This happens a lot. On rare occasions, I'll paint from reference right away, but most of the time, that animal gets added to the list, and I wait until the time feels right. I'll admit that sometimes, however, it's more about imposter syndrome.
I knew that the details in the skin texture would be complicated, and I worried that I wouldn't be able to paint what I saw in my head. This is familiar ground. Regardless of how many years I've been doing this, the thousands of editorial cartoons I've drawn and more than a hundred whimsical wildlife and commission pieces, I still get nervous before every painting. It just never goes away.
Eventually, I push through it, and about halfway through a piece, I realize I'm enjoying myself.
There are two reasons I finally got off my ass to paint this elephant. First, Mike from Pacific Music & Art is putting together my 2023 calendar, and in the most supportive and encouraging way, he pushed me to get the elephant done. While I'm paraphrasing, he said something like, "stop talking about it, and just paint it, already."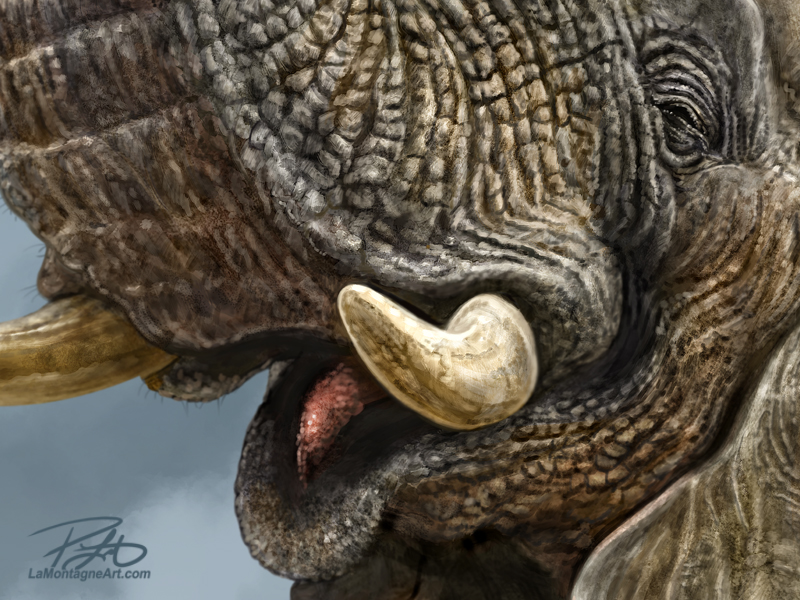 Secondly, the full-size four-day Calgary Expo will return at the end of next month. I've had my booth booked and purchased for three years. While I've painted many new pieces since the last Expo, I want that elephant in my booth.
Every year, the same guy asks if I've painted the elephant, and I sheepishly tell him, "Not yet, but maybe next year."
I don't know if he'll be at Expo this year. I don't know if he'll even like the elephant I've painted. But if he asks if I've got one, I can finally say, "Yes!"
While it took many hours to get the skin texture and anatomy right, it turns out that it wasn't especially difficult. I just had to put my ass in the chair, paint a lot of brushstrokes, and enjoy the ride. When I completed it, I was happy with the result.
Right up until I sent it to Serena.
I've painted several of the Discovery Wildlife Park critters over the years, so I often give Serena an early look at those, a sneak peek for allowing me so much access to the animals in her care. Since she provided the reference, I extended the same courtesy for this one.
When I sent the finished painting in a text yesterday morning, she said, "I love that you did the injured one."
Say what now?!
I called her for clarification.
As the reference she took was at an African reserve and sanctuary, Serena pointed out that this particular elephant, the one I used for my primary reference, had the end of his trunk amputated from an injury and that it was shorter than regular length.
She thought she had told me that, and I conceded that she very well might have, but it was two years ago, and it didn't make it into my long-term memory files. So, I honestly thought it was simply the reference angle that didn't show the tip of the trunk, and I was okay with it. I didn't know that the elephant itself had that part of the trunk removed. And for some reason, I just didn't see it.
So, as much as she liked the injured elephant because she looks after orphans and rescues, I explained that I had to paint a fully intact animal for a production piece, even in my whimsical style. So, I looked through the other elephant pictures she sent, found some 'end of trunk' reference, and got to work repairing the mistake.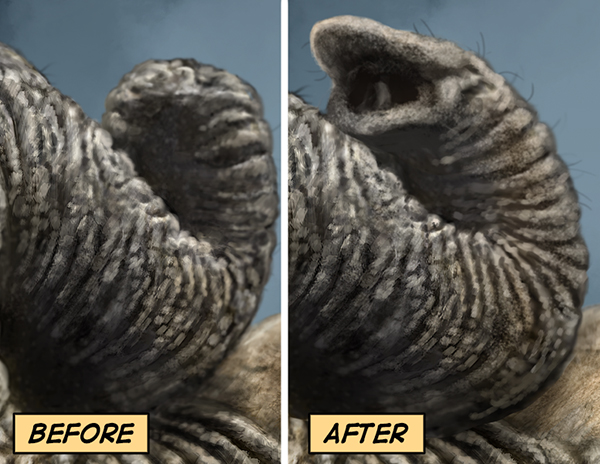 I sent a couple of changes to Serena, and she helped me get it right. She felt bad for having to tell me about it after I'd finished the painting, but I told her better than after I had bought dozens of prints, and coasters, trivets, magnets, and other licensed merchandise had gone into production.
Correcting the mistake added more than an hour of extra painting to the piece, but I'm much happier with the finished result.
I can't wait to see it in print.