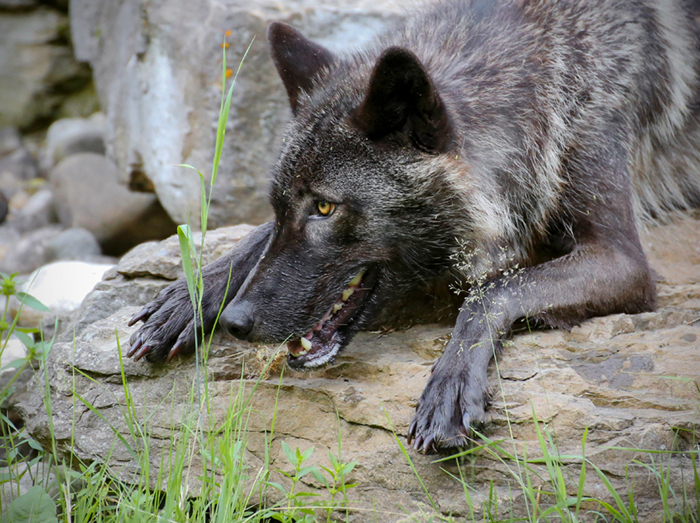 (This is the second part of a three part post. To start at the beginning, here's the link.)
After we put Tunk the skunk back in his kennel with his siblings, Serena (head zookeeper) asked me what my plans were for the rest of the day. I told her I was going to see my folks, deliver some prints, but other than that, I was free.
A photographer had booked a shoot with the wolves on Saturday, but ended up canceling at the last minute. Serena and her staff had done a fair bit of work setting it all up and were disappointed they weren't going to be able to do it. She said that if I could come back just before closing at 7:00 that evening, I could have a shoot with Nissa and Lupé.
She basically sounded like she was apologizing for asking me to come back and help them, like it was a big inconvenience for me, which made me laugh. An unexpected private photo shoot with a couple of wolves? I don't know. Let me check my schedule.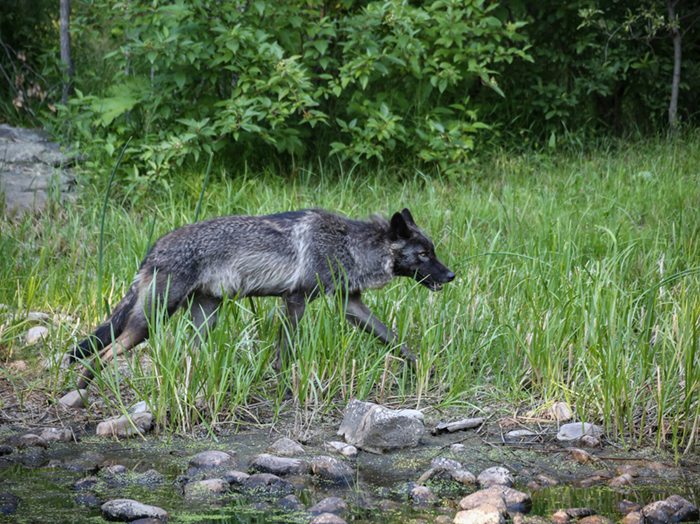 We checked to see if Denise (another keeper) was available that evening to 'play' as well, another indication how the keepers view their jobs. After they're done working with the animals all day, they're still up for more time with them in the evenings.
Photography shoots with education is something they're looking at doing at Discovery Wildlife Park on a semi-regular basis in the future. For a fee, professional and amateur photographers alike can have the opportunity to learn from an instructor how to take better photos of wildlife. I will be one of the first in line to sign up.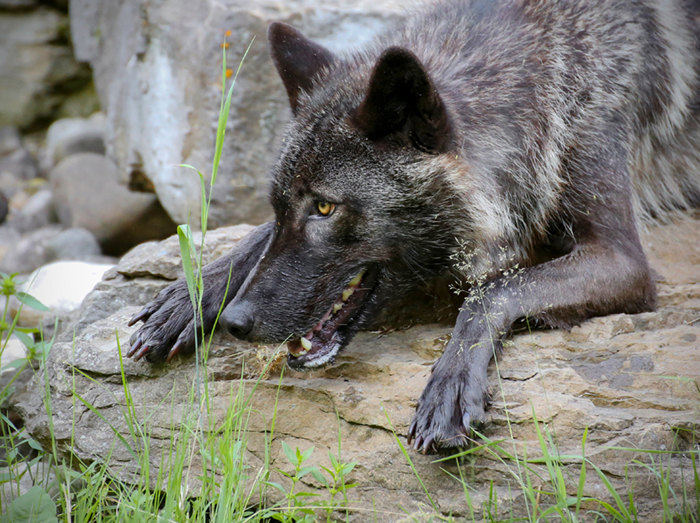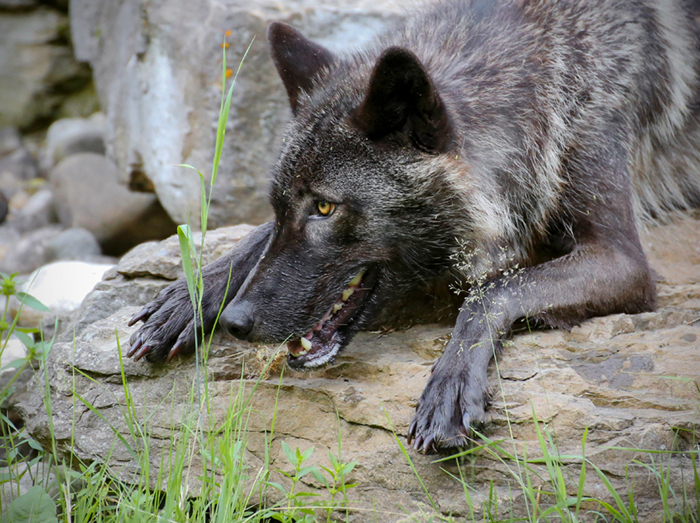 Given that I've gotten to know the staff and they know what they can expect from me, they wanted to use me as a guinea pig for the area they'd staged for this sort of thing. My last two visits, I've found out that there is much more to this park than the area visitors use day to day. A large lush forested area in a wide gully on the west side of the property has a creek and other water features, big trees, and vegetation. It's all fenced and the keepers can often take some of the animals out of their enclosures and let them run around on their own.
Kind of like an off-leash dog park for bears, wolves, beavers… you get the idea. It's quite beautiful in there.
When I arrived back that evening, Denise was still with a small group of campers, giving them a behind-the-scenes tour with the big cats. That's one of the bonuses of camping at Discovery Wildlife Park campground. For an added fee, you get extra opportunities for animal encounters that day visitors don't get.
While we waited for Denise, Serena took me over to the staging area and walked me down into the gully from where I'd be shooting. There was a large long wire fence between the rest of the forested area and another large enclosure. It has a heavily forested brush area, a large pond, some big rock slabs they brought in, basically a number of assembled features that, while man-made, look very natural and appealing.
Serena told me that it would be the first time the wolves had ever been in there before, so it would be an exciting enrichment evening for them.
With the setup explained, we headed for the wolf enclosure. Lupé is a little nervous around strangers and is afraid of gates, so I was asked to stand back a fair distance while they got their leashes on and brought them out.
Nissa was happy to see me, but then she's happy to see everybody. I was offered her chain leash, which I gladly accepted and I had to remind myself that she's a wolf, because it was easy to feel like I was just walking a friendly dog. I could rub her fur, pet her, and when I crouched down and got close to her, she was eager to lick my face.
These wolves have been raised at the park since they were pups. While a bit more of a story to it, one they'll be happy to share with you at the park, the short version is that they were orphans and Alberta Fish and Wildlife offered them to the park so they'd have a home.
We took the wolves to the enclosure where I broke off and went down to the path I'd been shown. Serena, Denise and the wolves went to the entrance at the other side of the enclosure. I didn't think to take photos of the whole setup, but from my vantage point on the other side of the fence, I was looking at the pond and rock formations. Beyond that was the brush and forest which sloped up to the gully's edge. The gate was up on that ridge across from me.
Like I said, big area.
Once inside, Serena and Denise let the wolves go, and then walked down the hill to the fence, where I waited on the other side. The wolves were already busy exploring this new environment.
Serena said, "Let's just let them be wolves for a little while."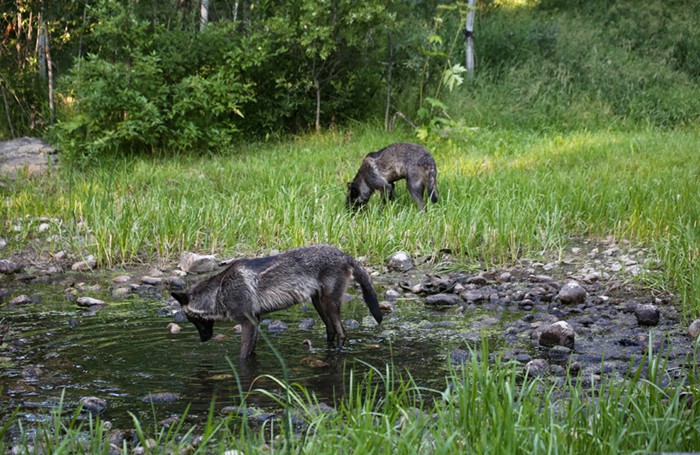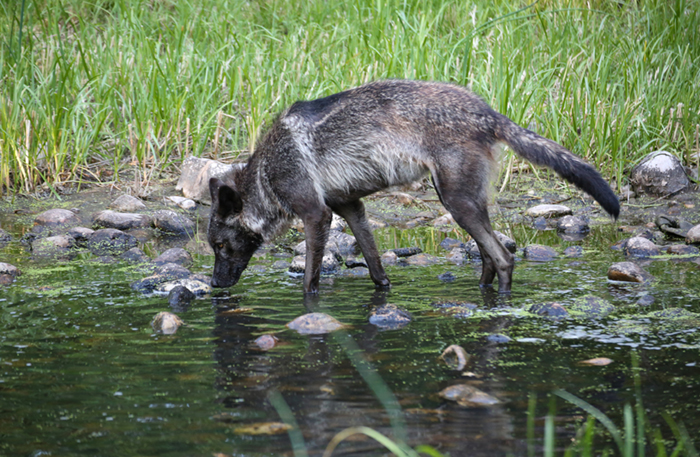 After they had some time on their own, she called them using both her voice and an electronic tone, all part of the training they receive during their daily enrichment.
In the wild, animals are constantly searching for food and working at their own survival. In captivity, however, where all of their food and safety is provided, enrichment is an absolute necessity to keep them healthy. It provides them with challenges, problems to solve, and many opportunities for them to exercise their bodies and minds.
All of the training at the park is done by positive reinforcement, in the form of loud praises, play, and healthy food rewards.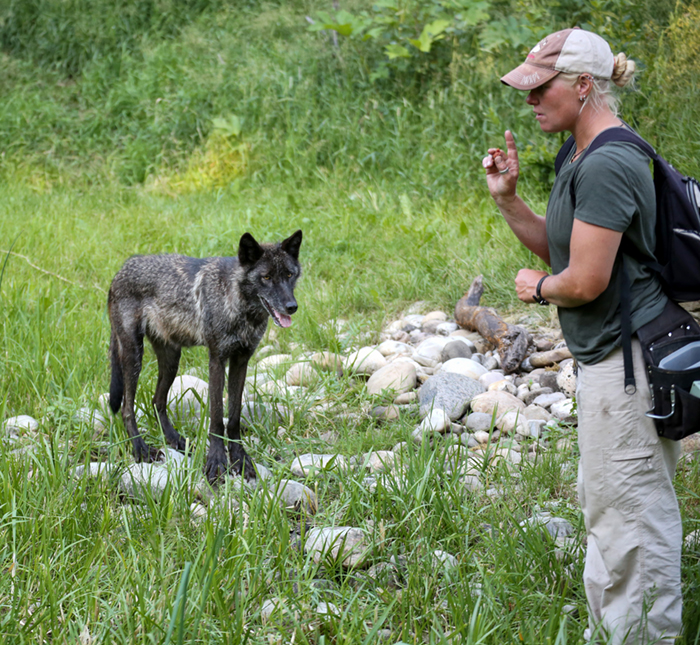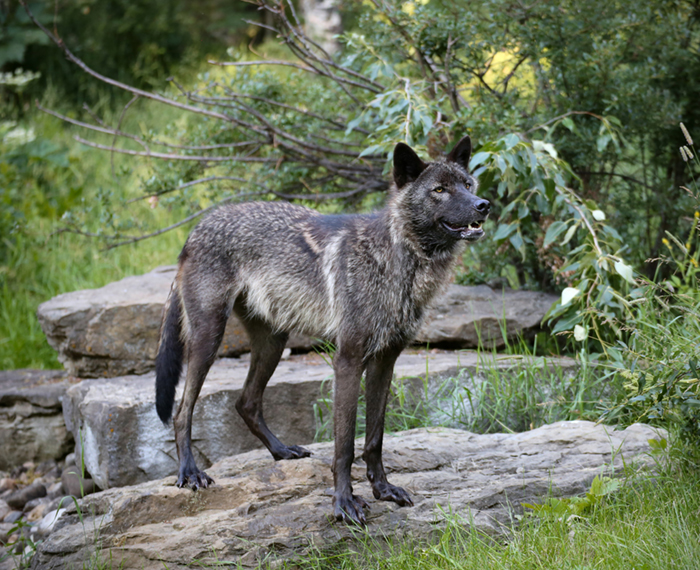 While the bears and big cats have established marks that they go to, (a small plate of rock, a log, a platform) the wolves have been trained to choose their own and it's fascinating to watch. On the command to 'find a mark' they each look around, decide for themselves, go to a spot and pose. They'll often choose great spots, for which they are then rewarded, reinforcing that behaviour. If it's an especially good mark, that spot will be reinforced as well.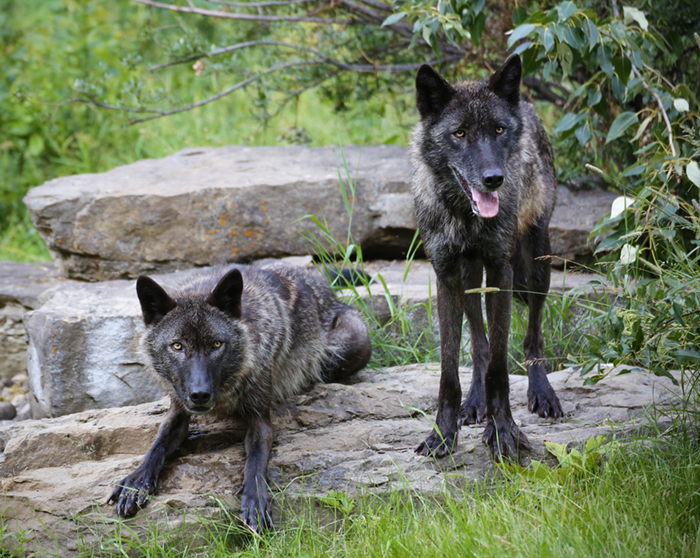 They are also taught to lay down, crouch, jump for their reward, go fishing in the pond, and a number of other actions. Best of all, there is no doubt they're enjoying themselves as Serena puts them through their paces.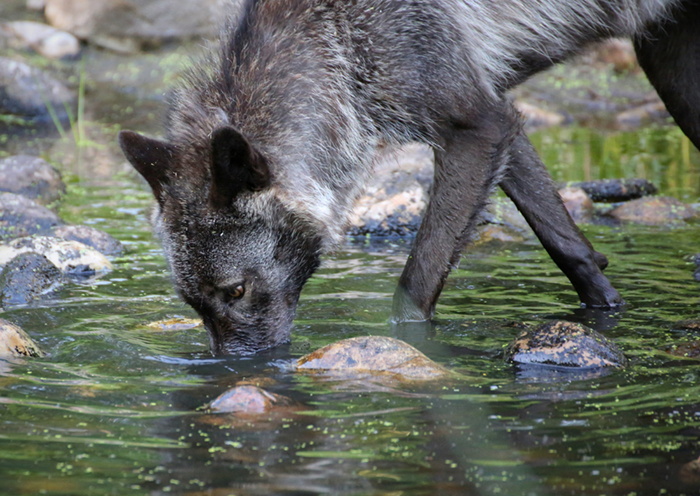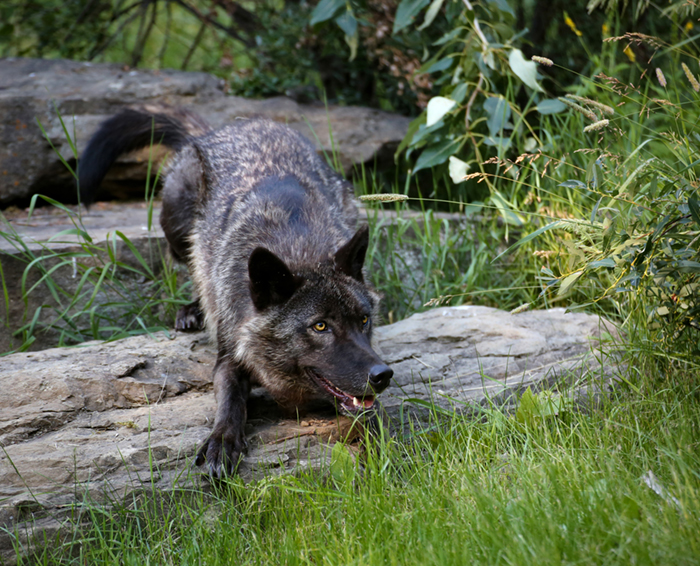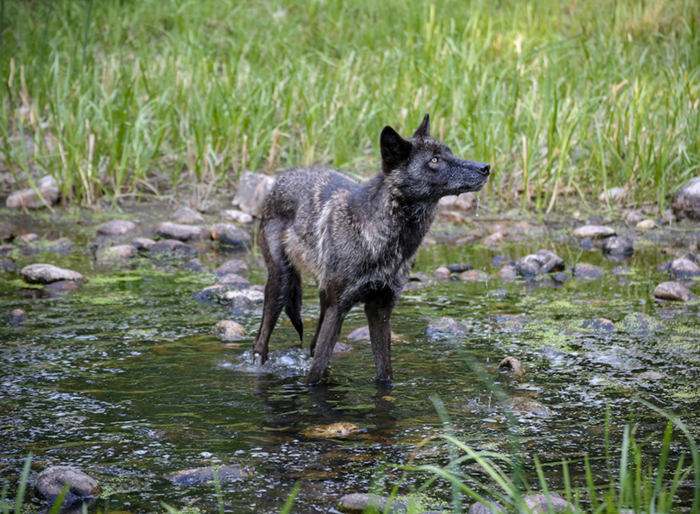 I asked at one point what they would do if I came into the enclosure from my side of the fence. I knew I wouldn't be in any danger as I'd already interacted with Nissa up close. Serena said I wouldn't get any good photos because they'd just be interested in me and Nissa especially would just want to play with me. So from my side of the fence, with large enough wire spacing for me to get my lens through, I was able to get hundreds of shots without being a distraction to the wolves.
If I saw something I liked, I'd ask Serena if she could get one of the wolves to do it again. I could ask questions the whole time and Denise was taking just as many photos as I was, from her side of the fence. Because the wolves are so used to her, she wasn't a distraction for them. I distracted her, however, by repeatedly asking, "which one is which, again?"
Nissa is lighter and fluffier, but it's subtle.
My being a guinea pig amateur photographer let them try things and have a bit of a rehearsal without worrying they were wasting a client's time and money. I also had no agenda and was happy to just be there, taking advantage of whatever situation popped up.
Sometimes photographers will go into a shoot like that with an idea of exactly what they want the wolves to do or with pre-planned shots they want. In my opinion, that's a guaranteed way to miss out on the happy accidents, one of the wolves doing something special, resulting in a great shot that couldn't have been anticipated.
Some of my best painting reference shots have been ones I didn't expect to get.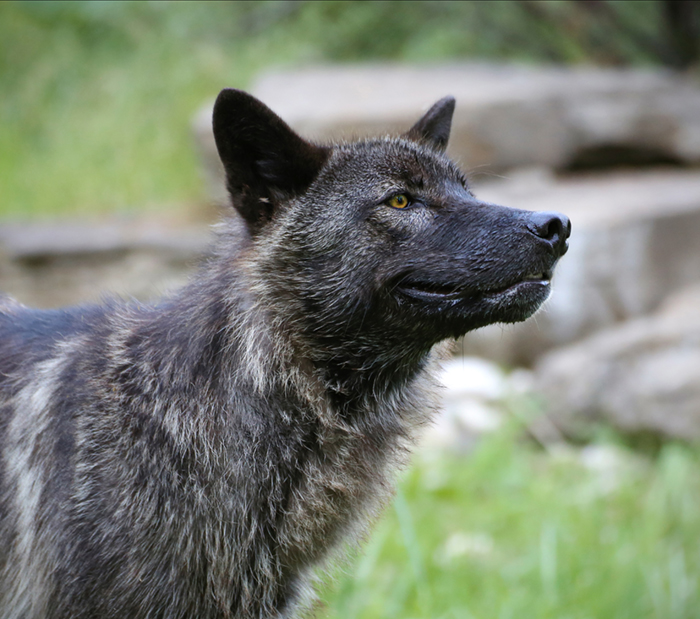 I don't know how long we were in the woods, but pretty sure it was more than an hour. Despite dousing myself in bug spray, it was hot and muggy and it didn't last long. I can't remember the last time I've had so many bites and they were getting me right through my shirt. Mosquitoes love me and I get a strong reaction from bites. But it was worth it.
On the way out, Serena took some photos of me with Nissa and this was my favorite. I had to turn her head toward the camera because she kept licking my face.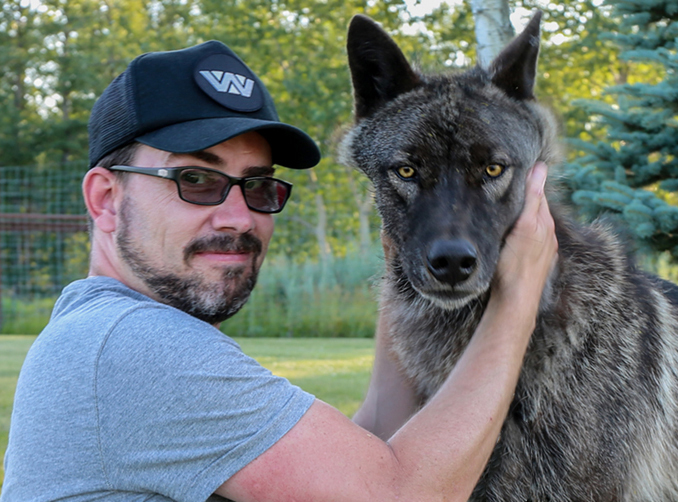 And after putting a couple of happy wolves back in their enclosure, I was offered one more opportunity to be eaten alive by mosquitoes, which I happily accepted.
More on that, in the next post.
Cheers,
Patrick
By the way, if you want to get up close and personal with Nissa and Lupé, Discovery Wildlife Park offers Adventure Packages, one of which is 'Walk with Wolves.' You can't beat the price and included extras. You can find out more on their site.