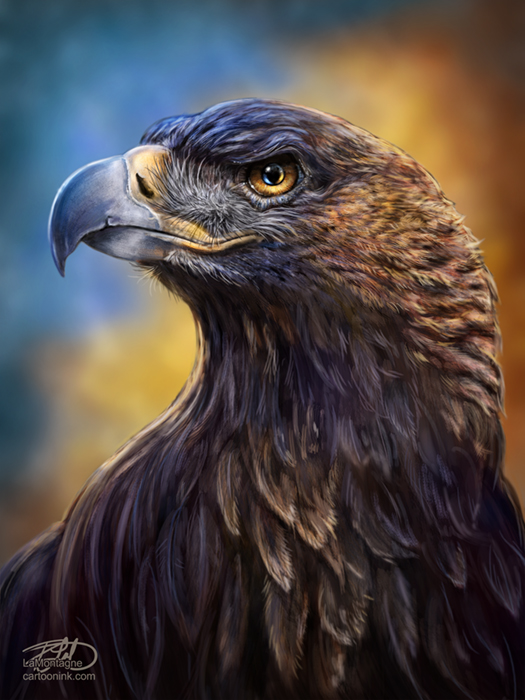 This is my latest painting of a Golden Eagle, based on reference photos I took of a 32 year old beauty named Sarah.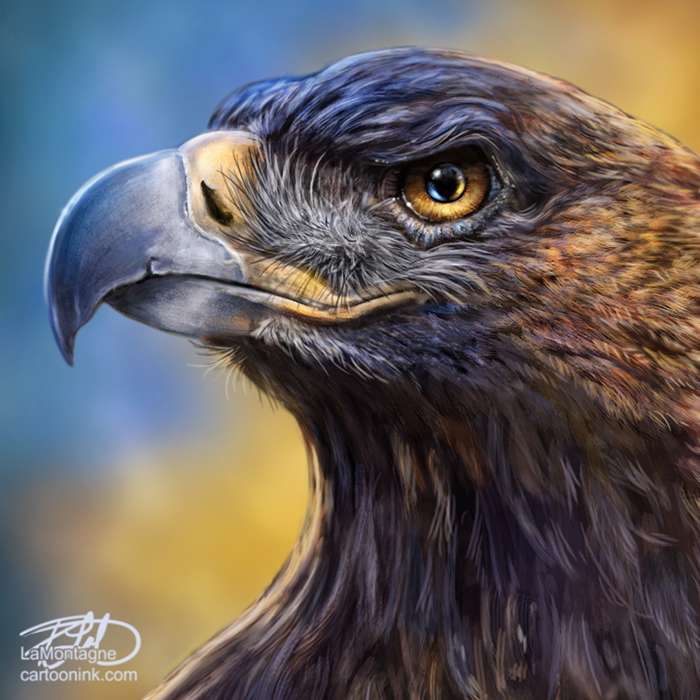 On a Saturday in the middle of last month, I went downtown to visit one of the Town of Canmore's WILD events at the Civic Centre. This annual event features everything from hikes, arts activities, educational talks about the environment, and much more. While this introvert is not a big participator in large group gatherings, I couldn't pass up the opportunity to see the Live Birds of Prey Exhibit.
Knowing this was a popular annual event, I arrived while they were still setting up with the intent of gathering some reference photos. There were four different owl species and one Golden Eagle. With such easy access to take up close reference photos, I was happy to make a small donation to express my appreciation.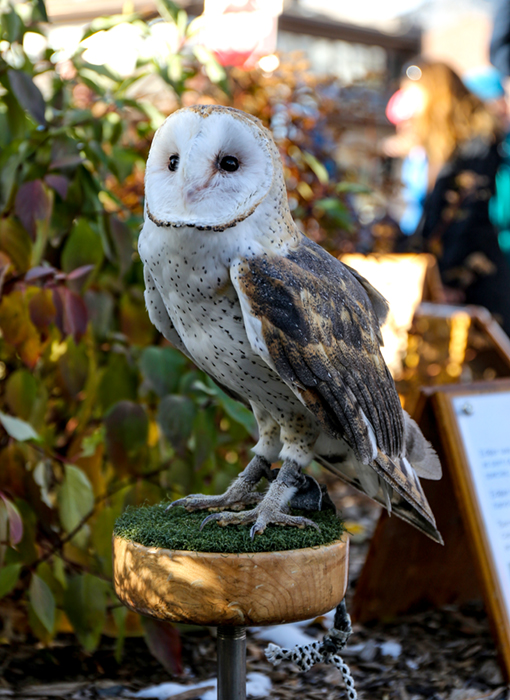 From spending time with the keepers at Discovery Wildlife Park, supporting the Alberta Institute for Wildlife Conservation each month and seeking to be better informed about the work involved in these sanctuaries, I've learned that wildlife conservation is an expensive undertaking.
It's not just the care and feeding of the animals that requires constant funding, it's the building and maintaining of facilities, veterinary bills, transportation costs, and all of the little things that add up to create a big monthly bill that never seems to decrease. I read a meme online recently that said, "I do this for the money, said no zookeeper ever."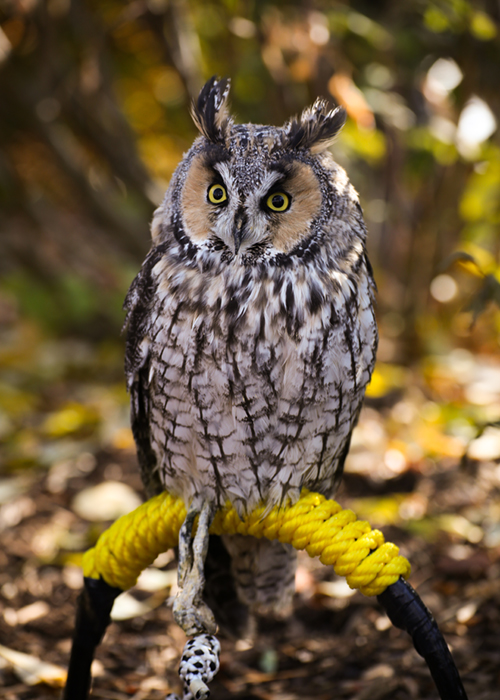 The more questions I've asked of the experts this year, the more I realize how little I know. But I'm eager to find out so that I can not only pass on the information to foster more interest in wildlife conservation, but also that I can better understand how best I can help.
The Alberta Birds of Prey Foundation was started in 1982, when "wildlife rescue activity in Western Canada was almost non-existent. Centre founders Wendy Slaytor and Colin Weir approached the Province of Alberta Fish & Wildlife Division with an offer to start Alberta's first volunteer wildlife rescue facility."
That quote is from their History page on their website. I would encourage you to click on the link, read the rest of it, and take a look around. The work they do is admirable, rehabilitating and releasing injured birds back into the wild, participating in captive breeding programs of endangered species, studying and monitoring avian populations and educating the public and how to be better stewards of the environment.
While I haven't yet visited their Alberta Birds of Prey Centre in Coaldale, Alberta, I plan to in the coming year when they re-open for the 2018 season. It's open to the public, yet another Alberta destination you can add to that family road-trip next year.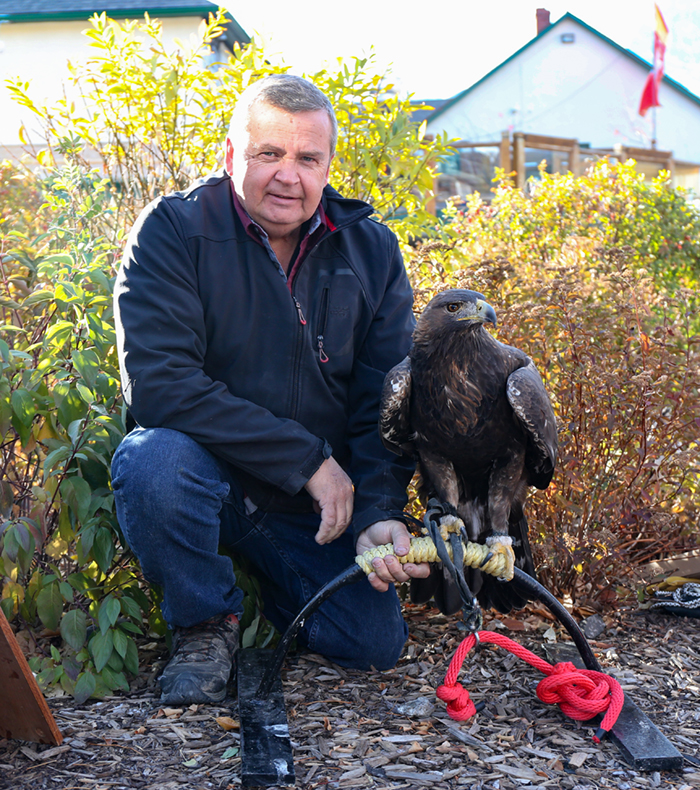 I enjoyed chatting with Colin Weir (above) and his daughter, Aimee, who were happy to answer all of my questions about each of the owls and Sarah. Each of these birds has their individual story about how they came to the facility and why they can't be released into the wild. Instead, they've become ambassadors of the facility, allowing people to see these wonderful creatures up close. It has been my experience that these opportunities foster more empathy for the world around us and those with whom we share it.
Colin was even kind enough to let me hold Gordon, their Great Horned Owl. I've painted Alberta's official bird a number of times, but this is as close as I've ever been.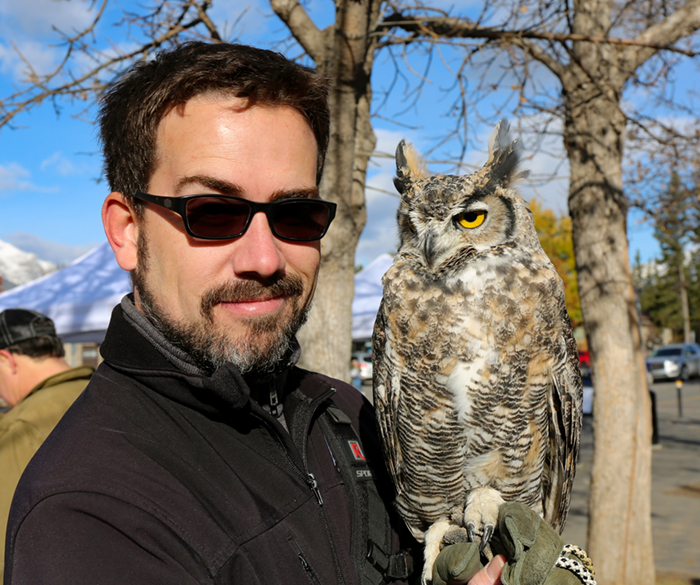 Ever since I discovered the local owl's nest up at Grassi Lakes some years ago, which resulted in plenty of photos and my 'One in Every Family' painting (below), I've made it a point to educate myself about these beautiful birds. And still, asking Colin some questions about that local breeding pair, I found out there's still so much I have to learn, about this breed and the many others they care for.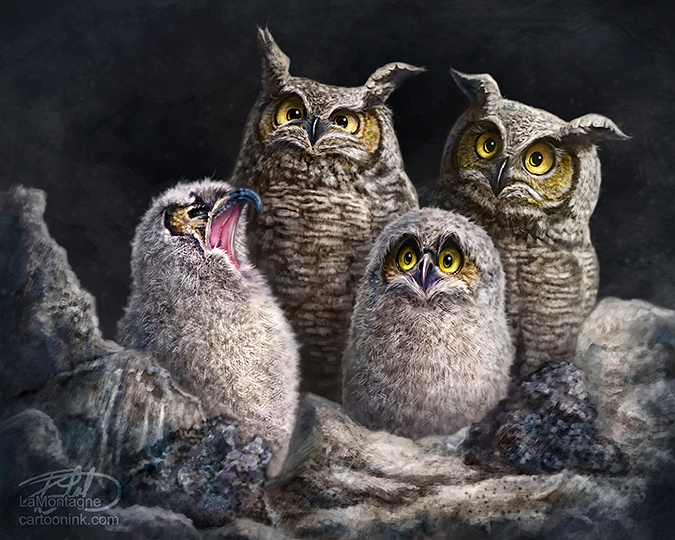 As I have four owl paintings in my portfolio, I thought I was done painting them for a little while, but I believe I might be mistaken. I did a little sketch painting on the iPad of their Burrowing Owl named Basil, but I think a more detailed painting of him will be coming very soon. Seriously, look at that face.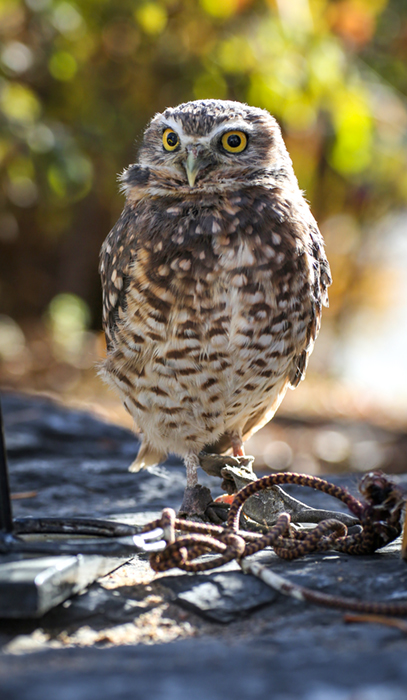 Thanks for stopping by,
Patrick
If you'd like to receive my newsletter which features blog posts, new paintings and editorial cartoons, follow this link to the sign up form. Cheers!