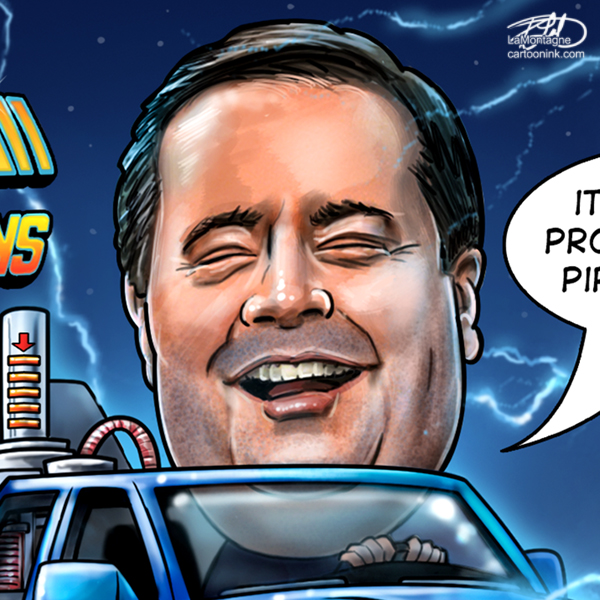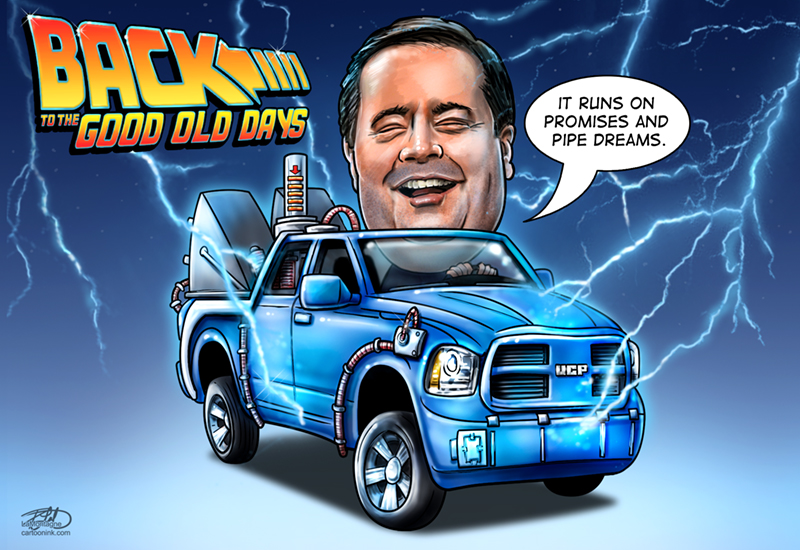 When I first started editorial cartooning twenty years ago, I would spend hours nitpicking details, trying to get everything just right. I wasn't a very good artist then, but it wasn't for lack of effort.
Obsessing over the details, often with one eye on the clock before I had to get to my day job, my wife would often caution me about trying to turn every cartoon into The Sistine Chapel.
To this day, whenever I spend a lot of time on a cartoon, we refer to it as a Sistine Chapel.
I realized quite some time ago that many of my competitors and colleagues became editorial cartoonists because they were political animals who enjoyed drawing, whereas I was the opposite. I liked to doodle in my spare time and stumbled upon the gig that would change the course of my life because of an ad in the weekly Banff paper. I was 27 years old. Before that, I paid very little attention to politics or the news.
While learning to be a better artist, I was also learning to follow politics and the news.
In the days when many newspapers had their own in-house cartoonist, that artist could spend an entire day on a cartoon, coming up with the idea, drawing the sketch, presenting the editor with a rough, and delivering the finished cartoon at the end of the day by deadline.
He (they were almost always men) didn't have to worry that another cartoonist was going to take his spot in the next day's paper.
These days, with so many newspapers having laid off their staff cartoonist, many use syndicated freelancers, so it's a dog eat dog world of not only coming up with the cartoon, but getting it drawn fast in order to meet a much earlier deadline.
Quite a few of my weekly newspapers want their cartoons before 9 o'clock on Monday morning in their own time zone. I work weekends.
On top of that, with clients in many provinces, I also have to consider that even though the Alberta election has an impact on the entire country, a cartoon on that topic might not resonate with a weekly paper in Ontario. While I will still send them those cartoons, I will make sure I send them other cartoons so they have more options from which to choose.
What all of that means is that a part of my brain is perpetually on the lookout for cartoon ideas, I am always planning the next day's (week's, month's…) cartoons, and trying to come up with the best use of my time so that the cartoon will still consist of a number of ingredients. It should be funny, but sometimes intentionally not funny. It should be an insightful comment on an issue, but sometimes just a joke about dog poop thawing in the spring. It should be well drawn, but often a simple drawing will suffice to get the message across.
I'm supplying not only an artistic comment for an editorial page, but also a product for my client, and they won't wait until I'm ready to send it if they're up against deadline and other cartoonists have already sent in submissions.
I rarely take days off, but that serves my nature. I'm always working on the next cartoon, the next painting, the next blog post, or preparing files for my licensing clients. When I hear friends talk about looking forward to their retirement, I'm just trying to work as long as I can, hoping my eyesight and dexterity hold out before age robs me of both.
Add to that the tenuous nature of a daily deadline for a struggling industry in a gig economy and there are days when I feel more like a factory worker pushing out widgets than an artist. I don't often get to put as much into a cartoon as I'd like.
Every so often, however, I make time for a Sistine Chapel.
A little background…
The province of Alberta was ruled for 44 years by the Progressive Conservative Party.
In the last election, they managed to anger Albertans so much that people voted for the New Democratic Party en masse and they won a majority, which for this province was a huge upset, a dramatic swing from right to left. I figure people voted for them out of protest in order to give the Conservative Party a spanking to remind them who they worked for.
I don't think anybody expected the NDP to win. I sure didn't.
In 2017, the two right wing Progressive Conservatives and Wild Rose parties merged and now the new United Conservative Party is trying to take Alberta back from the NDP in our current election.
Many who support the UCP blame the NDP for anything and everything that has ever been wrong with Alberta, which is ridiculous because the whole reason they got elected was that the previous government had screwed everything up so badly having been corrupted by their sense of entitlement. Since the Wild Rose was made up of former PCs, nobody trusted them either.
Of course, when I say stuff like this, people think I support the NDP, which I don't. I've drawn plenty of cartoons critical of the current government, but when it comes to the lesser of evils, they most certainly are, for one reason.
Because the UCP is led by Jason Kenney.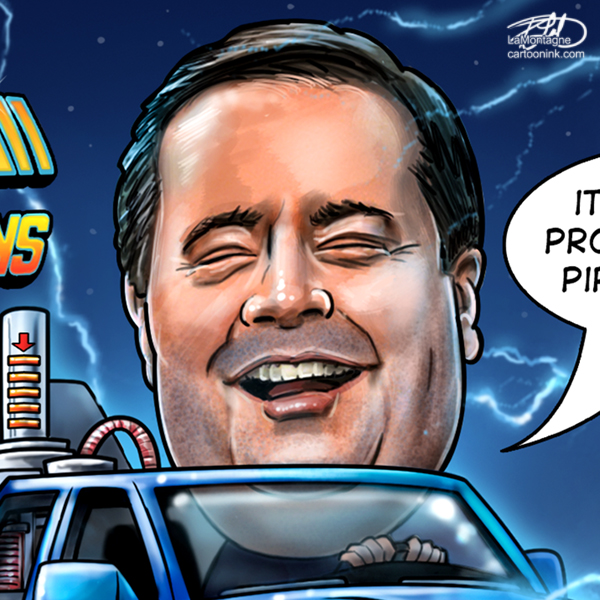 Jason Kenney was a career federal politician, whose past positions on some pretty important social issues weren't very popular. Having followed federal politics for many years, I've formed the opinion that Jason Kenney's primary interest is Jason Kenney and if the UCP doesn't get elected, it'll be because he's in charge.
I don't trust him. A lot of people don't trust him.
My impression is that Kenney realized he was never going to be the Prime Minister of Canada, so he came back to Alberta, said all of the right things to get people angry, pointed a finger at the NDP, said they're to blame for everything and thank heavens he showed up just in time to save us from ourselves.
All he's missing is Make Alberta Great Again embroidered on his fresh off the rack cowboy hat, to go with his pristine blue pickup truck.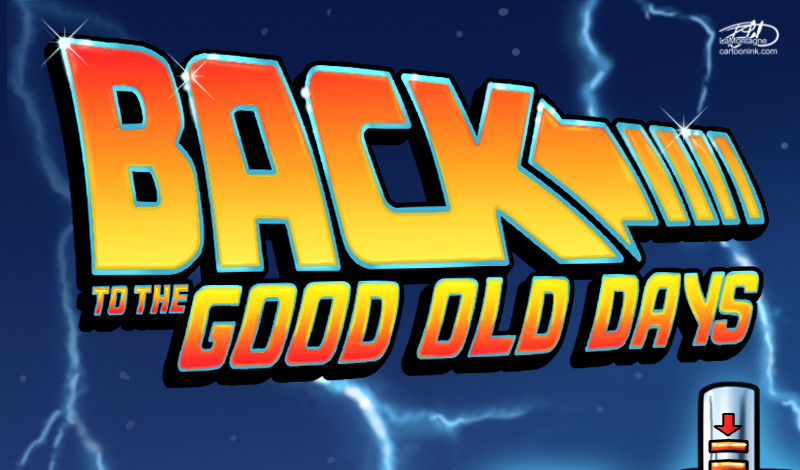 The current Premier, Rachel Notley, has a lot of hard work to do. She's made some unpopular choices with Albertans and there's plenty of room for improvement. I'm not a fan of hers, either. The primary goal of every party anywhere is to get re-elected and the NDP are shoveling hard.
But Jason Kenney is irresponsible, reckless and dangerous. He is preying on fear and outrage, and will divide Alberta even more than it already is. He is not the solution to what ails us.
So when I decided to draw this cartoon, I allowed more time than I'm used to. I spent hours on the sketch and drawing, painted in little details that nobody will see, tried some stuff that worked, discarded other stuff that didn't and probably sacrificed a second cartoon that could have been completed had I rushed this one through.
Regardless of where (and if) it gets published, it was well worth my time.
Because it was fun.
Cheers,
Patrick
To see the rest of my current cartoons, here's the link to that page, updated each week.
If you'd like to receive my newsletter which features blog posts, new paintings and editorial cartoons, follow this link to the sign up form.