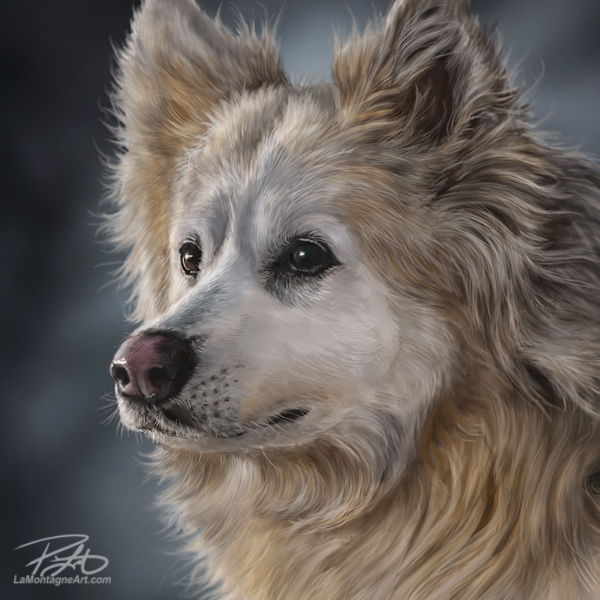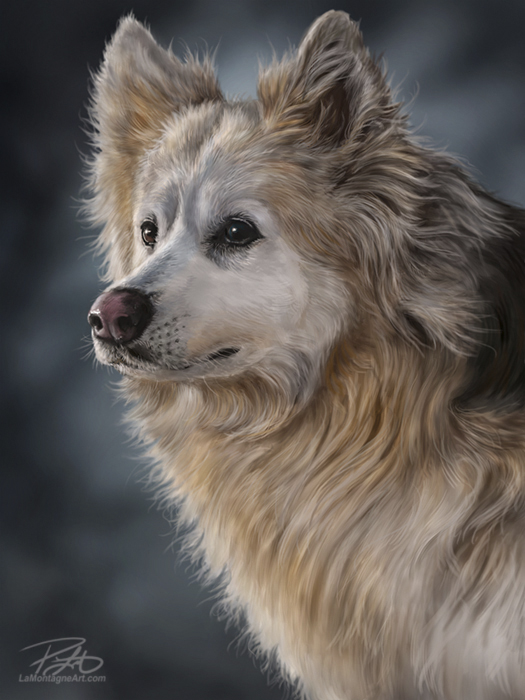 In January of last year, my buddy Darrel and I rented a cabin in central Alberta and were instantly taken with the place and the area around it. A couple of months later, my friend Jim and I went out there and he fell for the place, too. Since then, he's gone there on his own, introduced another friend to it, and we've all had more than a few repeat visits over the course of a year. I've been there five times.
The owners of KB Trails have been welcoming, friendly and we've all enjoyed getting to know them. We've invited them over for drinks while we've been on their property, they've returned the favour, and Jim and I were even invited for a horse-drawn sleigh ride through the woods.
We wondered if they thought we were a couple.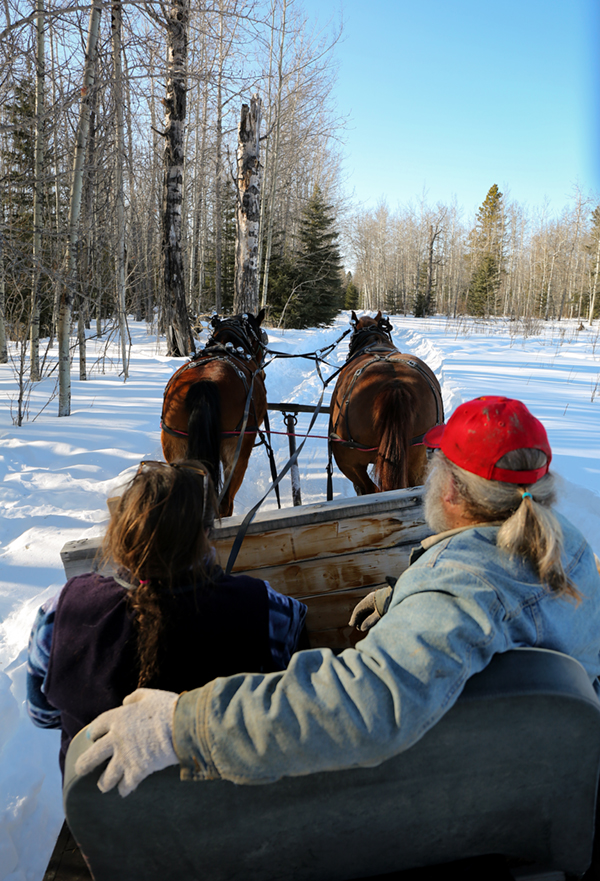 As always, I've often got the camera at the ready, because you never know when an unexpected critter will show up and capture my eye. On those multiple visits to the cabin, I've taken plenty of photos of their horses and will shortly be working on my first painting from some of those. I'll often hang on to reference for quite some time before I get to it. I take a lot of pictures out there.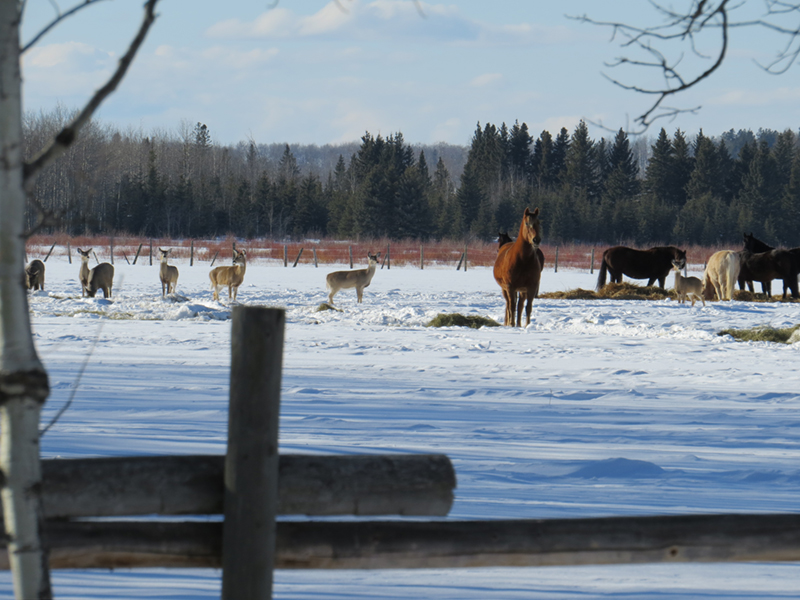 One of my favorite things about the cabin visits is Jingles. She's a great ranch/farm dog, friendly to all, likes to be around people, but definitely not a pampered princess. She's happiest outdoors and Bob and Karen have told us that she's only interested in sleeping in the house on the coldest of nights. I expect this past February saw her inside more than usual.
But most of the time, Jingles is content to be by Bob or Karen's side, or out holding court over her 320 acres. She's always happy to see people, but she tires of it quickly. Squirrels to chase, property to patrol, a dog with things to do.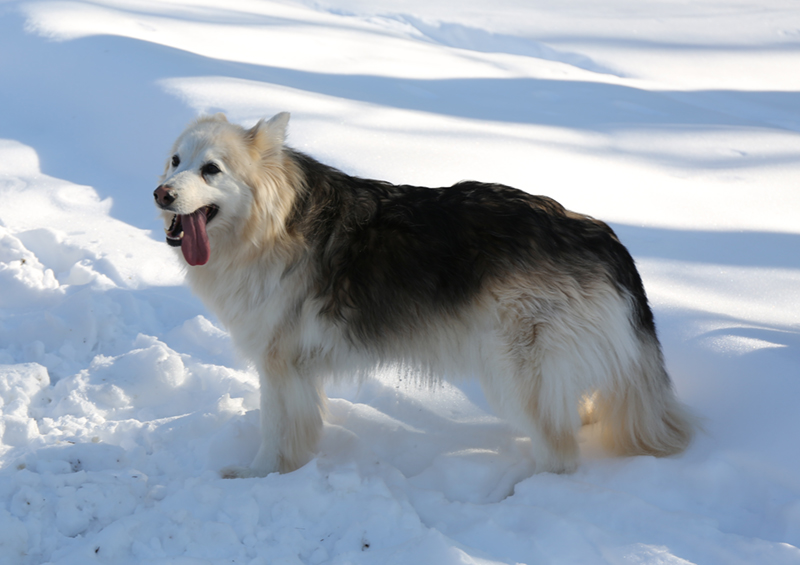 I remember on one of Bob's visits, we'd been sitting on the back deck and once the chill set in, the three of us went inside to warm up by the fire. I called Jingles to come in and she did. But it wasn't long before she was looking expectantly at the door and Bob said she was getting antsy to go back outside. So I opened the door and without hesitation, Jingles was out into the snow.
When Bob was ready to leave, she showed up to jump in the truck and off they went.
Like most dogs I've encountered, Jingles doesn't like having her picture taken, but despite that, I've managed to get plenty of shots on our past visits and knew that I'd eventually find the time to paint her. I began this last month and while a slow start, the past few sessions on this have been quite enjoyable and I'm pleased with how it turned out. I do plan to paint her again in the other style, but this was the right choice for this painting. Here's a closeup.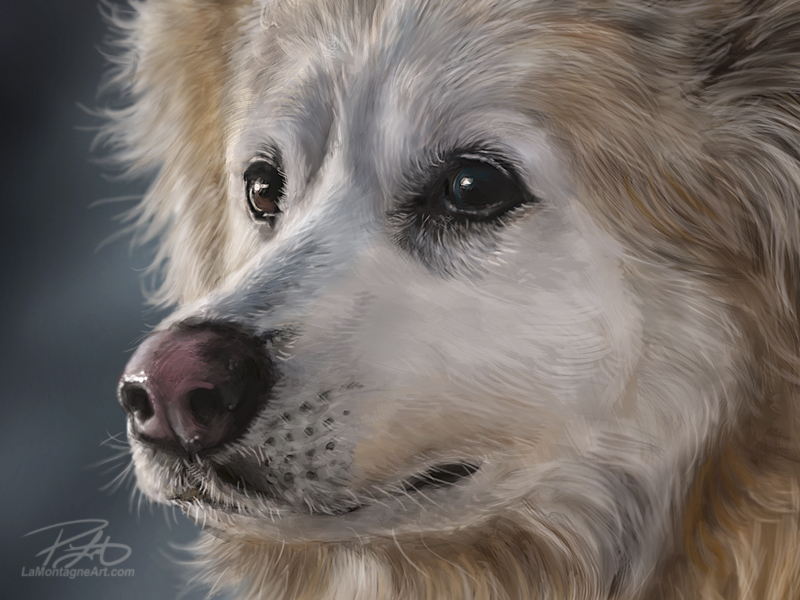 Before I started writing this post, I wondered on which visit I took the reference pic. I figured it was either in January or March. Turns out I finished this painting exactly one year from when I took the reference. March 11th, when Jim and I were there. Quite the coincidence, and completely unplanned.
We'll be at the cabin again later this month for the first visit of the year, with more to follow, no doubt.
Cheers,
Patrick
If you'd like to receive my newsletter which features blog posts, new paintings and editorial cartoons, follow this link to the sign up form.