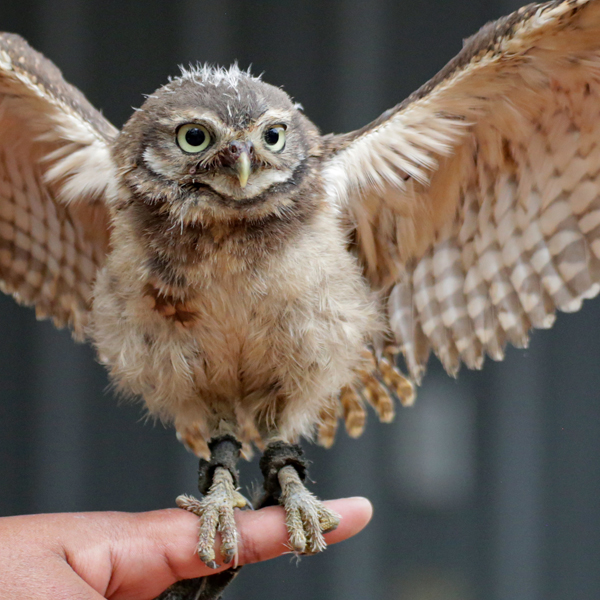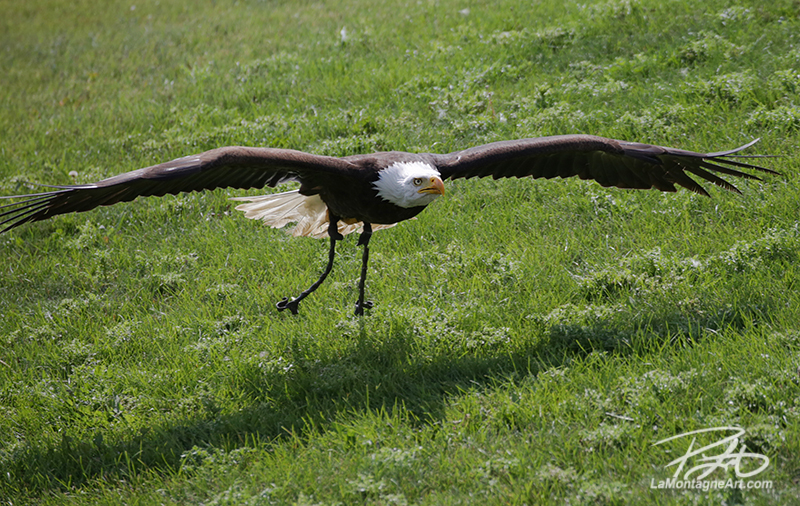 This past Thursday, I drove the four hours down to Coaldale, Alberta, to visit the Alberta Birds of Prey Centre before they close for the season. While the foundation operates all year long, rescuing and rehabilitating different species of owls, eagles, and hawks, the centre is open to the public between May and the end of August.
I first met Colin Weir and his daughter Aimee here in Canmore in 2017. They had brought a handful of their ambassador owls and a golden eagle named Sarah to the Town of Canmore's WILD event at the Civic Centre.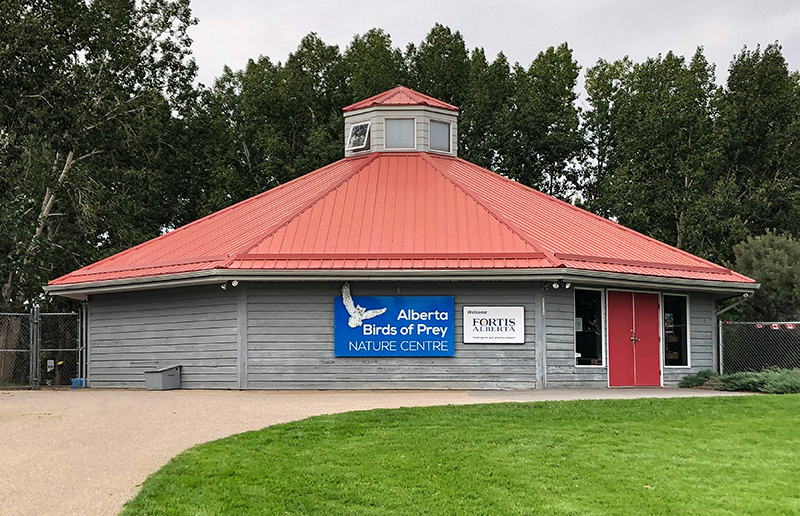 The Alberta Birds of Prey Foundation began in 1982 when there weren't any wildlife rescue endeavours operating in Western Canada. Colin has been rescuing, rehabilitating, and releasing birds of prey back into the wild for almost forty years. Birds with permanent injuries or those that can't be released have been given homes at the centre, a beautiful spot in southern Alberta, right in the middle of a reclaimed wetlands area.
Over the past few years, I've gotten to know Colin and can't accurately convey my respect and admiration for his dedication and commitment to wildlife conservation. The facility receives no government subsidies, and they rely solely on financial donations from regular people and some generous corporate sponsors like Fortis Alberta.
Anytime a facility relies on government funding, they risk having that lifeline cut or eliminated with each election or political party whim, which would continually put the wildlife at risk. Unfortunately, politicians are usually more concerned with the optics of a ribbon-cutting than a long-term vision for wildlife conservation.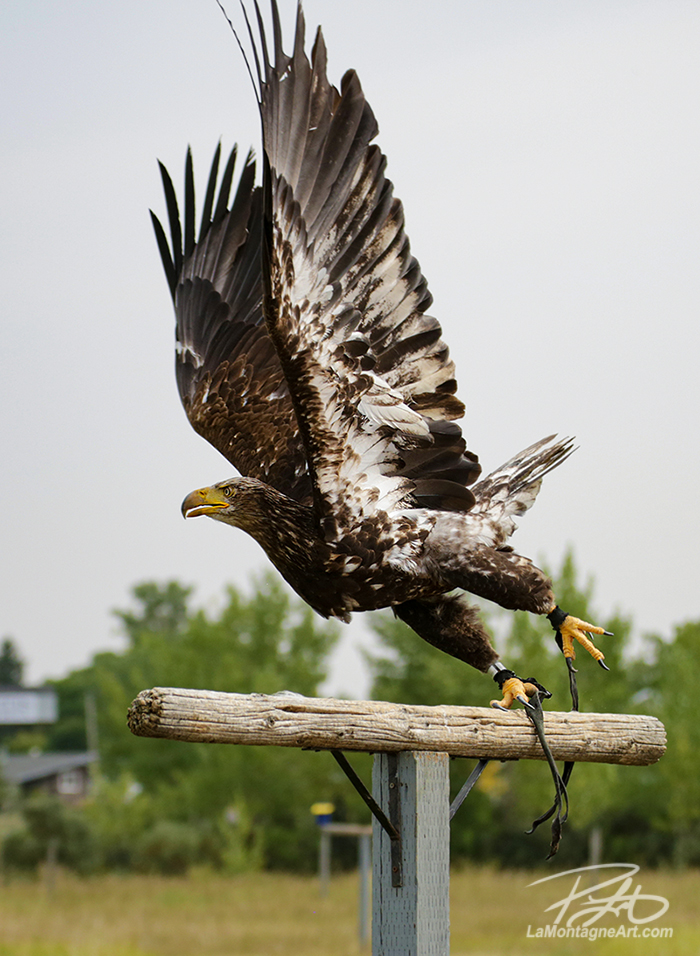 As with any non-profit operation, caring for the birds is only half the battle, and it's a never-ending quest to raise enough funds and resources. To attract people to the centre, it must be safe, appealing, and well-maintained, a feat they have managed well. The Alberta Birds of Prey Centre is an attractive, professional, and welcoming facility. All the enclosures, aviaries and structures are top-notch, serving as housing and rehab areas for the birds and an educational facility for the public.
If somebody hits a great horned owl with their truck in the middle of the night, they'll often call Colin. Sometimes he's simply a knowledgeable, helpful voice on the phone, but his efforts are the difference between life and death for the unfortunate bird on many other occasions. If somebody can't deliver the bird to the centre, he often must retrieve it, which can mean hours on the road, all year long.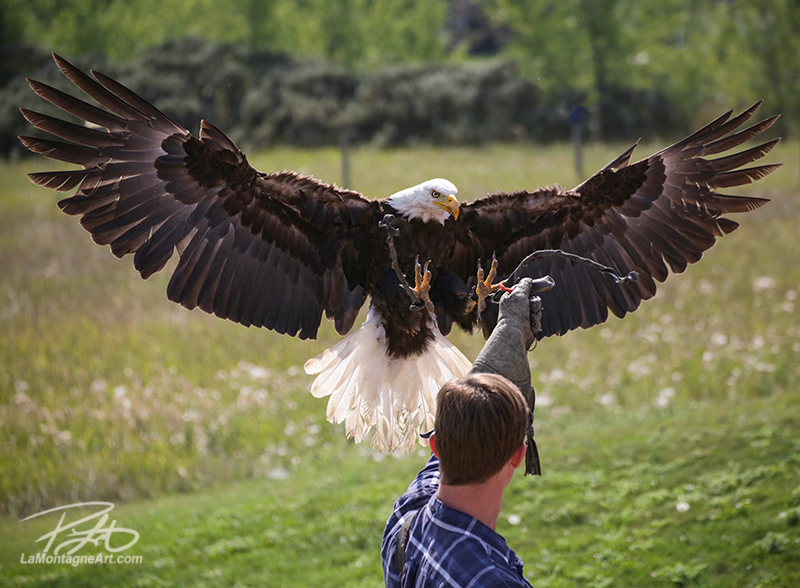 I've wanted to get down to the centre more than once this summer, but as with all things these past many months, best intentions haven't always aligned with feasibility. Plagued with long stretches of record-breaking heat, a thick choking blanket of wildfire smoke for weeks on end and the uncertainty of changing pandemic restrictions, this summer has been challenging. Add long hours in the office working to diversify my business, and I haven't been able to get away.
With the weather changing for the better, some welcome rain and reduced smoke, I had to prioritize the trip before their season ends.
I arrived in Coaldale around noon and spent the afternoon taking photos and chatting with the knowledgeable staff. Colin and I had an excellent long talk catching up, which I greatly appreciated, as he doesn't have much free time. One of the biggest challenges this year is that his phone is constantly ringing with people asking if the centre is open (it is) and if there are any COVID restrictions (there aren't). It's an open-air outdoor facility, ideal for a natural escape, with plenty of room to keep a respectful distance. Colin takes those calls with his typical grace and friendly nature, but it must be frustrating sometimes, especially when they interrupt his long list of other duties.
It's a long drive to get there, so even though I took plenty of photos on Thursday, I stayed the night and returned the following morning to get more pics of their flight training.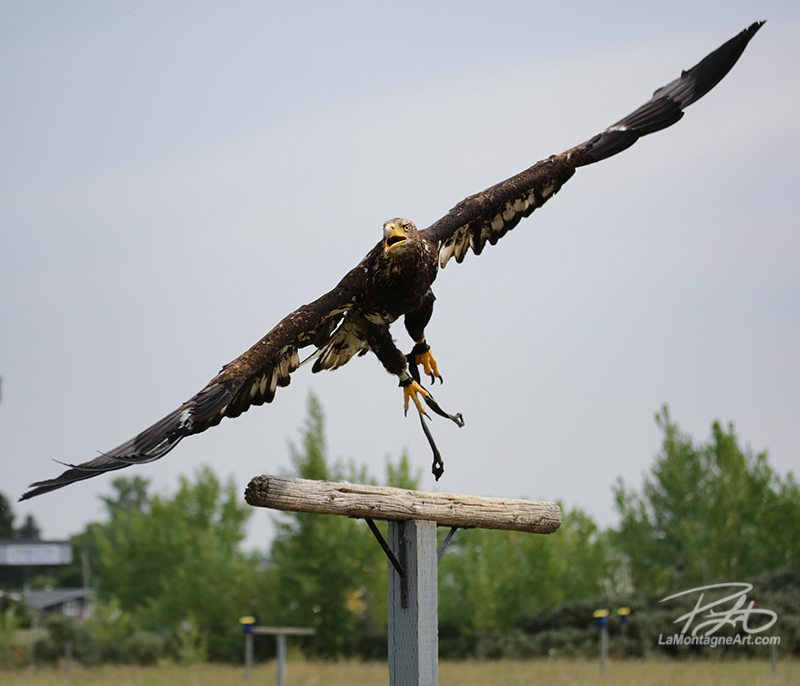 Over two days, I watched them fly a mature bald eagle, a juvenile bald eagle, and two red-tailed hawks. Bald eagles don't get their full head of white feathers until four or five years old. One of the staff suggested on the second morning that I lie down on the 'runway' to take some head-on shots of the red-tailed hawk. To take advantage of a cushion of air just above the ground, the birds drop down low when they're flying back and forth, only climbing again at the end.
From my spot on the grass, I was right in the hawk's path, which allowed me to get some exciting photos. The trainer told me my presence was inconsequential and wouldn't be a distraction. The bird's primary focus was the piece of chicken held in a gloved hand above and behind me.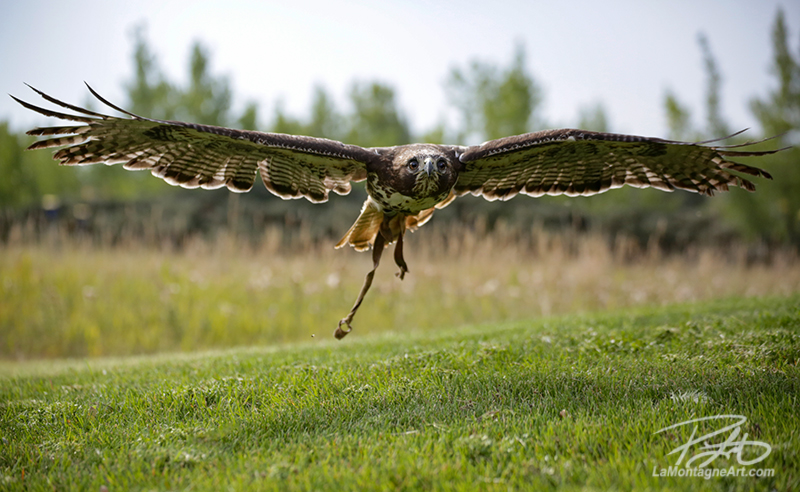 I could write a few thousand more words on their important work and all I learn whenever I visit the Alberta Birds of Prey Centre. The staff share some fascinating and amusing stories during the flight training presentation and are always available for questions from visitors. Nothing is off-limits, and they're more than willing to talk about the challenges they face each day while caring for these birds.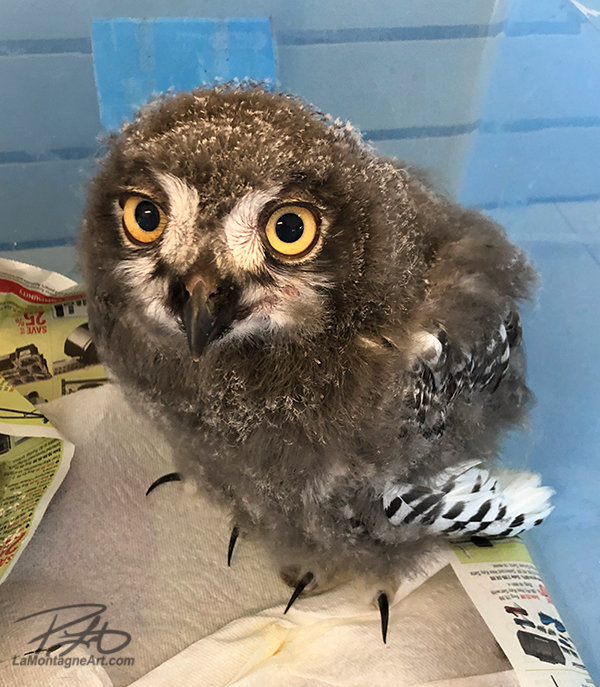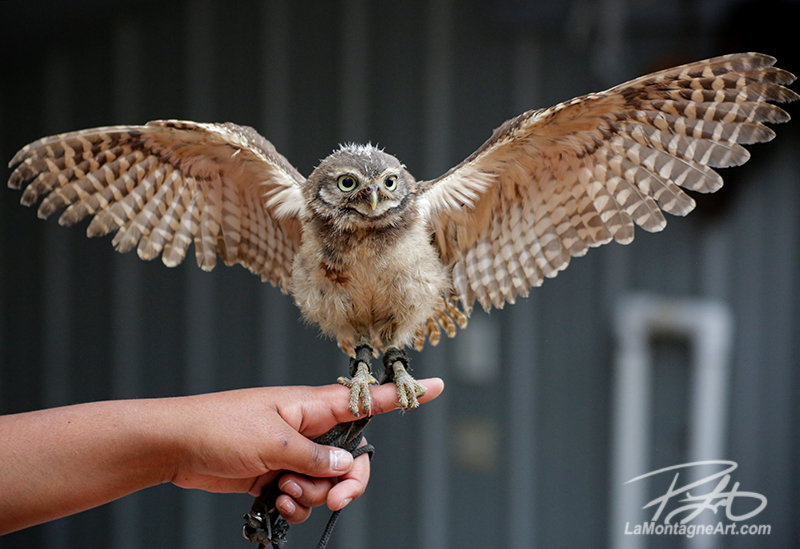 It's hard to describe the thrill of close-up visits with weeks-old snowy owl chicks and burrowing owls (above respectively), or to hold a great horned owl in a gloved hand, to feel the feathers of a golden eagle and hear their calls and cries. These opportunities are open to all visitors to the centre.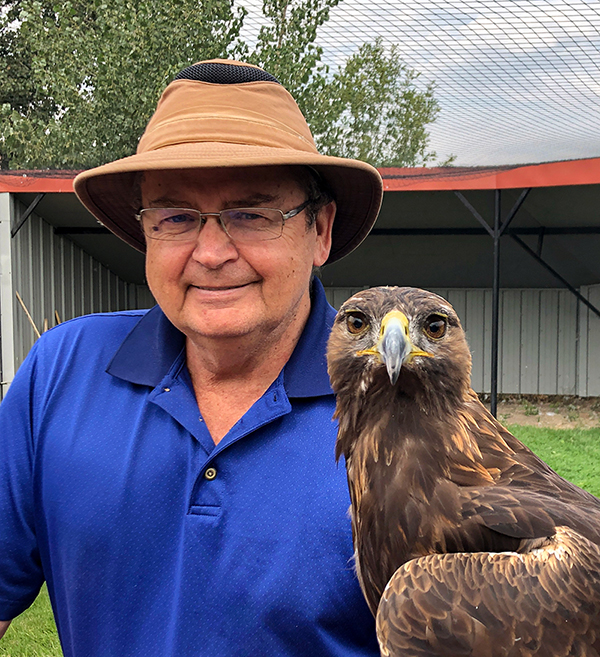 I've painted several eagles and owls and will likely paint more in the future. A few years ago, I painted Sarah, one of the longest residents, seen here with Colin Weir. Sarah is a beautiful golden eagle that Colin has raised since the 80s. She is a healthy 37 years old, a commanding presence, but gentle enough that children can pet her, under Colin's supervision, of course.
While I enjoy seeing all the birds, and I take plenty of photos of each species, I'll admit that my primary goal this time around was to get reference of a red-tailed hawk. I've wanted to paint one for many years. They're a common sight around Alberta, often seen on fenceposts along rural roads or highways. However, whenever I've spotted one, it's been in heavy traffic or on a road without a shoulder, and it was unsafe to stop my car.
I took over 2400 shots this week and spent a few hours Saturday morning sorting through them. As is often the case, most of those shots end up being useless to me, either from poor lighting or focus or uninspiring captures. I whittled them down to around 300 and will likely discard two-thirds of those of a second pass. This still leaves me with plenty of 'keepers,' and I was happy to discover dozens of reference photos for paintings among them.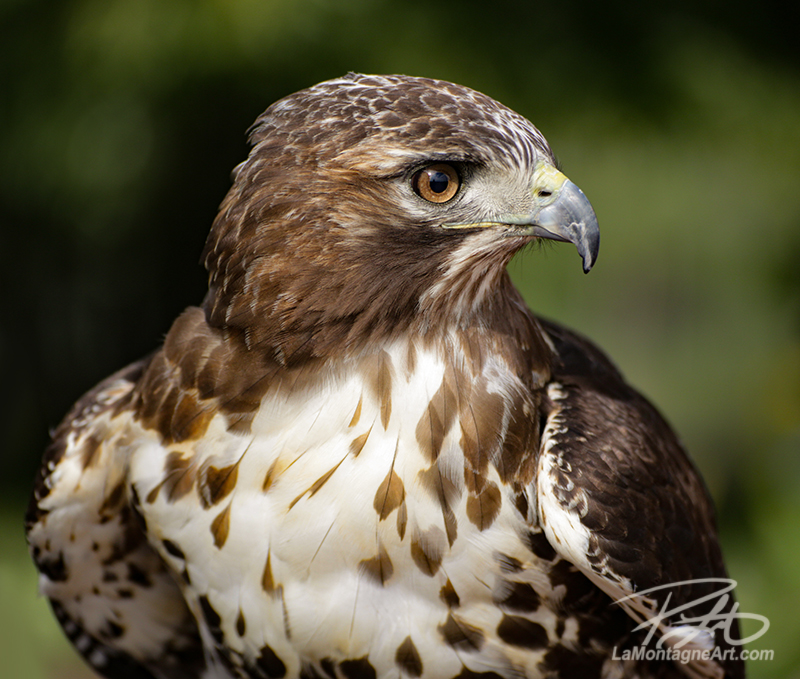 Best of all, I finally have more than enough shots of a red-tailed hawk, so many good ones that I'll have a hard time deciding which to use. Or maybe I'll have to paint more than one. It's a good problem to have. Feathers are much harder to paint than fur, especially when intricate patterns are involved, so don't expect a painting anytime soon. It'll likely be a winter project, but one I'm eager to start.
The Alberta Birds of Prey Centre is open until Labour Day, and if you're looking for one last summer southern Alberta getaway, or you find yourself on a road trip in that part of the province, it's well worth a visit.
However, if that's not in the cards, please visit their website, look at the great work they do for wildlife conservation, and consider donating. Every contribution helps, and your support is greatly appreciated.