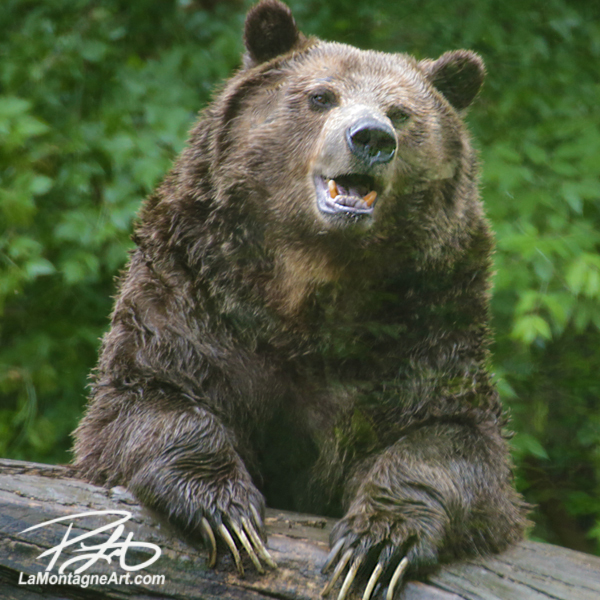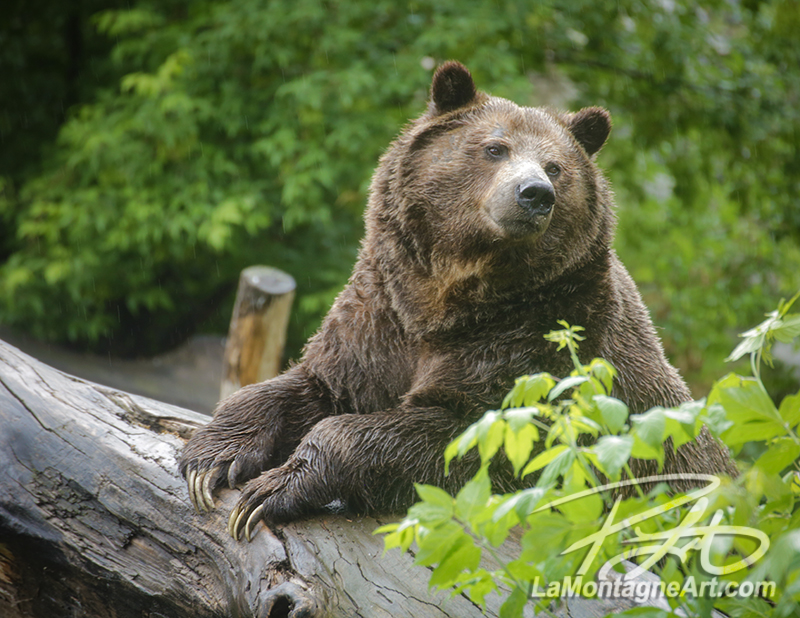 On Wednesday, I delivered a large print order to the Calgary Zoo. A zookeeper friend had ordered a couple of canvases, so I was also happy to deliver those to her.
It poured rain all day, and I was not complaining. After our unusually dry spring, all the wildfires, smoke, and extreme fire hazard risk, the water and cool temperatures were welcome.
But I figured it would be a quiet day, allowing me to take some reference photos. I prefer a cool, overcast day for pictures rather than a hot sunny one. Not only is the light better, but the animals are more active. How much would you want to move around in 30C wearing a fur coat?
I failed to realize that many school groups visited the zoo in June, and the place was infested with loud, screaming, unruly children. They had filled the interior spaces on this rainy day, so I couldn't take any pictures inside the Asia or Africa pavilions.
I know many kids and their parents like my artwork, so I don't want to bite the hand that feeds me. Zoos are great places for kids to learn to appreciate animals and foster empathy for them. Kids that love and learn about animals might become adults who want to protect them in the wild.
I also know that I was a hyperactive, rambunctious, loud kid, and I undoubtedly annoyed plenty of adults around me. So, payback's a bitch, I guess. People talk about getting in touch with their inner child. Given the opportunity, I would tell mine to please, calm down and be quiet. Go draw something.
I realize that my lack of patience for children is entirely my own character flaw. Working alone at home all day, I thrive in a solitary quiet environment.
And you wonder why I don't write or illustrate children's books.
Since I couldn't tolerate the little people inside the buildings, and finding unobstructed space to take photos was impossible, I decided to cut the day short.
But on my way back to the car, I figured it would be foolish not to visit the bears in the Canadian Wilds, at least.
I was pleasantly surprised to find them all active, moving about and playing. Skoki, a famous grizzly bear around here, seemed to be having a good day. At 34 years old, he's a special ambassador bear whose story has been quoted countless times to educate tourists on why feeding and harassing bears for photos in Banff National Park doesn't end well for the bear.
Rather than rewrite it, I'll encourage you to read Colleen Campbell's recent retelling of Skoki's story.
Nobody wants to see animals in captivity, but as I've written countless times before, we are unwilling to sacrifice to keep that from happening. Everybody wants that sharable photo of a grizzly and her cubs on the side of the highway, and if one person stops, a dozen others stop. Soon, the bears are harassed and stressed, and if the mother defends herself or her cubs, she gets relocated or put down.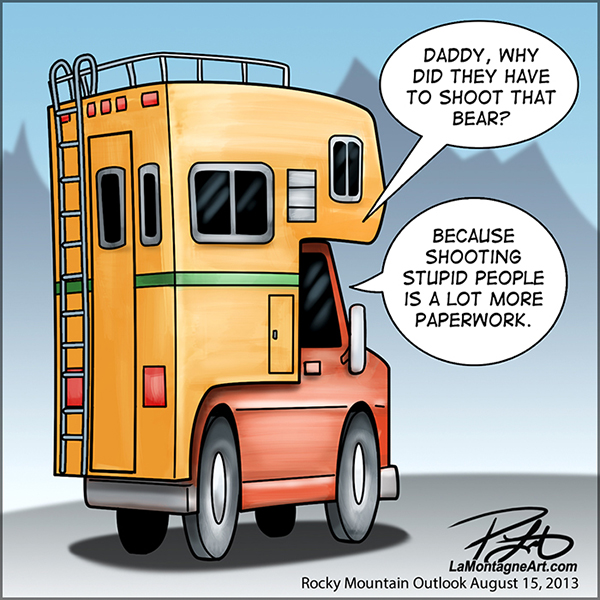 People leave food out while camping which attracts wildlife. When a bear associates people with food, it's game over for the bear. I've lived in this valley for almost thirty years, and I don't want to count how many times I've read about bears who've been euthanized because of selfish and careless people.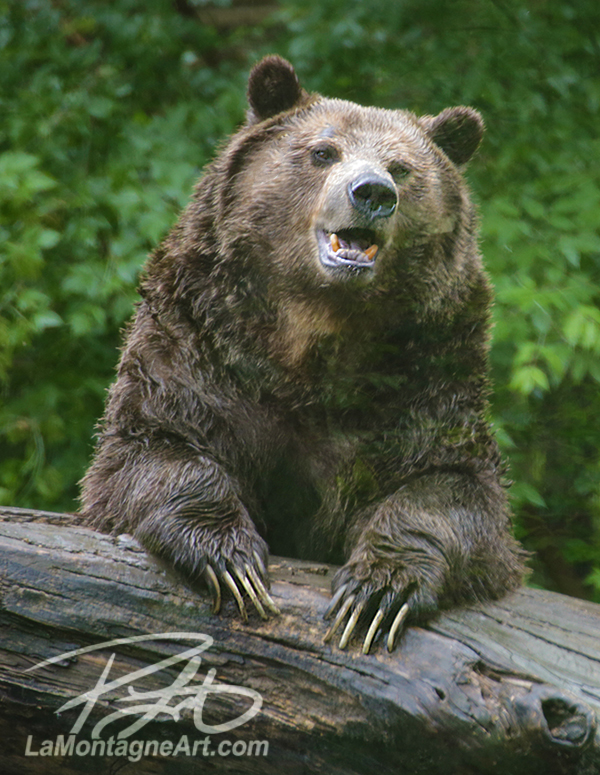 The more people repeat Skoki's story, the more they educate young people to want to protect them in the wild and prevent them from being put in a zoo or destroyed.
One pet peeve I have at the zoo is the many times I've heard parents saying to their kids, "Watch out for the scary bear. He's gonna get you. Rawrrrrrrr!"
I know they're just fooling around and playing with their kids, but the message is clear — bears are frightening monsters, and you should be afraid of them. When you're scared of something, it's easy to justify killing it. There's a big difference between respect and fear, and they have a lot more reason to fear people.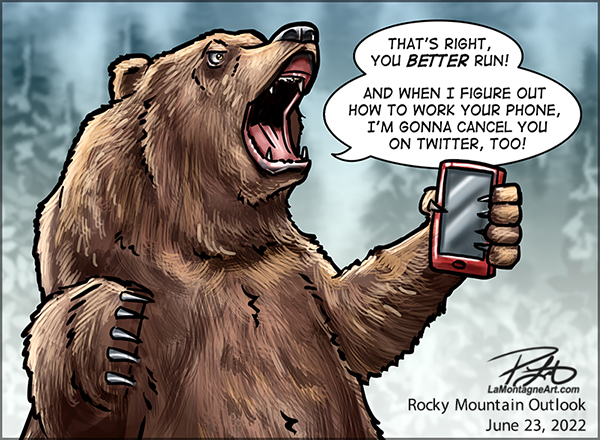 I must have taken about 700+ shots of Skoki on Wednesday. He gave me so many beautiful poses. At one point, he walked across a log, sat up and straddled it, then hung out there. The wind came up, and he was sniffing the air, clearly enjoying the rain, and I ended up with many great references. Look at those little feet.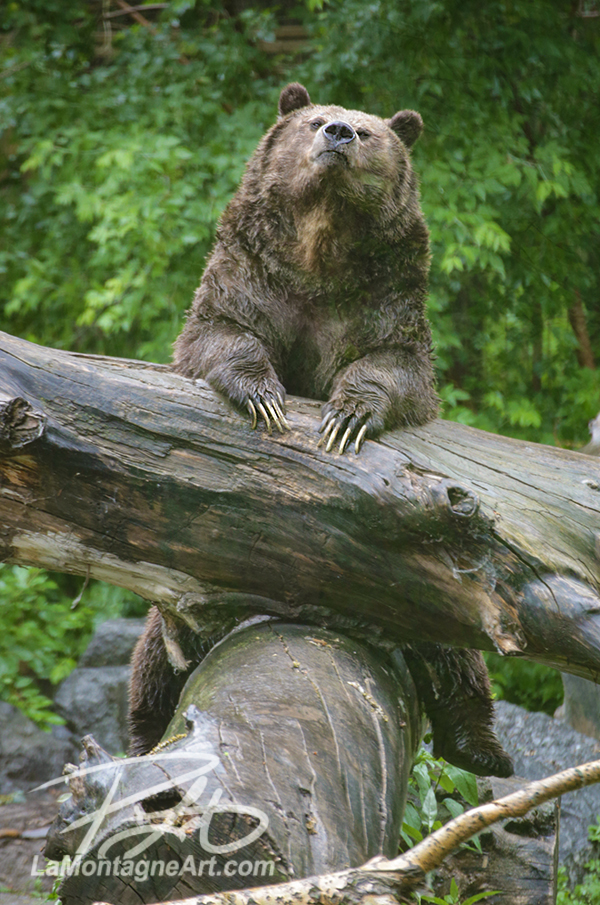 He gave me a great idea for a painting. I imagine several bears lined up at a log, like a bunch of friends hanging out at a bar. With his multiple poses and expressions in the same spot, I can paint five or six different bears using him as the reference. I'll paint the faces and bodies differently for variety, making one thinner, another heavier, taller, and shorter; there are plenty of options. By varying the colours, the finished bears will look like their own characters, but the primary reference will still be one bear.
One of the best things about taking photos for painting is that even though almost all my photos are poor shots, they're still excellent reference. I was shooting behind very wet plexiglass windows from inside two different shelters. He was a good twenty or thirty feet away, so I could focus past all the water drops and spots, but it was still like shooting through a dirty lens. None of my images are sharp focus.
But I've painted so many bears and have taken thousands of photos of them that I only need the pose and the idea to craft a painting from these shots. I have enough experience with bear anatomy and painting hair that bad photos are still a good reference.
Plus, I know enough Photoshop tricks to sharpen them to give me more detail. They're still bad photos but good enough for my purposes.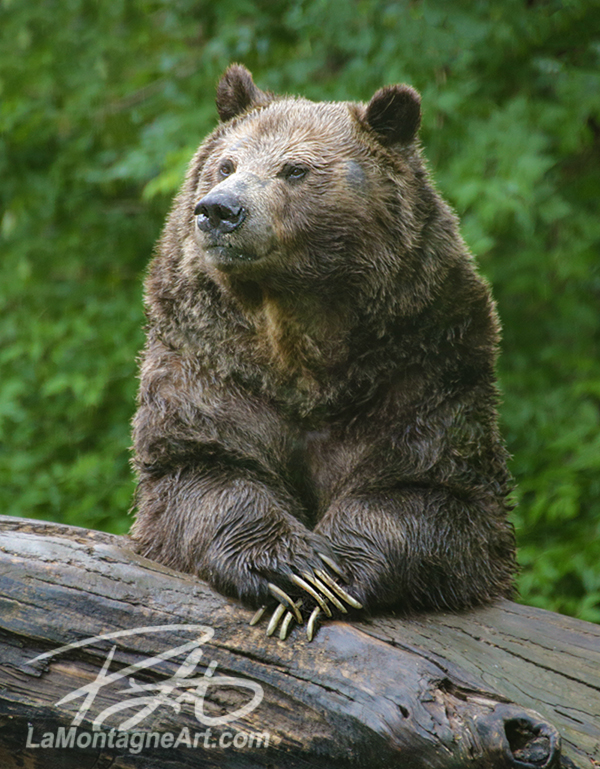 Resuming my walk back to my car about an hour and a half later, it struck me funny that I began the day hoping to get photos of animals I hadn't yet painted or only painted once but left the zoo with a camera card full of grizzly bear photos. I have more pictures of bears than any other animal.
But I was happy once I saw them, armed with an idea for another painting.