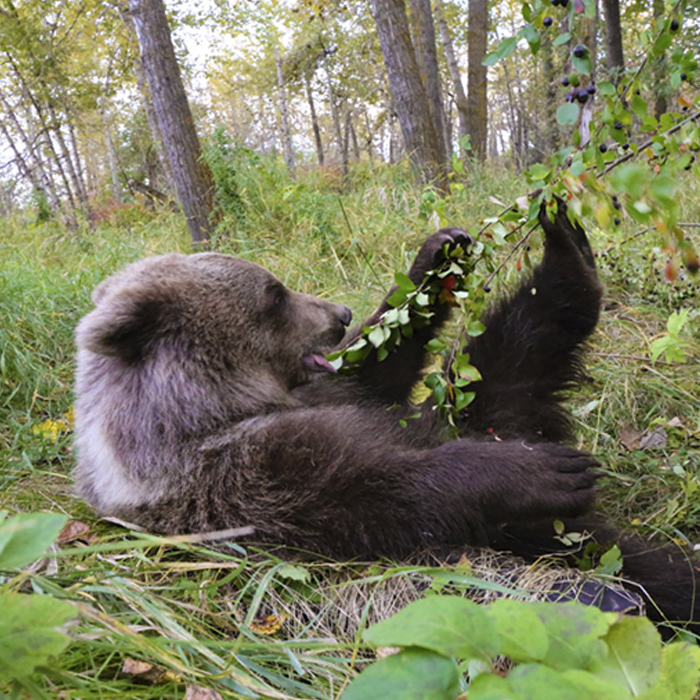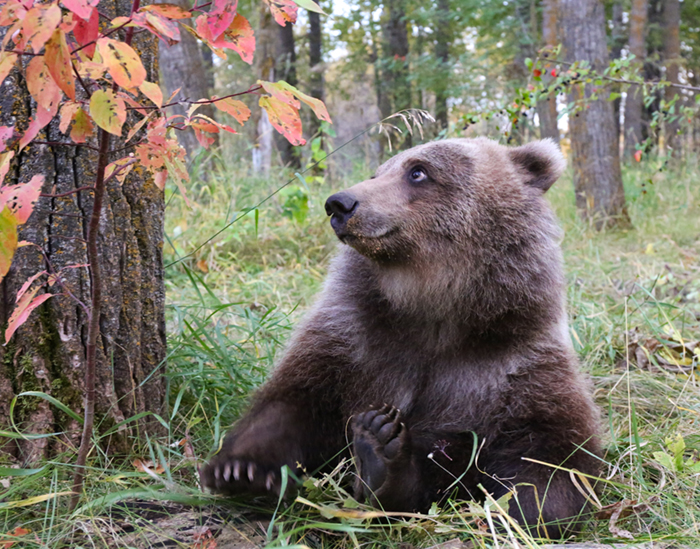 Late last month, Shonna and I drove up to Discovery Wildlife Park in Innisfail for one more regular season visit. With kids back in school, waning light and cooler temperatures, it gets quieter as Thanksgiving approaches, their last weekend before closing until May.
They still do their shows as advertised, though. As we were told, everybody paid their admission, so they're entitled to the same experience whether it's busy or not.
The bear presentation is a bit of a head fake, because even though you get to see the bears show off their training, it's primarily an opportunity for keepers to educate a captive audience about conservation and safety. They talk about the differences between black bears and grizzlies and what to do should you encounter either while out in the woods. I've seen the bear show a few times, but as it was a small group and we've gotten to know the keepers, we figured we'd sit in again just to be polite.
Of course, the moment you get cocky and think you know a lot, that's when you learn something new and get taken down a peg.
While Serena was talking about Charley and Angel, two of their black bears, she told us about hyperphagia. I'm pretty well read, have lived in bear country for more than twenty years, but I honestly can't recall hearing that word before, or at least not so it registered. From being bear aware and years of local warnings every fall, I know that bears are eating a lot this time of year to prepare for hibernation, but I had never looked into the science.
From the North American Bear Center website, "Experimental studies with captive bears revealed the following: …Hyperphagia is a period of excessive eating and drinking to fatten for hibernation. Black bears with unlimited food and water ate 15,000 to 20,000 kcal per day and drank several gallons."
According to Serena, it's a chemical process that happens this time of year, making them eat anything and everything they can get. The Park provides plenty of extra healthy food for them during this stage to prepare them for hibernation. On this particular day, we were told that their black bears had just finished this stage and were starting to slow down.
In the wild, it can be a dangerous time of year to run into bears, because they're so focused on eating and not so much on their surroundings. So if hikers aren't making enough noise, they might surprise a feasting bear, which can have less than desirable consequences.
Bears in captivity still hibernate and Discovery Wildlife Park makes them as comfortable as possible in their enclosures while they sleep. Some make use of the large culverts provided, a manmade cave, while others dig their own dens in their enclosures. What many don't know, however, is that bears still do wake up in the winter. This happens even in the wild, especially on nice sunny days, but they won't stay up for long.
There is one bear, however, who won't go to ground this winter at Discovery Wildlife Park, and that's Berkley, their Kodiak Cub. She's not even a year old yet, has plenty of energy and is still marveling at the world around her. She's seen snow a few times and appears to enjoy it quite a bit. Serena has said that Berkley likely won't hibernate for a few years, but she might slow down a little during the winter months.
That being said, Berkley still appeared to be under the influence of hyperphagia. Shonna and I had the pleasure of going for a walk with her in the woods that evening. On a previous excursion, Berkley seemed to want nothing more than to explore, climb trees and play. On this visit, however, she just wanted to eat.
Like a kid in a candy store, she stopped at every berry bush she could find and proceeded to chow down. It was fascinating and fun to watch. Then when she discovered Serena had peanuts, she whined like a little baby until she was given some.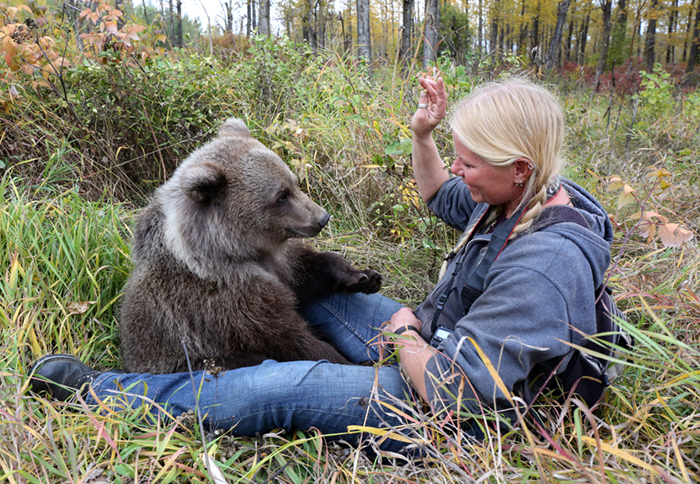 Of course, when they find the treat that each bear likes best, that becomes a golden opportunity to use it for positive reinforcement and enrichment. Berkley has proven herself to be a smart bear and learns new behaviours quickly, especially when peanuts are involved.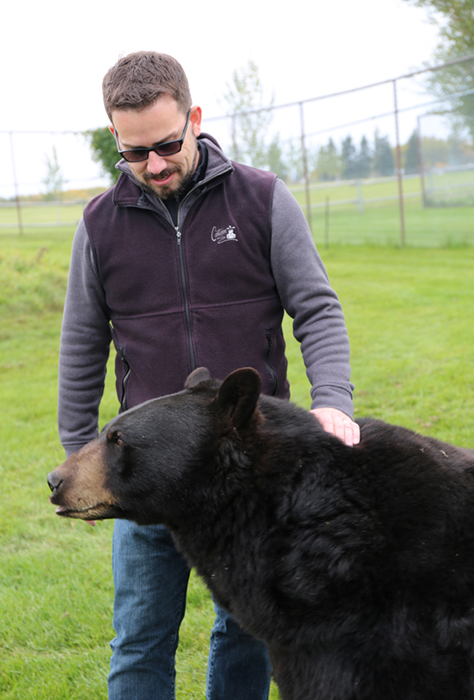 Another black bear at the park named Reno has a thing for guacamole. I met this gentle giant in early 2016 and he's a wonderful bear. Reno is 22 years old and has been raised at the park his whole life. He weighed one pound when they got him.
He had some issues with his lungs last month and is still recovering, but he was on the mend when we saw him, turning a corner thanks to the antibiotics. They had managed to get him to drink enough fluids without having to put him on an IV and we got to see some of his extra special TLC when we were there.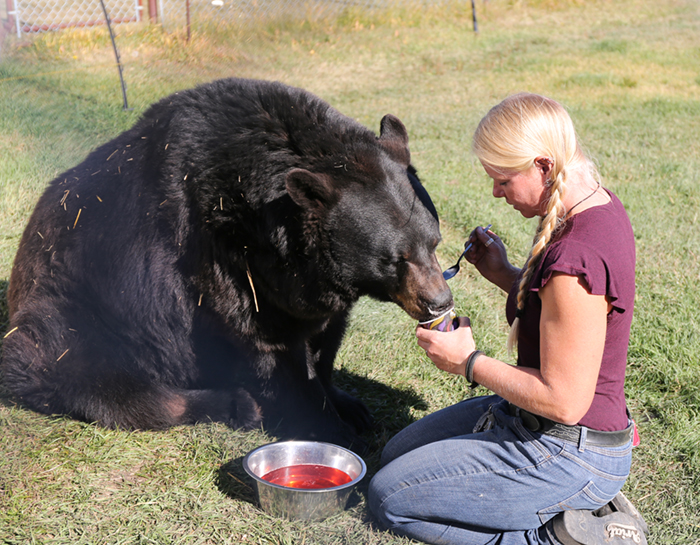 At one point, while Serena and Mari were in the enclosure with him, he started to urinate and they excitedly grabbed a specimen bottle to collect it before he was finished. They were positively giddy. You know you love your bear when his peeing makes your day. It was a good sign for his recovery and here's hoping Reno continues to improve.
Vet bills for a bear aren't cheap, but they do everything they can for their orphans and rescues at this place. It's a big job, keeping all of these critters housed, fed, and healthy, both physically and mentally. I continue to be impressed with their dedication to these animals and am forever grateful they've allowed me to be a part of it. From sketch paintings to finished prints, I've painted most of their bears at Discovery Wildlife Park. I hope to keep doing so for many years to come.
Cheers,
Patrick
Here's a video of our evening with Berkley last month. I suggest you watch it in HD on YouTube.

If you'd like to receive my newsletter which features blog posts, new paintings and editorial cartoons, follow this link to the sign up form. Thanks!