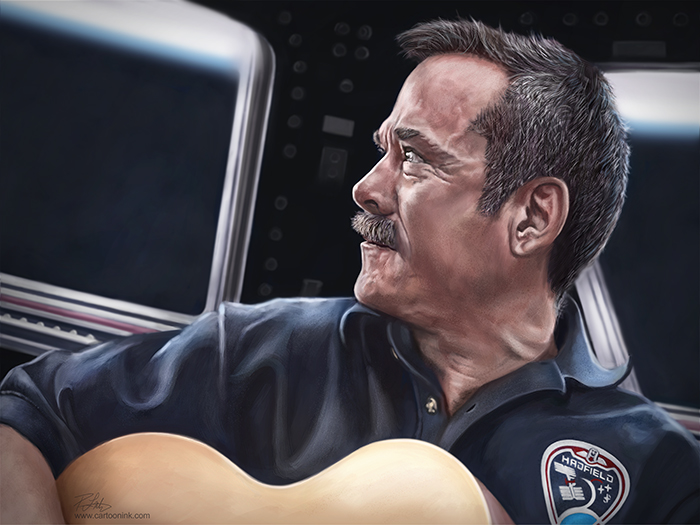 A couple of months ago, I finished the above painting of Canadian Astronaut Chris Hadfield just before he became Commander of the International Space Station.  Just painting the image was worth the effort because I really enjoyed it.  But then Commander Hadfield saw it in orbit, sent me a short message and re-tweeted the link to his followers on Twitter.  A tweet from space is quite a thrill and I've actually had the pleasure of receiving two of them, the second after I did the editorial cartoon you see below when he took command.  Had it all ended there, I would have been pleased enough.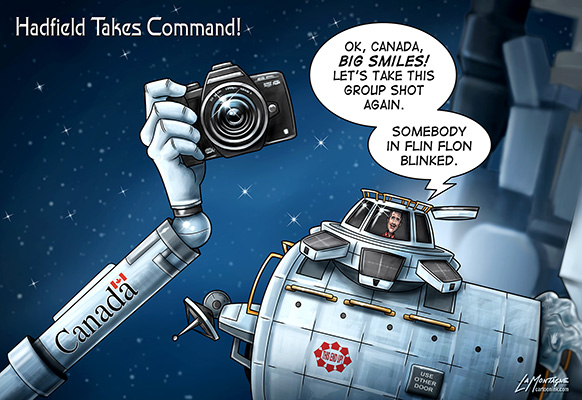 Shortly after Commander Hadfield retweeted the link to the painting, however, I got an email from Tim Gagnon, a graphic and portrait artist who lives next door to the Kennedy Space Center.  Since 2004, Tim has worked with five Space Shuttle and nine ISS Expedition crews helping design their mission patches.  Tim had some kind words to say about the portrait and then asked me for a little more information about the digital medium and how the painting was done.  I was happy to send him some video links that I've done for Wacom, some time-lapses of my paintings and I shared a little more information inviting him to ask any other questions.
Tim told me that he designed a special crew patch for Expedition 34 at the request of that mission's Commander, United States astronaut Kevin Ford, and he told me he would like to send me one.  He said that it's the first crew patch since Apollo XIII to have a motto.  The expeditions overlap, so that Hadfield arrived at the ISS on Expedition 34 and then when he took command, it became Expedition 35.  I was thrilled at the offer, thanked Tim for his generosity, and gave him my address.  In exchange, I sent Tim my training DVDs on digital cartooning and painting to give him more information on that medium.
Much to my surprise, when the package arrived, there was not only the embroidered Expedition 34 patch, but the 35 patch as well.  Tim also included a sticker of the Soyuz mission that took Hadfield's expedition to space.  I've had the mission patches for awhile, but haven't posted it on my site until now, at Tim's request.  He was waiting until he had the go ahead from Kevin Ford, who arrived safely back on Earth on March 16th.

Something many of us take for granted these days is the incredible level of connection we are privileged to enjoy.  Multiple daily tweets from space are exciting enough, but the simple fact that an instant message can be sent from one side of the globe to the other is truly amazing, or at least would be 100 years ago.  What I find so incredible is that a painting I did for my own enjoyment went to orbit, was sent back to Earth, was noticed by another artist in Florida and now I have these very special mementos of the experience here in my hands, keepsakes that I will enjoy for many years to come.  We really do live in an extraordinary time and we shouldn't forget that.  It also shows just how small our world really is.
An interesting side note that I found amusing is that Tim's grandparents were Canadian.