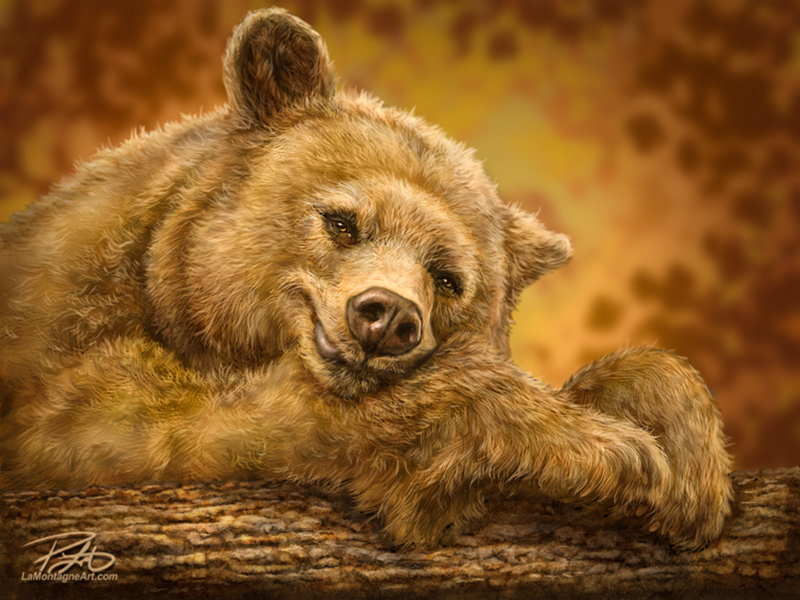 It was tough to call this one finished as I was really enjoying it, especially over the last few days. I started it in the middle of October, but with editorial cartoons, a commission on deadline, and all of the other obligations of art for a living, it was tough finding the time to sit down and get lost in this piece.
The model for this painting was Manuka, a seven year old "white" black bear who lives at The Calgary Zoo. She's a beautiful bear, a favorite of mine.
Manuka was a rescue from Elkford, BC in 2014 where she had become a nuisance bear, too familiar with people. It's sadly a common tale; we see it in Canmore and Banff all the time. People leave food out on their decks, fail to keep clean campsites or tourists will actually feed bears on the side of the road, despite the many warnings from conservation officials or locals.
When a bear becomes habituated, associating people with food, there are usually only a few options. The bear can be relocated, which doesn't have a high success rate, or it will be destroyed as it becomes a danger to people. Sadly, there are usually no consequences for the people who are responsible for the bear becoming habituated in the first place.
In rare cases, the bear might find a home at a rescue facility, like The Calgary Zoo or Discovery Wildlife Park, where their dependence on humans isn't a problem. The bears then provide an opportunity for folks who work in conservation to educate the public on why we need to protect these animals, and be responsible while enjoying the great outdoors.
Manuka lives with two other black bears and they seem to get along quite well. They'll often be seen chasing each other and playing in their large enclosure, which includes water and rock features, logs, trees and dens.
There is a massive prominent tree in that enclosure, and while all of the bears like climbing on it, often scaling it incredibly fast with ease, there is a large green platform about 30 feet up. Manuka can often be found up there napping, which is the reference I used for this painting. She looked right at the lens, slowly opening and closing her eyes, and I was thrilled when I got home and saw the photos I knew would inspire a painting.
I took the reference pics for this piece in August of last year, but when I started working on it last month, we were surrounded by fall colours. With the sleepy nature of the pose, the fact that the bears around here were getting ready to bed down for the winter, it seemed an appropriate palette and theme. I also expected to have it done before the season turned, but for reasons I mentioned above, it just didn't happen.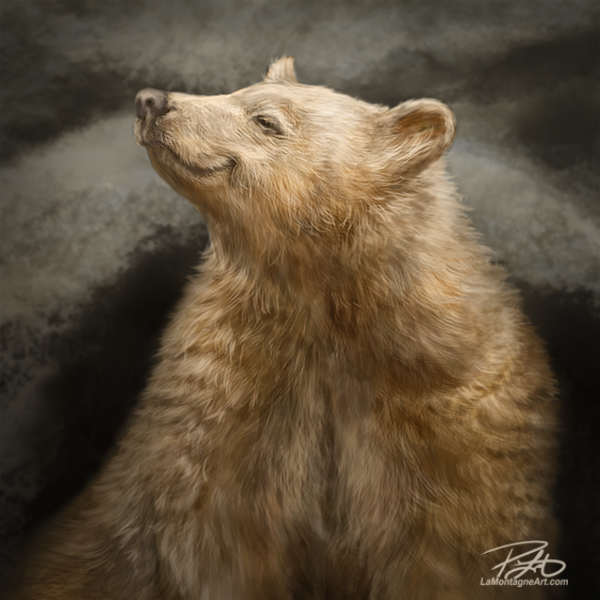 Above is a practice piece I did of Manuka a couple of years ago, in the spring when she and her roommates were just waking up, but I hadn't done a fully rendered painting of her until now. I'm glad I waited because I'm quite pleased with the results. Painting that fur while looking at that happy sleep face, I was reminded how fortunate I am to do this for a living.
This was painted in Adobe Photoshop on a Wacom Cintiq 24HD display. As always, photos are never part of my paintings, only used for reference. The finished file is 30″X40″. Prints should be available sometime in the New Year, both in my online store and at The Calgary Zoo.
If you'd like to receive my newsletter which features blog posts, new paintings and editorial cartoons, follow this link to the sign up form.