While there are many artists I admire, there are a select few whose artwork continues to inspire me and makes me want to be a better artist.  I'll consistently tell people who ask me for career advice, to find and learn from artists whose work you like and who are better than you are.
The first part is important.  While it's easy to find people who are better artists, if you don't like their work, it just won't make you want to be better by seeing it.  Consistently, I can go to artists like Drew Struzan, Neville Page, and Jason Seiler and know that I'll find work I'm not able to do yet, but because I love their work, it inspires me to try.  Better artists will almost always have something to teach you, because hopefully by the time you've gotten better, so have they.
Another artist who consistently makes me green with envy (in a good way) is Tom Richmond, a very well known and popular MAD magazine and caricature artist.  I've been a fan of his for many years.  If you draw caricatures, and haven't seen Tom's work, you might want to take a look.  He's got a great website and blog.  I especially enjoy his Sunday Mailbag posts where he answers reader questions.  Tom's got a great reputation in the industry not only for his work, but he's active in the community and always willing to offer helpful advice.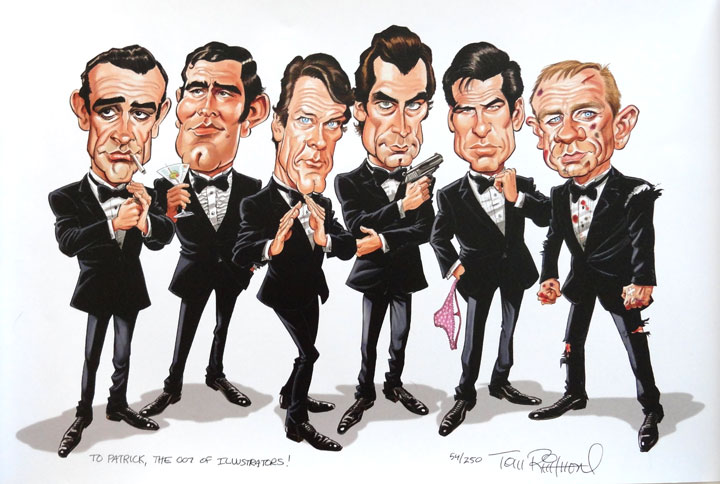 Recently, he mentioned that he had taken a bunch of limited edition prints of the one you see here to Comic-Con in San Diego and ended up coming back with some.  When I saw the print (shown here, with permission), I knew I was buying one.  It made me laugh out loud.  There's just something in Tom's style  of drawing that I'm missing in my own cartoons, some life and action I want to capture but am not quite there yet, and I knew this would inspire me to keep trying.  So it will be matted and framed and hang in my office where I can easily see it.  It's a great print.  Still some available here, if you're interested.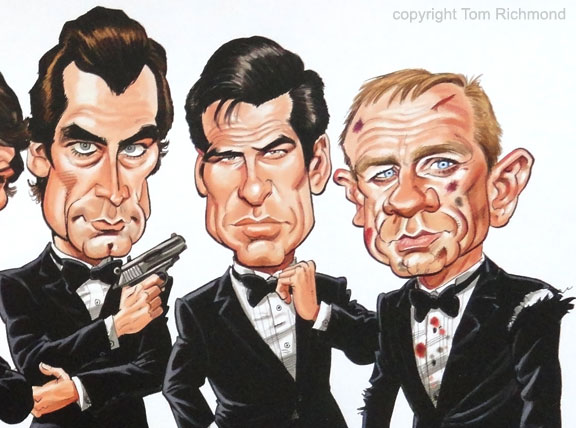 Incidentally, Tom's long awaited book "The Mad Art of Caricature" (which I ordered this morning) is going to be released next month.  If you want to draw caricatures, there are a lot of great books out there, but without even having seen it yet, aside from sneak peeks on his blog, I have a feeling this will be at the top of the list.
Thanks, Tom!