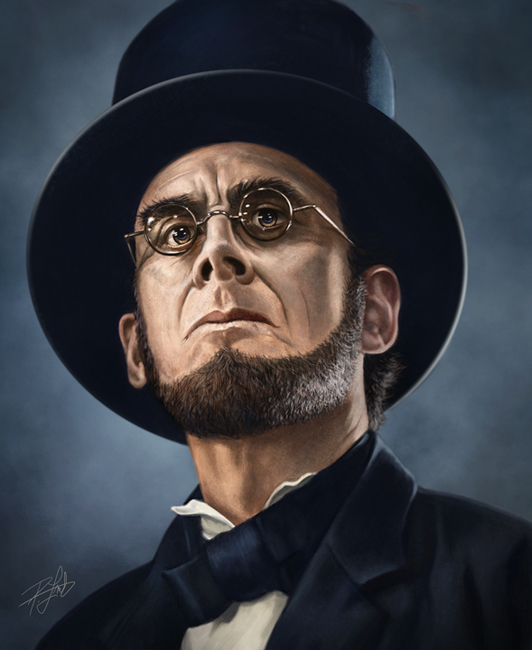 For those of you who don't use Photoshop, you likely have no idea who this is, unless you're thinking that I got this painting of Abraham Lincoln all wrong.  For those who do travel in the circles of this industry, the man needs no introduction.
Russell Brown is the Senior Creative Director at Adobe, the company that makes Photoshop and a whole host of other creative software that makes the design and publishing world go round.  Not only has Russell been with Adobe for over two decades, but he was greatly involved with the creation of Photoshop 1.0.  He travels the world in his role, attending many different shows and events, and best of all, he always seems to be having a good time.
For the uninitiated, Photoshop can seem to be a daunting and technically challenging exercise, kind of like reading stereo instructions.  For those of us who create, edit, and realize ideas with this software on a daily basis, it's quite the opposite.  Russell is proof that learning how to use software can be incredibly fun.  Just as sports buffs talk about player stats and get excited about the draft, Photoshop users look forward to new evolutions of the software and wait with great anticipation to see what new features will take our creativity to another level.  Russell Brown is usually one of the guys who shows it to us first, and he does it with style.
From dressing up as the Mad Hatter to a mad scientist (many call him Dr. Brown), Russell recently showed up at Photoshop World in Washington, D.C. dressed as Abraham Lincoln, and apparently stayed in character for much of the event.  While I wasn't in attendance, he posed for a shoot in the Westcott Lighting booth and a number of photographer friends posted their shots of Steampunk Abe Lincoln.  Russell was obviously approaching this role with great enthusiasm.
I knew right away that I wanted to paint him.
It may come as a surprise to people in this industry that I have never met Russell Brown in person, although we have had email contact over the last couple of years.  As he is always experimenting with new creative techniques, Russell was searching for images to use for a 3D printing process where a laser printer carved part of the image into block of wood, then another pass printed the image on top, giving it a raised relief look.  He chose my Wolf Totem image for this experiment and then sent me a copy of it.  It sits on the mantle in our living room.
We had also talked about using some of my other Totem images for another project, but that one died on the drawing board.  It was still fun, hashing out the details for awhile and sharing my work with him.
Perhaps my favorite story about Russell, however, is about his generosity.  We have a wonderful animal shelter here in Canmore.  Built and run by a very dedicated group of hardworking volunteers, it is a constant effort to find funding and support.  It is a no-kill facility and the animals are very well cared for, with large rooms to live in, indoor and outdoor activity areas, with the goal of finding every one of them a home.  Because of the circles I travel in, a friend asked me if I could help find them some design software for their publicity efforts.  Figuring I had nothing to lose, I sent an email to Russell and asked if he could help.  A very short time later (that same day, if I recall correctly), he asked for the shipping information.  The Bow Valley SPCA received Adobe's entire Creative Suite less than a week later and they were incredibly grateful.
Now it should be stated, that Russell told me he can't normally do that sort of thing, so please don't start sending him a ton of emails asking for free software.
I came very close to meeting him and thanking him in person at Photoshop World in Las Vegas last year, but every time I saw him, he seemed to be on a mission or already talking to somebody and I didn't want to interrupt him.  He told me later by email that I should have, so this year I definitely will.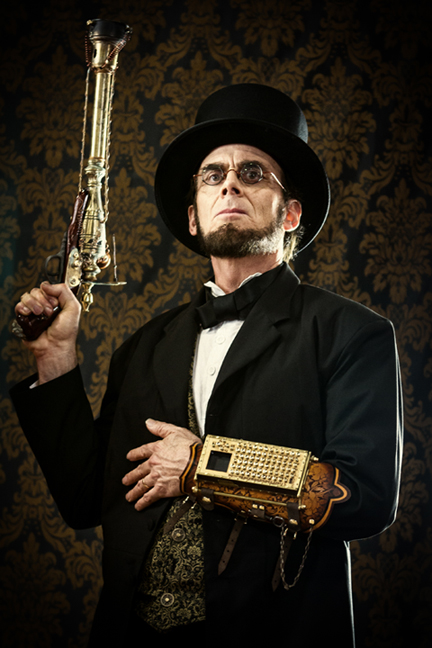 As for the painting, I bought the use of the reference photo from a photographer friend of mine, Michelle Hedstrom.  Check out her site at www.ogrephotography.com.   In the interest of showing that my effort is not to copy the photo directly, she has allowed me to post the photo here.  I need reference to get the likeness right, but no photo is ever part of any of my paintings.  These are painted from scratch starting with a blank digital canvas.
This one took about 15 hours, and as it wasn't a commission and had no commercial application other than a portfolio piece, it was a lot of fun because there was no pressure at all.  It was simply a case of his having a great expressive face, that he was so into the role and that I've seen him perform in character, that I wanted to paint him in the first place, as personality is very important to me in my paintings.
For some reason, it just seemed funnier to make him look a little more sinister than stately, so I went with it, and I'm really pleased with how it turned out.  I'm sending the full-resolution file to Russell today, to do with as he likes.  The full size painting is 18″X22″ at 300ppi, so it's pretty big.  It was painted in Photoshop CS5 on an medium sized Wacom Intuos5 tablet.
Considering that Russell changed his Facebook Profile Pic to this image yesterday and shared the image, I'm taking that as a sign of approval.
If you'd like to see a short timelapse of the painting, complete with overly dramatic musical accompaniment, here's a video I recorded yesterday as well.