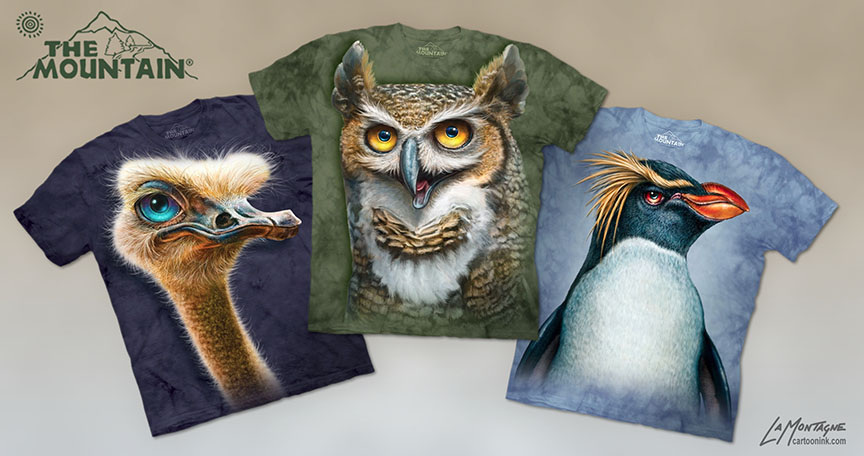 For those who regularly follow my work, you're already aware that my Totem paintings are very important to me.  I consider them my best work to date and I put a lot of time and energy into painting my whimsical animal portraits.  These images are the most fun I have while painting.  While they have been available as limited edition giclée canvas prints and matted paper prints in local galleries for quite awhile now, they have not been offered on any apparel, despite the many times folks have asked me about it.
It is my great pleasure to announce that a selection of my Totem paintings will soon be available on T-shirts, exclusively from The Mountain.
The Mountain is a wonderfully original T-shirt company out of Keene, New Hampshire.  While they have a number of diverse styles of artwork available, one look at their catalog and it's easy to see that animals are their specialty.  The quality of the artwork on their apparel is second to none and I'm very pleased to have some of my work included with that of these talented artists.  The Mountain (as a printing company), has been in operation since 1993, although its roots go back to the early 70's,  and today their T-shirts are available online and in retail outlets worldwide.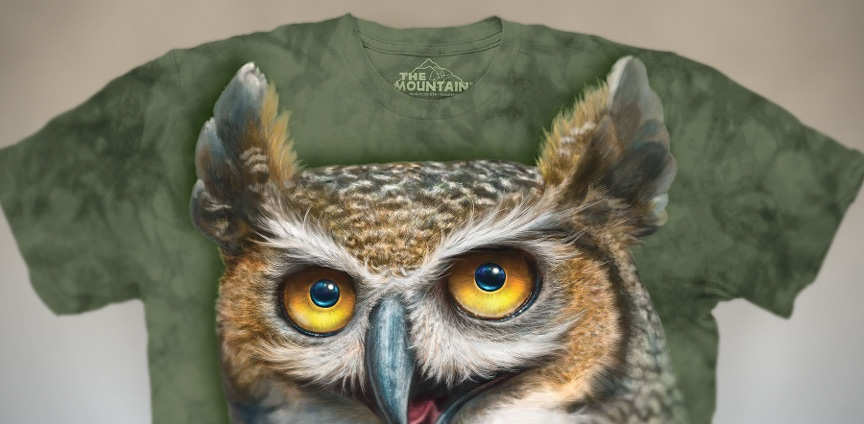 There are a number of impressive details that sets this company apart from others.  One is the nature of their product.  Not only is the printing some of the best I've seen, but these shirts just feel like quality.  The Mountain prides itself on being 'America's Greenest T-shirt Company,' and while many companies are trying to jump aboard the eco-bandwagon and say they're environmentally friendly, The Mountain can actually back it up.  They introduced a ground breaking 'Dye Oxidation System' early last year, which cleans all of their dye waste without the use of chemicals.  To read more about that, check out this link.
You can also visit their website here to see all of the details on why and how they're not only being environmentally responsible, but socially responsible as well.  All of their T-shirts are created and printed in the U.S., and 80% of the cotton used is grown there.  When so many companies are outsourcing their production to other parts of the world, it is commendable that The Mountain has chosen to support their own community.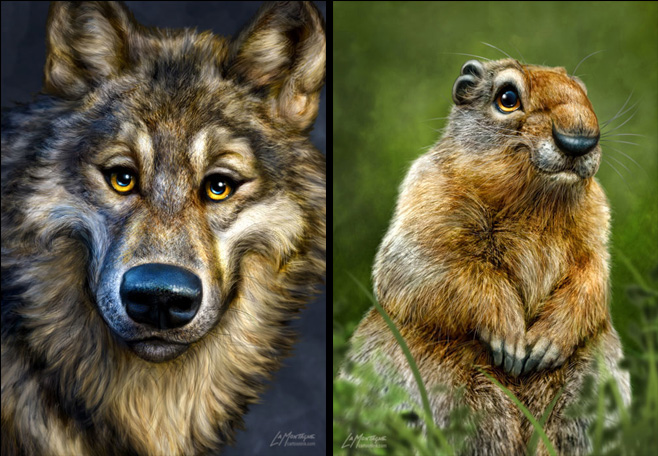 As for my paintings, the five images that will soon be available on t-shirts from The Mountain are the Wolf, Ostrich, Great Horned Owl, Penguin and Ground Squirrel Totems.  While I don't know the exact date of their launch, I can tell you that it will be soon.  When they're available, you can be certain that I will let you know.  I'm really looking forward to seeing my work under The Mountain label.
One final note.  As an artist, I'll admit to sometimes interpreting coincidence as perhaps more than that.  It's just part of my nature.  So you'll understand my amusement at the serendipity regarding the name of this company.  LaMontagne is French.  It means The Mountain.