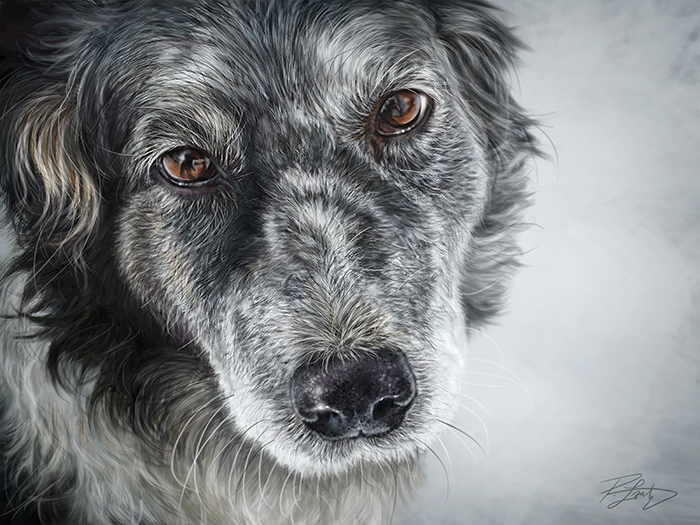 A little while ago,  I just happened to see the reference photo for this one on a friend's Facebook page and asked her if I could paint it.  I was thinking sometime in the Fall.  It was clear to me from the beginning that this was not going to be a Totem style rendering.  I just loved the winter scene that was captured here.   Brisby is a 14 year old Australian Shepherd/Red Heeler cross and the photo not only showed her senior years, but just spoke to me.  I've never met her, but there's a gentle soul behind those eyes.  I especially liked the reflections of her people in her eyes and even though I briefly experimented with painting her eyes without those reflections, it didn't take me long to realize they belonged in the painting.  I enjoyed working on this one a great deal and for most of the time, it just seemed to paint itself.
Coincidentally (yes, I know, there are none), Brisby belongs to a friend who works for Wacom.  When they recently invited me to demonstrate my painting techniques at their Photoshop World booth, I realized I'd only do a good job of it if I painted something especially for that demo.  Since I already had the reference, I figured this was as good a time as any to paint this image.  As it wouldn't be possible for me to create a painting from scratch and complete it in a 45 minute presentation, I saved this painting at multiple stages from beginning to end.  With each stage, I'll show how I paint and talk about what I'm thinking and looking for at that particular point of the process.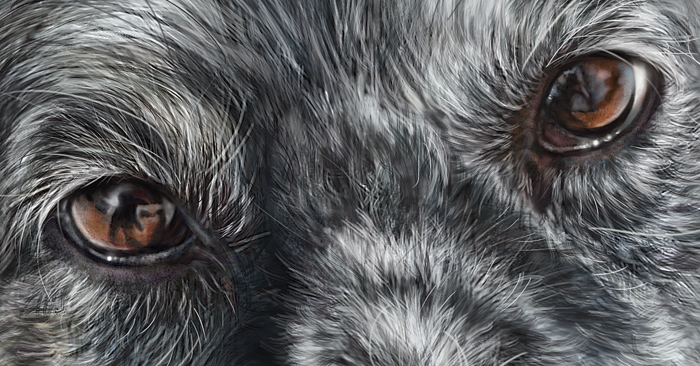 If you're going to be at Photoshop World, stop by the Wacom booth at any time during the conference when the Expo is open, but if you'd like to learn more about my process and this painting in particular, I'll be presenting on Thursday, September 6th, from 3:00-3:45.  I'll be available following the presentation to answer questions as well.  See you there!