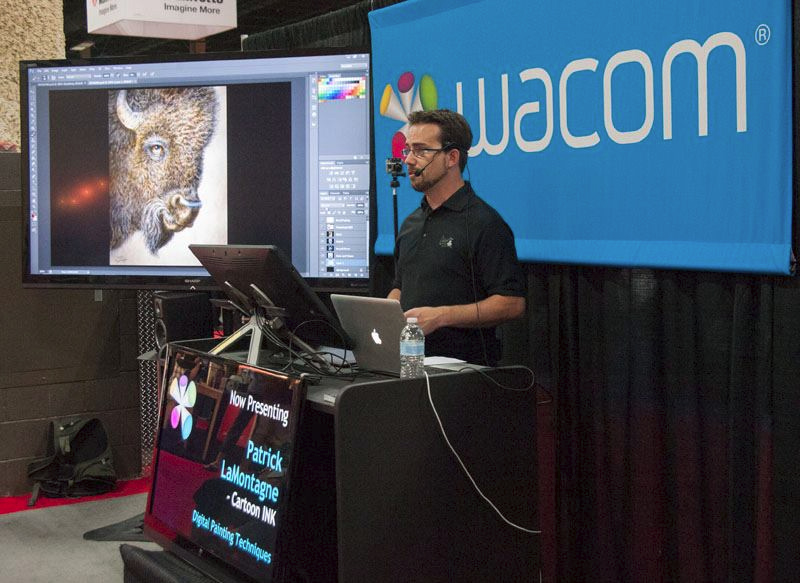 Photo courtesy of Chuck Uebele.
This past week, I once again found myself in Las Vegas for Photoshop World.  Following last year's event, I wrote that it was unlikely I would attend again as the classes no longer offered me any significant benefit and that it had become very much a conference about photography rather than one about Photoshop.  Since I still believe that, you might wonder why I returned, especially since I only attended a few classes.
I got to hang out with many friends from all over Canada and the U.S., a number of whom I've worked with on projects or have plans to in the coming year.  I rely on these folks for reference photos, business contacts, and often just critiques of my work and moral support throughout the year, so it was great seeing them.  There is a great benefit to spending time with likeminded creatives with whom you can connect.
One of those was my good friend Jeff Tamagini from Boston.  Jeff is an architect, 3D designer and photographer whose work I really admire in all three disciplines.  Jeff was a big part of the reason Vegas was fun last week.  In addition to his introducing me to the amazing food at Julian Serrano at Aria (my wife was very jealous of that one), it was just guys hanging out, attending parties, dinners, and laughing an awful lot.  But I hired Jeff as a photographer while we there, too.
I plan to have a new PhotoshopCAFE DVD coming out this Fall, this one on painting portraits of people.  To avoid having to worry about model releases and licensing issues, I'll be using myself as the subject.  The other reason is that anybody hired to paint a portrait is unlikely to have a model as their subject.  By using myself, I get to talk about how to minimize flaws (I have those in abundance) and to paint your subject in the best possible light, working with what you have.  I even woke with a zit on my nose that day, so I set aside my ego and told Jeff not to correct it from the shot, so I could show how to prep your reference photo as well.  The sacrifices I make for my craft, I tell ya.
Since I really like Jeff's work and he's a friend who's also not going to make me look bad, I trusted him for the gig.  The shoot didn't take long; I got the light and scene I wanted, to see the images in real time, and as a bonus, I have a little anecdote to share to make the DVD a little more engaging.
The second reason for attending was networking.  It's an overused buzz word these days, but it basically means building new and reinforcing existing relationships to the benefit of your professional interests.
I was able to spend time with people from different companies, some of whom I've met before, but also a few with whom I've had no prior connection, but now have opened doors and dialogue for opportunities in the coming year.  There's no online substitute for being introduced to a department head over lunch, and then realizing you've segued into discussing potential projects you might work on together.  You're also a lot more likely to find out inside information about a great many things while sharing a drink with somebody at a social event than you will over email or social media.
At one point this week, I participated in an on-camera interview for an Adobe promotional video.  They asked me to show my painted work on camera.  At the end of the shoot, one of the camera crew gave me his card and asked for mine; because he might have a project he wants to hire me for.  Who knows if anything will come of it, but you just don't find yourself in those moments when you only exist to people online.  I also had the opportunity to participate in an informal forum discussion with Adobe designers to discuss expectations and share thoughts on future releases and possibilities, a process I enjoyed very much.
And finally, I was invited to demo for Wacom in their booth on the Expo Floor.  I will admit to being a little nervous about that, but I'm also a firm believer that if you don't step out of your comfort zone on a regular basis, you stagnate, especially as a creative.
Over the past couple of years, I've been able to build relationships with a few key people at Wacom and I count myself lucky.  Wes, Joe and Pam have been very supportive of my work, and have treated me very well.  The trip alone was worth my time just to spend some with them. While the demo didn't go completely according to my plan, (does it ever?), apparently nobody noticed and many told me afterward that they enjoyed the presentation.
Once I got rolling, it really did feel quite natural.  As Joe from Wacom said to me in an email the week before, "It is 45 minutes of doing what you do so well."
You see why I like these folks?
After giving it some thought, I'm not going to make a ruling on whether or not I'll go to Photoshop World again, but I can honestly say that I won't be there as a conference attendee.  Without any advanced classes on painting and illustration, there's just nothing there that I can't learn online.  I may be back, however, for the reasons I've mentioned here.  What made the conference worth attending were the conversations and experiences I had at the Expo, as well as the number of meetings, planned and otherwise, in which I participated.  Some of my friends have said they won't be back next year, so that will factor into it as well, but for now, I'm just leaving my options open.
All in all, I enjoyed the week.  While it was technically a business trip, it was also a bit of a vacation from the office, too.  Sometimes, even that's just reason enough to go.