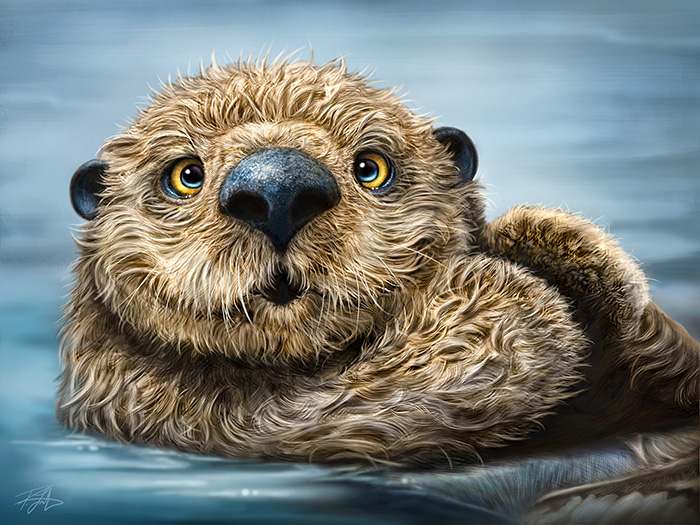 This is my latest painting, the Otter Totem.  Under normal circumstances, I'd publish this post on the same day that I finish the painting.  In this case, however, I was a little swamped with other deadlines and it kept moving down on the priority list.  But better late than never.
This Totem was done in about a week, which is the fastest I've ever painted one of these.  While I'm sure the hours spent were close to the same as prior Totems, I had a few very late nights and early mornings, largely due to the fact that this was being used in another deadline, a painting video for Wacom.  Despite the quick turnaround, I'm pretty pleased with how it turned out.  As I've said many times before, I don't pre-plan the expressions and they're often as much a surprise to me as they are to anybody else.  The personality just seems to 'show up' at some point during the painting and I just go with it.  In this instance, the personality was there very early on and I really loved the curiously goofy face that emerged as I spent more and more time on the details.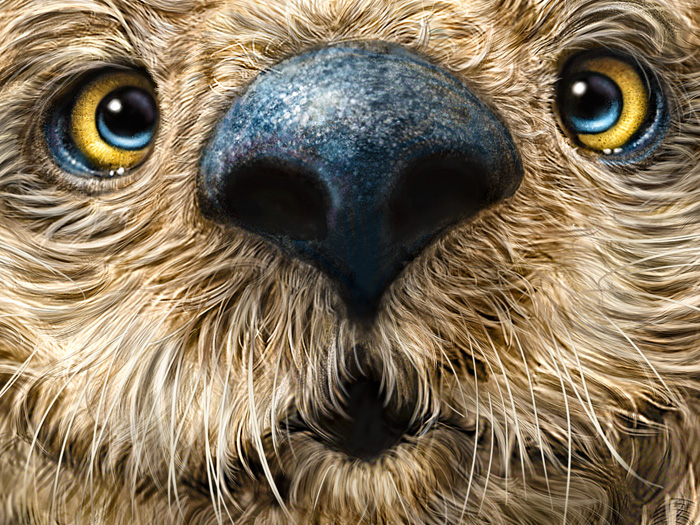 This was also my first painting on the new Wacom Cintiq24HD and the experience of painting on this display was very enjoyable.  While I've never had any complaints about the Intuos tablets for painting, I just felt a lot more connected to the brush strokes with my pen directly on the screen.  I've always enjoyed digital painting and never felt that I was missing any of the tools I needed to get my best work onto the canvas.  The Cintiq, however, gave me something I didn't know I was missing and improved the experience.
As for that video for Wacom, it is part of something else that will be coming a little later on, but they posted it on their YouTube channel, which means I'm able to post it here as well.  If you haven't seen it already, it shows a high speed time lapse of the Otter Totem, from start to finish.  The narrative is aimed at traditional artists who might be considering the digital medium, but haven't yet taken the plunge.
Enjoy!