Preparing for the Calgary Comic and Entertainment Expo at the end of April is proving to be an exercise in anxiety.  I already know that my work sells well in the right venues.  I've had my Totem prints in four different galleries and retail outlets and while some are better than others, the response has been quite favorable.  Five of the designs are currently licensed to The Mountain and I'm always working on a commission piece for somebody.  While confidence in the work is usually one difficulty faced by newbies to Cons and Expos, that's not the problem I'm facing.  Even if my work isn't popular with the crowd that shows up to the Calgary Expo, I'll still be OK with the work, and just know that it wasn't the right venue.  I'm not even uncomfortable running the booth, talking to people, or selling, which is something else artists often have difficulty with.  For many years, I worked in the tourism and retail industries,  I ran Wacom's booth on my own for a full day at a training seminar, worked a trade show booth on my own up at Fort McMurray for a Banff hotel I used to work for, and have done live painting and training demos quite a few times in the last four or five years.  While public speaking scares a lot of people, it's honestly not a problem for me.  In fact, the trick is getting me to shut up.
Where the challenge lies is knowing how to stock my booth.  I could spend many thousands of dollars selling everything from cartoon prints, illustrations, paintings, portraits, cards, prints, t-shirts, posters, canvas…it's  a long list of possibilities.  The key to a successful booth it would seem, is focus.  And, of course, not overextending myself.  I've got three full days to sell merchandise at an event that has become so big that with 600 vendors and artists, and 50,000+ attending, there are a lot of things to consider.  I already know that I'm just going to focus on my Totem paintings, for the sake of continuity.  But I don't want to run out of stock on Saturday morning, nor do I want to be packing up a lot to bring home on Sunday afternoon.
There's a lot of advice online from people who attend expos like this, telling artists to balance 'fan art' with their own work.  Use the fan art to get people to your booth.  That doesn't work for me.  Fan art is basically just copying somebody else's popular characters and selling them.  While illegal, most of these offenses go without prosecution, so artists keep doing it.  Considering how many artists complain about being ripped off online, I'm surprised at how many still condone the practice.  I intend to find out if I can support my booth on my own work alone.
As this is my first booth, I will do a number of things wrong, I'm sure.  How can you learn from experience until you have some?  But in an effort to put my best foot forward, I created a small survey earlier in the week to ask people their opinions on a few questions I'm faced with.  Two winners were chosen from the respondents to receive 11″X14″ matted Totem prints of their choice.  I received 100 responses, which was the survey limit, but the results were pretty clear when it came to ranking which of my Totem paintings people liked best, along with opinions on matted prints vs. unmatted.  In an effort to perhaps help somebody else prepare for a show like this, here are my results and how I choose to interpret them.
I asked respondents to rank my Totem paintings in order of preference.  While I have 16 Totems in my portfolio, I'll only be selling 8-10, so here are the Top 10 in the order the survey indicated.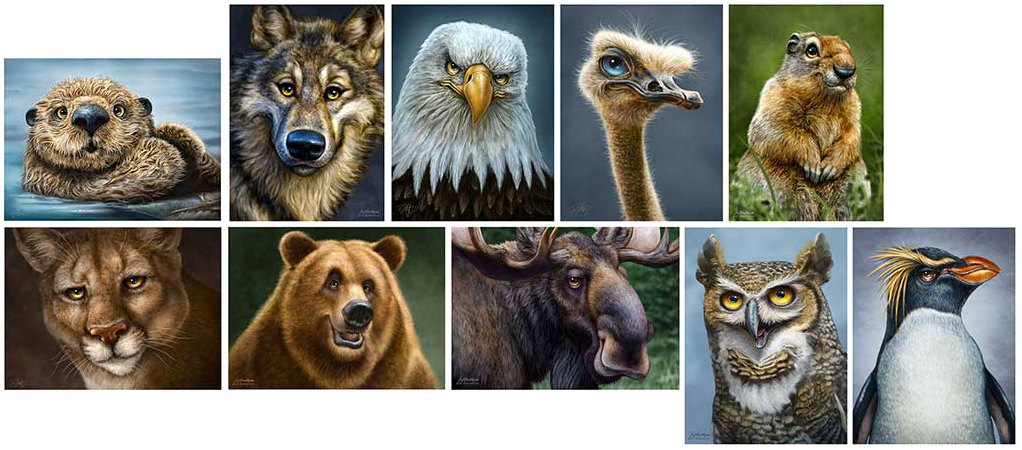 Some surprises here.  The Humpback Whale is one of my favorites, and even though a few people agree with me, most do not.  But for this survey, I would have included it in my print run for the booth.  Many people did say in their comments that it was tough to choose and that they had a hard time ranking them because they liked them all.  While I can understand that, and appreciate the compliment, the ranking was very clear for the first five, not so much for the last five.  The Bighorn Sheep could have easily been shown instead of the Penguin as they were neck and neck.   But I chose the Penguin because the venue will be in Calgary and with the addition of the penguins at the zoo last year, it's a safe bet some will buy it based solely on where it's being sold.
The Wolf Totem has long been a favorite among people who like my work.  It's a big seller and very popular.  But it was done over two years ago and I'm pleased to see that my two most recent pieces are in the Top 3.  Thankfully, it would appear my best work isn't behind me, something many artists fear.
Matted prints and cost.  78% of people would prefer a matted print to an unmatted one and 73% said cost didn't affect that decision.  That was very revealing, however the people who follow me online aren't necessarily the same demographic as those who will be shopping at the Expo.  A lot of people go to the Expo to buy inexpensive prints and even at a reduced price of $30.00, it will be too much money for some, when they could buy two or three prints for the same amount of money, which means more art from different artists.  If this were a Christmas trade show with an older crowd, I would go entirely matted at regular price with a lot of canvas as well, but at this venue, I'll be doing a mix of matted and unmatted prints.  But this was very helpful in helping me decide the balance.
The majority of people were interested in a discount on buying two prints, rather then three or four.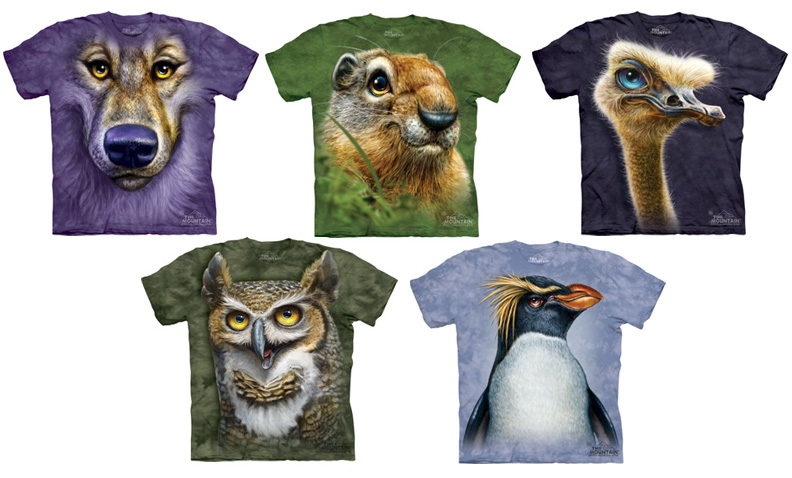 When it comes to the T-shirts available from The Mountain, the Wolf was the clear winner, the Ground Squirrel second, but it was an even balance between the other three.  If I do decide to include T-shirts in my inventory, and that's still undecided, it is obvious that I should include all five.  The large majority of respondents would buy one for themselves or somebody else.  One commenter suggested that she still liked the T-shirts, but wouldn't buy one because her family just doesn't wear shirts with designs on them.  Personally, neither do I, so I was curious to see how many thought the same.  Selling T-shirts as well as prints might be a little too much this year as it would require a lot of inventory in different sizes and might make for a very crowded booth.  This first year, I might just stick with prints and have one of each design on hand to let people know that they're available online from The Mountain.
Finally, more than half of the respondents left comments, which I found very valuable.  Many were complimentary of my work, which I appreciated.  Others told me that ranking the Totems was very difficult and a couple even seemed to worry that they were hurting my feelings by doing so, telling me I shouldn't think they hated the last one they picked.  No worries, I've got thick skin.  Still, others were just very nice words of encouragement and nobody gets tired of hearing those, so thanks for that.  Some suggested that other animals should be on T-shirts.  As they are licensed and not produced by me, it's actually up to The Mountain which ones end up on T-shirts.  So while these five are the only ones at the moment, who knows what the future will hold?
Here are some other comments I found helpful, and my thoughts on each.
"Your pricing, I would do the multiples on the $10 mark… so $40, $50 etc. Just keeps things simpler."  This is good advice and something I'm going to seriously consider.
"Would it be too much work to get more mat colors than black? Black looks nice, but can take away from some pieces depending on color. A color mat can really enhance the work. Good luck!!"  and another comment in the same vein "White matte and $40. I don't like black mattes. Too heavy. Your prices are too low."  Matting is always tough.  With lighter colour work or black and white, a white mat usually looks best.  With darker work (such as mine), a black mat usually looks best.  And you'll easily find people who will disagree with both statements.  In a perfect world, a painting looks best when matted to reflect colours in the painting and matches the decor of a room.  How do you do that for every customer?  Well the simple answer is that you can't.  White or black are the choices and as in all things, people prefer one or the other.  For continuity in an artist's work and to minimize cost and inventory, it isn't advisable to offer both, because hanging together on a wall or display, they will actually look bad beside each other.  As for choosing a coloured mat, that's a minefield.  A number of people said they didn't like the purple of the Wolf T-shirt, even though it did draw out colours from the painting itself.  Honestly, purple wouldn't have been my first choice, either.  But it was still the most popular shirt in the survey.
I trust the advice of my printer, as he does both white and black mattes for many different artists.  After seeing these comments, I asked him what he thought and he said he thinks my work looks better with a black mat.  My wife agrees and I think so, too.  Art is a such a tricky business, because everybody likes different things for different reasons, and you can't please everybody.  So I'm sticking with the black mats, but wouldn't tell somebody they were wrong if they swapped it out for a white or coloured mat.  Even still, with the choice of only the black mat, the vast majority still preferred to have a print sold with the mat.
"A set of postcards of your totems on a special paper would be pretty cool."  That's a great idea.  While I was going to have postcards for promotional reasons, I hadn't considered doing that for each animal as a little collector piece on their own.  Might sell them for $1.00 or $2.00 each or two or three for $5.00.  I already have art cards licensed through Island Art Publishers, but promotional postcards for the show might be a nice addition.
"Would like to see your totems on ball caps and mugs."  That's a licensing thing and while I wouldn't produce them myself, you never know what might come around in the future.  I'm always talking to other companies and if I find the right one, you may get to see both.
A lot to consider with this survey and I would like to thank everyone who participated.  The expense of this show is significant, thousands of dollars to prep the booth and stock inventory, so I really wanted to put my best foot forward.  The input was very helpful and I imagine there will be other opportunities in the future for me to ask for your opinion and offer prints as prizes.  As always, however, you can always share your thoughts with me  on Facebook, Twitter, or Google+.