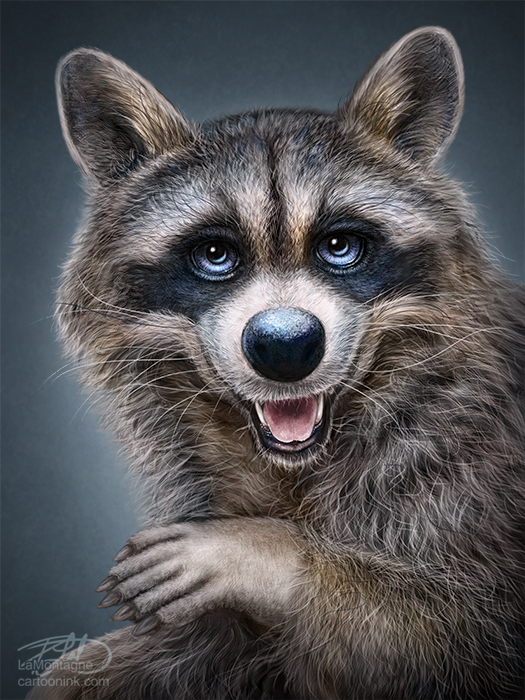 Here's the last painting of the year and another addition to my Totem series.  At present, I've got about eight to ten animals waiting in the wings to be painted.  I've had the reference photos for a number of them for quite some time and even though I don't have an order in mind, it just seems that each gets their turn whenever it feels right.  I had not expected to be painting the Raccoon Totem this year, but when choosing which would be my last painting of 2013, I went through the different folders and reference images, and it just seemed the right time to paint this one.
Whenever I try to manipulate which Totem I'll paint, whether it's for commercial reasons or a request from the gallery, I never feel completely good about it.  I learned a while ago to just paint whichever one feels right for the time I'm ready to start a new one and my best work will come through.  This time, it was the raccoon, and (say it with me)…I had a lot of fun with this one.
There appear to be new challenges with each Totem, whether it's features or fur and for this one, the fur and hair was different.  It wasn't particularly difficult, but the wiry raccoon hair is unlike any of the animals I've painted before.  Just as the Bison and Otter Totems required me to paint hair a little differently, the Raccoon required me to paint on more layers than I normally would, in order to get that deeper layered look I achieved with the hair in this painting.  I'm pretty pleased with how it turned out.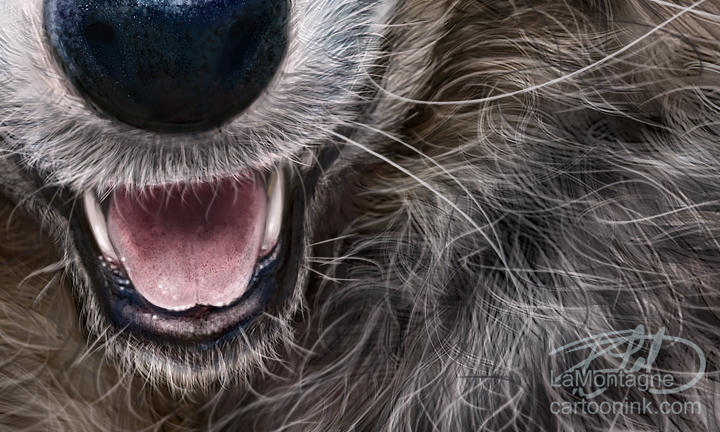 This was painted on both the Wacom Cintiq 24HD and Wacom Cintiq 13HD displays, using Photoshop CC.  No photos or overlaid textures were used in this image, it was all done with brush work.  I don't keep track of how long it takes to paint these anymore, because I usually spend an hour or two here and there over a two or three weeks when my other deadlines allow it.  As always, I relied on a few reference photos for this painting and would like to thank my friend Susan Koppel who provided me my main reference for this Totem.  Susan takes wonderful pet portraits, and also donates her time to her local Humane Society in Nevada and you can't help but want to adopt all of the pets she photographs as she makes them look their absolute best.  Rather than me ramble on about her skill and talent as a photographer, check out her website and you'll see for yourself.  You can find her at susankoppel.com
Happy to end the year with a Totem painting and looking forward to painting a lot more of them in 2014.