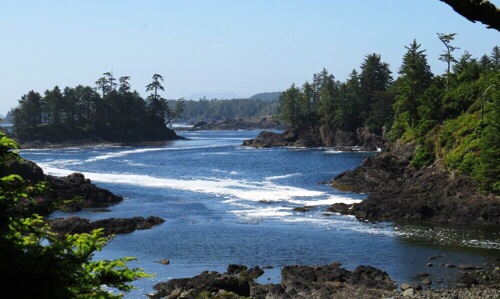 It's easy to become so accustomed to your surroundings that you fail to see the forest for the trees.  Living in Canmore, we often forget to look around and realize that we are so incredibly fortunate to live in one of the most beautiful places in the world.  You can get used to anything, no matter how idyllic.
Sure, I go on my hikes, sketch and take photos and appreciate the beauty, but when you've lived in a place for a long time, you never quite recover the feeling of seeing it anew.  It's only when we happen to hear a visitor exclaim with awe and wonder how majestic and beautiful our mountains are, that many of us stop, look around and think, "yeah, they're pretty spectacular, aren't they?"
I found this sense of wonder this morning in Ucluelet.  Wandering the small craft harbour, socked in by fog and low hanging cloud.  With a camera 'round my neck, a sketchbook in my backpack and my first cup of coffee of the day in hand, I marveled at the sights, sounds and smells, experiencing my first morning in this place.
At 6 AM on a Monday, there are low conversations and murmurs from the boats, as men get ready to head out for a day of fishing.  Some of these are surely tourist charters, but clearly there are those that aren't.  Having been a local in a tourist town for many years, it's easy to spot the difference.
In a broad sense, these locals are no different than any others.  Just another morning at work, they're likely oblivious to the little nuances that are making me smile, take in a scene, or breathe a sigh of relief that I don't have to work this morning.  Anyone who has been in fog knows the sound is different, and I quite like it.  Seagulls and ravens criss-cross the harbour, some with little morsels in their mouths, others bitching at the ones who got some when they didn't.
At home, ravens calling and squawking outside my window is annoying, and I often wish that they'd just shut the hell up.  But here, they add to the scene, the immersion in the experience and the change of place has me welcoming their racket.
Sitting at the small table in my cabin as I write, I just looked up and saw a bald eagle fly by in the distance, the details hazy in the lifting fog, but unmistakable with his white crown and tail feathers. It's a little exciting, because I don't get to see them often, they show up so rarely at home.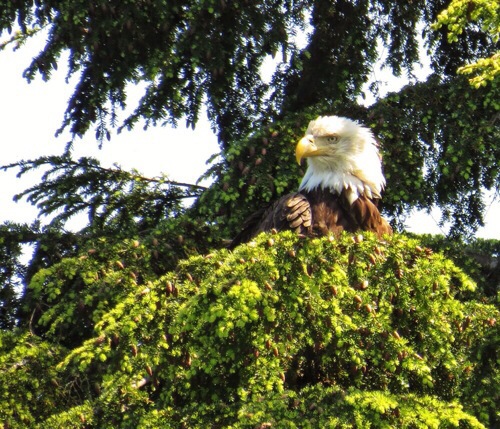 This is how the tourists in Banff and Canmore feel when they see an elk, or if they're fortunate, a whole herd of them. For locals, the elk are easily viewed as a hazard to avoid while walking or driving. We have our little condescending smiles when the tourists go gaga over them and start snapping pics like crazy. I imagine a local here might have felt the same had they spied me on a dock yesterday, where I spent twenty minutes happily taking photos of a bald eagle high in a tree, silly tourist that I am.
This is clearly why I'm here and why a trip like this is necessary. While calling it an artist retreat sounds haughty and pretentious, it's really just a change of place to adjust my focus. I've no doubt that I'll return home with a renewed sense of inspiration to paint, write, and sketch. It happens after every vacation, so it'll no doubt be doubly so after this one.
Finally, it strikes me that I am incredibly blessed. Not only to have the means to take a trip like this, a purely selfish excursion, even politely telling a couple of friends that they could not come with me, but that I have the support of my wife, and those same friends who said, "Go. Have fun. Do what you gotta do."
Someone once said, "They're always making more money, but nobody has figured out a way to make more time."
It's the fear of squandering my own time, even though I've no idea how much of it I've got, that had me seeking a temporary change of place. I'm not often at peace, it's just not in my nature.  But this is close.
Ucluelet, BC. June 2, 2014