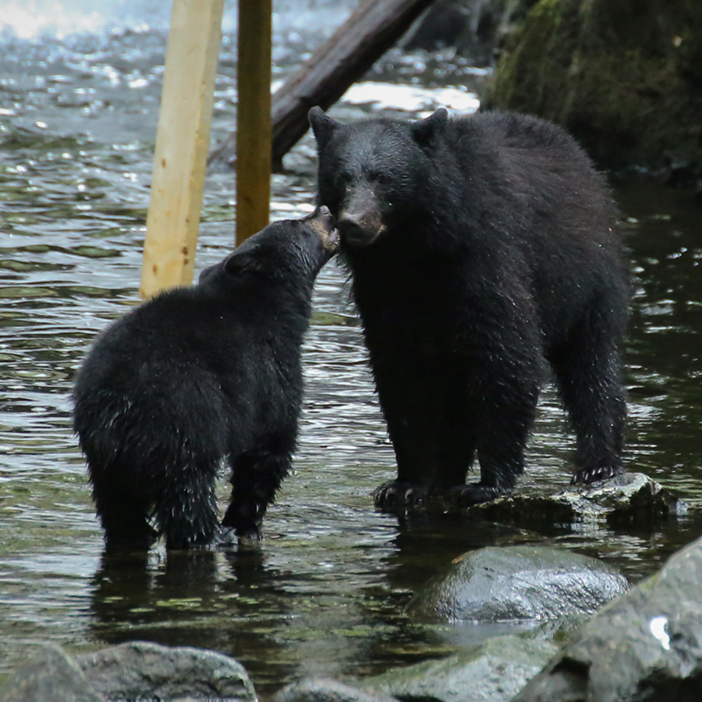 Why am I writing a blog post on my week away from the office? Because it's pouring! But considering that the whole week on Vancouver Island was supposed to be like this, I've got no complaints. We lucked out on the weather, as the rain held off on all of our wildlife excursion days.
At the moment, we're in a cabin on the harbour in Ucluelet, one of our favorite places.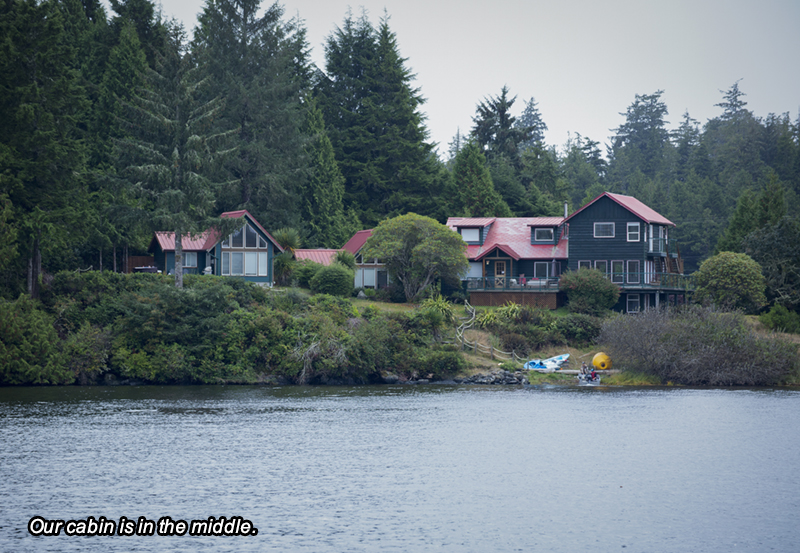 While many end up on this side of Vancouver Island to visit Tofino, we've long preferred taking the left turn near the end of Highway 4, rather than continuing on to what to us seems like a Pacific version of Banff. No offence intended Tofino, but a busy tourist town is what we're taking a vacation from. Ucluelet just feels more like a place you could live.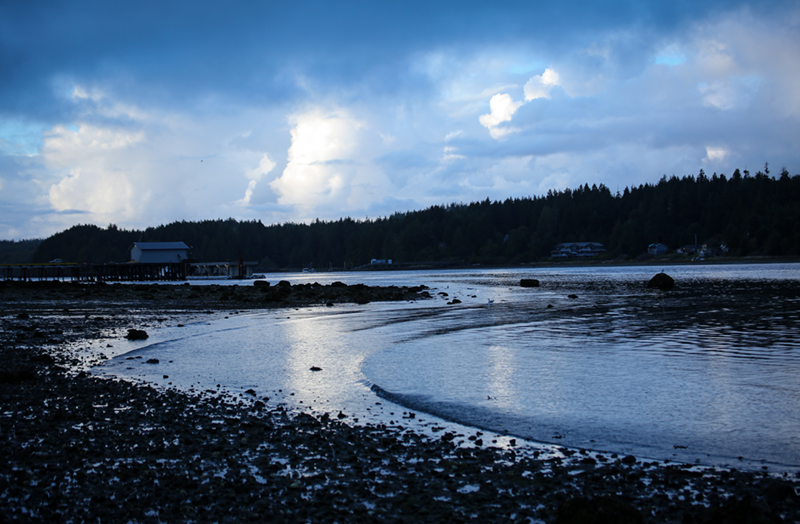 Rather than chew up four days driving to and from Vancouver Island, we've always flown into Comox and rented a car. If it costs more, it's only by a small amount when you factor in the ferries, hotels, and gas. We're not road trip people. Screw the journey, give me the destination.
On Saturday upon landing, we picked up our rental car (free upgrade to an SUV!), met up with our ex-Banffite friend Robyn for coffee, and stayed with long time family friends for a night. My buddy Darrel is my oldest and closest friend, and his parents always make us feel so welcome. Unfortunately, there are other friends we always like to see when out here on the Island, but with only a week away, after an incredibly busy summer in Canmore, we opted to be selfish and offered our regrets ahead of time.
Shonna decided we should try AirBNB and VRBO this year for our accommodations and it was a great plan. She found us a nice, albeit small, condo in a renovated historic building on the harbour in Victoria, a place called the Janion, right beside the brand new Johnson Street Bridge. An impressive piece of engineering.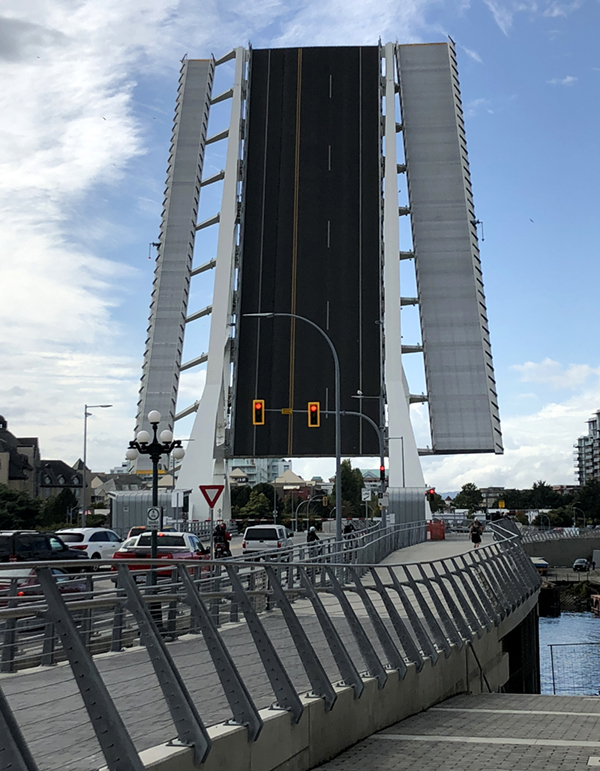 Victoria has a beautiful downtown with plenty of restaurants and things to see within easy walking distance. We parked the car on arrival and didn't use it again until we left.
The main reason for going to Victoria this time was for Orcas. Shonna has long wanted to see them. I've wanted to paint one as well, but this was something we've missed out on every previous trip to the Island so we were on a mission.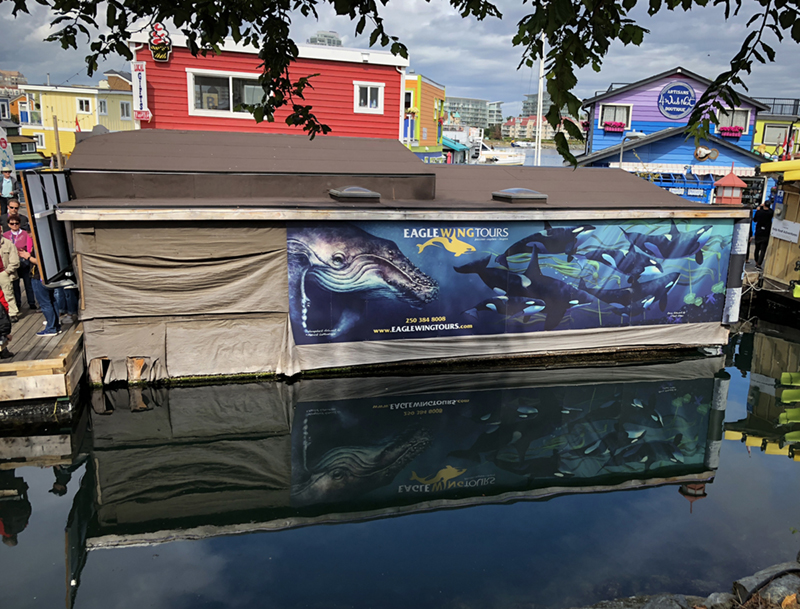 We booked with Eaglewing Tours, their floating office on Fisherman's Wharf. A number of years ago, the owner licensed the use of my Humpback Whale Totem painting for a mural on the side of their building, and this was the first opportunity I had to see it in person. They'd combined it with another artist's painting of orcas and whoever stitched it together did a fine job of it.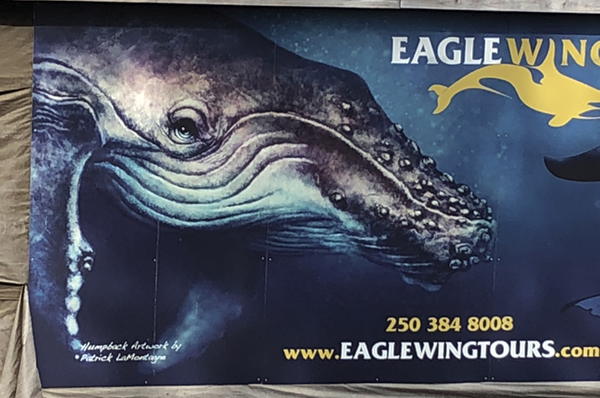 Given their reputation, we booked with them for our best chance to see Orcas.
Without subjecting you to a play by play, on our five hours in the Salish Sea, we saw over a dozen Humpbacks. At one point, with a dark sky and storm on the horizon, we could see the spray from their exhalations on all sides, an incredible and surreal sight.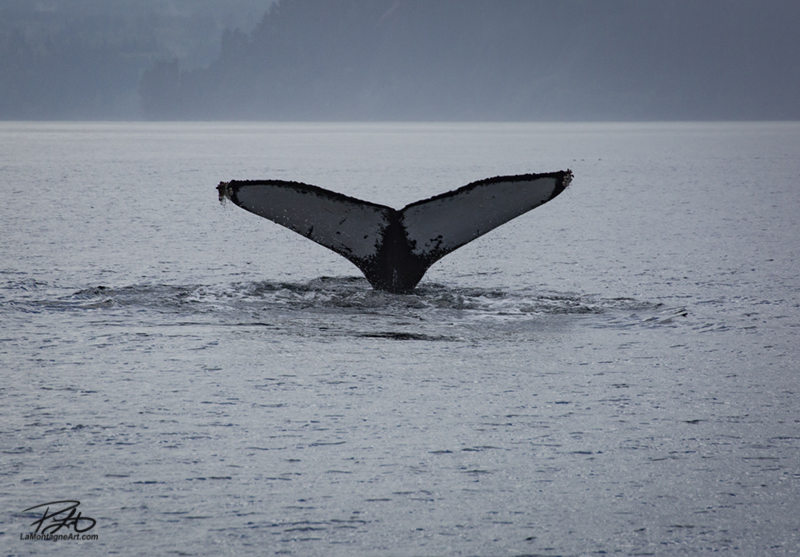 On the way back, it was looking like Shonna wasn't going to luck out on this trip, until the Captain spotted what we were after. In the end, we saw three family pods of Orcas, including two babies. One was almost a newborn, its white markings still orange.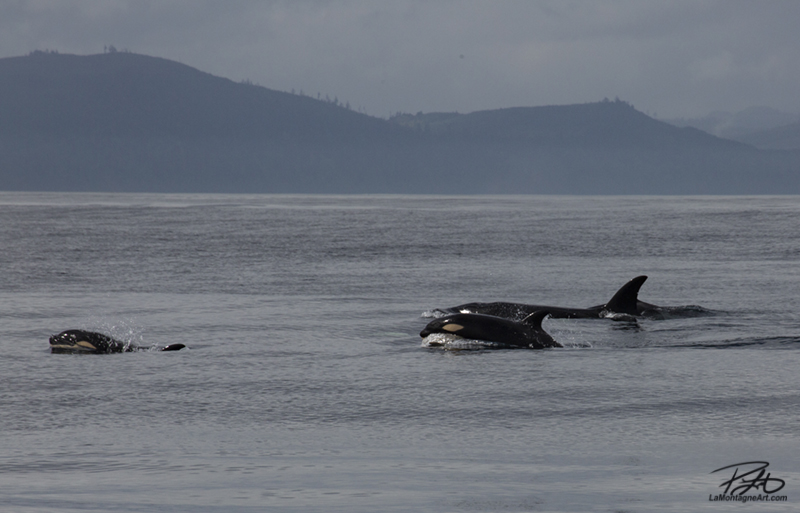 One even swam right up to the boat, turning over to take a look at us. The experience surpassed our expectations and made the three days in Victoria well worth the drive down Island.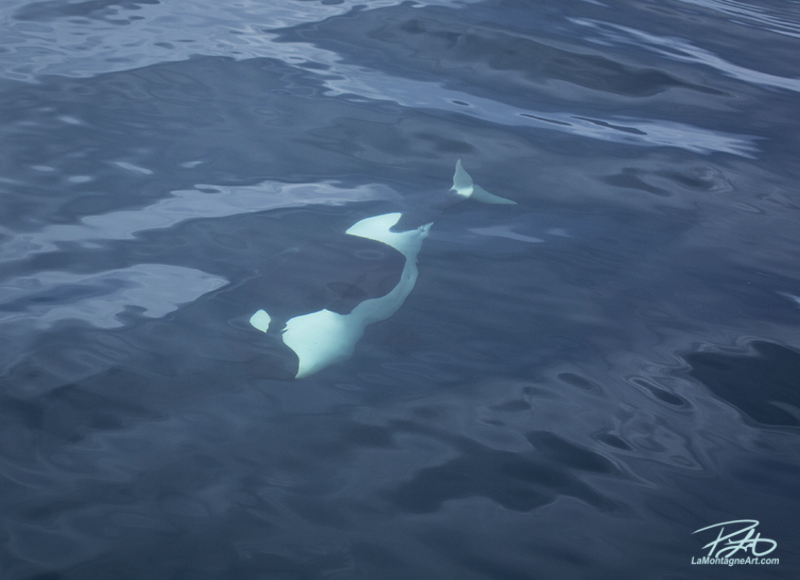 While in Victoria, I visited Art Ink Print for the first time, the company that supplies my digital poster prints sold in the zoos and parks. They've consistently exceeded my expectations when it comes to quality and service so it was nice to see where it all happens. Typical of Victoria, their shop was only a few blocks from where we were staying and I was able to see the first proof of my latest painting, Happy Baby. Prints will be available soon.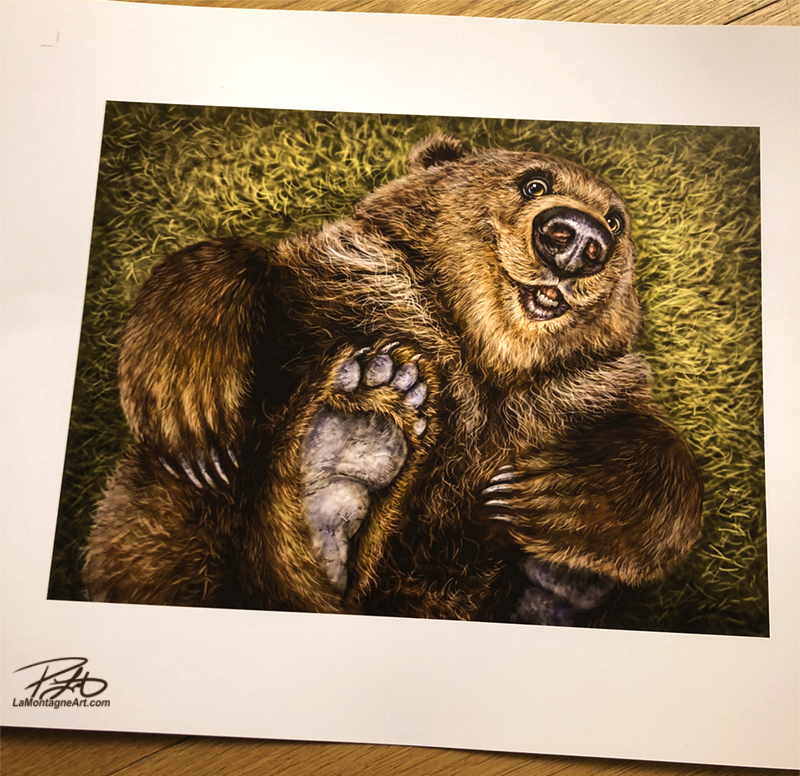 I was also pleasantly surprised to find my Otter Totem shirt in a couple of stores, those licensed and sold through Harlequin Nature Graphics in Cobble Hill. With conflicting schedules, we didn't visit them this time, but have in the past.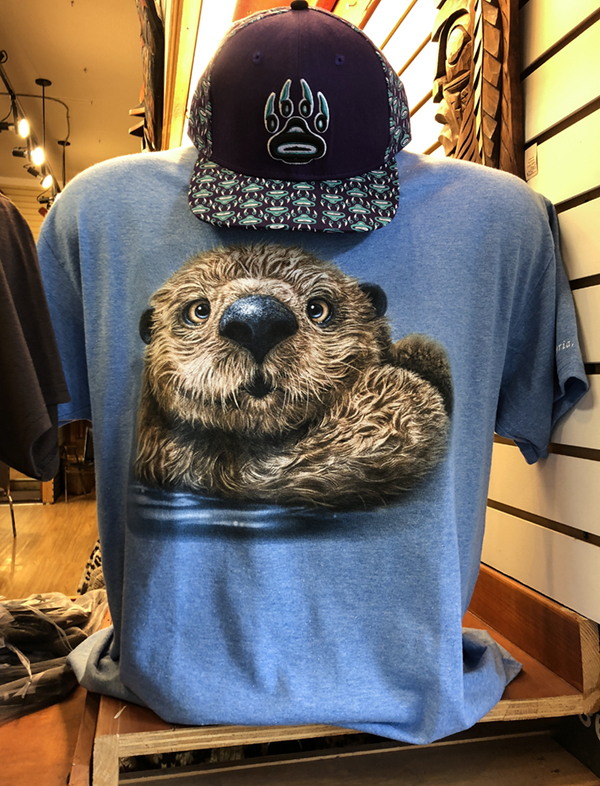 After Victoria, we headed north and west to Ucluelet for four nights. For the most part, we're creatures of habit out here. Breakfasts at The Barkley Café and dinners at the Floathouse Grill, often more than once. From the beach in front of our cabin at low tide, I was able to watching a Great Blue Heron fishing and even saw seven River Otters go by one morning.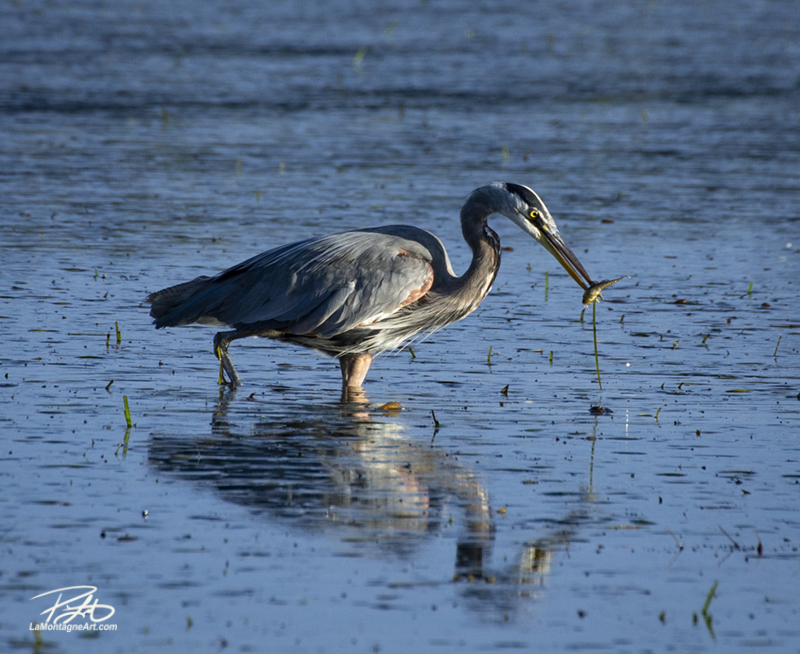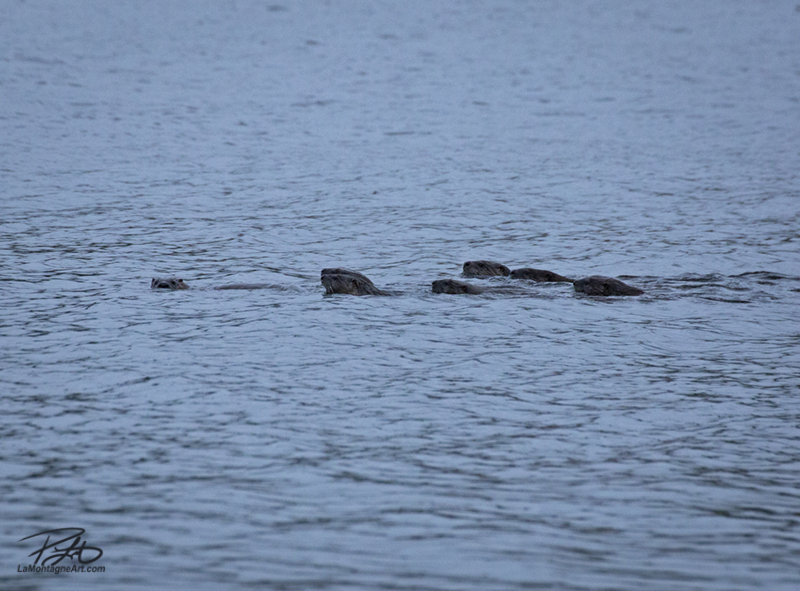 On Wednesday, I went out on a wildlife tour with Archipelago Wildlife Tours owned by our friends Al and Toddy, on the hunt for reference pics. Shonna's been out with them twice, so she opted to spend the day being pampered at the Black Rock Spa, but she still got to visit when we took them out to dinner Thursday night.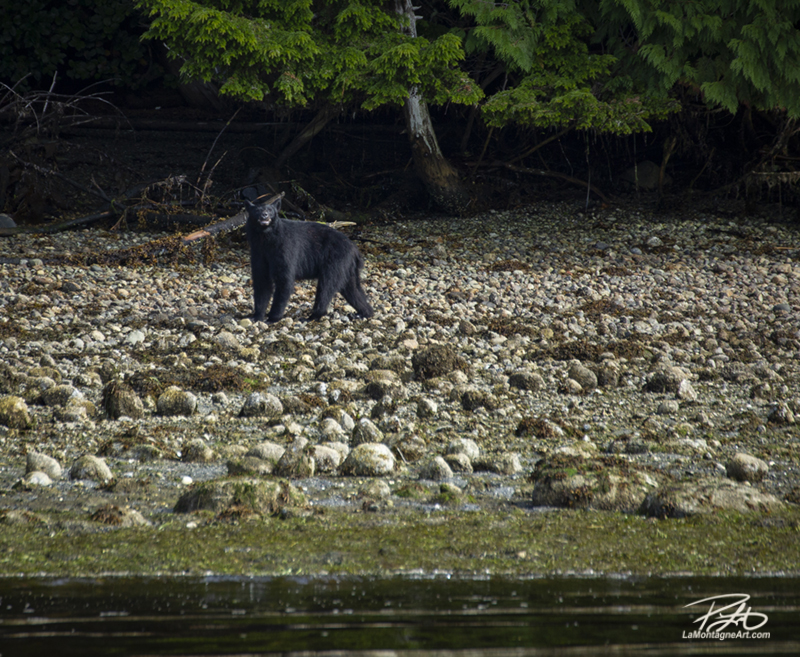 This was my 7th time touring the Broken Group Islands and this go round, we saw bears, seals, sea lions, sea otters, eagles, and plenty of birds, not to mention some of the most beautiful scenery to be found anywhere in the world, all from the comfort of the boat.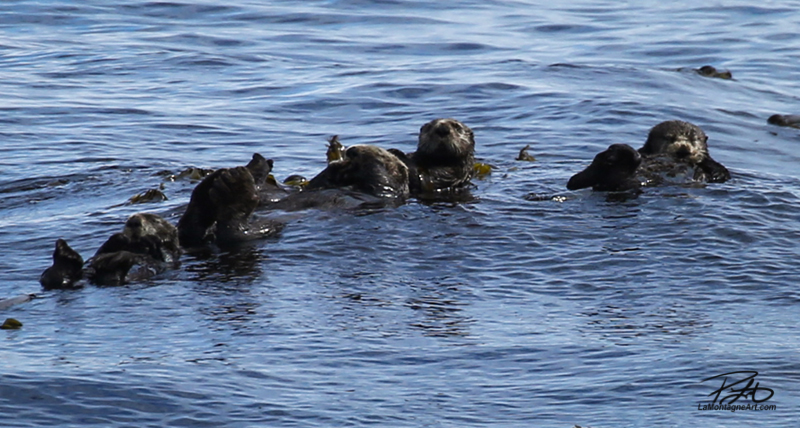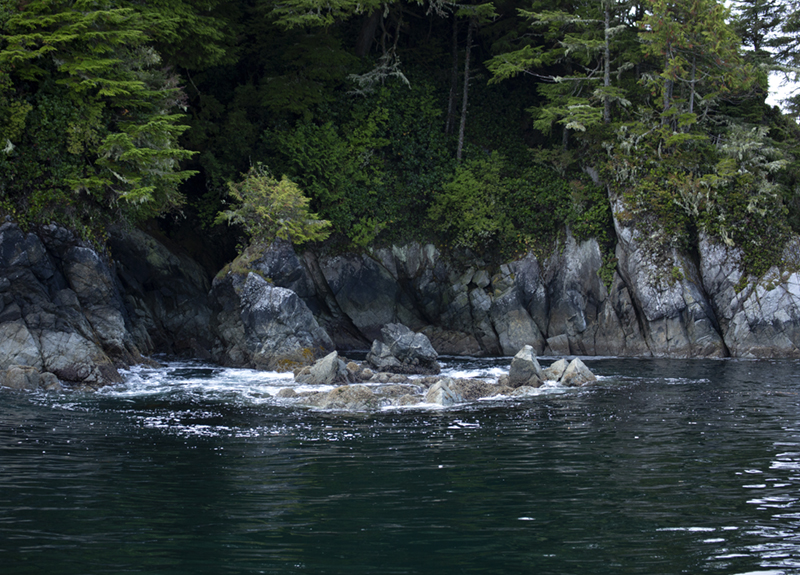 Thursday found Shonna and I at the Thornton Creek Hatchery on the road to Port Albion, where they're working to increase salmon numbers in this area. We'd never been there before, but likely because we're usually here in June and this is our first visit in September when the salmon are spawning.
One of the bonuses is that black bears frequent the river for the easy salmon meal. There is a boardwalk above the river, where for a limited time, tourists like us can see the bears without there being any danger to either species.
We headed down the dirt road through the thick growth rain forest to the gate, arriving at around 9:30, where there were already three cars ahead of us. By the time they let us in at 10, there were about a dozen vehicles waiting. Happy to pay the suggested donation of $10-$20 for the privilege, we were ushered into the enclosure where we lined up along the boardwalk rail and waited.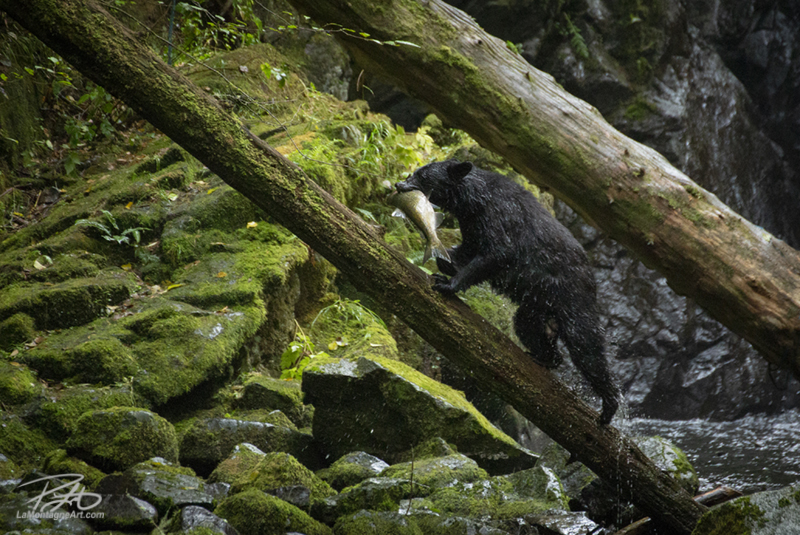 After about 25 minutes, the first bear showed up, plucked a salmon out of the river and went back into the woods. Over the next hour, four more bears came to visit, including two cubs. Got some great close reference photos from our vantage point, and it was wonderful to be see the wild bears feeding without any concerns.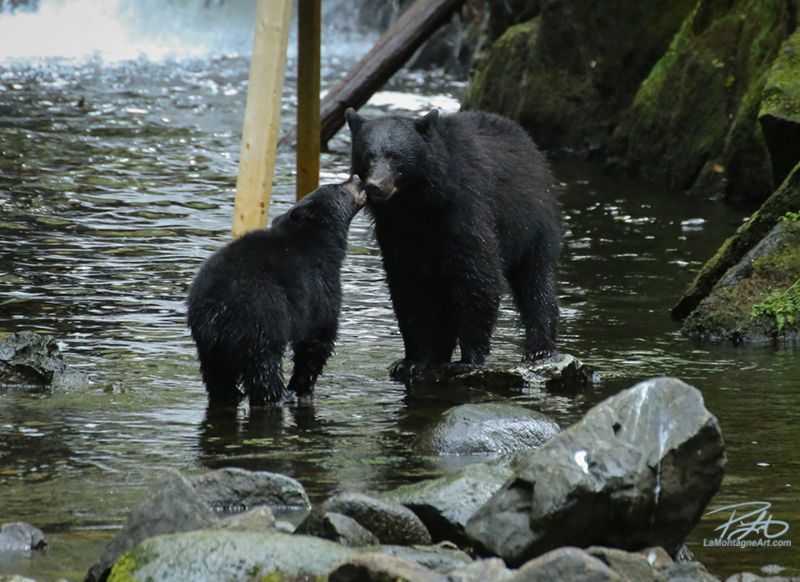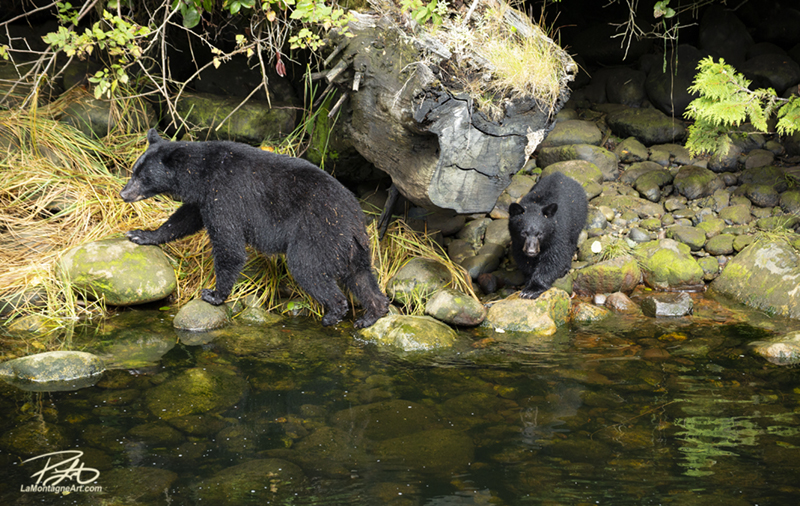 Today is an unscheduled lazy day doing nothing in our cabin, watching the rain come down outside. Shonna and I really don't do enough of that in our day to day. While sitting enjoying a beer in the cabin's outdoor hot tub this afternoon, we realized we had taken no pictures of ourselves the whole trip. So looking our absolute best, we took a very rare selfie.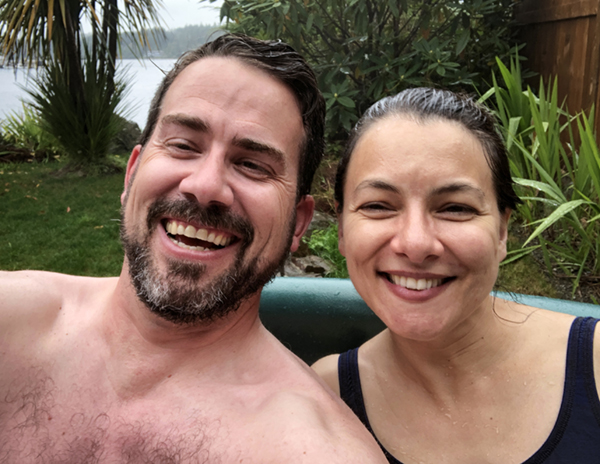 We'll drive back to Comox tomorrow morning for our flight back to Calgary in the evening, back to the grind on Sunday which is when this will be posted.
Rested, inspired, and ready to draw, paint and write.
Cheers,
Patrick
If you'd like to receive my newsletter which features blog posts, new paintings and editorial cartoons, follow this link to the sign up form. Cheers!