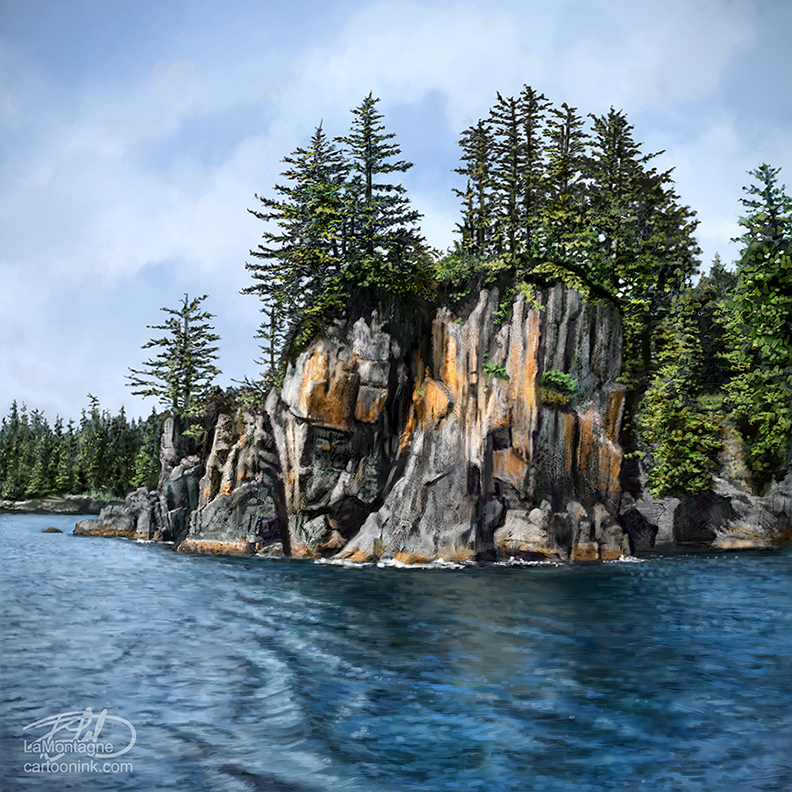 This is my first landscape painting, a formation near Ucluelet, B.C. called Elephant Rock.
A few years ago, my wife Shonna, and I took a vacation to Vancouver Island, the first time there for either of us.  While many find the long drive to be part of the experience, we're destination types, so we flew into Comox, picked up our rental vehicle (reserved a car, got a massive truck, which was quite a lot of fun), and spent the week touring around.  We visited some friends and family, spent a few days in Victoria, then drove out to the west coast of the island where we rented a cabin in Ucluelet for a few days.  It ended up being one of our best vacations to date.
The drive out to that part of the island is beautiful.  Coastal rainforest, a roller coaster highway that's not for the faint of heart, with a lot to see along the way.  At the end of the road you'll find Long Beach, hiking trails, spectacular ocean vistas and two little towns.  On one end is Tofino and on the other Ucluelet, where we'd booked our cabin.  Friends of ours used to live there and loved it and after visiting both towns, we're glad we stayed in Ukee.  We've lived in a tourist area for two decades and to us, that's what Tofino felt like, a tourist town.  A couple of hours there and we were happy to head back to Ucluelet, more of a working fishing village, but still a tourist draw as well.  It's only a 30 min drive between towns, but  we stopped along the way for a hike through the rainforest on an elevated boardwalk, complete with staircases and bridges that emptied us out onto a beach at low tide, where we could wander among the rocks looking at sea life in the tide pools.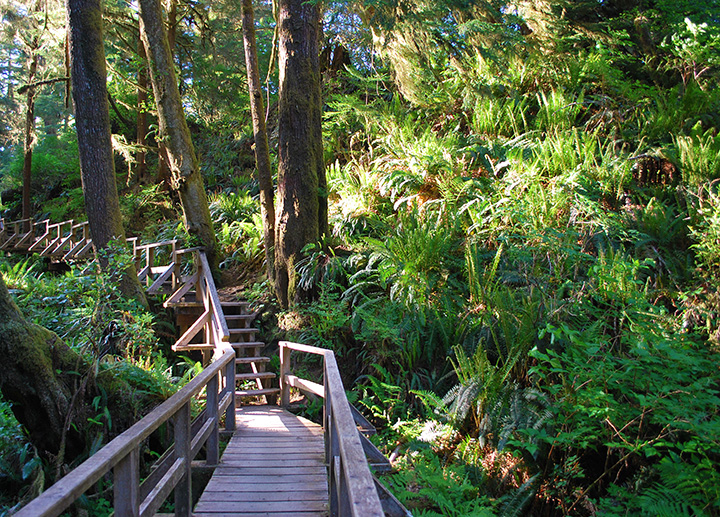 One of the highlights of this island trip was a whale watching cruise through the Broken Islands group, something we'd booked in advance with Archipelago Wildlife Cruises.  Al and Toddy live aboard their boat and take tourists out to see the abundant wildlife and incredible landscape and it truly was one of the best days we've had on any vacation.  We saw Grey Whales, Humpbacks, Sea lions, Bald Eagles and more, and I was happily snapping photos left and right.  Now, none of them ended up being good reference for my Totem paintings, but this wasn't work, it was a vacation.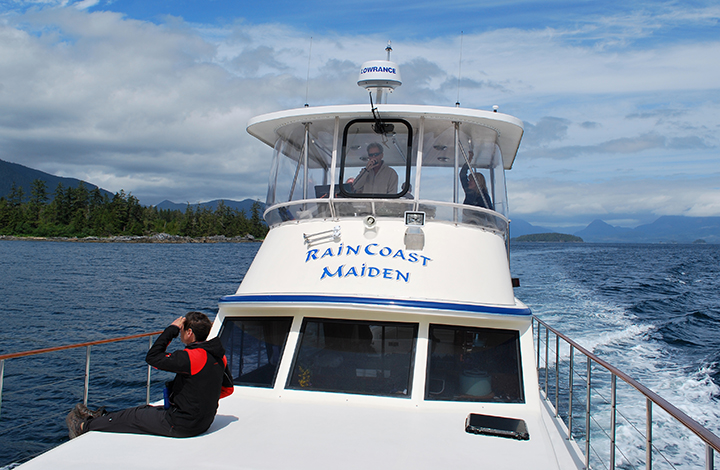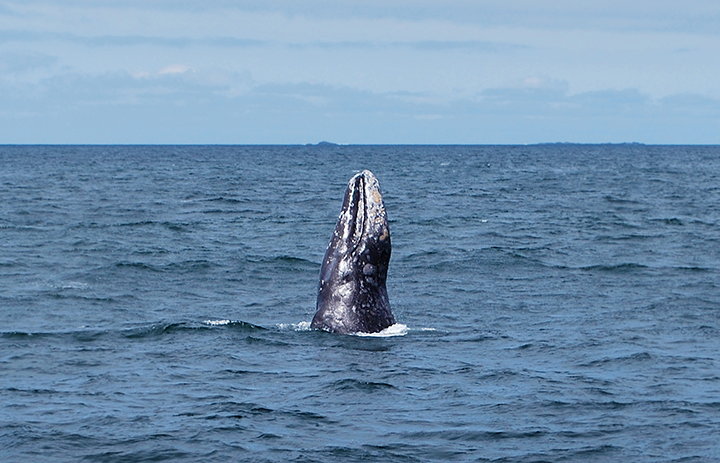 On the way back, Al drew our attention to Elephant Rock.  I recently sent him an email asking for a refresher on the history of the rock and he sent back this explanation.  "The rock marks a boundary between the Ittatsoo tribes and the Toquart tribes.  The boundary goes beyond the time of tribal memory.   Essentially boundaries marked shore rights.  If a whale washed up it belonged to the tribe with the rights to that shore line.  Within living memory this was a peaceable boundary until the government drew official lines between the various tribes in the area, probably all over the province.  They didn't use that rock, the official line is somewhere between Elephant Rock and the existing village in Ucluelet Harbour.  The tribes on either side have never come to agreement over this official boundary."
Once again, government intelligence rears it's ugly head.  But that's the other part of my business and I'll leave that alone right now.
I remember taking the photo and thinking, "I'd like to paint that," even though I consistently tell people that I don't paint landscapes.  For three years it has laid dormant in my archives until I recently got the urge to give landscape painting a try.  While I'm fortunate to live in one of the most beautiful places in the world, spend a lot of time outdoors and taking photos of the Rocky Mountain landscape in my backyard, it's funny that my first landscape isn't from around here.  People come from all over the world to visit our neighbourhood and see the sights we get to experience every day.  But, you get used to it and as wonderful as it might be, you like to experience something different once in a while, which is why I enjoyed the area around Ucluelet so much.  I'm sure if I lived on the island for twenty years, the mountains I see every day here would have a similar draw for me.
I thoroughly enjoyed this landscape painting, although it did have me frustrated at times.  It took a LOT longer than I thought it would and presented me with challenges I haven't experienced before.  The detail I put into my animal paintings just wasn't possible here because of the distance in the image, not without making it so massive that even my powerful computer wouldn't have been able to handle it.  It's still one of the largest paintings I've done, the full resolution file measures 40″ X 40″ at 300ppi.  I painted it on both the Wacom Cintiq 13HD and 24Hd displays using Adobe Photoshop CC (photos only used for reference).  The square composition was unusual for me as well.  But it was a personal piece, an experiment, and well worth my time and energy.  I'm quite  pleased with the finished result and there will be more landscapes in my future.

One epiphany I had while painting this was that I wasn't just painting a place, but capturing a moment in time.  I was trying to get each branch right, the height of each tree to match its neighbour, the small ripples in the waves, and the light just right.  But, the reference photo was taken three years ago.  I realized that this island wouldn't look like this, now.  The rocks would, sure, but trees grow, they die and landscape is ever changing.  I rather liked that idea, that this was a moment that is gone, but I could still go there in the painting.  And it really felt like being back there.  As I painted, I saw things that had previously gone unnoticed.  Painting in a shadowy spot in the brush, I realized "hey, there's a tree trunk in there." or working on part of the rock formation and having a mental shift that made it feel more like sculpting than painting.
As odd as it might sound, this painting was a bit of a spiritual experience, one that I'm grateful to have had.  I'm going back to Ucluelet on my own later this Spring, an artistic retreat just to sketch, paint, write and take photos.  I've booked a little cabin right on the harbour.  I'll be going on another cruise with Al and Toddy and I'm looking forward to seeing Elephant Rock once again in person.  Having spent so much time with it in this painting, I believe I'll see it with new eyes.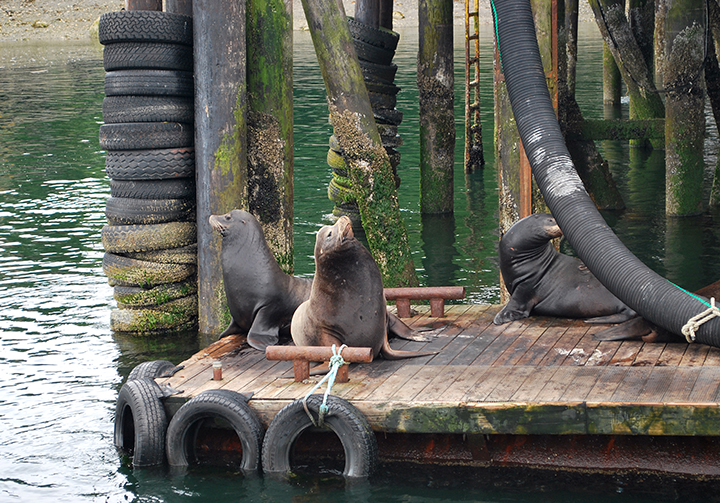 Click on any of these images to see them larger.