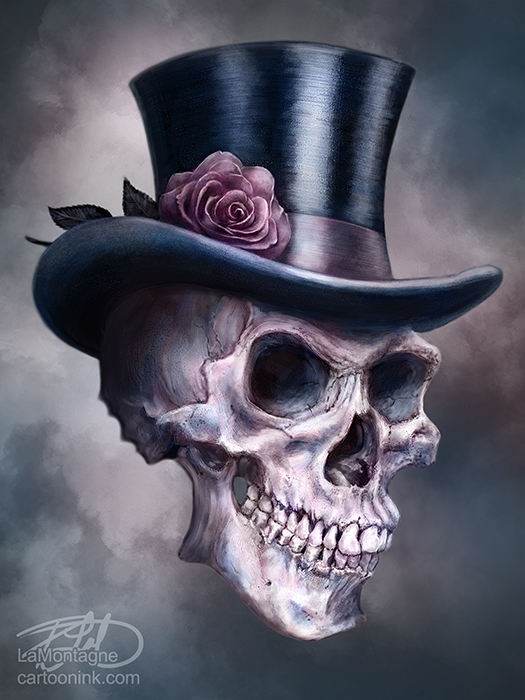 Every once in a while, it's nice to explore new challenges.  It was an exercise doing that very thing which led me to create my popular series of Totem paintings, which are still my favorite pieces to paint.  Recently I painted my first landscape, and while it was different for me, a worthwhile exercise and something I'll repeat again, I doubt that landscapes will be one of the foundations of my future work and business.  Feel free to call me on that statement if years from now, I'm painting more landscapes than anything else.  As somebody who had never planned on being an artist for a living, I'm well aware that today's plans are often replaced by tomorrow's happy accidents.
Recently, a commercial opportunity was put in front of me to paint some images that are a departure from anything I've done before, some paintings with a little death and darkness to them.  Still encouraged to use my own style in the renderings, which means they're unlikely to steal any sleep from anybody, this pending series of paintings will definitely look like a matched set.  I have no plans to abandon my Totem paintings, but for the next little while, you'll be seeing the sort of image shown here, while I explore this genre.
While I can't say anything right now about the intended use for these paintings, I plan to have a little fun with it, stretch myself a bit, and see if I can't poke a little fun at the darker side of life.
This was painted on both the Wacom Cintiq 13HD and the 24HD displays using Adobe Photoshop CC.  It began as a concept sketch that you see below, with the finished piece beside it for comparison.  You can click on the image to see it larger.