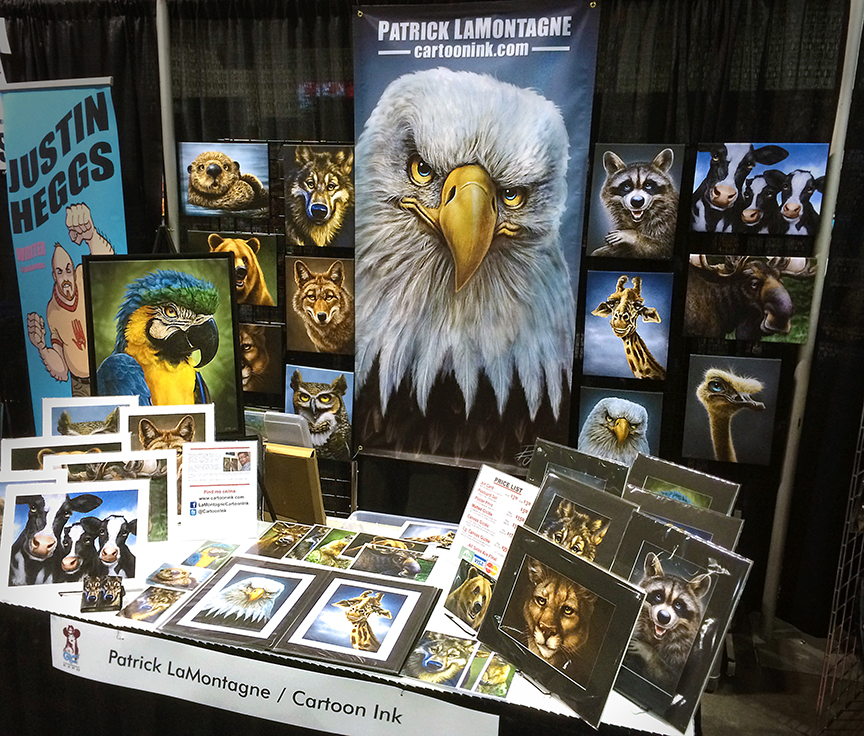 This year's Calgary Comic and Entertainment Expo has come and gone.  Much more than a 'Comic-con,' the event attracts some of the biggest names on the circuit and with attendance approaching 100,000 this year; it has become one of the largest of its kind in North America.
Many types of vendors flock to the Expo, including artists.  2013 was my first year with a booth and it was an incredible learning experience.  I spent a fair bit of money on display hardware, retail walls, print bins and other equipment you don't think about until you have to, so the first year wasn't a money maker.  I brought far too many prints with me, so with what I brought home, I just ended up with inventory that eventually sold throughout the year at About Canada in Banff, the Calgary Zoo, and my online store.
Armed with a little experience (a dangerous thing?), I started my 2014 prep early, bought fewer prints, added postcards to the mix (btw: VERY successful), and tweaked my plans to streamline things a little before setting up my booth for my second year.
Between the daily editorial cartoons, illustration gigs, and the paintings that I never seem to have enough time for, adding even one trade show to an already busy schedule is a frantic juggling act. Talking with other artists who do this sort of thing, seems we're all just two seconds away from panic and padded rooms.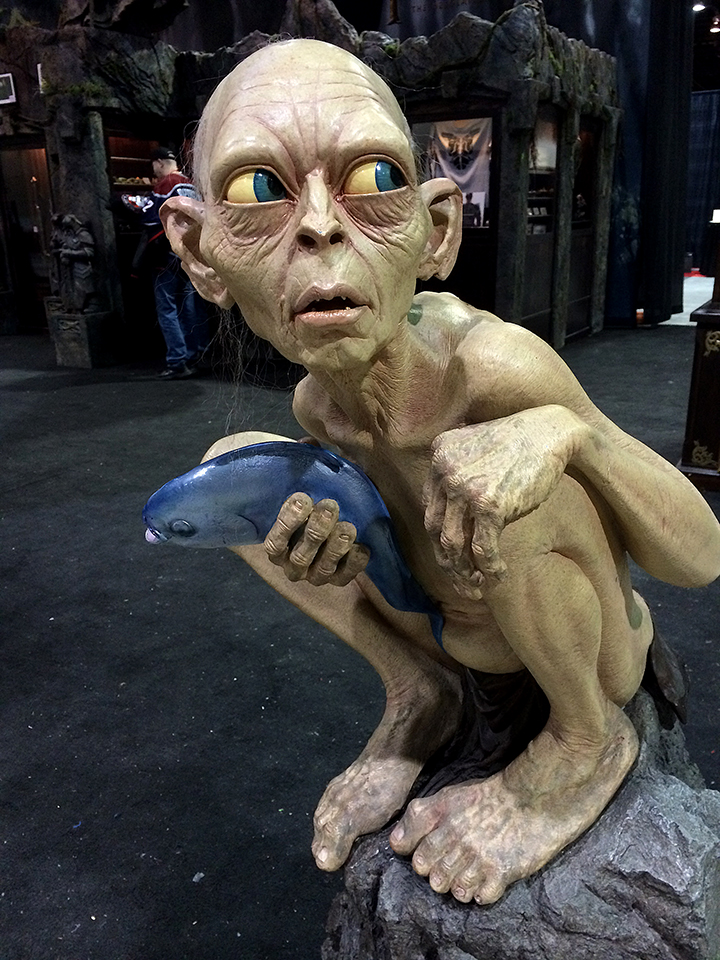 The addition of a fourth day this year, really just four hours, was an unwelcome fly in the ointment.  While the Stampede grounds in Calgary are only an hour and half drive from Canmore, the odds this time of year that the weather could turn foul (especially this year) meant that commuting every morning and night was unwise.  Long days in the booth without a break were exhausting, which made falling asleep at the wheel a real possibility.  Adding a fourth day meant taking an extra day away from my office last week in order to set up, plus another night in a hotel, an expense that wasn't justified by Thursday "just looking today" sales.
I figured I could handle Thursday and Friday by myself and it really wasn't difficult.  The time went by fast and when I needed a bathroom break, my next door neighbours were happy to mind my booth for me. For the most part, there's an atmosphere of camaraderie among the vendors.  We're all in this together.
My wife, Shonna, arrived on Saturday.  Our friend Michelle was attending the event and graciously agreed to bring my lovely assistant to my aid.  On Saturday and Sunday, the two busiest days of Expo, I really did need help at the booth and I couldn't have asked for better.  I wouldn't have done so well had it not been for Shonna's support, and that pretty much applies to my whole life in general.
While traffic ebbed and flowed, it was busy most of the time.  People wanted to talk, asked a lot of questions about the work and seemed genuinely interested.  Most artists want to stand out from the crowd, and many told me they'd never seen anything like my paintings, sweet music to my ears.   One woman said that they looked like, "cartoon animals who found a way to come into the real world."
I really liked that.
It was a great feeling to recognize a common reaction to my paintings.  Folks would be walking down the aisle, scanning their surroundings, and when their eyes settled on my booth, they'd suddenly stop and smile.  It happened more times than I could count and most didn't even know they were doing it.  It got so that Shonna started mentioning it to them.  They'd smile, give a nudge to whomever they were with and then they'd come over.
It made me think of Kermit the Frog in the Muppet Movie.  Dom Deluise's character gets Kermit to consider leaving the swamp only when he tells him that he could 'make millions of people happy.'  There are worse aspirations.
While there isn't a lot of opportunity for networking when the event is in full swing, I did have some good conversations with nearby vendors.  I couldn't really leave my booth to wander and look around, but one thing about staying in one spot, eventually everybody walks by, so I did get to see some of the great outfits.  Many enthusiastic people dress up (cosplay) as favorite characters from TV,film, comic books and video games, putting a lot of effort into their costumes.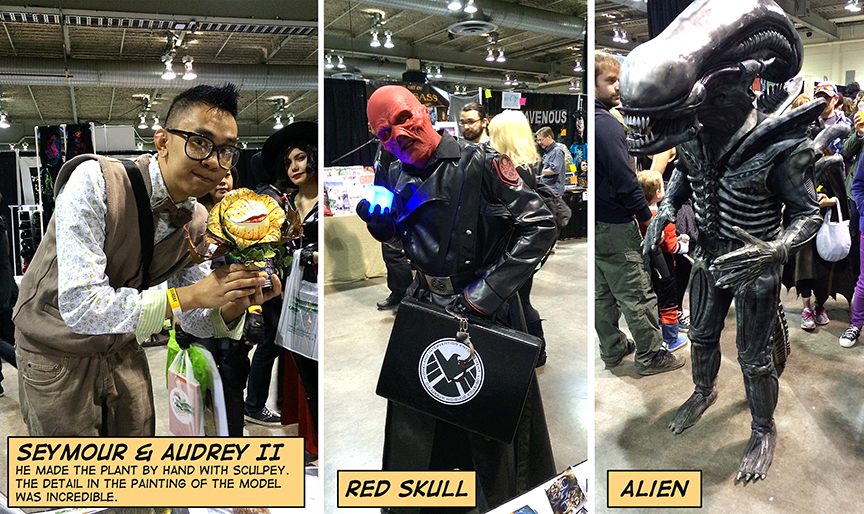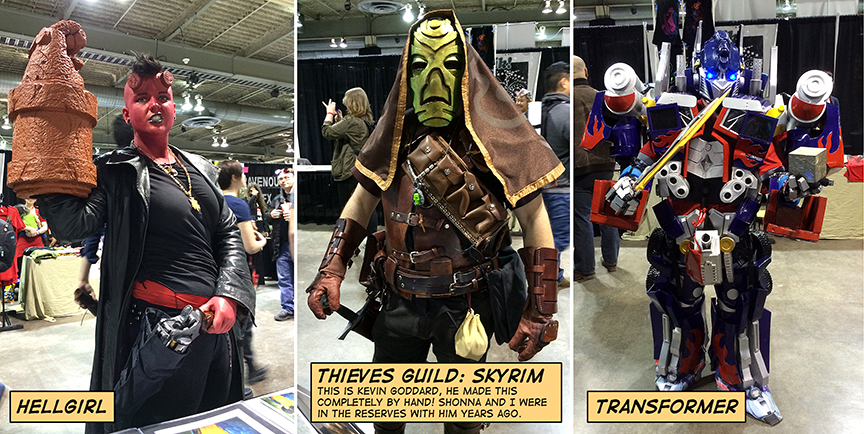 One of the great surprises this year was repeat customers.  People who bought a print or two last year came back to buy more.  Best of all, we recognized many of them.  I had plenty of people who said they'd seen my work before but couldn't figure out where.  When I mentioned the Calgary Zoo and About Canada in Banff, light would dawn in their eyes.  Many needed no prompting at all, they just told me where they'd seen it, and some had even bought my prints at those venues.
This face to face connection and recognition isn't something I get while working alone at home or through interaction on social media.  It was very gratifying.
While I'm comfortable talking to people and public speaking doesn't faze me, I'm a very private person and spend most of my time alone.  Being 'on' for four days in customer service mode was mentally and physically exhausting.  I was so drained on Monday that I managed to get one cartoon out and spent the rest of the day in a daze, interrupted by a few naps.
There is no doubt in my mind, however, that I want to repeat and improve upon the experience in 2015, especially since it will be a milestone 10th year for the show.  I've already booked my booth again and even asked for the same spot.  Each year teaches me something new and I learned a lot this time around.  I'll be going into my third year with a more solid foundation and a better idea of how to streamline things, knowing what works, what doesn't, and with some new ideas I'd like to try.
Even though I cut back from last year's order and did very well, I still came home with more prints than I wanted, mostly from fear of not having enough for the whole weekend.  So once again, I'm having a big post-Expo print sale and everything in the store is up to 30% off.
One of these days I'll figure the inventory right.  Until then, I'll just keep trying.