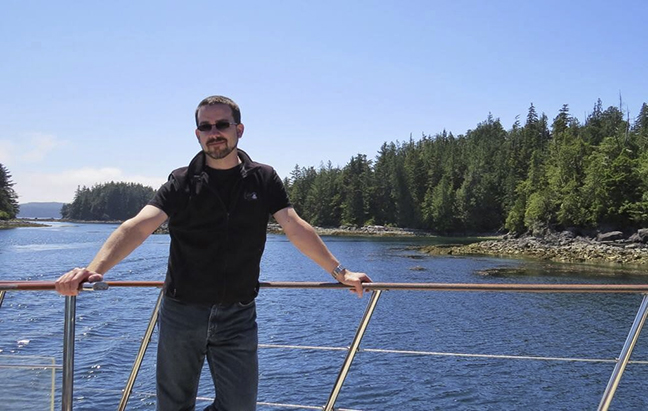 A few years ago, my wife and I vacationed on Vancouver Island for the first time. As neither of us is big on really long road trips, primarily because we'd like to stay married, we opted to fly into Comox and then rented a car. We visited a few friends and family, drove down along the inland coast to Victoria for a few days, and then ended up in Ucluelet and Tofino for a couple of nights. We wanted to take a whale watching tour and visit arguably one of the most beautiful parts of Canada.
I think we booked with Archipelago Wildlife Cruises because of the incredible reviews we'd seen on Trip Advisor, but also because it was an owner/operator small business rather than a factory tour. A few years prior in Mexico, we'd taken a tour with Edventures (go ahead, look 'em up) and were so pleased with the personal service that we decided to always go with a smaller tour when available, even if it cost more.   They just try harder.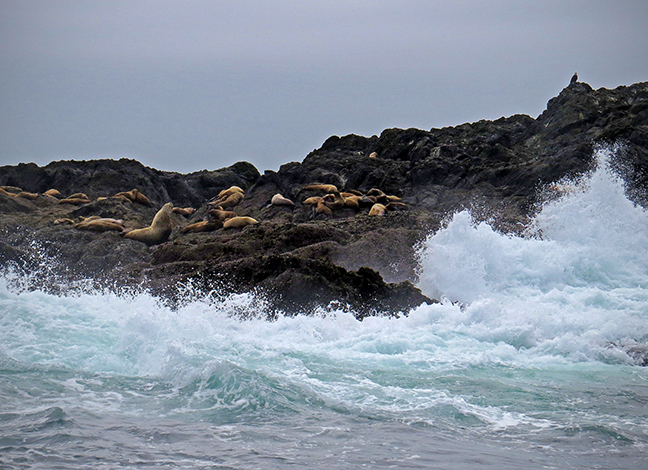 It was on that first trip to Ucluelet that we met Al and Toddy Landry, who live and work aboard their 53 ft. yacht, the Raincoast Maiden. Visit their site to read their bios and then browse around. It explains their tour and operation far better than I can.
That tour was easily the highlight of the whole vacation and we kept in touch with our hosts. Toddy had graciously given me access to her photos for reference, one of which I used for my Otter Totem, and I sent them a print of my Humpback Whale Totem, which they told me was hanging aboard their yacht. Considering there's not a lot of room for artwork when you live on a boat, I took that as quite the compliment.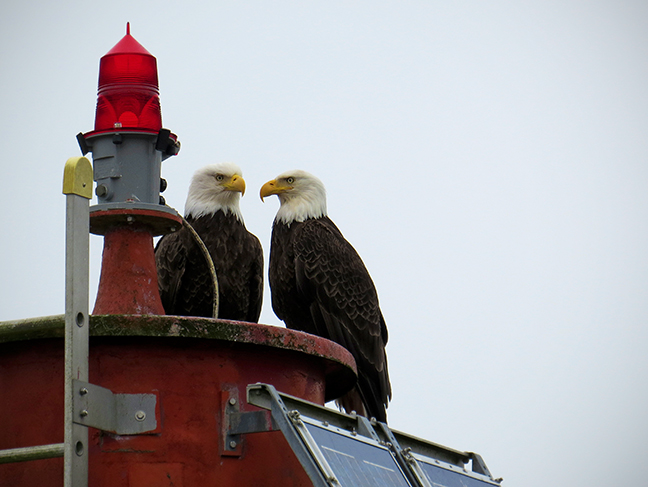 Fast forward to my recent trip to Ucluelet, (my artist's retreat, working vacation, whatever you want to call it), I had already planned to book a tour with them again. I had recently completed a landscape painting of White Face Rock, based on a reference photo I'd taken on my previous trip with Al and Toddy, and they had said they really liked the painting. The rock is a feature they see every day as they return from their tour. As I couldn't surprise them with a print if they had nowhere to hang it, I offered to bring one to them if they liked, but understood if they didn't have room. Toddy gave me the measurements of the available space and I brought the print with me.
Even though I'd only spent time with them that once, about five or six hours, it felt like I was going to visit old friends. That's how welcome they make you feel when they take you around Barkley Sound and the Broken Group Islands. On this return trip three years later, Toddy greeted me with a hug. I gave her the framed print, and it was hung aboard the boat the day after.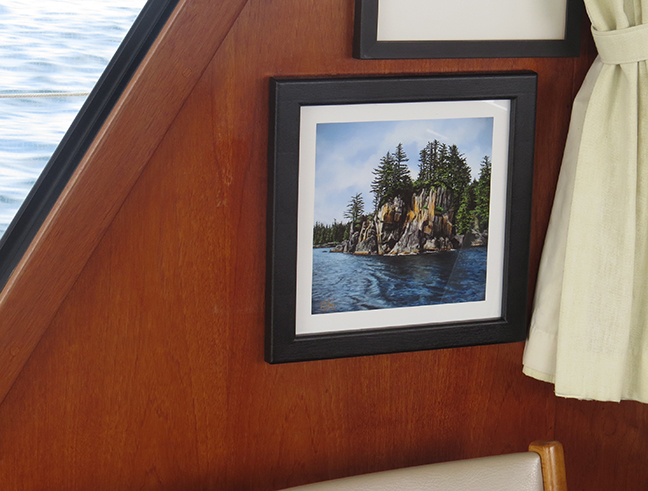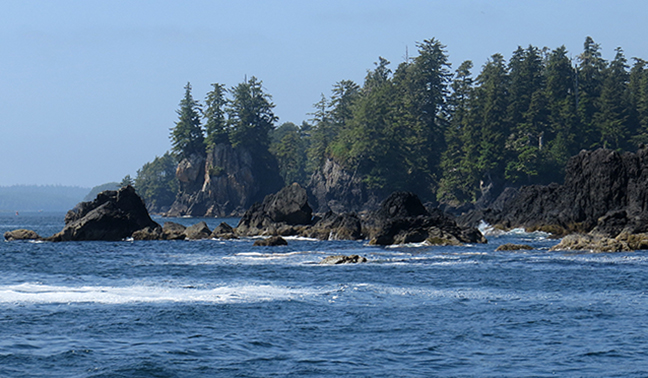 I've never lived by the ocean and haven't spent much time on the water, but I loved it, cruising around the islands, taking photos of wildlife, and smelling the salt air. With no agenda for my five days out in Ucluelet, it was soon evident that one day on the water wasn't going to be enough. I ended up going on the cruise three days in a row and I'm so glad I did. Having lived in a tourist area the past 20 years, I intentionally booked my trip in the shoulder season of that area so it would be less busy. Had I not, they might not have had the room for me on such short notice.
With coffee and tea on all day in the galley, freedom to move around as you like, binoculars for every guest aboard, it was an incredibly relaxed environment. Both Al and Toddy would alert us over the speakers to points of interest, recount stories and history about the area, and set us up for an abundance of wildlife sightings.
At lunch one beautiful sunny day, anchored in a quiet sheltered bay off one of the islands, I found myself reclining at the rear of the boat on the lower deck. Looking out at the water with a cold beer in my hand, I thought, "Perfect. Just perfect."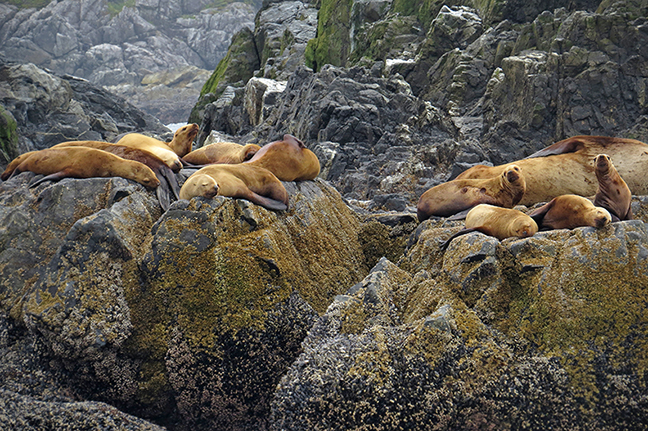 With whale sightings seeming to be hit and miss in the area this year, at least in June, I didn't get to see any this trip, but we saw four on my first tour three years ago, so I wasn't too disappointed. It's just one of those years. The whales follow the food and according to the local fishermen, they were seeing them further out at sea while I was there. Wildlife doesn't punch a clock, so it's a gamble no matter where you go and it was the same story for all of the tour companies in the area.
But with Al and Toddy working hard to find as many wildlife opportunities as possible, we saw plenty of sea lions and seals, countless bald eagles, many different bird species, sea otters splashing and playing, a black bear foraging on a beach and some of the most spectacular coastal scenery you'll see anywhere in the world.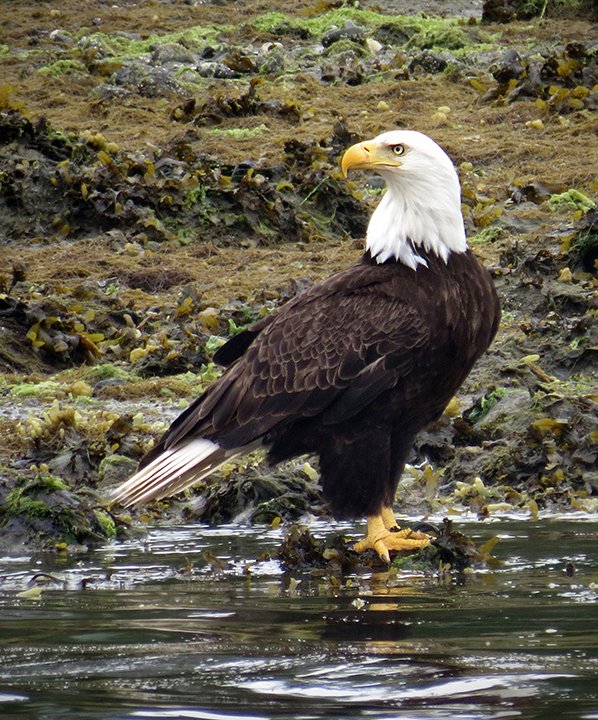 If you're ever on Vancouver Island, make the time to head out to the Ucluelet and Tofino area, and if you know you're going to be there, book a tour with Archipelago Wildlife Cruises. You won't be disappointed.
I came home with a treasure trove of reference photos from which to paint, both for wildlife and landscapes. I can't wait to go back for more.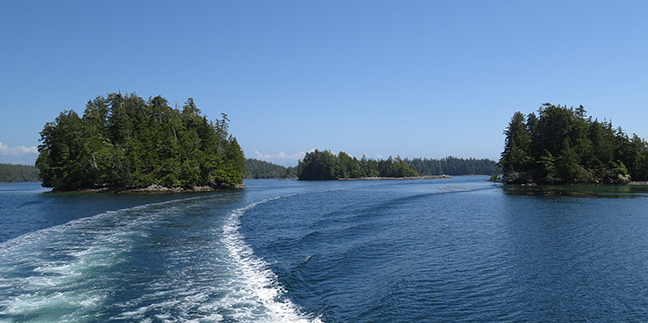 If you'd like to receive my newsletter which features blog posts, new paintings and editorial cartoons, follow this link to the sign up form.  Thanks!