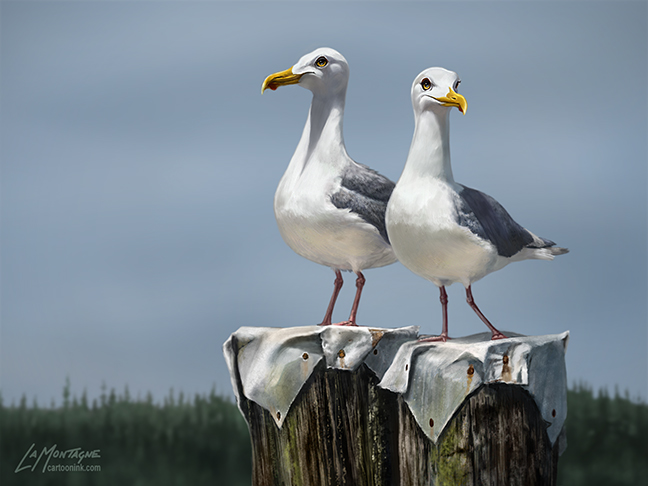 I titled this painting, 'Ukee Locals' as that's how residents in Ucluelet refer to their town.  Having lived in two tourist towns (Banff and Canmore) for the past twenty years, I often feel a kinship with locals in other tourist towns, knowing what it's like to make your living from visitors.  It's a love-hate relationship with the tourists sometimes so I have to fight the urge to tell every server, tour operator or staff member, "It's OK,  I'm not one of them, I'm with you!" which I'm really not, since I don't live there.
When you think of wildlife paintings, a seagull is hardly the first animal that comes to mind.  The fact that we're so used to seeing them in urban environments makes many of us think they're practically domesticated.  Expert scavengers, opportunists and thieves, they're not usually someone's favorite animal.  I kind of like 'em.
While out on my wildlife cruises in that area in June, something you're likely getting sick of hearing about I'm sure, I saw plenty of different species of wildlife and took a lot of photos.  I'll be painting animals from that trip for quite some time and each one I do just makes me want to go back for more.  While pulling into the dock one day, literally seconds before Al (with Archipelago Wildlife Cruises) cut the engines, I noticed two gulls perched on one of the many posts around the harbour.  What I was really aiming for was a shot of one of them flying, but when I got home and started sorting through my photos, I realized that this was the scene I wanted to paint and I used three different pics as reference, not including the one you see here.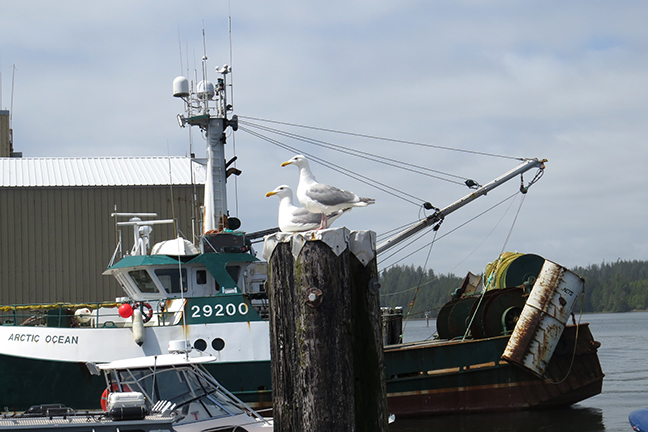 Originally this was just going to be a sketch painting, but the more I worked on it, I just couldn't put it away.  Even when it was finished, I found myself still wanting to work on minute detail that nobody was going to see.  The wood on the posts, the aluminum caps, the feathers, the light…each presented another challenge and I had a lot of fun with this painting.  It turns out that I learned a little about the birds themselves, too.

As I was painting them as a couple, I realized that I didn't know if males and females of this species looked alike or not.  Birds of different gender will often have different plumage.  It would be embarrassing to paint them as male and female only to have somebody point out that females look completely different.  Keep in mind that I'd already done a lot of work on these when this popped into my head.  Fortunately I found out that the only visible difference in this particular type of gull is that the female is a little bit smaller, which also worked for the painting.  I also found out that the type of gulls in the Ucluelet area, all up and down the northern west coast actually, are called Glaucous-winged Gulls, something that isn't going to matter to most people.  They're seagulls.
For the technically minded, this was painted in Adobe Photoshop CC on a Wacom Cintiq 24HD display.  Photos were only used for reference and all of the detail was achieved using relatively simple brushes without any texture overlays.
Incidentally, I did get the shots I needed of one of them taking off from the post,  so there might be another seagull painting in my future.

If you'd like to receive my newsletter which features blog posts, new paintings and editorial cartoons, follow this link to the sign up form.  Thanks!