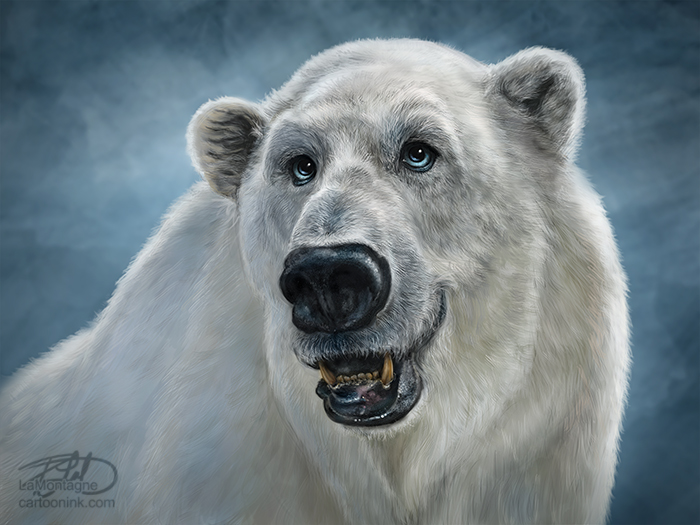 Here's my latest painting, the Polar Bear Totem. I've mentioned before how I never really know when I'm going to paint a specific animal. I'll keep reference photos for some animals for years before using them, waiting for the time to seem right. In other cases, I'll get the urge to paint an animal and go searching for reference right before I start the painting, as I did for this one. I bought several stock photo images and used all of them in the painting of this bear, although as always, no photo is part of the painting, only used for reference. It was painted in Photoshop CC on my Wacom Cintiq 24HD display.
In my experience, if I paint an animal for commercial purposes alone, it often doesn't end up working for me or it turns out to be less than I'd hoped for. The Magpie and Ground Squirrel have always felt like that for me, because I painted them for my first gallery in Banff, rather than for myself.
On many occasions, I'll enjoy working on a painting, but I'll feel the finished result just isn't as good as it could be, so it'll take me some time away from it until I feel good about it. Even then, some of my most popular paintings aren't my personal favorites.
Thankfully, this one felt special and the final few hours were some of the most enjoyable I've spent painting this year.
Initially, I wanted to have this done for the upcoming Calgary Expo show in less than a couple of weeks, but to make my deadline to get all of my prints done, allowing me time to sign and package them, it would have had to have been done a couple of weeks ago. I was feeling rushed, looked at how many prints of images I was already bringing and it became clear that I didn't need it, so I decided to take my time. I'm quite pleased that I did as I'm very happy with the result.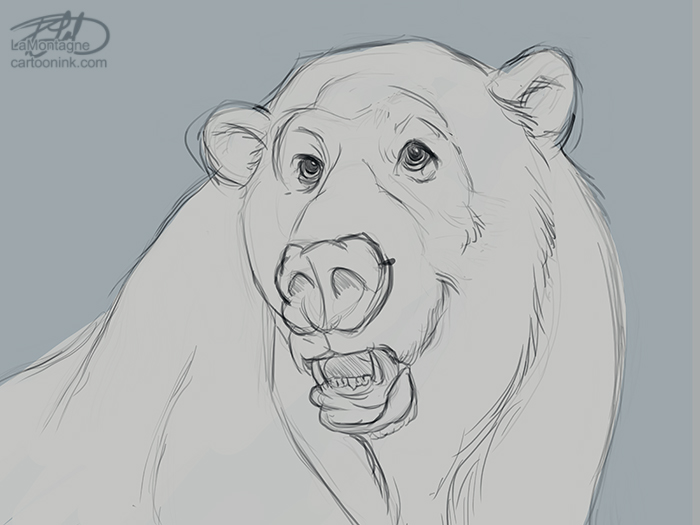 I've always loved bears, even though I'll admit to an irrational fear of them, which sometimes does put a dark cloud over camping trips. I live in bear territory, specifically blacks and grizzlies. Despite the fact that I hike alone quite a bit, and have seen plenty of bear sign, I've never run into one in the wild, which after twenty years in the Bow Valley, is kind of odd. But I'm 'bear aware' as they say in these parts, carry bear spray and know what to do if I encounter one. In most cases, as long as you don't startle them or they aren't feeding or with cubs, they'll want to get as far away from you as they can. Even if they charge you, it's often a bluff, and if you can keep your wits about you, they'll stop short of contact or veer off and hightail it in the other direction.
I've worn a black bear's tooth around my neck for many years now, given to me by an acquaintance years ago in Banff. He'd found it somewhere in Quebec years ago, still in the skull, and it's very old. I had a jeweler friend craft a silver bezel setting for it so I could wear it on a chain.
The first Totem I painted was a Grizzly, but it hasn't felt right yet to paint a black bear. Sooner or later, it'll show up, I'm sure.
Why I felt the time was right to paint a polar bear, is beyond me. Perhaps it's the increased frequency of their mention in the news, associated with climate change and the expected loss of their habitat. Scientists fear that polar bears, while very adaptable, show no inclination to survive solely on land. They thrive on sea ice, that's their habitat, and when it's gone, likely they will be as well. A recent CBC report stated that 'Inuvialuit traditional knowledge' says the bear numbers are actually fine, so as in all things, the truth of their future lies somewhere in the middle, although they are classified as a threatened species.
The polar bear has no natural predators other than man. Classified as a marine mammal, it's carnivorous and a skilled hunter. While they will avoid encounters with humans when they can, they aren't fearful of us and have been known to kill and eat people. Considering how many of them have been killed by humans, I say turnabout is fair play.
I'd like to visit Churchill, Manitoba one day and take one of the polar bear tours, to see them in their natural surroundings.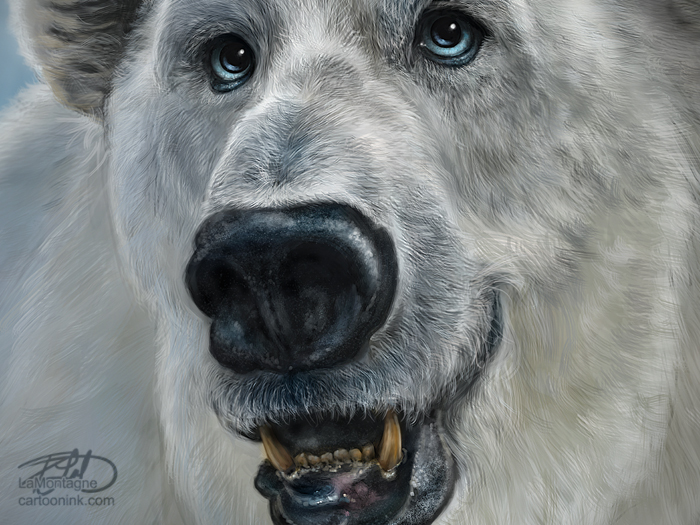 If you'd like to receive my newsletter which features blog posts, new paintings and editorial cartoons, follow this link to the sign up form. Thanks!