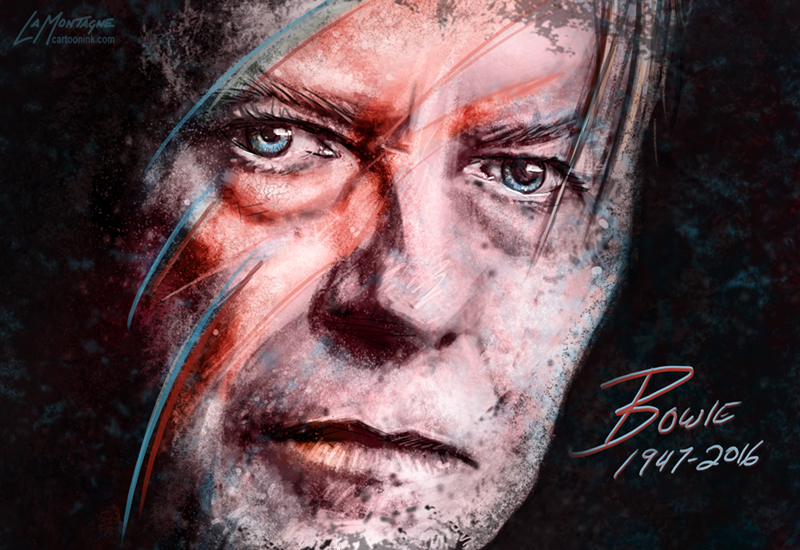 As an editorial cartoonist, one of the topics I loathe is death cartoons.
I've mentioned this before, I know, but it all comes to mind again today with the death of David Bowie. You want the brutal truth, here it is. When somebody dies and I hear about it in the news, I weigh the depth of their publicity and decide whether or not I have to do a death cartoon, which for me, is often a memorial, more painterly than my other cartoon work. I'll often include a quote, their name, and the birth/death dates.
Many cartoonists will draw the pearly gates, where there is a humorous or heartfelt exchange between St. Peter and the recently deceased. I loathe that concept and have never drawn a 'pearly gates' cartoon, at least as far as I can remember. For one, I'm an atheist, but otherwise, it's just an overused vehicle that grates on my nerves.
That last statement makes me a hypocrite, by the way. I have recycled plenty of overused vehicles in my time as an editorial cartoonist, just not that one.
It seems incredibly callous that I must end up passing judgment on somebody's life, whether their death is worth my effort. Does this person's passing warrant the expense of my time and energy and will newspapers want to publish it? I have to ask myself that question. Then I must answer it.
Politicians, it comes down to their impact on society, the level of their station and historical significance. Celebrities, it's whether or not they were beloved or famous enough. Religious leaders, artists, social activists, anybody who has contributed to our culture in some way or another merits weighing them on the decision scale.
Yes, it feels as dirty as it sounds. Sadly, it's part of the job. In the case of Robin Williams, I deliberately chose not to draw a cartoon, even though he warranted one. It just hit me at a very low point in my own life and I didn't feel like digging a deeper hole.
I woke this morning at my usual time of 5AM. I live in the Mountain Time Zone, but I have newspapers in the east so I need to get an early start every day, especially on Mondays. As I've done this for years, I even get up that early on weekends, because it turns out I'm a morning person and that's when I do my best work.
My routine is to go into my office, turn on the computer and go downstairs to start the coffee. I come back up, check my email, scan the news headlines and hop into the shower. If there's a breaking story, I'm thinking about cartoons.
The first email this morning was a CBC news alert about the death of David Bowie.
"Shit."
Yeah, that sucks. 69 is not old anymore and cancer, well… shit. David Bowie. What a shame.
No doubt I had to do a cartoon and even though it was unlikely to happen, I had to try to be original, which is a tall order at the best of times, but especially when doing a memorial cartoon. I knew pretty quickly that I wasn't using a quote, because that guy was a poet and everybody else would be quoting his lyrics or something profound that he said. Many would be using the same ones.
I showered quickly, got dressed, grabbed a coffee and starting looking for reference and ideas. The only thing I could think of was to do a portrait but it would have to be quick. I'm an obsessive nitpicker when I paint and I invest a lot of time in that work. But on a Monday morning when all of my papers are expecting cartoons before 10 and everybody and their dog is posting memes and my competitors will be doing the same thing I'm doing…yeah, I had to be fast.
I found a few reference pics, figured out what I was going to do, put down the broad strokes, got the features in the right place and then just painted, with upbeat music playing in the headphones to help me keep the necessary pace. The choices were made on the fly. Originally it was going to be Bowie when he was young, then as Ziggy Stardust, even as The Goblin King from Labrynth, then finally just a portrait of him as an older man, trying to capture his personality.
I used my own digital texture brushes, layer upon layer upon layer, threw down darks and lights, and just kept piling it on. Eventually, getting to a point where it was coming together quickly, after only about an hour and a half of painting. Finally, I wanted to add in some different colour and almost did the full Ziggy lightning bolt on his face, but opted for more of a suggestion of that persona, faded like an old tattoo, a remnant of his past but still a big part of who he is and what he'll be remembered for.
The final piece ended up taking only a couple of hours, and yet still stretched my skills, that element of haste forcing me to cut corners, paint more loosely, and sacrifice the detail I normally enjoy and am known for in my painted work. I even abandoned my usual practice of using typed text, having to choose an appropriate font and instead just scrawled in the name and dates. It just seemed to work.
This piece ended up being a happy accident, brought about by the sad passing of a true visionary. I didn't just have to do a death cartoon, I realized that I wanted to, a small tribute among so many today, paying respect to an artist whose impact on music and culture can't be overstated. Few of us can claim that we have lived our lives so well.
I've drawn a lot of death cartoons and when I finish one, I usually feel a sense of relief, that it's over and I can move on to something else, despite the fact that the responses are usually very positive.
With this one, however, I feel I've learned something, and become a better artist as a result.
This piece made an impression on me.
Just like David Bowie.