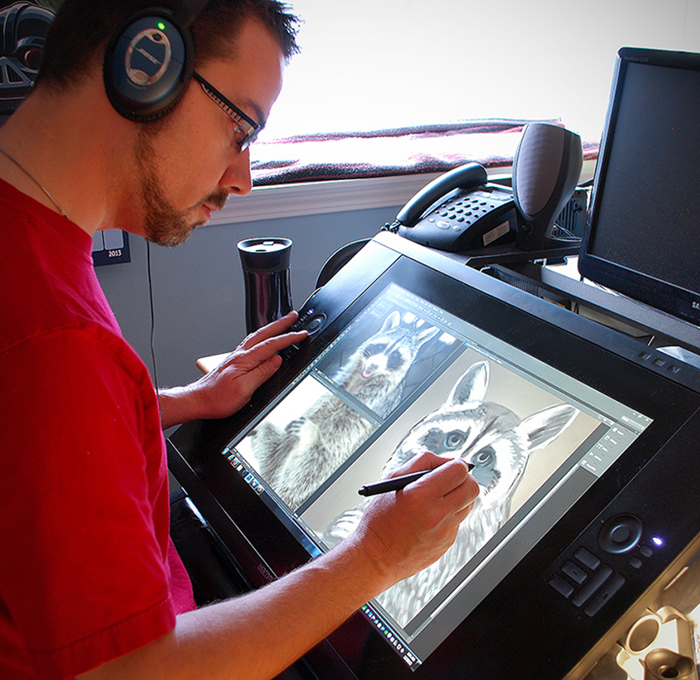 Last week, I got an email from a fellow in Germany. He complimented me on my work, and asked, "Imagine you had a time machine and could meet the younger version of yourself. What would the number one advice be, in regards to art?"
My wife and I were making dinner at the time and I read the email to her off my phone. While Shonna is not an artist, she's been on this ride with me since the beginning, and she knows what I know when it comes to this business.
We took turns rattling things off and within minutes came up with twenty or thirty different nuggets of truth and I wrote them all down on a scrap of paper.
Experience will always be the best teacher. If you're an amateur artist looking for wisdom, you've got to earn it. But here is a small sampling from that list, some of the things I've learned so far.
1) Don't work for exposure. When is the last time you saw an image, a logo, a website, design or anything creative and then thought, "I'm going to find that person and hire them."
That's what this type of client is promising. They want something for nothing and anybody they refer you to will want the same. I have worked for exposure more than once. I never will again.
2) Don't work for spec. Spec work is often disguised as a contest, a call for entries or an audition piece. It often means a company asks many people to submit designs and the winner gets prizes or prize money. The company then owns whatever the winner created and gets it at a fraction of a cost they would have had to pay a professional. The company usually owns everything else submitted to the contest as well.
Spec work is for suckers. Work disguised as a contest is for suckers. I have been that sucker, more than once, and it feels dirty.
3) Don't try to be everything to everybody. Don't follow trends. Don't copy someone else's success. It just won't work. Unless you have the exact same background as that person, started from the same place, with the same opportunities, jumped the same hurdles, had the same skills, influences, inspirations, environment, training, experiences, talent or luck, you will not duplicate another person's success. You can still BE a success, but it'll be YOUR success, not a poor copy. By trying to mimic another artist or ride his coattails, you are depriving yourself of discovering your own niche or voice.
Learn from everybody. Copy nobody.
4) Figure out the difference between trolls, constructive criticism and just plain bad advice. There will always be those who tell you that you're doing it wrong. Some of them will be competitors who are threatened by you or other artists that are just plain jealous. The view has always been clearest from the cheap seats. People that never try will criticize those who do. Social media often seems to be based entirely on that premise.
Some people are genuinely supportive, want to help you, want to see you succeed and have nothing but the best of intentions. If they aren't in your business, however, don't know what's involved, haven't got more experience than you, or just don't know what your goals are, you need to find a way to smile and say, "Thanks, but no thanks."
Good people with good intentions can still give bad advice.
5) Do what you love for a living and you'll never work a day in your life.
That is one large steaming pile of manure.
Turning your art into a business may ruin everything you love about art. You can live a satisfying creative life without ever making it your livelihood.
I've been self-employed full-time for over a decade now. I haven't been a struggling artist for many years and I'm making a good living at it. The mortgage gets paid; we're not living in debt, and have never borrowed money from our parents. And while I take nothing for granted, I haven't had to worry about getting a real job for years.
But every day I draw something I don't want to. Sometimes I spend my whole week drawing things I don't want to. This is not a complaint. This was a choice. I still make my own schedule. I get to go for my hikes in the afternoon, grab some time to take photos at the zoo and myriad other activities and diversions I wouldn't get to enjoy if I had to report to a desk during specific hours assigned by somebody else. And I'm still drawing every day, which means I'm getting better at it every day.
I work longer hours for myself than I ever did for anybody else, very early mornings, evenings, weekends, statutory holidays and have done so for twenty years. I don't know how to live any other way now. Art for a living is hard work.
You must invoice, keep your books and accounting in order, pay your taxes first and yourself last. You need a website, social media, keep up on industry news and advances. You need to contact clients, sell whatever you produce, figure out what works, what doesn't, read articles, read books, make phone calls. When an invoice isn't paid, you have to track it down. When equipment breaks down, you have to pay to fix it, when your internet crashes; you have to call your provider. There is no I.T. department, no human resources, and often no immediate help in a crisis. You must make time for training and improving your skills. I could write a thousand more words without once mentioning creating anything.
All of this is time away from doing the actual work you need to do in order to get paid. I'm writing this post, I'm not getting paid. That's OK. This sort of thing has become a small part of my brand and I enjoy writing. It is good practice, too, and a little payment forward.
Honestly, I didn't think much about whether or not I should turn my love of drawing and painting into a business, I just ended up doing it. But we never had kids and my wife told me in no uncertain terms that she could not support us both. Not in Canmore, Alberta where the paradise tax is high. The minute I couldn't pay my half of the bills, I had to get a job, an ultimatum to which I agreed.
This business was part-time for ten years before it was full-time. Had I tried to do it too early, I might not be doing it today. Most of the things I thought I wanted, I'm glad I didn't get, like a full-time job with a daily newspaper, which would have meant being laid off by now. Timing matters and that leap of faith is frightening, because you have to burn a lot of security when you jump. While it was pretty tight those first couple of years, I have no regrets and can't imagine doing anything else.
As for the best advice I would give my younger self if I had the opportunity?
He did just fine without it.
Cheers,
Patrick