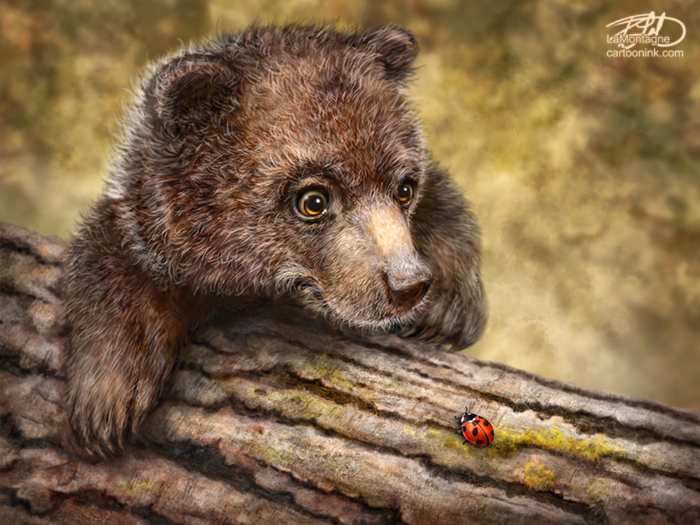 For more than twenty years, I've lived and camped in bear country. I've made it a point to be well educated about them, I carry bear spray and make noise while hiking, I know what to do should I see a grizzly or black bear and I keep a clean site when out camping in the mountains. I have never had a negative encounter with a bear and it bothers me a great deal when I hear of one being fed by tourists, hunted for a trophy, or killed on the highway or train tracks.
While bears have long been one of my favorite animals, I've also been afraid of them. When camping, I'll most often end up lying awake in my tent for an hour or two before falling asleep, and if I wake up in the middle of the night to answer nature's call, I'm in and out of that tent pretty fast, and might lie awake for another hour listening to every little noise outside. Even though I'm well aware that if something wants to get me, a thin layer of nylon isn't going to make much of a difference, but I've been operating under the, "if I can't see it, it can't see me," perspective. Anxiety is rarely rational. Statistically speaking, I'm more likely to be injured by a distracted driver on the highway than I am by wildlife.
Despite this bear phobia, which is an amusing annoyance to my fellow campers, I still go out and enjoy the woods often.
This past May, on an annual first camping trip of the season at a favorite secluded lake in B.C., I slept soundly in my tent for three nights without worrying about bears at all, an unexpected surprise. Oh, they were out there, I'm sure, but my common sense seems to have finally overridden my bearanoia, and I credit that largely to my recent experiences at Discovery Wildlife Park.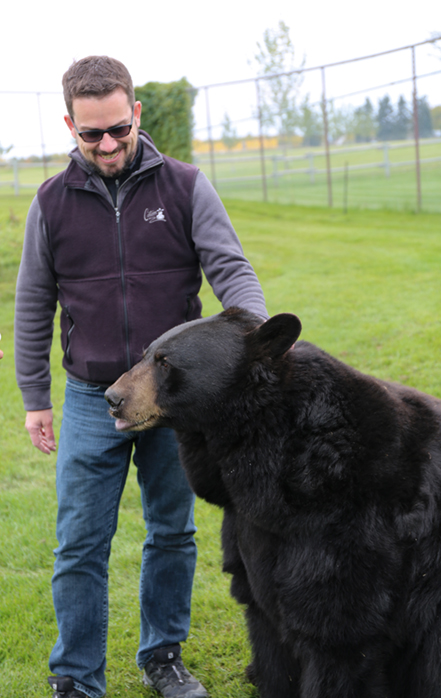 I don't like phobias. We've all got them, but I try to challenge mine whenever possible. So, over the past couple of years, I've paid for two behind-the-scenes bear encounters with their black bears and they were two of the best experiences of my life. These aren't wild bears, they're orphans who've been raised at this sanctuary. But they're still bears, and to be inside the enclosures with them, to learn about them, to touch one of them, and even to feed one from a spoon and then a piece of apple from my mouth was exhilarating. My fascination displaced my fear.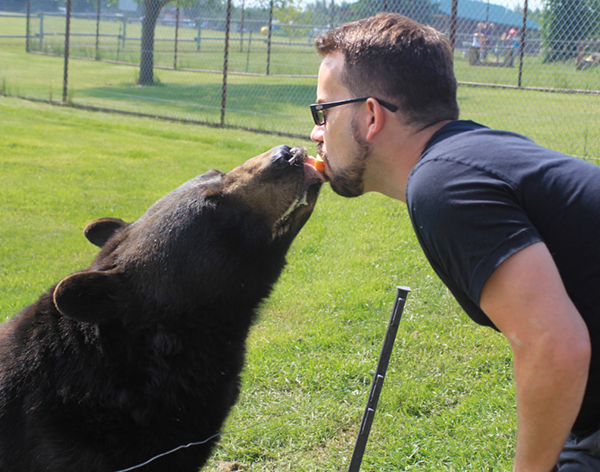 As my prints are sold at Discovery Wildlife Park and I've gotten to know a number of keepers and staff over successive visits, I've developed a nice relationship with the park, one that I hope continues to grow for many years to come.
Earlier this spring, when their new Kodiak cub arrived, I was kidding/complaining over text messaging with the head keeper that with my schedule so busy at that time, I wouldn't have been able to come up and take pictures of Berkley for at least a month or more after they opened a couple of weeks later. Much to my surprise and delight, I was invited to come up the next day so that I could take some photos of her, for a donation I was more than willing to pay. I wasn't about to pass that up.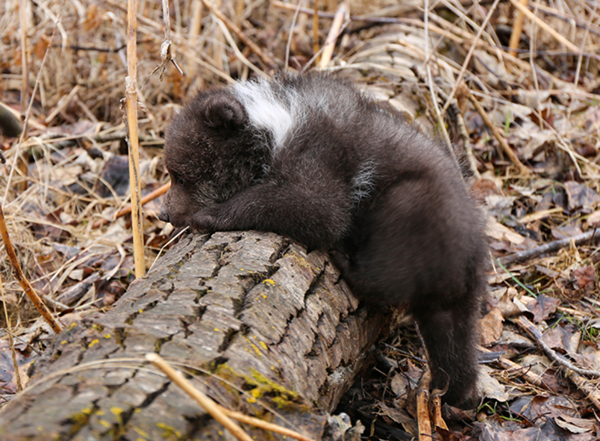 I've talked about that encounter in another blog post, so I won't rehash it here, but it was wonderful. Even though Berkley crawled over me and played in the woods while I snapped photos, I know that it was a rare opportunity I won't get again. She's grown so much already that now only the keepers can interact directly with her, both for her safety and that of the guests of the park.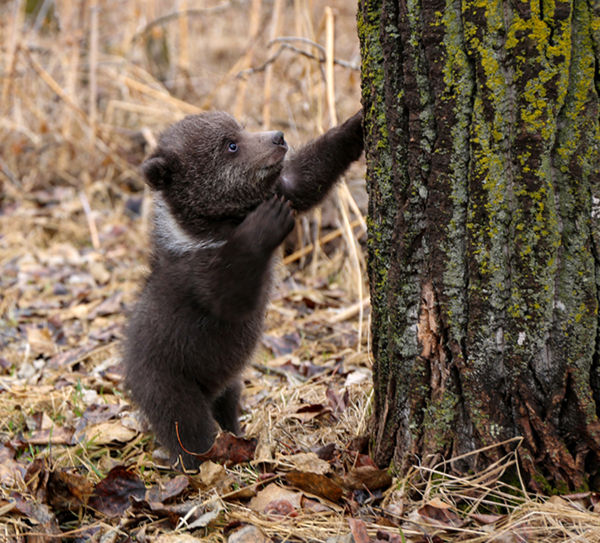 I wanted to paint her the way I got to see her that day, curious about everything, wide-eyed and playful, checking out all of the little wonders this new world has to offer her. There really wasn't a ladybug there, of course, but I already take a lot of artistic license with my whimsical wildlife paintings, and it just seemed to fit this little bear cub.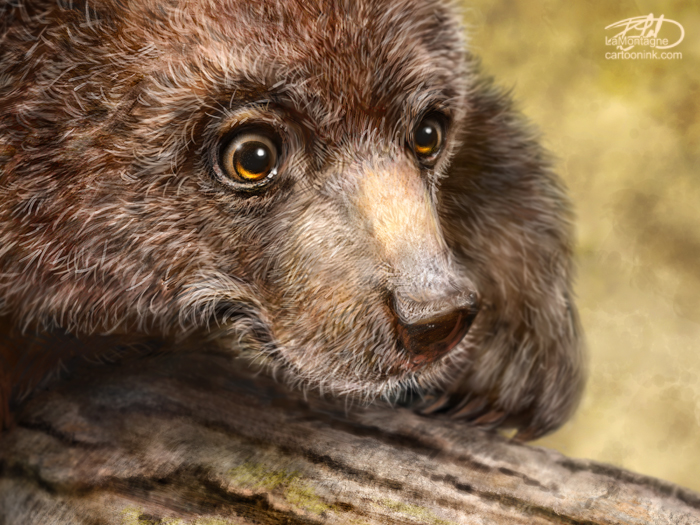 Because the park has been so kind to me, granting me access to take photos so that I may paint many of their critters in my own style, I'm going to take this opportunity to give something back to them. This will be the first of what I hope will be many conservation donations in the future, to them and to other animal sanctuaries and facilities I'd like to support.
My initial plan was to do a limited edition print run and no others, but as I've already received interest about this painting from my retailers and licensees, I'd be shooting myself in the foot if I didn't offer this painting as a regular print and licensed image. To be blunt, the more money I make as an artist, the more I can support the wildlife causes that matter to me.
With that in mind, this Berkley painting has gone for proofing and I'll be ordering the first prints next week. From the first order, I'll be offering TWENTY (20), 11″X14″ matted giclée prints at a special price with the lion's share (bear's share?) of the sales going to Discovery Wildlife Park.
And because I couldn't support these causes without the people who support me, my newsletter subscribers will get the details first and an opportunity next week to place their orders. You can subscribe via this link.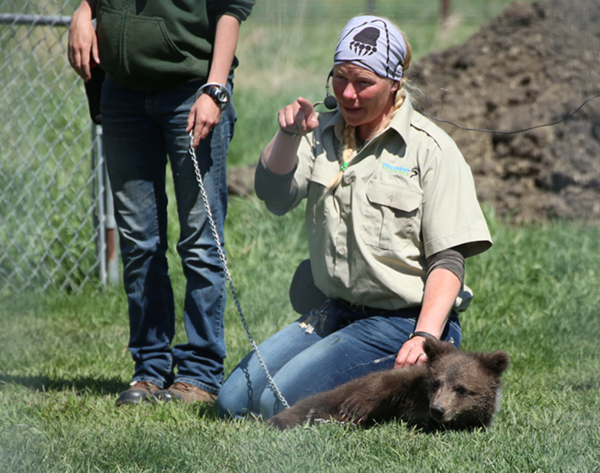 In the meantime, if you'd like to see more of Berkley's antics (and why wouldn't you?!), you can follow Discovery Wildlife Park on Facebook where they're posting regular videos and photos as she grows. If you're in the Innisfail area or plan to be, you can visit the park and see Berkley in person, along with all of their other critters. She's still young and sleeps a lot, but she appears at the bear show each day, where the head keeper Serena and her staff offer some valuable education about their bears and bears you might encounter in the wild. It's also a great opportunity to see all of their bears up close.
Thanks for being here.
Patrick
EDIT: All twenty prints mentioned in this post have been sold.