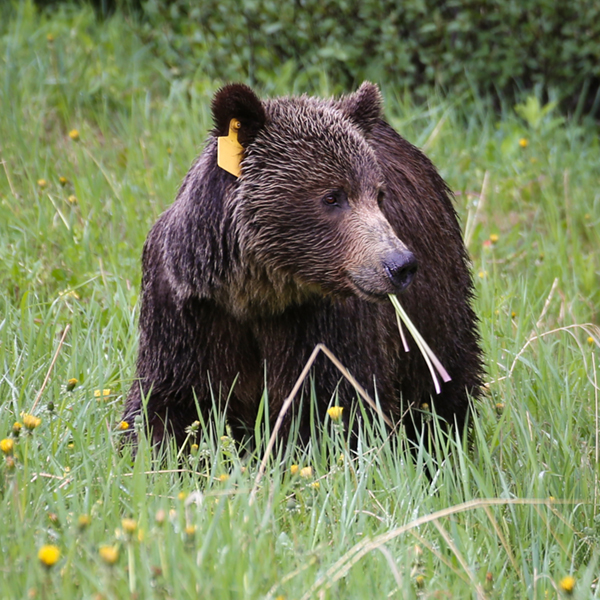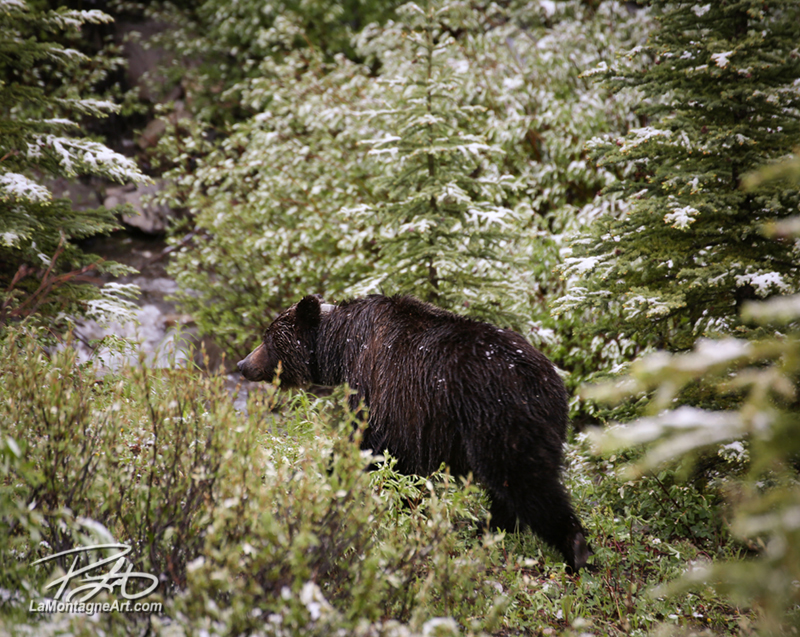 My friend Derek and I went for a morning drive up Highway 40 into Kananaskis last week. It was raining, grey and while we were initially headed up to the Highwood Pass to take pictures of the pikas, we were also keeping our eyes peeled for anything else we might find, especially bears.
Derek is an incredibly skilled painter and tattoo artist, the owner of Electric Grizzly Tattoo here in Canmore. His photography skills are pretty tight as well, so when it comes to art, we have a lot in common.
We never made it up to the Pass because it started to snow quite heavily as we gained elevation, but it was a quiet morning, very little traffic and we saw quite a few bears. Seven grizzlies and a black bear.
While we both got some very nice pictures, a few I can even paint from, the whole experience was tainted by my 'damned if I do, damned if I don't' guilt over taking the photos in the first place.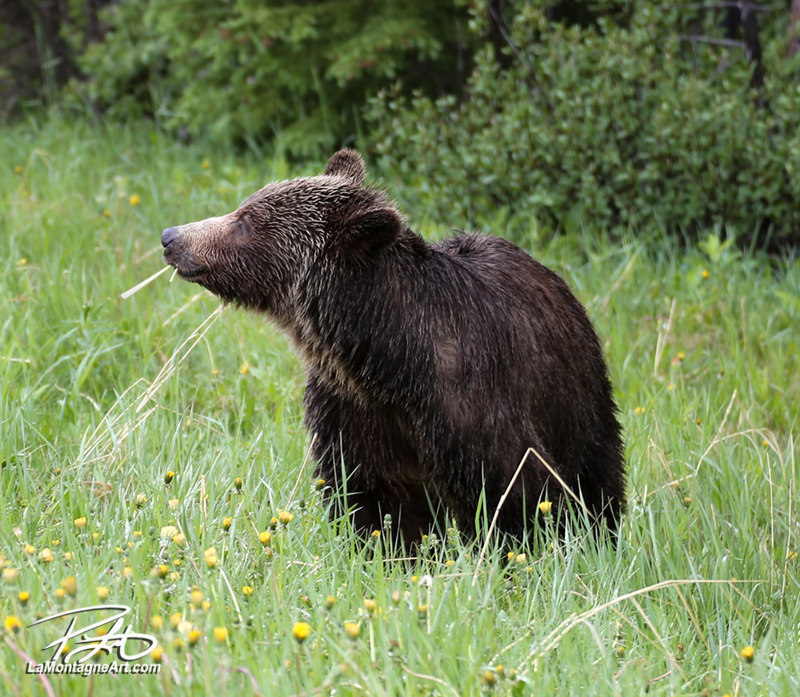 One of the most difficult parts of painting wildlife, even in my whimsical wildlife style, is the gathering of reference. Before I became proficient with a camera, I would often borrow from generous photographer friends or buy stock photos. I still do buy reference from time to time when taking the shots myself would just be unrealistic. For example, my recent underwater painting of an Orca would require a drastic lifestyle change and a lottery win to be able to gather those shots.
I've taken plenty of photos at Discovery Wildlife Park and at the Calgary Zoo, many of which have resulted in finished paintings. But even though I've made peace with the fact that both of those facilities are doing their best to aid in conservation and that the animals are receiving the best care possible, they're still captive animals. My support of those places has drawn some criticism and I accept that. I still believe in both places and their best intentions, for lack of a perfect solution.
What many fail to understand is that when they say animals should be left to be free in the wild; there are very few places in the world where that's still possible. Outside of national and provincial parks, sanctuaries and wildlife reserves, most animals are at constant risk from the most dangerous predator around. Us.
My friend, Serena, head keeper at Discovery Wildlife Park, is one of the most knowledgeable people I know when it comes to bears and other wildlife. She's big on leaving bears alone in the wild, that pulling over in your car introduces people smells and habituation risks to bears, even in parks where they're protected. Part of their bear presentation twice a day at the park is all about educating people on being bear aware in the wild, including being a responsible tourist.
Having lived in and near Canada's most famous national park for the past twenty-five years, I've seen firsthand what happens when tourists forget themselves, and close in like a mob on a grizzly bear, in order to snap that pic for Facebook. If the bear defends itself, or becomes too used to humans, they sometimes have to shoot the bear.
Apparently shooting tourists is frowned upon.
I spend most of my life feeling guilty for my choices. Even with the best of intentions, trying to be an advocate for wildlife protection AND making a good chunk of my living painting whimsical wildlife portraits, there doesn't seem to be a good answer to where I should get my reference. If I were a wildlife photographer, it would be even harder.
If I take the photos of a captive animal, no matter how well cared for or considering their circumstances, I'm a bad person for supporting that practice. If I take photos in the wild or in parks, well I'm a bad person for stopping to get a photo, even if I'm trying to minimize my impact on the animal.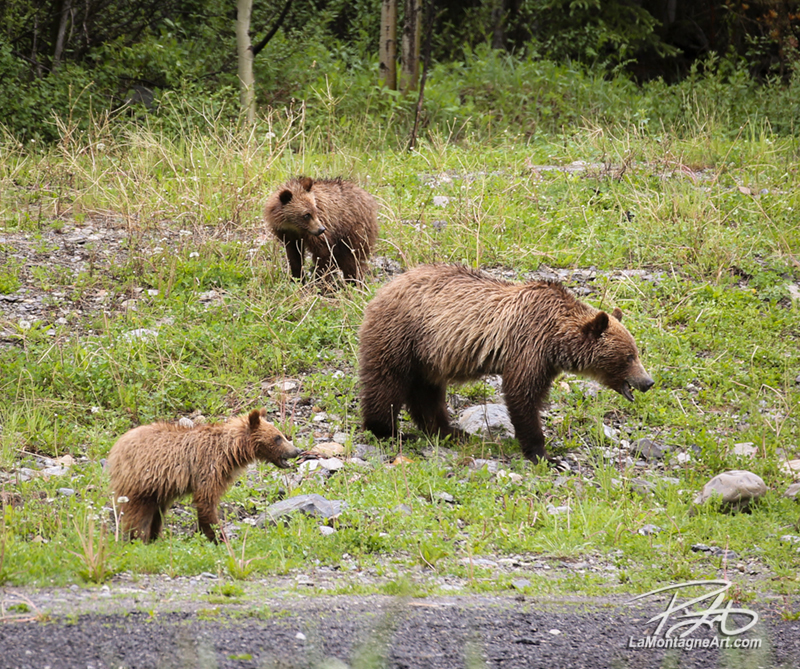 Derek and I did our best to be responsible, as we always do. We both had long lenses, so we parked a good distance from all of the bears we encountered. We stayed in my car, either taking shots from our windows or out the sunroof. We were careful to limit our time with the bears we encountered, even though we would have liked to have stayed all day, especially near the grizzly and her cubs.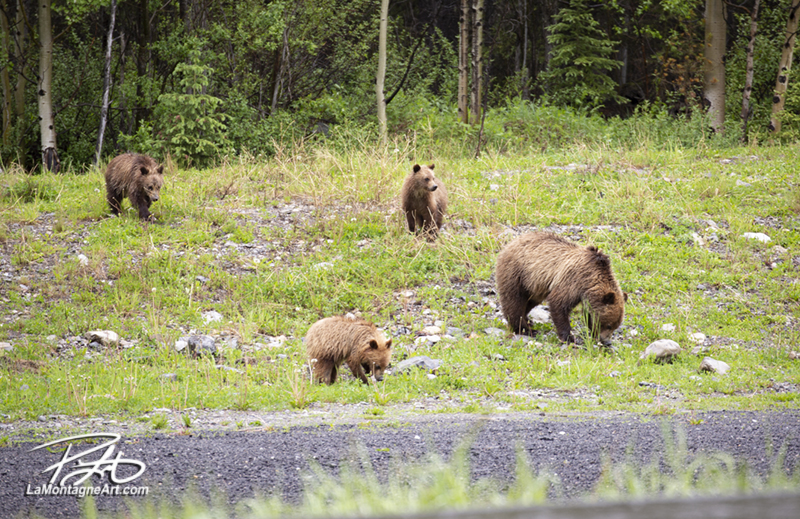 We even justified those pics because on the other side of those trees behind them is a campground with plenty of people smells already there. And Parks was on scene monitoring them.
That still feels hypocritical, telling myself whatever I need to, in order to justify the shots.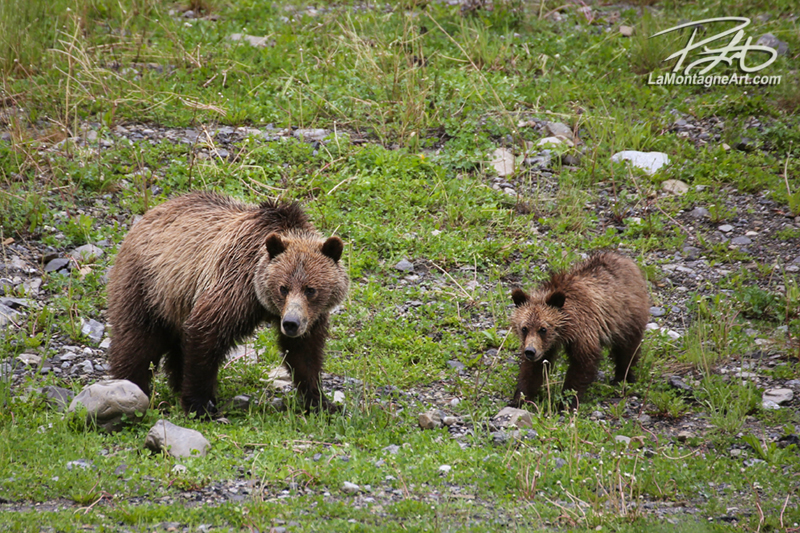 Basically, there is no right answer because everybody has their own opinion and judging others by the most rigid standards of hyper morality is at the core of being human. We compare our own best traits to the worst traits in others, convinced we're better than most. (see: social media)
If another driver fails to signal a turn, they're a stupid asshole, deserving of a long blast on the horn, shouting and obscene finger gestures. If we fail to signal, however, well we're only human and it was an innocent mistake. Get over it.
Think on that, next time you're in traffic.
I will continue to wrestle with this moral dilemma, convinced there is no answer that will please everyone. Just like my artwork, I am a work in progress.
Take care,
Patrick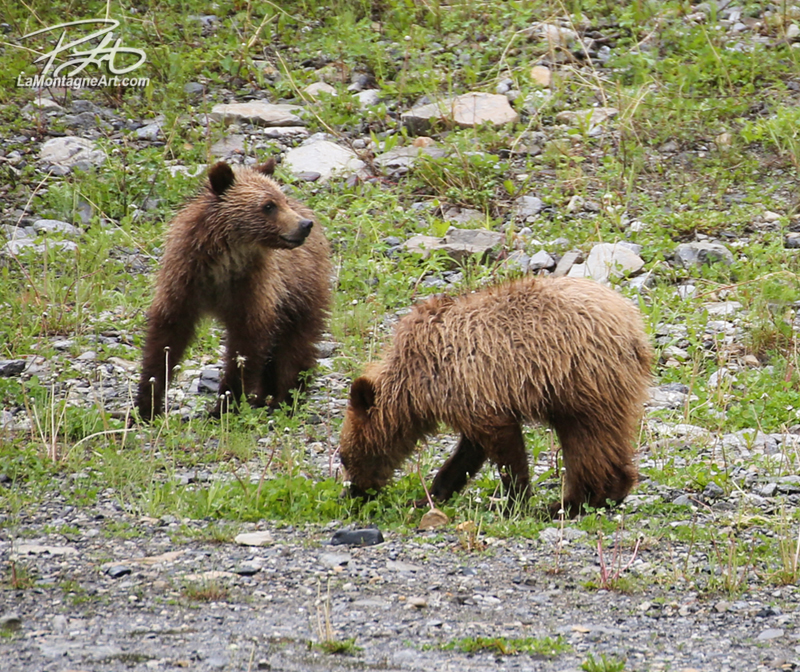 If you'd like to receive my newsletter which features blog posts, new paintings and editorial cartoons, follow this link to the sign up form.